Written by Rhonda on August 25, 2010 – 1:53 pm -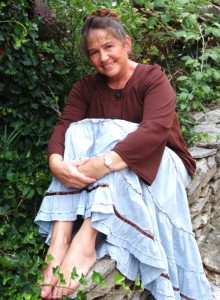 BYRON, Ga. – (August 25, 2010) – Singing News Fan Award nominee Sharron Kay King recorded her first ever live DVD this past weekend. The popular soloist recorded footage for the DVD at the Leesburg Church of God in Leesburg, Georgia on Saturday, August 21, 2010.
"The evening was so exciting," mentioned Sharron. "We had such a blast performing all of these songs live and with a great audience. I can't wait for everyone to see this new DVD!"
The Kenny Croft Band was the house band for the recording. The band hails from Vienna, Georgia.
"Kenny Croft and his band were just a great band to have accompany me on this DVD," mentioned Sharron. "They were very talented musicians, and I was honored to have them be a part of my event!"
Several of Sharron's most beloved songs will be included on the live DVD, as well as new material written specifically for the DVD release. In addition, the DVD will feature four concept videos as bonus material. The recently recorded concept videos can be found streaming on various portals on the web including Facebook and YouTube.
Pre-sales for the live DVD will be available on Sharron's website this week.
Sharron is sending an encouraging message out with her latest single.  The song, "Don't Stop Believing" (which is also the title cut from her most recent project), is Sharron's first release to radio in over a year and contains a message she hope's resonates with friends and fans of Southern Gospel music.
"Don't Stop Believing" was sent to Southern Gospel radio through Jeff O'Neal and Heritage Communications. The song has already charted in the Top 20 on the AbsolutelyGospel.com (formerly SoGospelNews.com) Top 40 Weekly Chart. The song has also been charting the past two months on the Singing News Top 80 Chart.
More information as well as booking information on Sharron Kay King can be found at http://sharronkayking.com.  Fans are encouraged to visit Sharron's MySpace at http://www.myspace.com/sharronkayking.
About Sharron Kay King
Sharron Kay King is a talented singer/songwriter based out of Byron, Georgia.  Sharron's last release, Don't Stop Believing, spawned off the #1 fan favorite "God's Been Good."  King was a 2008 Top 5 finalist in the Singing News Fan Awards for Favorite Horizon Individual and a 2009 Top 10 finalist for Favorite Soloist.
Tags:
Kenny Croft Band
,
sharron kay king
Posted in
new music
|
Comments Off

on Sharron Kay King Records First Live DVD
Written by Rhonda on August 16, 2010 – 2:29 pm -
Gifted Songwriter, Speaker and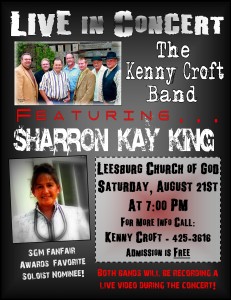 Artist- Sharron Kay King is set to record-  first time ever- live dvd with a live band on Saturday, August 21 at 7PM.  The Kenny Croft Band from Vienna, GA will play for Sharron Kay King as she performs several "never heard before" selections  and many songs that Sharron Kay King has composed.  This live DVD will feature 4 concept videos and personal testimony as well.  Pre-Sale orders are set to begin as early as next week. 
The Recording will take place at Leesburg Church of God.  For more information visit http://songsofsharron.com/
Tags:
Kenny Croft Band
,
Leesburg Church of God
,
sharron kay king
Posted in
announcements
|
Comments Off

on Sharron Kay King Scheduled To Record Live DVD