Written by Staff on June 11, 2019 – 4:22 pm -
The Pine Ridge Boys need your help. They wrecked their bus on May 18, 2019, and have been making do, while working with insurance and different types of transportation.
Today, bass singer and group manager, Larry Stewart, is celebrating the birthday of his wife, Anne. This lovely lady isn't asking for anything for herself, rather, she is asking for help for the Pine Ridge Boys.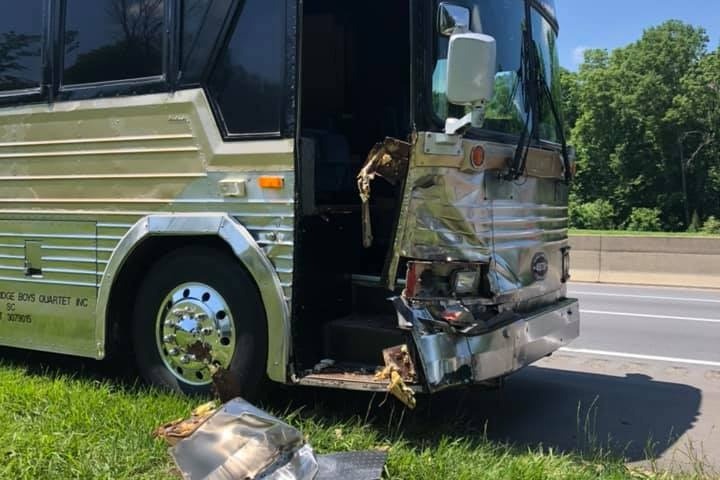 "Yes, today (June 11th) is my birthday. I'm thankful for all the calls and texts but what I would really love is for you to make a donation to the Pine Ridge Boys Quartet Bus Fund."
A Go Fund Me account has been set up to help the group obtain transportation. The site itself, set up by Mark Cash, says, "As many of you may already know we wrecked our bus several weeks ago. Over the years many have said, 'If there is anything we can do to help you, please let us know.' Well, we are letting you know. We are going to have to replace our bus. The damage was enough for the insurance company to total it. We did have insurance on the bus, but with it being a 1979 model, the insurance money that we are going to receive is not enough to buy another bus. We are asking for help. The Bible tells us in Matthew 7:7 'Ask, and it will be given to you; seek, and you will find; knock, and it will be opened to you.' We are asking you to help us pray about our needs. To help us get another bus would you also be willing to make a donation to bus fund?…"
Thank you for helping our friends, the Pine Ridge Boys. You will enjoy their music at the 2019
Creekside Gospel Music Convention
, Oct. 28 – 31, at Pigeon Forge, Tenn. For more information about Creekside, the 2019 Diamond Awards, VIP tickets and accomodations, call Rob Patz at 360-933- 0741.
Tags:
Bus Crash
,
Go Fund Me
,
gospel music
,
Larry Stewart
,
Pine Ridge Boys
Posted in
announcements
,
artists
|
Comments Off

on Please help the Pine Ridge Boys
Written by Staff on August 29, 2018 – 3:46 am -
Change is inevitable. Some say, if you are not changing or evolving you are dying. Others say change is good for the energy. One thing for sure, change does not quench the mission or desire to sing gospel music.
Since 1963, the Pine Ridge Boys have been sharing heritage quartet music in gospel music circles. The group is one of the few to have an original member singing in each configuration over the last fifty-five years. When Big Jim Stewart retired, he turned the quartet reigns over to his son, Larry Stewart.
Larry was in the quartet as a child, even when he knew nothing about gospel music. But the old saying is true, "Like father, like son!" He has developed into one of gospel music's most acclaimed bass singers.
In June of 2018, original member Wayne Shuford decided that it was time to stay home with his Rosielee. Shuford says, "After 55 years of singing gospel music, it was the right time for me to retire from the group. With Ivory Luke's departure, the group had the chance to add two new members who would energize performances and allow the group to continue the legacy started by me, Big Jim, Charles Burke, Miles Cooper and Charles Abee.  It has been a wonderful fifty-five years in gospel music and I think Larry will carry on the heritage for years to come. The Pine Ridge Boys will always be special to me! We are family."
Larry began the task of auditioning tenor and baritone singers. After countless applications, demo tapes, impromptu auditions, phone calls and video tapes, the Pine Ridge Boys have found two exciting new members to sing tenor and baritone.
Michael Maggard, who is known for his time with the Lordsmen and most recently the Faith Harmony Boys, is now singing tenor for the Pine Ridge Boys. He and his wife Ellen have been married since 1981 and have two children (Michelle and Emily) and two grandchildren, Jayden and Ava.  Mike and his wife make their home in Hansford, W.V.
"The power and finesse Michael brings to the group is exciting. He is able to communicate any song in such a way that just blesses people on concert stages or in any church service. I know he is going to fit right in with the Pine Ridge Boys. His testimony and talent are top notch," says Stewart.
Chip McCaa comes to the Pine Ridge Boys singing baritone and is truly making his mark with Pine Ridge Boys' friends and family. His musical history includes singing for New Life Trio, Holy City and the Glorymen. Living in Lugoff, S.C., he is married to April McCaa since December, 2003. His warm, bubbly personality and infectious smile have made him a fan favorite.
Stewart states, "Chip is truly one of a kind. He is a man of conviction and principle and it shows when you meet him. Singing…well, he is able to blend on those pretty songs, while giving energy on those traditional up-tempo quartet numbers. He is fun to travel with, and on the bus – well, there's never a dull moment."
Stewart continues, "Each member of the Pine Ridge Boys (Michael, Chip, Steven, Ray and I) are renewed and committed in our mission and desire to sing gospel quartet music with a message. We love the response the group receives when people hear the new members. But it is more exciting to see how good God has been in our church services. We have been having some great times of renewal in so many places. It seems in today's world, there are so many people who are in need and are going through a rough patch in life. All the Pine Ridge Boys are thankful for being able to sing songs that encourage, uplift and provide comfort, joy and peace to those who come to our singings."
The Pine Ridge Boys are excited to announce that their Homecoming Sing for 2019 will be May 11. The 56th Year Anniversary features the Mylon Hayes Family, the Sheltons, Hearts Afire, Pine Ridge Boys and emcee Charlie Griffin on Saturday evening. The concert will be at First Baptist Church Inman, S.C., with host pastor, Dr. Paul Moore. Starting at 5:30 p.m., the concert is free admission with free parking. A love offering will be received.
The Pine Ridge Boys are working on a new CD with a 2019 first quarter release date. The group is now listening to new material. Currently the CD release is slated to be on SonSound Records of Gastonia, N.C.
Find the Pine Ridge Boys on Facebook here and on the Web here
The Pine Ridge Boys will be returning to Creekside Gospel Music Convention in Pigeon Forge, Tennessee,  Oct. 28 – Nov.1.
Other gospel music artists appearing at Creekside Gospel Music Convention also include the Jordan Family Band, the Williamsons, Mark209, Sunday Drive, the Hyssongs, Eagle's Wings, the Chandlers, the Dunaways, and many more.
For more ĺinformation on Creekside 2018, including the Diamond Awards and free ticket reservations, visit www.sgnscoops.com or www.facebook.com/Creeksidegospelmusicconvention. For a $25 VIP pass, tickets and accommodations, contact Rob Patz by calling 360-933-0741.
Read the full SGNScoops August  Magazine Here.
Download the PDF of SGNScoops Magazine HERE
Find SGNScoops On Facebook HERE
Listen To Today's Gospel Music Online HERE
Tags:
gospel music
,
Larry Stewart
,
Pine Ridge Boys
,
Quartet Music
Posted in
announcements
,
artists
|
Comments Off

on Meet the Pine Ridge Boys Again For the First Time
Written by Staff on July 27, 2017 – 10:05 am -
Pine Ridge Boys founding member, James Everette Stewart, Sr., of Mooresville, passed away on Tuesday, February 14, 2017. Born October 28, 1936, in Clifton, SC, he was the son of the late Ed and Katie Emory Stewart. Jim was preceded in death by his first wife, Jeannette and a sister, Doris Sealey.
He left behind the Pine Ridge Boys in the care of his son Larry Stewart. Today this heritage music quartet continues to inspire family, friends, and fans with their classic quartet sound. This writer thinks "Big Jim" is a proud Dad and quartet man when he sees the continued success of today's Pine Ridge Boys. And the quartet is proud of his successes too. So much that the 54th Homecoming Gospel Sing honored Jim's rich legacy.
Jim penned his own eulogy and who is better to tell his story. His heartfelt love and of life, his family and gospel music truly made him a blessed man.
Jim writes, "This is my final time to bid you farewell. I have had a long life and been able to use my God given talent of singing bass since I was seven years old. I never could express myself in words but pray I have reached many people through song.
"I thank God for giving me two good Christian wives, aside from my family and friends. The Pine Ridge Boys Quartet molded my life through the years. We organized in 1963 in Atlanta, GA. The Quartet kept me away from my family when my four children, Denise, Everette, Evelyn and Larry were small. If it had not been for my beloved wife, Jeannette, keeping our family together, I would not have been able to minister through song.
"Jeannette started a tour business after taking a trip to Nashville, TN, where she fell in love with the travel industry. We moved to Maiden shortly after starting the business. Several years into the business Jeannette had a heart attack. The doctors were able to give her a new heart by means of a transplant. This is where I met my present wife, Eloise. She had gotten some people together for a trip to Callaway and Warm Springs, GA. Although Eloise had a full-time job, she started doing some of the tours on weekends and vacations. As time went on Jeannette's health kept failing and the strain was just too much for us, we were forced to close the tour business.
"When Eloise's husband, Lawrence, passed away in 1995, Jeannette and I took Eloise home from the receiving and Jeannette made the statement to Eloise: "You know the doctor says I don't have much time left; maybe you and Jim can get together when I am gone." So needless to say, I took her advice in 1999 after Jeannette passed away in 1998.
"I acquired four more children, Lynda, Carol, Ken, and Mitch. At the present time we have 21 grandchildren and 23 great grandchildren. Eloise and I have enjoyed 17 wonderful years together.
"Getting back to the Pine Ridge Boys Quartet, the original members were Wayne Shuford, tenor, Miles Cooper, lead, Charles Burke, baritone and myself as bass. At the piano was Darius Shuford. Of course there have been many changes over the years and many have gone on to be with Jesus in Heaven. In 2012, my son, Larry Stewart, became the owner of the Quartet at that time, and he is making me proud with how he is taking care of it.
"One of the things I look forward to when I get to Heaven is singing again with Pine Ridge Boys Quartet. I pray if there is anyone here today that doesn't know the Lord, this will be the day you will make that decision."
During the Pine Ridge Boys' 54th Homecoming Gospel Sing, a special memorial video honoring the life of the Pine Ridge Boys' Big Jim Stewart was presented to those in attendance. The personal message from Larry Stewart touched the hearts of family and friends as Big Jim was honored for his contributions to family, friends and gospel music. Enjoy the link honoring Big Jim Stewart.    
During the night, CJ Burns was inducted into the Pine Ridge Boys Hall Of Fame. CJ traveled and sang with the group for several years. He sang tenor, lead and even baritone. Always smiling and singing, CJ's friendship and talents are cherished in the Pine Ridge Boys family.
Inducted into the Pine Ridge Boys Hall of Fame as an honorary member, Mark Cash is truly a man behind the scenes. His constant support to the group, designing and maintaining the website, updating tour schedules and just about anything else needed, is truly noticed and appreciated. He and Larry went to school together and renewed their friendship a few years ago through gospel music. Mark is a huge collector of all styles of gospel music and an avid photographer. But he truly has the taken the Pine Ridge Boys to his heart; he is now family.
Fans from Ohio, Florida, Georgia, the Carolinas and Tennessee making a capacity crowd joined the Pine Ridge Boys, Jordan's Bridge, Troy Burns Family, Carolina Quartet, Crowns of Light and Hearts Afire to celebrate the group's 54 years in gospel music. First Baptist Church of Inman, S. C., once again hosted the sing with Senior Pastor Dr. Paul Moore hosting and welcoming the many friends and family.
Today the Pine Ridge Boys are riding a wave of excitement that is affecting gospel music fans, young and old alike across the country. With the Classic Artists Records release of "I've Got A New Song," and "There's A Fountain," both songs charting and continuing to rise in the radio charts of SGNScoops and the Singing News, the Pine Ridge Boys are expanding their outreach.
Be looking for a Pine Ridge Boys concert near you. You can also keep up with the group on their Facebook page. You just never know what will happen with Facebook Live!
Visit the group's website for more information, music and news. For scheduling contact Larry Stewart at 305 Water Oak Street, Inman, SC 29349 or call 864-473-8849. Email Larry@PineRidgeBoys.com.
Like SGNScoops on Facebook 
HERE
Listen to today's Gospel Music 
HERE
Read the latest issue of SGNScoops Magazine HERE.
Tags:
Big Jim Stewart
,
gospel music
,
Larry Stewart
,
Pine Ridge Boys
Posted in
announcements
,
artists
|
Comments Off

on PINE RIDGE BOYS HONOR "BIG JIM STEWART" DURING 54TH HOMECOMING SING
Written by Staff on June 11, 2015 – 4:35 pm -
By Charlie Griffin
When you speak of Gospel music, there are many great names mentioned. Some names are even generational names of Gospel music such as Speer, Nelon, Easter, Hopper, Goodman and the list goes on. But when you mention the name Stewart, those in the southeast will know it is a heritage name for bass singers.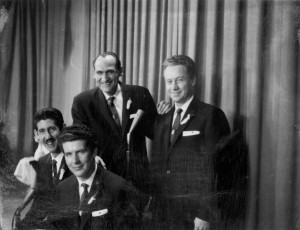 The Blue Ridge Quartet (L to R: Jim Stewart, Kenny Gates, Elmo Fagg, Ed Sprouse.)
First generation, Charles Ed Stewart, sang with the Smith Quartet and Singing Hills. He was known for a resounding bass and singing the old Convention songs the Stamps Baxter way. Second generation, Jim Stewart, came along, singing bass too. Big Jim was often noted as the bass singer with the booming low notes. His tenure included stints with the Calvary Quartet, Blue Ridge Quartet and Pine Ridge Boys. Then the third generation, Larry Stewart, started following in the family bass singing footsteps. But his story took a few turns, giving a powerful testimony that really mirrors the lives of so many people.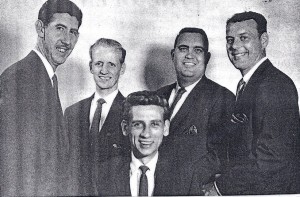 The Pine Ridge Boys 1963: (L to R: Jim Stewart, Wayne Shuford, Darius Shuford-seated, Charles Burke, Miles Cooper.)
Larry Stewart recently shared his experiences of getting started in Gospel music. As a high school sixteen-year-old in chorus, he was offered a job to sing bass with the Bob Hulsey Singers. Larry says, "The piano player was in chorus too and knew I could sing the bass part. It wasn't too low as they sang everything pretty high. But that was my first taste of Gospel singing, although I had been around it all my life."
A year or so later, Larry began singing with the Golden Chords. Marion Lanford and three of his children plus the four piece band made up this group. "They wanted a young person to sing bass and they called me." It was with the Golden Chords that Stewart recorded his first album. He continues, "Marion promoted a lot of Gospel concerts back in the day with the Rex Nelon Singers. I heard this song and later it became my song too, 'I Love To Call His Name.'" Larry then sang with The Seekers from Seneca, SC. But that was a short lived experience.
Graduating from high school in 1979, Larry got a call from Homer Wofford, who owned the Singing Americans. Larry states, "I drove to Asheville, tried out and was selected. I drove every week to Asheville to practice. But we never sang anywhere. I got tired of that and quit. But as fate would have it, Charlie Burke bought the group and moved it to Maiden, NC. He calls me three times to come sing bass. But I said no. I mean, I had already gone down that road. Yet after the third time I turned him down, one month later he signed a record contract." Larry admits, "I really thought my chance had come and gone. I didn't sing much after that."
Tags:
anchormen
,
Blue Ridge Quartet
,
Dwayne Burke
,
gospel music
,
Larry Stewart
,
Pine Ridge Boys
,
Quartet Music
,
Singing Americans
Posted in
announcements
,
artists
,
christian entertainment
,
Christian interest
,
exclusive report
,
sgn scoops magazine
,
special feature
|
Comments Off

on Larry Stewart: A Gospel Bass Singer's Testimony
Written by Staff on April 1, 2015 – 12:47 pm -
A NEW CHAPTER!
By Charlie Griffin
The Family Tree. From an early age we are given our heritage and told about our family tree. The information in that tree lays the foundation of who we are and gives us a sense of belonging. Even in the scriptures, the family tree was handed down from generation to generation. Some of us call that oral history in the Bible the begats. Through the generations detailed in our Trees, the family's legacy lives on.
As Americans, we gladly share our Family Tree or roots and are not ashamed to stand tall, being proud of our heritage. The desire to be free, in a land that upholds freedom and liberty, is part of democracy's foundation. Many have given their lives to continue our freedoms and have helped create what we see as the greatest country on earth. The patriotic service mantle is handed down to new generations every day. We proudly celebrate our heritage with Veterans Day, Memorial Day and Independence Day holidays.
Gospel music legends like The Stamps, Blackwoods and countless others laid the foundation for Southern Gospel music, quartet style.  There have been many groups that have shared these talents over the years. Sadly, time runs its course and some of theses groups are no more. Fortunately, the Pine Ridge Boys are still carrying on a rich 52-year tradition that started with the likes of Jim Stewart, brothers Darius and Wayne Shuford, Charlie Burke, Miles Cooper, Laddie Cain, Jack Henderson, Reese McKinney, Joel Duncan, Ned Wilder, Farrell Henson, Ray Dean Reese, Charles Abee, Everette Greene and Eldridge Fox. These men and others were part of the Pine Ridge Boys history.
Today the Pine Ridge Boys mantle has been passed on to a different generation of men. It is today's Pine Ridge Boys configuration that is drawing acclaim for their rich quartet harmonies. Larry Stewart (formerly with the Singing Americans), Wayne Shuford (original PRB member and with the Trav'lers Quartet), Ivory Luke and Duane Rizzo have polished the Pine Ridge Boys sound with the timeless songs and innovative music arrangements that captivate audiences young and old alike.
Larry Stewart grew up always around and singing Gospel music. His Dad, Jim Stewart was the founding bass singer of the Pine Ridge Boys. But Larry's singing talent began to blossom as he sang locally with The Regals. Later he sang with the Anchormen Quartet, before joining the Singing Americans as bass singer and manager. His rich bass tones have earned him Singing News fan nominations along with other accolades over the years. Yet after singing Gospel music for so many years, today when you talk to him you learn of his never-ending love of this timeless music. You will also see a man who takes his faith and Christian walk with greater appreciation and determination. His words and actions are making an impact today like never before.
Wayne Shuford is the founding tenor of the Pine Ridge Boys with his brother Darius on piano. Shuford is widely known from his time with the award winning Trav'lers Quartet. For forty-five years he sang and managed the group. A member of the SC Gospel Music Hall of Fame and a Living Legend Award recipient, Wayne is known for his vocal talents and the ability to interpret a song with finesse and heart. A true Gospel music gentleman, his friendly smile greets everyone no matter where you see him while his strong faith still influences his music. Now singing baritone, he is able to share the history of days gone by, as well as creating new history with today's Pine Ridge Boys through his mentorship and love of singing Gospel music, Southern style.

Duane Rizzo sings lead for the Pine Ridge Boys. His love of Gospel music is traced back to Buffalo, New York. It is there he fell in love with Southern Gospel quartet music as a young boy at Garden Spots Promotions Pennsylvania concerts. He met and became involved with the Keystone Quartet as a teenager. Rizzo's memories of music are mixed with his Italian Christian heritage while singing with his family and others in the local area. A retired police officer, upon moving to the Carolinas, Duane sang in a barbershop quartet and with some big bands yet his love for Southern Gospel music never waned. He was asked to audition to sing lead with the Pine Ridge Boys seven years ago and, well, the rest is history. Yes the retired policeman has a life-long affinity with Southern Gospel music.
Ivory Luke sings the tenor for the Pine Ridge Boys.  He is no stranger to Gospel music as he has been singing in churches since five years old. His first experience with quartet Gospel music came at the ripe old age of 19.  His tenure includes time with Sonrise and the Crusaders both from the Columbia, SC area. Ivory continues to sing the music he loves so dearly with a new vigor. His ability to connect with an audience is unmatched. As Ivory croons a ballad his faith shines in his delivery of every lyric and note. You will be captivated by his positive personality anytime you meet him. He has never met a stranger and will talk to a fence post.
Change is inevitable and time moves on. Some traditions withstand the tests of time. Different and new generations assume the leadership into the future. Now today, when you hear and see the Pine Ridge Boys you will enjoy a group steeped in a solid tradition of Southern Gospel music. Even more so, you will hear a group that is renewed in commitment and continues to stage Gospel music rich in full quartet harmonies. Music arrangements that cause you to clap your hands, pat your feet and nod your head with approval are commonplace at a Pine Ridge concert.
The Pine Ridge Boys tradition is alive and well.
Be sure to share the Pine Ridge Boys music and message with your friends as you can follow the group on Facebook, twitter and via their website. For scheduling, music orders and more information contact Pine Ridge Boys, Larry Stewart at 305 Water Oak St, Inman, SC 29349. Phone 864-473-8849 or email Larry@PineRidgeBoys.com .
Tags:
Charlie Griffin
,
Duane Rizzo
,
Ivory Luke
,
Larry Stewart
,
Pine Ridge Boys
,
Quartet Music
,
southern gospel
,
Wayne Shuford
Posted in
artists
,
christian entertainment
,
Christian interest
|
Comments Off

on PINE RIDGE BOYS