Written by Staff on September 4, 2020 – 3:03 pm -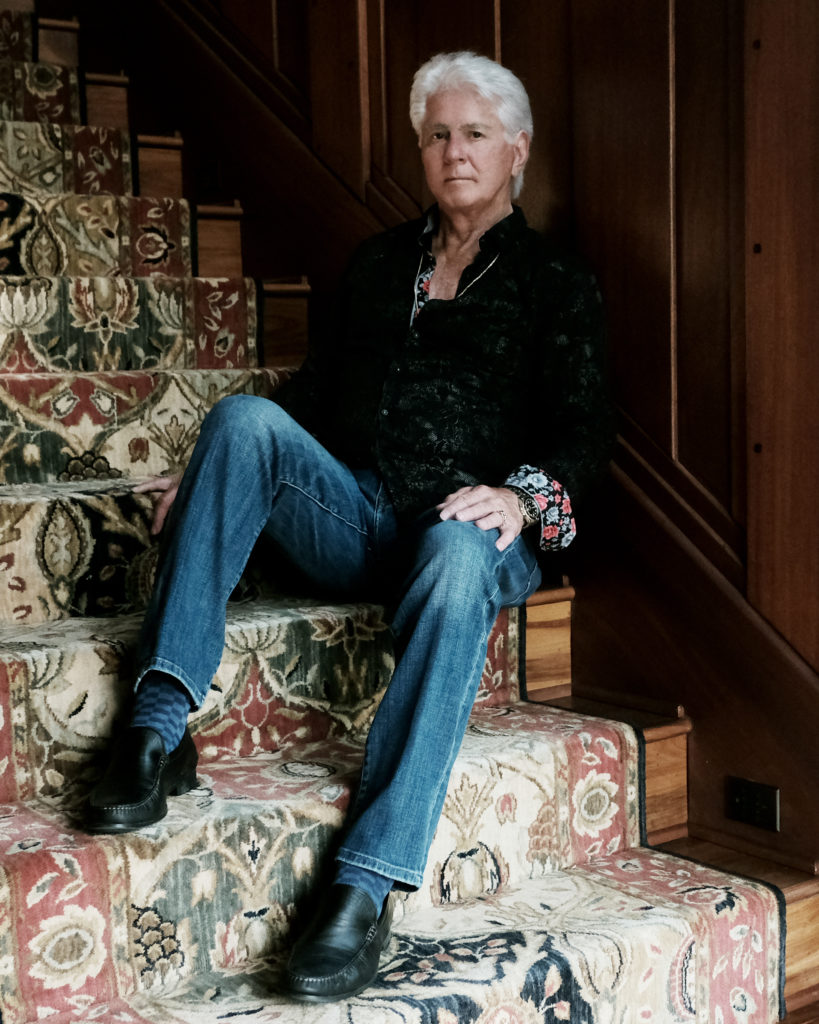 NASHVILLE, Tenn. – A revered bass vocalist, whose distinctive voice complimented Elvis Presley on stage and in the studio, Larry Strickland "continues to carry the torch for the music that he and Elvis, and so many others loved," (The Commercial Appeal) with his first solo project, Legacy, available everywhere today.
A valued band member during the last two-and-a-half years of The King's career as part of J.D. Sumner and The Stamps vocal group, Strickland always focused on being a harmony vocalist in a group or quartet, until now.
"These are songs I learned in church while my dad was a minister, and then when I started working for Elvis, these were songs he'd sing in private with us, often backstage, on the road or at his Graceland home. These Gospel staples bring back all of those precious memories from when I was a kid, as well as my years with Elvis," Strickland shared.
A few of those Elvis favorites Strickland recorded on  Legacy include "Just A Closer Walk," "Take My Hand, "Precious Lord," "In The Garden" and "Love Lifted Me" as well as Josh Turner's "Long Black Train" and Don Williams' "Lord I Hope This Day is Good."
Strickland's professional career as a bass singer began in the mid-'60s harmonizing in local groups. During one show, Strickland opened for J.D. Sumner and The Stamps, and during that performance, he caught Sumner's ear for talent. Years later after serving in the Army, Strickland received a call from Sumner to join The Stamps.
"When Richard Sterban left The Stamps and went with the Oak Ridge Boys, they asked me to come to Nashville and audition, and I got the job," Strickland said.
Strickland's first performance was with Elvis in Las Vegas, and he would remain employed and part of the TCB inner circle for national tours and studio sessions until The King's death in 1977. Strickland's bass harmonies can be heard on "Way Down," one of the last known songs Elvis recorded from The Jungle Room Sessions. Strickland would go on to perform 204 concerts with Elvis.
Legacy Track Listing:
1. Long Black Train
2. Just A Closer Walk
3. Take My Hand, Precious Lord
4. Lord I Hope This Day is Good
5. In The Garden
6. Love Lifted Me
For more information on Larry Strickland, visit larrystricklandmusic.com.
Tags:
Elvis Presley
,
gospel music
,
larry Strickland
,
legacy
Posted in
announcements
,
artists
|
Comments Off

on ELVIS PRESLEY'S BACKUP VOCALIST LARRY STRICKLAND RELEASES "LEGACY," SINGS GOSPEL STAPLES AND COUNTRY COVERS
Written by Staff on March 28, 2018 – 4:59 pm -
Rob Patz' Publisher's Point for SGNScoops' March 2018 issue
Welcome to the March Publisher's Point. As I sit and write this, I have been trying to put into words my emotions about the loss of Billy Graham.
It is amazing to look at the impact that one man had on our world. Dr. Graham never wanted to over complicate a very simple and true message, that Jesus died on the cross for you and for me, and that if you accept Him as your personal Savior, one day you will see heaven.
I think of how amazing it must've been when Dr. Graham crossed over, and for the first time, got to see exactly what he had been preaching about. I read one quote that said that this world was not his home, that he was just a traveler passing through here. I think we should all live that way.
So many of us, me included, work so hard to accumulate possessions here on earth. We want to be able to say, "This is mine," when in reality, none of this is ours. Everything that we are given is a gift from God. How we use those gifts is a completely different story.
I truly believe as an outsider looking in, that Dr. Graham, throughout his life, took the gifts that God had given him and created a legacy that will last forever.

The last few days have made me realize that the only thing that we leave on this earth is what we do for Christ. That will last forever. It has challenged me to do more, to enjoy more, to seek God more. At the end of the day, I want to leave a legacy of pointing people to Christ and His cross and challenging those around me to do the same.

As we know, March ushers in spring and new beginnings, and I want to challenge you during this month to pray about what God has for you to do, and for the rest of this year. What legacy will you leave? What impact will you have, and what is the plan God has for you?


By the time you read this, Southern Gospel Weekend in Oxford, Ala., will have come to a close for another year. I do want to invite you to join us for Christian Country Expo in Cookeville, Tenn., from May 3-5.
Of course, I also want you to be with us for Creekside 2018 in Pigeon Forge, Tenn., which kicks off on Oct. 28.
May this be a year that we all strive to point people to the cross and leave a legacy that will enhance the kingdom.
This is the Publisher's Point.

By Rob Patz
First published by SGNSCOOPS in March 2018
Download The PDF Version Of SGNScoops Magazine HERE
Find SGNScoops Magazine On Facebook HERE
Listen Online To The Best In Todays Gospel Music HERE
Tags:
Billy Graham.
,
Christian legacy
,
legacy
,
rob patz
Posted in
Christian interest
,
sgn scoops magazine
|
Comments Off

on The Legacy of Billy Graham