Written by SGN Scoops Staff on September 8, 2014 – 8:10 pm -
Nashville, TN (September 8, 2014) A well-known personality in the southern gospel industry, Bev McCann is forming her own artist management company, Bev McCann and Friends. Known for her work with recording companies and extensive work in client relations with Godsey and Associates and the Music City Show, McCann showcases her passion for southern gospel music.
Not only is she a leader in the gospel music industry, she is also a singer, songwriter and ordained minister. McCann brings a lot of experience and creativity to the southern gospel music table, and she is excited about launching her new management company alongside a new website.
Deon Unthank of AG Publicity commented, "Bev has been a friend for a long time, and I have watched her grow in her talents and status in Gospel Music. I feel she has a lot to offer with her various ministries and she has the ambition to go forward with what God has called her to do."
"I'm extremely excited about the doors that God is opening. The concerts and music that we're doing and the new adventures that are taking us through this year are exciting. It is incredible to know that when you think doors are closing they are being opened. When you have your life in God's hands, God is opening doors and giving you new directions. We're going to be doing projects in California next year, so we are grateful for the things that are coming our way. We have lots of fun when we are all together. I am totally amazed of what God is doing for me and everybody else. I am thrilled to be a part of this ministry," said McCann.
Her list of clients is impressive, including:
Jim Sheldon, known as the Positive Cowboy. Jim is regularly seen on the ever popular Television program 'The Music City Show'.
Gene McDonald is the phenomenal Bass singer seen on many of the Gaither Homecoming videos.
Cambell and Crowley is a Gospel Duet ministry based in Beckley, West Virginia. The group was founded in 1983 by Larry Rowley, the current tenor.
The Lori Jonathan Trio is a family trio with some of the sweetest harmony you will every hear. Coming from the New York, they are not a likely Southern gospel group, but their sound says otherwise.
Rachel Taylor is a fine young soloist who has recently recorded a duet with Jim Sheldon.
Sarah Collins was born and raised in Southern Indiana, the youngest of five children. She says that she doesn't ever remember a time that she didn't want to sing about Jesus. Accepting a call to minister in any way that she can for the Lord lead her, she started singing again and hasn't looked back.
Rod Truman is a man with a tremendous testimony. As a basketball coach, God got a hold of his life and changed him all together.
You can learn more about Bev McCann and Friends at http://bevmccannandfriends.com or https://www.facebook.com/BevMcCannMinistries .
To contact Bev e-mail her at bev@bevmccann.com .
Tags:
artist management
,
Bev McCann
,
Gene McDonald
,
Lori Jonathan Trio
,
Southern Gospel News
Posted in
announcements
|
Comments Off

on Bev McCann Forms Management Company 'Bev McCann and Friends'
Written by SGN Scoops Staff on August 4, 2014 – 8:06 am -
The members of The King's Heralds are the guests on Gospel Music Today for the week of August 3. Ken and Jean Grady host southern gospel news and concert updates, the Feature Group is The Bensons, and Jean reviews new recordings by The Lori Jonathan Trio and Duane Frame. An article entitled "Song of a Lifetime" is the subject of this week's Singing News Notes. The show includes music by The 4 One Quartet, exclusive video of The Hunt Family, recorded by Gospel Music Today's cameras at the Southern Gospel Worship Gathering, in Broken Arrow, OK, and a visit to the Gospel Music Today Archives for an exclusive concert video of The Mark Trammell Quartet, at the Spreading the Word Ministries concert, in Cordell, OK.
The show is on KWHB TV47 in Oklahoma every Sunday at 4:30 PM, and on Roku on FFE TV Monday at 8:00 PM and AllNations TV Tuesday and Wednesday at 6:30 PM. Check local TV schedule for Beaumont, TX, Tyler, TX. Atlanta, TX, and Morrilton, AR.
The current edition of Gospel Music Today is online now at the Gospel Music Today website, www.gospelmusictoday.com.

______________________
Tags:
Ken & Jean Grady
,
Lori Jonathan Trio
,
Southern Gospel Music
,
Southern Gospel News
,
Southern Gospel Worship Gathering
,
The 4 One Quartet
,
The King's Heralds
Posted in
video
|
Comments Off

on Gospel Music Today For August 4th On SGNScoops.com
Written by SGN Scoops on December 6, 2013 – 12:41 pm -
Sanborn, NY (December 6, 2013) Just in time for the Christmas holidays the Lori Jonathan trio has released an exciting new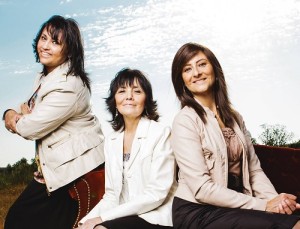 Christmas album. A fairly new group to Gospel music, this unique ladies trio is presenting a colorful holiday CD with beautiful, close family harmony in the fashion of the Andrews Sisters of years gone by.
The group consists of sisters, Lori, Vicki and Crystal. They perform mostly in the North Eastern part of the country, but are looking to expand their ministry.
Lori Jonathan stated "We love the Christmas season and wanted to present an album with the true meaning of Christmas on it. We chose Christmas classics that we never tire of and will never grow old."
Coming from the North East part of the country the CD shows some beautiful scenes of Christmas time in the area. This CD sounds good and looks good. For radio stations looking for good Christmas classics and Hymns this CD is a no brainer.
The CD is produced by Scott Godsey of Godsey and Associates and recorded Family Room Studio and GCR Audio.
You can find out more about the Lori Jonathan Trio at https://www.facebook.com/pages/Lori-Jonathan-Trio or http://www.lorijonathantrio.com .
You can reach the Lori Jonathan Trio at Bev McCann and Friends Management – bev@godseyandassociates.com .
Tags:
christmas music
,
Godsey and Associates
,
Lori Jonathan Trio
,
Scott Godsey
,
Southern Gospel News
Posted in
announcements
|
Comments Off

on Lori Jonathan Trio Releases Christmas From Niagara
Written by SGN Scoops on January 15, 2013 – 12:10 pm -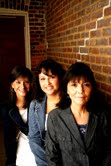 Buffalo – The new music video to LJT's single "Living By Faith" digs deep into the trio's roots because it takes place in their home state.  Watch the video here:https://www.youtube.com/watch?v=-JhyQGfExAQ. 

 The scenes are set to show the relationship between the sisters strengthening as they put their faith in Christ.  It gets personal.  One scene is set at the gravesite of Lori, Vicki and Crystal's mother, Lorraine, on the Tuscarora Indian Reservation in Niagara County, New York.  Viewers can capture the emotion as the video illustrates different life situations are relatable to everyone.
 A beautiful cinematic imagery is presented at the famous Niagara Falls.  Don't miss the emotional video that carries a message fans can take to heart.
 "Living by Faith" was produced by Godsey and Associates and is now available on the YouTube Channel:  YouTube.com/godseyandassociates. 
 For more information about Godsey and Associates, visit http://www.godseyandassociates.com
For more information about The Lori Jonathan Trio, visit http://www.lorijonathantrio.com
Tags:
Christian Music Videos Scott Godsey
,
LIT
,
Lori Jonathan Trio
,
Southern Gospel News
Posted in
announcements
|
Comments Off

on LORI JONATHAN TRIO NEW VIDEO FILMED AT NIAGARA FALLS AND HISTORIC INDIAN RESERVATION