Written by SGN Scoops on December 11, 2012 – 6:20 am -
Nashville, TN (December 11, 2012) — THE ROYS recently connected with entertainment icon Marie Osmond for an episode of her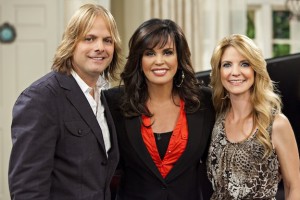 popular new Hallmark Channel TV show, Marie!  Lee and Elaine share insights unique to performing siblings with Marie and discuss their new CD and career goals.  The award-winning duo is honored to be the first Bluegrass artist to appear on the show, and they perform their current Top 20 single "Still Standing."  The song is an uplifting tale of triumph over adversity that features Elaine's passionate lead vocal and Lee's poetic harmony; the track is from THE ROYS' most-recent disc NEW DAY DAWNING (Rural Rhythm Records).  The episode airs Thursday, December 13 at 12 Noon ET on cable stations and at 9 a.m. ET on DirecTV. Click HERE for more information on the show.
"You hear people say they feel immediate connections with some folks," notes Elaine Roy. "But I have to say that we actually felt like we'd known Marie forever." Her brother Lee notes, "I have never met anyone more warm and welcoming.  It was an exciting experience to bring Bluegrass to such a unique platform."
Marie's successes continue to grow, and the new show proves her appeal is everlasting. Marie! embraces the "variety" format; other recent guests include Betty White, Florence Henderson, Jamie Lee Curtis, Kristi Yamaguchi, Dean Cain, Windell Middlebrooks and, of course, Donnie Osmond.
Catch up with THE ROYS at TheRoysOnline.com, Facebook and Twitter.
Photo Credit:  Crown Media United States, LLC/Alexx Henry Studios
Tags:
Blue grass
,
Hallmark
,
Inspirational Bluegrass
,
marie osmond
,
Marie Show
,
Rural Rhythm Records
,
The Roys
Posted in
announcements
,
christian entertainment
|
Comments Off

on THE ROYS Bring Bluegrass To Marie!
Written by SGN Scoops on October 18, 2012 – 5:48 am -
** TUNE-IN ALERT **
THURSDAY, OCT. 18, 2012
MARIE OSMOND WELCOMES GRAMMY® AWARD WINNING VOCALIST, JASON CRABB, TO HER NEW DAYTIME SHOW, "MARIE," OCTOBER 18, 2012
Pianist Blaine Johnson, Jason Crabb and Marie Osmond share a laugh on the set of her new show "Marie." The show airs October 18, 2012 on the Hallmark Channel. Photo © 2012 Crown Media Holdings, Inc./Photographer: Jeremy Lee
(Nashville, TN – October 15, 2012) – Entertainment icon, Marie Osmond, will welcome Grammy® award winner, Jason Crabb, to her new daytime show, "Marie," on the Hallmark Channel October 18, 2012. Jason will perform and share a few moments with the iconic personality.
Marie Osmond commented: "I have to tell you, the day Jason came on my show, boy … he sang and serenaded us and he just melted the hearts of everyone on my show. I love Jason, we all had so much fun! He is a wonderful person!"
"What an honor to be asked to perform on the new "Marie" show!" Crabb said. "We had a great time and I was thrilled to get to share music with so many! Marie was a gracious host and I thank her and the entire team at Hallmark for the opportunity to appear on her show."

Grammy® Award Winner, Jason Crabb, performs on the set of the new show "Marie," hosted by entertainment icon, Marie Osmond. The show airs October 18, 2012 on the Hallmark Channel. Photo © 2012 Crown Media Holdings, Inc./Photographer: Jeremy Lee
Crabb is currently in the studio working on a new project slated for release in 2013 with producers Jay DeMarcus, Ed Cash and Wayne Haun. He will embark on a holiday tour, "A Christmas Celebration," with Sandi Patty beginning on November 23, 2012 and ending on Dec. 21, 2012.
For more information on Jason Crabb, visit the following sites:
www.JasonCrabb.com
www.Facebook.com/JasonCrabbMusic
www.Twitter.com/JasonCrabbMusic
www.YouTube.com/JasonCrabbMusic
About Jason Crabb: Vocalist, musician, author, and host, Jason Crabb, was born to bless the world through his talents. In 2009, Crabb's solo career took off, gaining him one Dove award after another leading him to winning over 20 Dove Awards, a Grammy Award and most recently Soloist of the Year award from NQC Music Awards. This past year, Crabb was honored to be awarded with not only the Male Vocalist of the Year award at the GMA Dove Awards but also the Artist of the Year award.
Tags:
Ed Cash
,
hallmark channel
,
Jason Crabb
,
Jay DeMarcus
,
marie osmond
,
sandi patty
,
Southern Gospel News
,
Wayne Haun
Posted in
announcements
,
christian entertainment
,
Christian interest
|
Comments Off

on MARIE OSMOND WELCOMES GRAMMY® AWARD WINNING VOCALIST, JASON CRABB, TO HER NEW DAYTIME SHOW, "MARIE," OCTOBER 18, 2012