Written by scoopsnews on June 19, 2018 – 2:48 pm -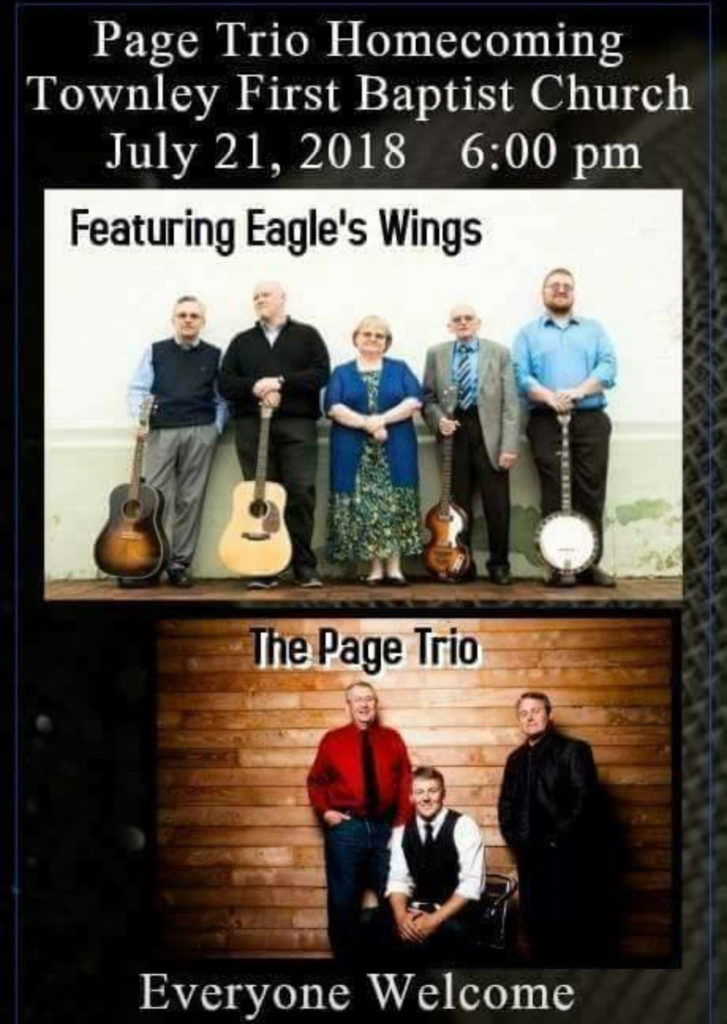 Here's a concert that you don't want to miss. It's The Page Trio's Homecoming and the special guest is "Eagles Wings."
Check out Eagle's Wings Below:
Tags:
Eagle's Wings
,
Page Trio
Posted in
announcements
|
Comments Off

on Don't Miss The Page Trio and Eagle's Wings
Written by SGN Scoops Staff on December 1, 2014 – 7:52 am -
Aaron and Amanda Crabb are the guests on Gospel Music Today for the week of December 1st. Ken and Jean Grady host southern gospel news and concert updates. The Feature Group is The Page Trio, and Jean reviews new recordings by Keith Barkley and The Dunaways.  A Singing News  article by Adam Wagner is the subject of this week's News Notes. The show features singing by Brian Free and Assurance, exclusive video of Aaron and Amanda Crabb, recorded by Gospel Music Today's cameras in Nashville,TN, at the Absolutely Gospel Music Fest and a visit to the Gospel Music Today Archives for an exclusive concert video of 11th Hour at the Owasso Gospel Opry, in Owasso, OK.
The show is on KWHB TV47 in Oklahoma every Sunday at 4:30 PM, and on Roku on FFE TV
Monday at 8:00 PM
and AllNations TV
Tuesday
and
Wednesday at 6:30 PM
. Check local TV schedule for Beaumont, TX, Tyler, TX. Atlanta, TX, and Morrilton, AR. The current edition of Gospel Music Today is online now at the Gospel Music Today website, 
www.gospelmusictoday.com
.
Tags:
11th Hour
,
Aaron and Amanda Crabb
,
Gospel Music Today
,
Ken & Jean Grady
,
Page Trio
,
The Dunaways
Posted in
video
|
Comments Off

on Gospel Music Today For December 1 On SGNScoops.com
Written by SGN Scoops Staff on June 4, 2014 – 12:40 pm -
SGN Scoops, your destination for the latest in Gospel music news and information, is pleased to present SGNScoops Magazine Volume One…great new music from some of your favorite artists. Hear cuts from Creekside Gospel Music Convention artists like Ava Kasich, Clayton Watson, Faith's Journey, Hope's Journey, Lindsay Huggins, Omega Quartet, Page Trio, The Steeles, The Williamsons and Tina Wakefield. You will be blessed and your heart will be touched by the music on this album. Get your copy today!
Tags:
Ava Kasich
,
Clayton Watson
,
Faith's Journey
,
Hope's Journey
,
Lindsay Huggins
,
Omega Quartet
,
Page Trio
,
Southern Gospel Music
,
Southern Gospel News
,
The Steeles
,
The Williamsons
,
Tina Wakefield
Posted in
announcements
|
Comments Off

on SGNScoops Magazine Presents Today's Gospel Music Volume One
Written by SGN Scoops Staff on January 12, 2014 – 10:17 pm -
Happy New Year! We're kicking off 2014 right with the one and only David Phelps on the cover! Also in this issue, enjoy articles on Donna King, the Old Paths Quartet, Chris Allman, Page Trio, Carolina Quartet, Suzanne Hise and Mike Manuel. Don't miss who topped the SGNScoops radio chart for January and don't miss the latest update on our Creekside Gospel Music Convention. We are thrilled to welcome David Staton to our writing staff! David unveils his new column, "Can You Handle The Truth?" Catch the latest devotions from Sherry Anne and Jeff Steele as well as tips from Laurette Willis on Christian Fitness. Legendary Lou Wills Hildreth's articles are always great. You don't want to miss "Life, Love and Legends." It's a special treat to share an article on Edna Wright, the newly elected Southern Gospel Music Promoters President! Check out January's music reviews as well as Publisher, Rob Patz and editor, Rhonda's Frye's expectations for the New Year. Remember, SGNScoops is absolutely free. Read. Enjoy. Share!
Tags:
Angela Griffin
,
Carolina Quartet
,
Chris Allman
,
Craig Harris
,
Creekside Gospel Music Convention
,
david phelps
,
Dixie Phillips
,
Donna King
,
Edna Wright
,
Lorraine Walker
,
Mike Manuel
,
Old Paths Quartet
,
Page Trio
,
Rhonda Frye
,
rob patz
,
SGNScoops radio chart
,
southern gospel
,
Southern Gospel News
,
Suzanne Hise
Posted in
sgn scoops magazine
|
Comments Off

on Southern Gospel News January 2014 Magazine