Written by Staff on October 15, 2015 – 7:37 am -
Pigeon Forge TN (October 13, 2015) – The 2015 Creekside Gospel Music Convention will host a very special evening on Monday, November 2nd. Lou Wills Hildreth will honor Dr. Jerry Goff and the Singing Goffs during the four-day event at Pigeon Forge TN, November 2nd through 5th, 2015.
Jerry and the Singing Goffs were well known for their great singing, songs that still are being sung today, and the communication excellence of Dr. Jerry Goff. One of best-known lineups was Jerry Goff, Tank Tackett and Bill Dykes. Other members included Barry Hess, Gary Buckles, Art Ross, Wally Goff, Bobby Howard, Gary Valentine, Dave Thomas, David Harvell, Dave Rowland, David Hoskins and Gene Jones, among others.They had several hits including "I'll See You In The Rapture," "Please Search The Book Again" and "I Am Blessed." The most memorable part of their concerts was when Dr. Goff brought out his trumpet and thrilled the audience with his playing. Now it's time to show our appreciation for his work in Southern Gospel music.
"Wow!" says Dr. Jerry Goff. "I was truly excited to learn about a night to honor The Singing Goffs at the Creekside Gospel Convention, but it's also humbling to receive such honor from your peers. They are the ones who know you best."
Lou Hildreth, part of the legendary Wills Family, says, "It gives me great pleasure to honor my longtime friends, Jerry and the Singing Goffs, on Monday night,  November 2nd at Creekside Gospel Music Convention in Pigeon Forge. Dr. Jerry Goff is known and respected by the Gospel music industry and fans as a great singer, an MC who set the banner high, a preacher of the gospel, a television legend and pioneer, a trumpet player who left us overwhelmed with the beauty of the
moment, a songwriter who expressed our deepest concerns, and a Godly man who consistently presented top talent as Jerry and The Goffs. We appreciate Creekside GMC for the opportunity to present this honor!"
"I am excited that Jerry Goff and The Singing Goffs are being honored during the Creekside Gospel Music Convention," says Patricia Mathis, Vice President of WATC in Atlanta, GA. "I saw first hand how much the audience loved and were blessed by the music of Jerry and the group. I still remember the excitement and enjoyment of the audience when Jerry made his entrance from the back of the room to the stage by blowing the trumpet and shaking hands with those in attendance. I hope everyone will attend this wonderful celebration."
Rob Patz, Publisher of SGN Scoops says, "We are so happy to host the Lou Hildreth Honors and to welcome Dr. Jerry Goff to Creekside. He and his group made inroads in Gospel music and a night to honor them is long overdue. We hope all of his friends, fans and family are able to travel to Pigeon Forge for this event."
Creekside Gospel Music Convention begins November 2nd at the Smoky Mountain Convention Center. Daily showcases, jam sessions, nightly concerts and Midnight Prayer are all scheduled from Monday until Thursday. The 2015 Diamond Awards are held on Tuesday, November 3rd. Creekside tickets are free but must be reserved. For more information on tickets and lodging visit www.creeksidegospelmusicconvention.com or call Rob Patz at 360.933.0741. Free tickets are available at:https://www.eventbrite.com/e/creekside-gospel-music-convention-2015-in-pigeon-forge-tn-tickets-18436621431
Tags:
2015 Creekside Gospel Music Convention
,
2015 Diamond Awards
,
Bill Dykes
,
Dr. Jerry Goff
,
Jerry and the Singing Goffs
,
Lou Wills Hildreth
,
Patricia Mathis
,
Tank Tackett
Posted in
announcements
,
artists
|
Comments Off

on Jerry and the Singing Goffs to be honored at Creekside 2015
Written by Staff on January 23, 2015 – 12:50 pm -
By Robert York
Gospel Music USA, a TV program aired on WATC-TV in Atlanta, GA and also available on the internet, recently had a two-day taping of the programs in high definition (HD). The station will be totally HD in February when these programs begin to air. Danny Jones, Singing News Editor; Karen Peck of Karen Peck and New River and Mike LeFevre of the LeFevre Quartet are the hosts of the program.
I had the privilege of having breakfast before the first day of taping with Danny, Karen and Mike. Danny and Mike were discussing the most asked question about Mike's group. Mike responded about how he was related to Eva Mae LeFevre. Mike said his Dad and Eva Mae's husband
Uncle Urias were brothers. He went on to talk a little about the family saying that they were five brothers and two sisters in the family. Sister Maude started singing with Uncle Urias and Alf. After Maude left the group, Sister Omega sang with them. The marriage took place and Eva Mae started playing the piano and singing alto with the group.
It was over to the studio for taping the program. There were six groups
scheduled to tape in the two-day session. The first day bought The Old Paths Quartet, Freedom Quartet and Lauren Talley in front of the four cameras and on the new set for the program. Day two was Jeff Stice, Ivan Parker and Archie Watkins. When you put those three hosts together you never know exactly what to expect from them. I would go into some funny details about the introduction of Freedom Quartet but I think it best to let you wait and watch the program.
Patricia Mathis, Vice President of WATC-TV and Greg West produce the program which is aired at 2:30 pm eastern time on Saturdays on both TV and the internet. The original show was taped August 13, 2013 and started airing in September of that year. It has been on the air weekly since then. WATC-TV also filmed the SGN Scoops 2014 Diamond Awards and the Lou Hildreth Honors featuring Willie Wynn this past year in Pigeon Forge, TN and aired the programs
on their station. For more information including programming details, visit  www.watc.tvhttp://www.watc.tv/
Pictures courtesy of Robert York.
Tags:
Channel 57 Atlanta
,
Danny Jones
,
Freedom Quartet
,
gospel music
,
Gospel Music USA
,
ivan parker
,
Jeff Stice
,
Karen Peck
,
Lauren Talley
,
Mike LeFevre
,
Old Paths Quartet
,
Patricia Mathis
,
southern gospel
,
WATC-TV
Posted in
announcements
,
artists
|
Comments Off

on Behind The Scenes At Gospel Music USA
Written by SGN Scoops on December 27, 2012 – 6:34 am -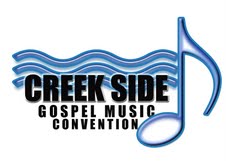 Atlanta, GA.(December 27, 2012) – WATC Television out of Atlanta, Georgia, will be airing the Lou Hildreth 75th Anniversary Celebration held at Creekside Gospel Music Convention on October 30, 2012. The event was hosted by Coastal Media Group and SGNScoops to honor Lou Wills Hildreth, a Gospel Music legend who was delighted by tributes from artists such as Phil Cross, Ann Downing, The Blackwoods, Clayton Inman, Jeff Stice, David Sutton, The Southmen and many more, as well as video clips from Larry Gatlin, Larry Ford and Bill Gaither. Many of these special moments are shown on TV Special to be aired December 29, 2012 at 3:00pm.
Patricia Mathis and her crew of WATC TV, Atlanta's TV 57, recorded the Celebration and is excited about airing the TV Special. "The inspiring and precious life of Lou Wills Hildreth, taped at Creekside Gospel Music Convention, will be aired in a 75th Anniversary Celebration special on www.watc.tv, Saturday, December 29, from 3:00 p.m. to 5:00 p.m. You will not want to miss this special honoring Lou for her 75 years of spreading the gospel in music through her own singing, inspiring others and being a person that everyone wanted to know. Thanks to Rob Patz of SGNScoops Digital Magazine and his crew for making this special an awesome event."
Rob Patz, CEO of Coastal Media Group and publisher of SGNScoops, was thrilled to have the opportunity to honor his friend, Lou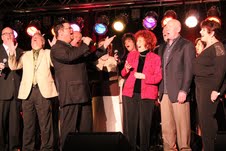 Hildreth, in such a way. "Lou has spent her lifetime promoting this special music and its timeless message," said Patz. "To be able to celebrate her achievements and the many friendships she has made was a blessing. We are excited that WATC TV was there to record this special event for those who couldn't be with us. We hope many will tune in and watch!"
Picture information: Lou Hildreth, J.P. Miller and choir
 About WATC TV: WATC TV provides Atlanta with a mix of family, Christian and educational programming. It is known to viewers as the home of Atlanta Live and is seen over the air throughout the metro Atlanta market and also in over one million cable and satellite homes. WATC is the home of many original series and has been honored with numerous Angel and Telly Awards, as well as receiving it first EMMY in 2010. The station's programming can be seen around the world via video streaming located on the WATC website at http://www.watc.tv/
About Creekside Gospel Music Convention: Creekside Gospel Music Convention held it's inaugural event at the Smokey Mountain Convention Center, Pigeon Forge, Tennessee from October 29 through 31, 2012. The CGMC is presented by SGN Scoops and Coastal Media Group at Pigeon Forge and is the home of The Diamond Awards and other special events. Next year's dates are October 28, 29 and 30th, 2013. For more information on Creekside Gospel Music Convention visit http://www.creeksidegospelmusicconvention.com/
About SGNScoops: SGNScoops Digital is a fully-downloadable monthly magazine that exists to promote the gospel by unveiling what is intriguing and real about Southern Gospel and Christian Country music. SGNScoops offers music news and views as well as concert and book reviews, inspirational articles and features reaching beyond our gospel music world. SGNScoops is the home of the Diamond Awards, a fan-based annual awards program recognizing the best in Southern Gospel and Christian Country music.  SGN Scoops is always digital, always free. For more information: https://www.sgnscoops.com/
Tags:
Ann Downing
,
Atlanta Tv
,
bill gaither
,
Channel 57
,
coastal media
,
Creekside Gospel Music Convention
,
David Sutton
,
Jeff Stice
,
Larry Ford
,
Larry Gatlin
,
Lou Hildreth
,
Lou Wills Hildreth
,
Patricia Mathis
,
phil cross
,
rob patz
,
sgnscoops
,
SGNScoops.com
,
The Blackwoods
,
The Southmen
,
WATC
Posted in
announcements
|
Comments Off

on LOU HILDRETH 75TH ANNIVERSARY CELEBRATION TO BE AIRED DECEMBER 29, 2012 ON WATC
Written by SGN Scoops Staff on December 4, 2012 – 5:52 pm -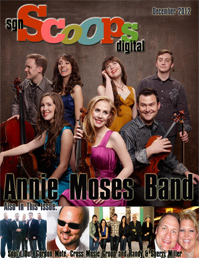 From the staff of SGNScoops Magazine, Merry Christmas! We pray the December edition warms your heart this holiday season. On the cover this month is the sensational Annie Moses Band. Also we highlight the latest happenings in the ministries of Gordon Mote, Cross Music Group, Soul'd Out Quartet, Randy and Sherri Miller, Kevin Mills, C S & K, and Micah Watkins. Rhonda Frye share the highlights of the recent Write About Jesus songwriter's conference, Jennifer Campbell shares a recent Women of Faith experience and Rob Patz shares a media minute with Patricia Mathis. We urge you to give the gift of Gospel Music! Sandi Duncan Clark reviews the latest albums from the Littles, the Hoppers, The Easters, the Blackwood Brothers, and the Hinshaw Trio. Also included in this edition, Laurrette Willis encourages Christian Fitness during the holidays, John Mathis gives a word of encouragement and Lou Hildreth shares wonderful memories. For this special holiday issue, we've gathered many tasty recipes from our staff, readers and many artists. We urge you to put these recipes to the test! We've had a great 2012 at SGNScoops and are looking forward to great things in 2013. Remember, SGNScoops All Digital Magazine is absolutely free, so please share with your family, fans and friends! Merry Christmas!!
Download This Months Magazine Here
Tags:
Annie Moses Band
,
C S & K
,
christian entertainment
,
church
,
Creekside Gospel Music Convention
,
Cross Music Group
,
Faith
,
gaither
,
gordon mote
,
John Mathis
,
Kevin Mills
,
Laurrette Willis
,
Littles
,
Lou Hildreth
,
Micah Watkins
,
New Southern Gospel
,
Patricia Mathis
,
Randy and Sherri Miller
,
Rhonda Frye
,
rob patz
,
Sandi Duncan Clark
,
SGNScoops Magazine
,
soul'd out quartet
,
southern gospel concerts
,
Southern Gospel News
,
Southern Gospel Top 20
,
The Blackwood Brothers
,
The Easters
,
The Hoppers
,
Top 20
,
women of faith
,
Write About Jesus
Posted in
announcements
,
sgn scoops magazine
|
Comments Off

on December 2012 Edition Of SGNScoops Magazine
Written by SGN Scoops on November 12, 2012 – 12:27 pm -
SEATTLE, Wa.(November 8, 2012) – SGN Scoops presented the 2012 Diamond Awards
at the inaugural Creekside Gospel Music Convention on October 30 at Pigeon Forge,
Tennessee. The awards ceremony was hosted by Daniel Ball of the Ball Brothers along
with singer/songwriter Christy Sutherland and graced with such talent as Gerald and
Jason Crabb, Jeff and Sheri Easter, Phil Stacey, Crosby Lane, David Bryan and Watts,
Rowsey and Bean and several others.
"The Diamond Awards was a wonderful time of uplifting and encouraging the talented
artists in Christian music," said Rob Patz, CEO of Coastal Media Group and publisher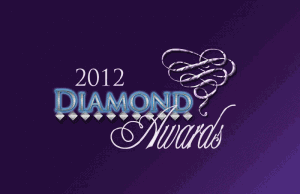 of SGN Scoops. "We were honored by incredible performances by all of our featured
artists, as well as great hosting by Christy and Daniel. It's always an event geared to the
appreciation of our Gospel music friends, but more than that, it's a time of worship to
God, the Giver of all of our talents. We can't wait until next year!"
Winners of the 2012 Diamond Awards:
J.D. SUMNER LIVING LEGEND AWARD: Ann Downing
MIXED GROUP OF THE YEAR: The Isaacs
QUARTET OF THE YEAR: Gaither Vocal Band
TRIO OF THE YEAR: The Booth Brothers
DUET OF THE YEAR: Wilburn and Wilburn
FEMALE SOLOIST OF THE YEAR: Janet Paschal
MALE SOLOIST OF THE YEAR: Jason Crabb
SUNRISE AWARD: Beyond the Ashes
SONG OF THE YEAR: "Hear My Heart", Artist: Jeff and Sheri Easter, Written By:
Sheri Easter, Wayne Haun and Joel Lindsey
ALBUM OF THE YEAR: The Song Lives On, Artist: Jason Crabb
CHRISTIAN COUNTRY GROUP OF THE YEAR: The Isaacs
CHRISTIAN COUNTRY FEMALE ARTIST OF THE YEAR: Christy Sutherland
CHRISTIAN COUNTRY MALE ARTIST OF THE YEAR: Guy Penrod
CHRISTIAN COUNTRY ALBUM OF THE YEAR: Breathe Deep, Artist: Guy Penrod
ANTHONY BURGER INSTRUMENTALIST OF THE YEAR: Gordon Mote
DOTTIE RAMBO SONGWRITER OF THE YEAR: Gerald Crabb
BLUEGRASS GOSPEL ARTIST OF THE YEAR: The Isaacs
VIDEO/DVD OF THE YEAR: Bill and Gloria Gaither Present: Tent Rival Homecoming,
Gaither Homecoming Series
FAVORITE ARTIST WEBSITE: Gaither.com
FAVORITE INDUSTRY WEBSITE: Gospel Music Today, Ken and Jean Grady
PAUL HEIL AWARD (Broadcasting): Jonathan Edwards
PUBLISHER'S CHOICE AWARD: Lou Hildreth
LOU HILDRETH AWARD: Rhonda Frye and Patricia Mathis
About Creekside Gospel Music Convention: Creekside Gospel Music Convention
held it's inaugural event at the Smokey Mountain Convention Center, Pigeon Forge,
Tennessee from October 29 through 31, 2012. The CGMC is presented by SGN
Scoops and Coastal Media Group at Pigeon Forge and is the home of The Diamond
Awards and other special events. Next year's dates are October 28, 29 and 30th,
2013. For more information on Creekside Gospel Music Convention visit http://
www.creeksidegospelmusicconvention.com/
About SGNScoops: SGNScoops Digital is a fully-downloadable monthly magazine that
exists to promote the gospel by unveiling what is intriguing and real about Southern
Gospel and Christian Country music. SGNScoops offers music news and views as
well as concert and book reviews, inspirational articles and features reaching beyond
our gospel music world. SGNScoops is the home of the Diamond Awards, a fan-based
annual awards program recognizing the best in Southern Gospel and Christian Country
music. SGN Scoops is always digital, always free. For more information: http://
www.sgnscoops.com/
Tags:
Ann Downing
,
christy sutherland
,
Creekside Gospel Music Convention
,
Crosby Lane
,
David Bryan
,
Jason Crabb
,
jeff and sheri easter
,
Lou Hildreth
,
Patricia Mathis
,
Phil Stacey
,
Pigeon Forge
,
Rhonda Frye
,
rob patz
,
Rowseay & Bean
,
Southern Gospel News
,
The Ball Brothers
,
The Diamond Awards
,
the isaacs
,
Watts
Posted in
announcements
,
awards
|
Comments Off

on 2012 DIAMOND AWARD WINNERS ANNOUNCED AT CREEKSIDE GOSPEL MUSIC CONVENTION