Written by SGN Scoops on July 19, 2013 – 12:38 pm -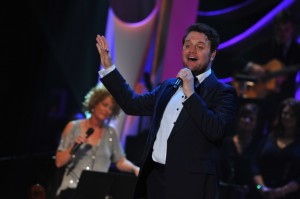 Grammy-Winning Tenor David Phelps Takes Viewers on an Eclectic Journey Through the Musical Influences That Have Shaped His Life and Award-Winning Career –
Taped in the historic Franklin Theatre in Franklin, Tennessee, DAVID PHELPS CLASSIC features the Grammy-winning tenor's world-class vocals backed by a live orchestra. The program premieres Friday, July 26, 10:00-11:00 p.m. ET as part of the PBS ARTS Friday night lineup.
Phelps has won the hearts of audiences all over the world for more than a decade. He has performed in prestigious venues across the globe, from the White House to New York City's Carnegie Hall to the Sydney Opera House in Australia. His electrifying voice has moved audiences with music of all kinds, including classical, Broadway, inspirational and patriotic favorites. A Baylor University graduate with a degree in vocal performance, he is also a gifted arranger who has a special touch for giving classic American favorites a fresh sound with hints of pop melodies and modern harmonies.
Phelps is a member of the renowned Gaither Vocal Band, has received two Grammy Awards and four Dove Awards, and is featured on numerous chart-topping recordings.
"David Phelps is one of the most phenomenal talents with whom I have ever worked," said Barry Jennings, executive producer of DAVID PHELPS CLASSIC. "I believe you will be inspired by this wonderful evening of music."
"This beautifully shot concert featuring the incredible talent and musical range of David Phelps is an excellent addition to the PBS ARTS productions," said Michael J. LaBonia, WKNO president and CEO. "We are very proud to share this very special concert with PBS viewers nationwide." Read more »
Tags:
bill gaither
,
david phelps
,
David Phelps Classic
,
Gaither Vocal Band
,
PBS
,
Southern Gospel News
,
WKNO
Posted in
announcements
|
Comments Off

on DAVID PHELPS CLASSIC" PREMIERES AS PART OF PBS ARTS
Written by SGN Scoops on November 3, 2012 – 5:48 am -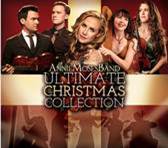 Los Angeles, Calif. (Oct.30, 2012)— The Annie Moses Band celebrates the season with its latest multi-media project, Ultimate Christmas Collection. Releasing nationwide on November 27, the collection fuses timeless carols with new original arrangements. The five-disc package is comprised of an instrumental project, the band's chart topping studio album and the record breaking PBS CD/DVD special, providing fans with the complete Annie Moses Band holiday experience.
The album highlights three classic holiday projects from the Annie Moses Band that include, Christmas Bright & Beautiful, This Glorious Christmas and Christmas with the Annie Moses Band live CD/DVD. The project also features a brand new digital release of the band's latest seasonal album, Christmas Comes Softly – an instrumental album comprised of original arrangements of holiday favorites. Some of the traditional songs include "Ave Maria," "Angels We Have Heard on High," "Joy to the World," and "Lo! How A Rose 'Ere Blooming."
Christmas Bright & Beautiful (2008), expertly crafted by Annie Moses Band's jazz pianist and arranger, Bill Wolaver, is an instrumental album that features a collection of beautiful Christmas carols that range from gentle impressionism to avant-garde excitement. Performed by the classically-trained musicians of the band, the arrangements reflect the acoustic Annie Moses style of string quartet, harp, guitar, piano and mandolin.
This Glorious Christmas (2008) is the Top 10 Classical Crossover project that introduced the style and sound of Annie Moses Band to the world. This album features studio recordings of fan favorites like "God Rest Ye Merry Gentlemen" and "When the Christmas Baby Cries."
Christmas with Annie Moses Band live CD/DVD (2011) allows fans to enjoy the record-breaking PBS Special in the comfort of their own home. The band's live performances showcase classical and jazzy arrangements of carols alongside breathtaking original songs.
To coincide with the release of the Ultimate Christmas Collection, Annie Moses Band will perform an array of songs from the new project on its holiday tour.  Opening on November 29 in Belleville, Ill., the band will tour in a total of 17 performances throughout the season in markets such as Nashville, Tenn., Ft. Worth, Texas and New Orleans, La. The Christmas tour will be sponsored by Holt International, a non-profit organization that supports special needs children in countries overseas who are awaiting adoption.
After Thanksgiving, PBS will re-air the critically acclaimed Holiday Special that attracted audiences nationwide in 2009. To date, Annie Moses Band has garnered the highest debut for any new artist on the network.  Check your local listings, or call your PBS station for airtimes.
For more information on the Annie Moses Band Ultimate Christmas Collection, please go to www.anniemosesband.com.
Tags:
Annie Moses Band
,
christmas music
,
PBS
Posted in
announcements
,
new music
|
Comments Off

on THE ANNIE MOSES BAND CELEBRATES THE SEASON WITH LATEST MULTI-MEDIA PROJECT, ULTIMATE CHRISTMAS COLLECTION AVAILABLE NOVEMBER 27
Written by SGN Scoops on September 4, 2012 – 2:11 pm -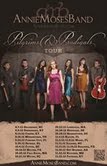 LOS ANGELES, Calif. (Sept. 4, 2012)  – Critically acclaimed and Billboard charting group, Annie Moses Band announces its fall Pilgrims & Prodigals Tour. Launching September 7 in Goldsboro, NC and visiting 20 cities across the United States through November 25, the tour will support the highly anticipated new release, Pilgrims & Prodigals (September 25, 2012).
The Pilgrims & Prodigals Tour will visit major markets including Dallas, St. Louis, Miami and Nashville (see complete list of tour dates below). In conjunction with the tour and album, the Annie Moses Band will be performing songs featured on their upcoming Public Television Special of the same name. The special programming airs on PBS stations across the country beginning in October with continual airdates throughout the season.
Annie Moses Band's 12th studio project to date, Pilgrims & Prodigals is the first non-seasonal release from the prestigious group.  On their new collection the family act developed 13 diverse tracks blending the captivating styles of classical, jazz, folk and even a frisson of Celtic thrown in for good measure.  Pilgrims & Prodigals will be marketed and distributed in partnership with Dream Journey, the television production company behind the many highly-popular Public Television Specials. The album is being packaged as a double-disc set, containing the CD plus a companion DVD showcasing the bands live performances.
For more information on the Annie Moses Band and for a list of the upcoming tour dates please visit www.anniemosesband.com.
Tags:
Annie Moses Band
,
bluegrass
,
PBS
,
Southern Gospel News
Posted in
announcements
|
Comments Off

on ANNIE MOSES BAND ANNOUNCES 2012 PILGRIMS & PRODIGALS FALL TOUR
Written by SGN Scoops on June 1, 2012 – 6:03 am -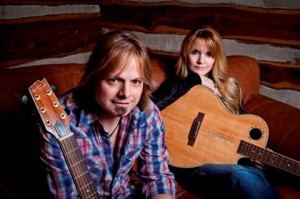 Nashville, TN (May 30, 2012) — Bluegrass stars THE ROYS make two national TV appearances on Saturday, June 2, as they are guests on both RFD-TV's Reno's Old Time Music Festival and the PBS Special, Pa's Fiddle: America's Music. 

Reno's Old Time Music Festival, hosted by Bluegrass legend Ronnie Reno, features THE ROYS singing five songs from their current CD, LONESOME WHISTLE (Rural Rhythm Records):  the album's title track; their current single, Trailblazer; their #1 hit, Coal Minin' Man; the driving up-tempo Nothin' I Can Do About It Now, and the contemplative, I Wonder What God's Thinkin'. The program, seen by nearly 20 million viewers each week, is one of the most dynamic, acoustic music programs on television. Each episode contains stunning performances, historical footage, in-depth interviews and a deep respect for the heritage of Bluegrass music. THE ROYS' segment airs Saturday, June 2 at 6 p.m. CDT/ 7 p.m. EDT.  Viewers should check www.rfdtv.com for more specific local listings.

The PBS Special, Pa's Fiddle: Charles Ingalls, American Fiddler, is the brain-child of Dr. Dale Cockrell, director of MTSU's Center for Popular Music and scholar of the songs embedded in the LITTLE HOUSE ON THE PRAIRIE books.  Lee and Elaine Roy perform songs unique to the project: Buffalo Guys and Gum Tree Canoe.  In January they joined Randy Travis, Ronnie Milsap and numerous other stars for the taping of the Special, which raised the rafters of the Loveless Barn outside of Nashville. The show airs Saturday, June 2, at 7 p.m. CDT/ 8 p.m. EDT; fans can learn more about this unique tribute to the music of Laura Ingalls Wilder and the program HERE.  Nashville airings on WNPT- TV include Sunday, June 3 at 7 p.m. CDT/ 8 EDT and Monday, June 4 at 11 p.m. CDT/ midnight EDT.

Fans can find all the news on Lee and Elaine at www.theroysonline.com.
Tags:
Inspirational Bluegrass
,
PBS
,
Reno's Old Time Music Festival
,
RFD-TV
,
The Roys
Posted in
announcements
,
christian entertainment
,
Christian interest
|
Comments Off

on THE ROYS Bring Bluegrass To the Masses With Two National TV Appearances On Saturday, June 2