Written by Staff on June 20, 2018 – 10:06 am -
It is said that when a girl has a sister, she'll always have a best friend. Not only are these sisters best friends, but they are also in pursuit of making a lifetime career out of their shared passion. Some of Southern gospel's most beloved groups feature sisters, including Sisters (Kim Sheffield, Heather Bennett and Valerie Medkiff), Karen Peck and New River (Karen Gooch and Susan Jackson), the Collingsworth Family (Brooklyn Blair, Courtney Metz and Olivia Collingsworth), the Isaacs (Sonya Yeary and Becky Bowman) and the Martins (Joyce Sanders and Judy Hess).
Rachael and Riley Peyton began singing when they were only 5 and 6 years old, respectively, at a local nursing home. They would help their mother by offering some songs for the residents, following a devotion that she would give.
Eventually, a staff member of the nursing home asked the young girls to perform at her church for a mother-and-daughter banquet. Some local pastors' wives heard the sister duo and invited them to their churches. And so, a career was born.
The Peyton sisters have been traveling and singing now for approximately four years. Based out of southern Illinois, the girls make most of their stops in Illinois, Indiana, Kentucky, and Tennessee. They average 120 dates per year, with most of their performances happening on the weekend and an occasional concert during the week. While neither of their parents claim to be vocalists, the girls were raised with a rich understanding of Southern gospel music.
"We were surrounded by Southern gospel music growing up," Rachael says. "When Mom would clean the house, she would put (on) a Gaither video. Riley and I would sit on a blanket, play with our toys and watch Bill Gaither."
Sanders, a Gaither regular, is an inspiration to the girls.
"Joyce is our vocal coach," Riley points out. "She is also an amazing person and encourager."
Sanders was the producer of the Peyton Sisters' most recent album, and the Gaither Vocal Band laid the tracks for the project.
The ladies released the CD, featuring four original songs, at the 2017 Gaither Fall Fest. Rachael wrote two songs by herself on the project, one of which she feels has had a big impact in their concerts.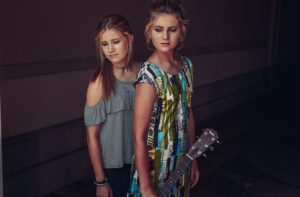 "My favorite would be 'I Am There,'" Rachel shares. "I wrote that one, and I love it to bits. It has a beautiful message to it. Wherever you are in your life and your circumstances, He is right there. It is just an awesome reminder."
These teenagers are eager to reach all generations. They want to span the gap between their peers and an older audience, as is evident in their latest project, entitled "Undivided." Half of the album is contemporary, while the other half is Southern gospel.
"So many times people put a line in between Southern gospel and contemporary," Riley says. "They think you cannot listen to both. I think it's good to span the generations. Let there be undivided unity."
Rachel adds, "The thing that sets Southern gospel apart from other genres is the lyrics and the music. It's not the singer that makes it different. Any artist can learn to sing any genre they want to."
The two have some interesting advice on the best way to reach their generation.
Tags:
Fayth Lore
,
gaither
,
Joyce Martin
,
Peyton Sisters
,
The Lore Family
Posted in
artists
,
sgn scoops magazine
|
Comments Off

on Southern Gospel Sweethearts: the Peyton Sisters by Fayth Lore