Written by Staff on August 11, 2019 – 10:33 am -
Experts may say the world is in the 11th hour and may be approaching apocalypse, because of the downturn in the environment due to man-made pollution. Others say that many animal species are in their 11th hour because of the threat of extinction. Then there is the threat and presence of war, division and discrimination which often makes us feel that humankind is approaching the 11th hour.
The truth is that we are in the 11th hour. The Bible clearly tells us that we are in the end times, and frankly, the world's time clock might be a little slow. But whether or not it is 10 minutes to midnight or five, time is flying by and gospel trio, 11th Hour, desires to spread the knowledge of salvation through Jesus before the clock strikes 12.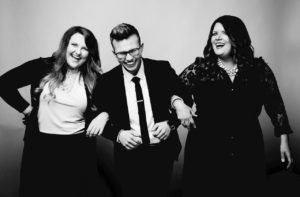 Amber Eppinette has been the owner and soprano of the group since she began the trio 10 years ago, at the age of 16. This lady has more stage presence and ability to communicate than artists twice her age, yet that does not seem to have changed her attitude or her vision for the group.
This powerful soprano has seen the group's songs rise in the charts and enjoyed award nominations and achievements. The music of 11th Hour is heard across the nation and the world, yet she is humble and respectful of her call from God.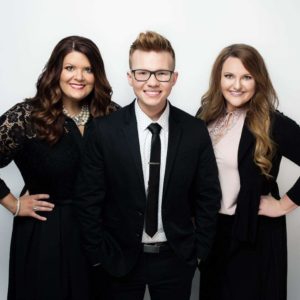 "I truly believe it's everything from knowing what our call is and that is to minister, on and off the stage, to having a great team that supports and backs us," says Eppinette. "Our families, the Crossroads label, Beckie Simmons Agency, the churches, and of course all of the D.J.s that believe in our music to play it."
The music of 11th Hour can be found on their seven recordings, which includes a recent Christmas album. One single released to radio that received a lot of attention was "Power in Prayer." This song also brings positive response when performed live during a concert.
"On the 'Silence the Stones' project, 'Power in Prayer' is probably the most requested," states alto vocalist, Jaquita Lindsey. "There's not a person in the crowd that can't relate with the lyrics to that song. Every one of us have been through a trial and can testify that there's power in prayer." 
An 11th Hour song that is personally poignant to Lindsey still receives a lot of airplay.
Tags:
11th Hour
,
Amber Eppinette
,
gospel music
,
Jaquita Lindsey
,
Logan Smith
,
Power in Prayer
Posted in
announcements
|
Comments Off

on 11th Hour: Powerful Prayers and Opening Doors