Written by Staff on May 12, 2018 – 12:05 pm -
When you're a little girl, you watch your mother with the intent of being just like her. She's what makes you love people a bit deeper. She's what makes your home look and smell good, and she's the epitome of God's love. Little boys go to their mother for care and concern and live with the expectation that she can make anything better again. Their mother is who shows them love in the first place.
If God blesses you with a mother, or someone who treated you like their own, He has blessed you with something that will last a lifetime. Mothers deserve more than just a day to recognize them, but take a moment today, or two, and wrap those arms around your mother or the special lady in your life and remind her of the love she has given you.
Fayth Lore of the Lore Family truly knows the leadership and guidance of having a special mother. I asked Fayth the following questions, to which you can feel the reality of their relationship, and the love and respect she holds for her mother.


What do you admire most about your mother?
"There are so many things that I admire about my mother. It's hard to pick just one. Anyone who knows Sandy Lore knows that she loves God, and she loves her family. Mom isn't the type of person who just lives for Jesus on Sundays and on stage. She lives for Him each day and behind the scenes when nobody's watching. One thing I have always appreciated about my mother is that she is as real as they come. She's not a fake person. She sincerely cares about people and hurts when they hurt. I've watched her talk to individuals after concerts and later write their name down on her prayer board that she prays over daily. She is a woman of faith.
"She is absolutely hilarious when you get to know her and extremely sarcastic, but she's never been afraid to let me see her hard days. She's allowed me to be her best friend, and for that, I am eternally grateful. I share pretty much every detail of my life with my mother, because I have confidence in her discrepancy, advice and love. She's always told me that she loves me, but she's never shied away from telling me when I'm wrong. She is the epitome of class, but she knows how to cut up and have a good time."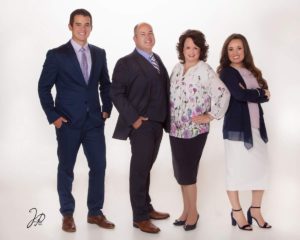 What is it like singing on stage with your mother?
"It is something special to have the opportunity to sing with my family on stage. Not very many young women get that chance. We're a pretty normal, average family. We all drive each other crazy, but that's what makes road trips so fun. Hah. We say that we're like a three-ring circus, and it's probably true. In the end, I know that family is the most precious possession that God has given me on this side of Heaven. I wouldn't trade singing next to my crazy bunch, for the world.
"At our latest teen girl conference, True Purpose Girls Conference 2017, Mom and I both caught eyes while singing a duet together on one of our latest songs, "Many Sparrows" (written by Marcia Henry). Looking each other in the eye, we both began to tear up. Later, we discussed what was running through our minds as we caught eyes, and we discovered that we were thinking the same thing. The lyrics say, "You are worth more than many sparrows. It's important that you know, God knows exactly where you are. And you, don't be afraid about tomorrow. For no matter where you go, God goes. He is looking out for many sparrows." Running through both of our minds was the thought of how special the other person is. The quality time that I get to spend with my mom every weekend, I'm sure I take for granted many of times. But, I will never forget our special moments that God gives us."
Of all the amazing traits your mother has, what do you feel is her best?
"Her hazel eyes. She does have beautiful eyes, but in all seriousness, my mom has a pure heart. Like I said, she is just real with people. When people come to her with questions or prayer requests, she always tries to sympathize with them and takes time to listen. If there is an issue, she's not very good at sweeping it under the rug. She believes in getting things into the light, because the truth will set you free. We always say that if someone is going to get hurt or sick in the family, it will be mom. We say it's because she's the most spiritual one of the four of us, and Satan is trying to take her out. But, she has full faith in the power of God. She's not afraid to pray about anything and believe what she's praying for."
What trait(s) does your mother possess that you hope to exemplify one day for yourself?
"Her faith and her class. Mom and Dad both grew up at the same church, up the holler. We're country as cornbread as they say. Maybe not that country, but we do live in Southern Ohio. My mother is a classy woman, and she believes in taking care of yourself and looking your best. But, she also showed Samuel and I how to make Indian War paint with river water and river rock. She'd smear it on our cheeks when we were younger, and we'd pretend like we were Indians. I hope to have her sincerity and faith someday. I tend to be too analytical and downcast about situations or goals. But, when Mom claims something in Jesus' name, she believes it wholeheartedly."
Tags:
Christian life
,
family
,
Fayth Lore
,
gospel music
,
Lore Family
,
Mothers Day
,
Sarah Murray
Posted in
artists
|
Comments Off

on Fayth Lore of the Lore Family talks about a Mother's Love
Written by Staff on May 8, 2018 – 3:26 pm -
The Chandlers are one of the up-and-coming family groups in Southern Gospel music. In the last two years alone they have accomplished great things. In 2015, they were a NQC showcase winner. In 2016, during the Diamond Awards, they received the Sunrise Award. To follow along with these accomplishments, they have also had the honor of singing at NQC and Dollywood, and have even begun their own television show titled, "It's Your Time, with the Chandlers." Their group consists of Tim Chandler, and his wife Lana, and their two daughters, Tiffany and Lyndsey.
While awards and chart hitting is a dream of many Southern Gospel artists, one major accomplishment the Chandlers have been proud of this year, is a type of ceremony they have included in their scheduled performances. They label this special time as "The Dump."
The Dump is much like an altar call but is so personal and life altering. This is a time where anyone can come to the altar and hold their burdens, insecurities, fears, and their failures in their hands. Tim will pray a special prayer asking God for deliverance. As he prays, he asks that God will take these specific requests and remove them so the person holding them can move past them and further their walk with Christ and no longer be pinned down by these setbacks. As he finishes his prayer, he then counts to three. At the count, everyone then turns their hands and dumps their specific concerns at the altar to be left and not picked up again.
This ceremony was created when Lana Chandler herself was burdened when a loving family member walked out of her life. Lana said she was broken and dealt with emotional stress for 11 months. During this trying time, Lana said she felt like she was having a hard time trying to minister to people, when she was struggling herself.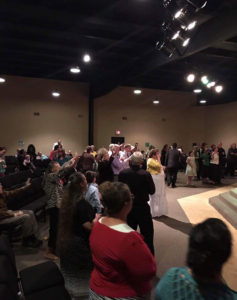 It was then she realized she was singing to herself and it was time to practice what she preached. Lana describes this moment and the days that were to come as, "worshipping her way to victory."
In Lana's own words: "In order to have a burning testimony, ministry, etc., you have to go through the fire." As Lana dealt with the hurt and burdens from this trial in her life and her family, she focused on her own walk with God and began testifying of how God had delivered her and how she didn't have to carry this burden anymore.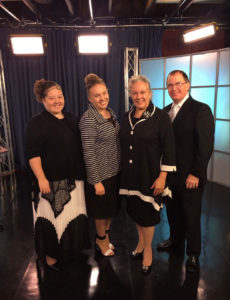 Tim and Lana both agreed, that although it is very easy to question God, repentance must come first.  "In order for God to hear us, we need to make sure we are where we need to be with God," Tim said.
As the trial seemed to diminish, Tim and Lana utilized this trial and used what God had done for them, to help others find their own deliverance. By creating this dump ceremony in their performances, they started to see change in people and saw God move each time.
Tim preaches using the scripture 1 Corinthians 10:13.  He delivers a message that describes the phrase, "God won't give you more than you can handle," as being misunderstood. In fact, this verse reads: "that ye may be able to bear it."  This is where Tim eludes that God will never leave or forsake us, but while we will face troubles, we have to find a way of escape. God's plan is not for us to stay in that trying time. They also include one of their songs called, "My Last Tear."
This part of the service has truly proven to be remarkable to the Chandlers. Lana recalls one instance where a woman came to the altar, was prayed over, and dumped her burdens. Lana says she saw the whole demeanor of the woman's face and countenance changing, and she realized this was truly helping others find deliverance. In one recent service, 12 people were standing at the altar ready to dump their burdens. Lana mentioned that we are all God's clay and each time someone finds hope in this part of the service, it's like God putting the clay back on the wheel and saying, "You aren't going to be that anymore, however I'm going to use you to be something else."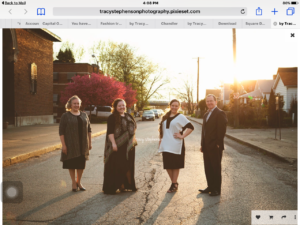 Since the Chandlers have agreed to make this a part of their service when they feel led and when the Holy Spirit moves, God has also moved for them. The family member in Lana's life wrote her a letter of apology which began the healing process for Lana. However, the biggest personal move through Christ for Lana was the humbling moment of realizing that because she went through this trial and found deliverance, others will be able to experience the same peace she found in Christ. Lana tells their audiences that, "Life doesn't stop for our trials and tribulations." She encourages others to find their hope and rest in Jesus and to give Him their burdens, just like she did.    
The Chandlers are still praying for God's plan and will in their ministry as they continue to travel. They have traveled overseas, to Canada, and all over the United States. They are only a few states shy of covering all 50 states in the U.S.  They are even scheduled to sing in Serbia in 2018. They just released their second single, "Somebody Give Him Some Praise," from their latest CD.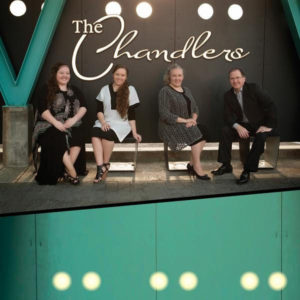 With all the excitement and new beginnings ahead, when you meet a family like the Chandlers you realize their sole purpose in their ministry can be summed up in one word: Jesus. Just as their most requested song is titled, "He Will Come Through," that is the message behind their music, the purpose behind their special ceremony, and the depiction of who the Chandlers are. A message to everyone that you've not gone too far for Jesus, because once you give Him your burdens, He will come through for you.
Photographs courtesy of The Chandlers and Meagan Pledger.
By Sarah Murray
First published by SGNScoops Magazine in March 2018
READ The latest PDF Version Of SGNScoops Magazine here.
Download The latest PDF Version Of SGNScoops Magazine HERE
Find SGNScoops Magazine On Facebook HERE
Listen Online To The Best In Todays Gospel Music HERE
Tags:
Chandlers
,
nqc
,
Sarah Murray
Posted in
artists
,
sgn scoops magazine
|
Comments Off

on The Chandlers: Living a Life of Surrender
Written by Staff on February 13, 2018 – 1:55 pm -
In today's society, social media can be used in a variety of ways. However, in the state of Georgia, you will find a humble and bold family who are using it to encourage, uplift, praise, and ultimately to see souls saved.
The Jordan Family Band is a family group with a country gospel feel. The group consists of Josh and Randa Jordan and their sons Hutch (17), Alex (12), Grant (10), and a friend of the family who is like an adopted son to them, Keenan Atkinson (20).
The family got a unique start in 2009. Randa says that they aren't a family group who raised their family to sing and travel, but for them it just happened.
"It just wasn't something I saw for my family," Randa confesses. "Josh and I grew up singing in church and even started a small group with my brother. We had dreams to build the group and go full time, but we ended up building families."
However, we all know that what's in God's plan, will always find a way. Randa recalls a time where her oldest son Hutch just picked up the guitar and began to play. He had never a lesson, he just played.
One of the main inspirations for the Jordan Family Band was Josh Jordan's dad, Dr. Fain Jordan. He was a patriarch in their community and a true man of faith. He tragically passed away at the age of 64.
"It was so sudden for us, and for everyone. We had never dealt with such a sudden loss and it was such a rare feeling for our family," Randa states.
After the death of Josh's father, the family found themselves coping through music, together, around the piano. "Josh and I never pounded this into the kids, but we watched them be inspired by music," exclaimes Randa.
Their middle son, Alex, began singing the song, "Dealing with Gold," and both Josh and Randa were amazed to hear what a voice their son had. They quickly realized as their sons sang what harmony they had together and knew they truly had a gift of song.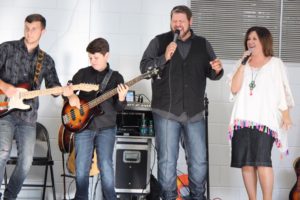 People quickly started asking them to sing at church and their music journey had begun. God had truly intervened through a family heartbreak. At this time someone gifted the family a conversion van and wherever God sent them, they went. Singing just became something the family loved and they began doing what called what using them to do to bring him glory.
Randa recalls using a social media forum called "social-cam" which was similar to Facebook at that time. She recorded herself singing a song for sheer fun and posted it. A few likes from viewers turned into a viral video.
At this time Randa was truly going through some dark times, however, she just kept singing and posting her videos. Her videos gradually went to around 100,000 views. It was at this time that Randa realized she had a ton of viewers listening to her sing, but while her voice was resounding through a social media connection, her heart just wasn't where it needed to be. In her alone time with God, Randa let God speak to her and shake her. With the help of her Savior, Randa got her heart where it needed to be.
In October 2016, the Jordan Family was gearing up to go to a football game when the opportunity arose to go live on Facebook. They sang the song made famous by Karen Peck and New River, "Everybody's Going Through Something." The video reached 3 million views in just a couple of days.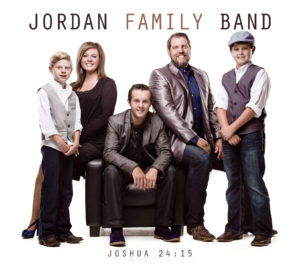 But aside from the views, aside from who the viewers were, this moment was where Randa realized how God could use her family through a tool like social media. As tears were streaming down her face, she began to pray that God would use this as a ministry and that God would send them people to minister to. God began answering their prayer through that one song. It began what would be known as their Wednesday night ritual of going live on Facebook to sing and minister.
You can now find the Jordan Family Band almost every Wednesday night on their group page. Its strictly organic, not rehearsed, and 100% real each time.
One amazing thing about this family is their authenticity. They are truly as real as they come. Just like any family, they face trials, hardships, arguments, and basic hiccups in life. Before every live feed they made an agreement to leave whatever happened in their day behind them and pray together, all before hitting the "Go Live" button on Facebook.
The Jordan family is an ultimate example of using social media to change the world for the cause of Christ, one live feed at a time. Randa Jordan alone has achieved 60,000 followers on her own personal page. Anyone can be a Christian, but it takes boldness and being real to show the world your heart and be the example God calls us to be.
"I realized that with so many people following me, I had to refrain from being negative, because of who I could effect," says Randa. "I just can't afford to lose the lost or hurting people."
The Jordan Family Band have a main goal of just wanting to help people. Of course they want the convenience of a bus, easier travel, and better accomodations for their ministry, but Randa has a different perspective.
"We would rather travel and sleep in a pickup truck to and from our scheduled singings, than to put our efforts into just having a bus to travel in. Our job is to sing and that's what we are going to do."
The Jordan Family Band has received many accolades such as charting in the Top 30 in the SGNScoops charts. They have most recently received a nomination for a Dove Award for "New Artist of the Year," and have recently signed with Crossroads. The family's song "My God is Faithful," resounds in their ministry as it serves as their ministry motto.
The hearts of the Jordan family are wide open and by watching their newsfeed, you can hear their hearts and join their worship for the one true King. One of the most rewarding facts about their unique ministry is the people they have reached and the response from their audience.
Many times the messages they have received have said, "I was going to commit suicide tonight, but I saw your live video on my newsfeed and listened and decided not to," or "I was about to abort my unborn child and heard you singing on Facebook and decided to stop what I was doing."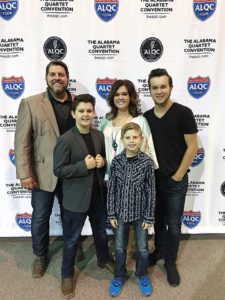 These are real people. Real issues. Real messages. This is a real ministry that has accepted the call to serve God's people, and its working.
"People are finding hope in our live feeds. I even received a message one night that said, "I didn't shoot myself like I had planned tonight because I heard your live feed.' God is answering our prayer by sending the people we asked him to send."
If you watch the live feed for even 60 seconds, you will see a multitude of prayer requests flood the comments section, including people who believe they can call out to a family who will help pray for them.
"God has lead us down this road and we don't even know where we are going, we are just on the road for the ride. God is getting 100% of the glory of what we are doing. Our hearts are set on what God wants, and that's it."
The Jordan Family Band just wants to further the kingdom of Christ, and they want the world to know that "God is faithful through everything. It's all about him. He answers prayer and he's the end all, cure all."
What are others saying about the Jordan Family Band?
Darren Lore of The Lore Family: "Having a family ministry is filled with blessings and challenges. The family is together all the time. Yet, that doesn't mean it's always easy to get everyone together to practice and hone their musical skills. But the JFB is growing as a Christian family ministry. And they are skyrocketing in Southern/Country gospel. Their family harmonies, songwriting and music abilities continue to show professional growth. And they have become fan favorites on social media. The JFB has wisely used social media to introduce their down-to-earth family. JFB is a mixed family group that is filled with potential. It is exciting to see Josh and Randa minister alongside Hutch, Alex and Grant. It's inspirational to others to see families serving God together. The JFB is an artist to watch closely. Truly, God is showering this anointed family with favor. And I believe that He will continue to elevate them, nationally."
Mickey Bell, Radio Show Host: "The songwriting of Josh Jordan is going to change this industry, as he will soon become one of the most recognized and most rewarded. His lyrics are pure and pertain to everyday life."
Matthew Browder of the Browders: "The Jordan Family has what it takes. They have the heart for God and people. They have the anointing to accomplish the calling on their life. They have the talent. They have a signature sound. When you hear them they are unmistakably the Jordan Family Band."
David Kiser of Heart 2 Heart: "The Jordan Family Band has quickly come on the scene as a fan favorite. They carry great talent as vocalist and musicians. They have the heart and vision to do great things for God."
Rob Patz of SGNScoops: "I love the energy and joy that the Jordan Family Band brings to the stage, but the best part is, I know the family lives what they sing, and use everything in their power to bring the gospel to a lost world."
By Sarah Murray
First published by SGNScoops Magazine in January 2018.
You Can Download SGNScoops Magazine 
HERE
Find SGNScoops Magazine On Facebook 
HERE
Listen To The Best In Todays Gospel Music 
HERE
Find out more about the Jordan Family Band HERE
Tags:
crossroads
,
Dove Award
,
Jordan family band
,
Sarah Murray
,
SGNScoops Magazine
Posted in
artists
,
sgn scoops magazine
|
Comments Off

on The Jordan Family Band: Skyrockets in Southern Gospel
Written by Staff on May 8, 2017 – 7:37 am -
As Mother's Day approaches on May 14, we at SGNScoops would like to share with our readers about the special women in our lives. We know that you will see many of the same attributes in the lady you call Mom. Please write us and let us know what you love about her!
Today we hear from Sarah Murray, one of our new writers, as she explains what is unique about her mom. Sarah is with Bless'd Ministries.
Let's hear from Sarah!
My momma- Kelly Edens
If I had to sum her up in a few words: Selfless, devoted, Christ-like.
She's selfless in every aspect. She literally lives to please others and see them succeed. She's devoted to everything God has given her: Her family, her career, her home, her marriage, but most of all, her walk with Christ.
My mother is the image of the Proverbs 31 woman. She carries herself with honor, she attends to her family at all times, and she lives a life fearing God yet living and walking in a true love with him.
My momma wears a lot of hats and plays a lot of roles. A lot of people depend on her every single day. However, she takes on every task of life with a pride in the life God has given her and doesn't let a day go by that she doesn't share Jesus with someone.
She's my best friend, my saving grace, and the woman I aspire to be. I'm beyond thankful God created her to be my momma.
To send in your tribute, write to lorraine@sgnscoops.com
For more on Sarah Murray, click here.
For Gospel music news, click here.
Tags:
Bless'd Ministries
,
Mothers Day
,
Sarah Murray
Posted in
announcements
,
sgn scoops magazine
,
special feature
|
Comments Off

on Sarah Murray: Tribute to Mom