Written by Staff on October 4, 2017 – 2:25 pm -
Shelly Wilson resides in East Texas, and though she comes from a small town, she's always had big dreams. As a young girl she walked the aisle in a church and professed Christ, yet at 30 she realized she was not born again. She says there was quite a battle for her soul as she began to hear the voice of the Lord clearly for the first time.
Wilson had no idea the Lord would soon call her and fulfill her dreams. In 2002, she gave birth to her son and a few months later began having health problems. She literally lost her mind for a season.
The doctors were unsure why and no one could help her. She was not in church but knew to run to the church. She visited many and the message was the same: "Use your gifts for the Lord."
Wilson suffered terrible panic attacks, nightmares and incredible fear, but in the midst of it all she began to hear clearly the voice of the Lord and surrendered her life to Him. From that moment on, He slowly began to change her desires from partying to reading her Bible. Ephesians 3:20 became her life verse.  Wilson understands the verse and says, "I chose you, you didn't choose Me. I'm grateful for a loving Savior. Although valleys come and go, He is always there."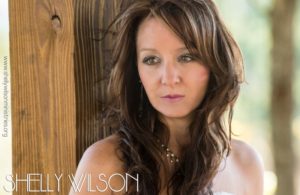 Wilson spent a year learning about the Bible because she knew very little.  She began to sing for the Lord but had terrible stage fright. The Lord had to gently show her that He could be trusted each time she stepped onto any platform.
Wilson wasn't writing songs yet and said she honestly never considered it an option because she plays no instruments, reads no music and harmony is simply not her gifting. Yet one day in her closet the Lord said, "Shelly, you receive not because you ask not," so with that nudge she asked to become a songwriter.
Soon the Lord woke her up with her first lyrics rolling around in her head and she began to receive full melodies with the lyrics.
Tags:
Christ
,
Christian life
,
Christian Women in Media Association
,
incredible fear
,
Jesus
,
Lord
,
nightmares
,
panic attacks
,
Shelly Wilson
Posted in
artists
,
Christian interest
,
sgn scoops magazine
|
Comments Off

on Shelly Wilson: Heart of a Servant