Written by SGN Scoops Staff on January 20, 2015 – 10:22 pm -
(Hendersonville, TN –) The Jim Brady Trio will celebrate the release of its debut project with Daywind Records at a CD release party to be held on Tuesday, Jan. 27. The group will hold the invitation-only event that afternoon – which is the actual release date of "A New Chapter" – at Bridgestone Arena's SiriusXM Music City Theater, which is located in Nashville, Tenn.
"We were so blessed to work with the late Lari Goss on our first project as the Jim Brady Trio," Jim Brady explains. "Everyone has been so gracious to us as a new artist, especially the Booth Brothers (the award-winning trio that Jim was a member of for the last 13 years). We have spent so much time writing, and we have logged diligent hours in the studio recording, rehearsing and then rehearsing some more. We're excited for people to experience what we feel when we sing these songs. The love and support that we have already received from friends and fans has been overwhelming."
The trio – which consists of Jim Brady, his wife Melissa and former Legacy Five pianist Tim Parton – performed its first official concert on Jan. 1 at Legacy Five's New Year's Eve Celebration event. The group also made its national television debut earlier this month on the Music City Show.
Tags:
Daywind Records
,
Jim Brady Trio
,
Sirius/XM
,
Southern Gospel Music
,
Southern Gospel News
Posted in
announcements
|
Comments Off

on Sirius XM's Enlighten to host and air album release party for Jim Brady Trio's "A New Chapter"
Written by SGN Scoops Staff on July 5, 2012 – 2:44 pm -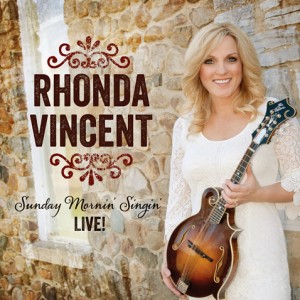 Nashville, Tenn. (Thursday, July 5, 2012) – The Queen of Bluegrass, Rhonda Vincent, has always dreamed of releasing an all-gospel CD and that dream is about to come true! Sunday Mornin' Singin' LIVE!, the first all-gospel release from five-time Grammy® nominee Rhonda Vincent, will be available in retail stores and online on July 10, 2012.
Recorded live at Rhonda's childhood home church, Greentop United Methodist Church in Greentop, MO, this release captures Rhonda, along with her multi-award winning band The Rage, singing gospel classics alongside new favorites with exquisite musicianship and heavenly harmonies resounding through the over 100 year old church.
Seven-time International Bluegrass Music Association (IBMA) Female Vocalist of the Year Rhonda Vincent is known for including Gospel music into her performances and grew up singing Gospel music with her family band, The Sally Mountain Show. Rhonda shared: "This is the music I grew up on – the music that shaped who I am today. My family sang this music all our lives and I've always included Gospel music in every performance. Going back to my childhood church to record this very special project made this moment in time unforgettable and I/m so excited to share this with all my friends."
AOL® Music is currently featuring the CD as part of their weekly Full CD Listening Party along with the soundtracks to the movies The Amazing Spider Man, Abraham Lincoln: Vampire Hunter and more. You can preview the entire CD online at http://music.aol.com/new-releases-full-cds. The free preview will last until July 15, 2012.
Additionally, the CD was featured on Sirius/XM's Bluegrass Junction on a special July 4th edition of Track-By-Track at 11:00 AM EST. It will rebroadcast Thurs. 7/5 at 9:00 PM EST, Sat. 7/7 at 8:00 AM EST and Sun. 7/8 at 11:00 AM EST. Rhonda is featured in magazines such as Country Weekly, Homecoming Magazine, SGN Scoops and on the TV show Inside Music Row sharing thoughts and details about each song on the new CD.
If all that wasn't keeping Rhonda busy enough, release week will find her celebrating her birthday with a special show during the Ryman Bluegrass Series presented by Springer Mountain Farms on Thursday, July 12, 2012. She will also be featured on several Nashville TV shows and on the radio on WSM.
Sunday Mornin' Singin' LIVE! is available on the Upper Management Music label and distributed by Universal Music Distribution. The CD will be available on July 10, 2012 at Best Buy, Walmart, Target, online at iTunes, Amazon and everywhere that great music is sold! You can order an autographed copy at www.RhondaVincent.com.
Connect with Rhonda online at Facebook.com/RhondaVincentOfficial and Twitter @RhondaVincent13
Sunday Mornin' Singin' Live! Track Listing:
1. I Feel Closer To Heaven Everyday
2. Blue Sky Cathedral
3. His Promised land
4. Where We'll Never Say Farewell
5. Silent Partner
6. Just As I Am
7. God Put A Rainbow In The Clouds
8. Prettiest Flower There
9. The Last Best Place
10. Walking My Lord Up Calvary's Hill
11. Fishers Of Men
12. Homecoming
13. Where No Cabins Fall
14. Help Me To Be More Like Him
15. Joshua
16. Old Rugged Cross
Tags:
AOL® Music
,
bluegrass
,
International bluegrass Music Association
,
Queen of Bluegrass
,
Rhonda Vincent
,
Sirius/XM
,
Southern Gospel News
Posted in
announcements
,
christian entertainment
,
Christian interest
|
Comments Off

on Rhonda Vincent Returns To Her Roots!