Written by SGN Scoops Staff on August 7, 2014 – 7:51 pm -
(Nashville, TN) Soul Vision, of North Carolina releases "When We Step Inside the Gate" through Patterson Promotions radio compilation #15. The song is already being heard by fans on the airwaves and is at the #1 position on Southern Gospel Times for the first week of August, 2014.They have been recognized from previous national radio release "I Know Who The Lord Is" on PP Vol.13. The group members are Patrick Case, Denna Reese, Randall Mull, and Myron Bishop. Pauline Patterson notes, "This great group formed in 2008 and they really do have a mission of seeing souls saved. I am honored and blessed to work for them again!" Concert promoters can receive a free press kit by contacting: Evie@EHA-Nashville.com, 256-303-8354, or 615-856-0910 or contact the group directly at: www.soulvisionministries.net or soulvisionminstries@gmail.com For additional radio info: Patterson Music Group: 606 528-0033, www.pattersonpromotions.com
Tags:
Patterson promotions
,
Soul Vision
,
southern gospel
,
Southern Gospel Music
Posted in
announcements
|
Comments Off

on Soul Vision Releases "When We Step Inside the Gate"
Written by SGN Scoops on January 20, 2014 – 8:40 am -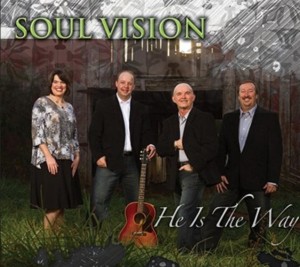 Soul Vision has signed a radio promotions deal with Patterson Promotions, releasing   their first national radio release "I Know Who The Lord Is" on Patterson Promotions Vol.13 ,the comp has just hit radio stations all across the nation and out of the country. This song is also available world wide for all radio on our DJ download site on www.pattersonpromotions.com…
Soul Vision comes from the great state of NC and is comprised of Patrick Case of Hendersonville, Denna  Reese of Burnsville, Randall Mull of Hendersonville, and Myron Bishop of Chapel Hill, NC.
The group was formed in 2008 and strives to be soul winners for Christ.
Pauline of P.P. says it is a honor to work with such a talented group who has a vision and  a heart for souls. I think you'll  love this song! You're  gonna love this group, their sound their harmonies and their anointing. You will love these folks !
You can contact Soul Vision at:
Tags:
Patterson Promotion
,
Soul Vision
,
Southern Gospel News
Posted in
announcements
|
Comments Off

on Soul Vision Releases Single With Patterson Promotions