Written by SGN Scoops on December 18, 2013 – 12:05 pm -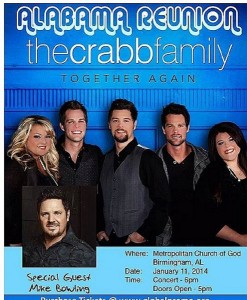 Birmingham, AL (December 18,2013) On Saturday, January 11, 2014 there will be a Crabb Family Reunion concert in Birmingham, Alabama. The multi-award winning Crabb Family will all be together again along with special guest Mike Bowling for a great night of Southern Gospel music.  If you love the Crabb Family and great Gospel music then the Ashley DeRamus Foundation has an offer for you that you will not want to miss.
The people at the Ashley DeRamus Foundation along with Ashley herself have put together a special treat for their friends and fellow Crabb Family fans. All of the proceeds go directly to support special needs foundations and will also have the added benefit of exposing these children to Southern Gospel music.
The first 90 people who make a donation of $30 or more to the Ashley DeRamus Foundation will receive a concert ticket and attend a VIP dessert time to meet and hang out with all the Crabb Family members.
How Can You Help?
If you wish to sponsor a special needs child and their parent you can make the donation and specify that it is a sponsorship donation and the Foundation will allow a child from the Birmingham area to attend the events.  All donations are tax deductible so you can sponsor one or as many as you wish until the tickets are all sold.
"You will even receive special gift from me" stated Ashley DeRamus. "I love Southern Gospel Music and I know these children and their parents will love it as much as I do."
What a great night this is going to be. You don't want to miss the opportunity to hear some great music and spend time getting to know your favorite members of the Crabb Family personally.  Ashley will even be on stage with a special surprise you will not want to miss!
The concert will be held at the Metropolitan Church of God in Birmingham, Alabama on January 11, 2014. The concert starts at 6:00 PM and the doors open at 5:00 PM.
Call (440) 670 2897) or (205) 572-5066 to make your donation of $30 or more and get in on this awesome night. Be one of the first 90 people to call, these special tickets won't last long!
All donations to the Ashley DeRamus Foundation go to benefit children with Down syndrome and Special Needs.
You can learn more about Ashley and the Ashley DeRemus Foundation at www.AshleyDeRamusFoundation.org or https://www.facebook.com/pages/Ashley-DeRamus-Foundation .
You can E-mail the Foundation at Ashley By Design <adream.gk@gmail.com> .
Tags:
Aaron Crabb
,
Adam Crabb
,
Ashley DeRamus Foundation
,
Down-Syndrome
,
Jason Crabb
,
Kelly Bowling
,
mike bowling
,
Southern Gospel News
,
Special Needs
,
Terah Penhollow
,
The Crabb Family
Posted in
announcements
|
Comments Off

on Sponsor A Special Needs Child To Attend The Crabb Reunion Concert
Written by SGN Scoops on September 30, 2013 – 5:24 pm -
Directed by Roman White, Grammy Award Winner Highlights Special Needs and Military Families in Emotion Filled Video
Vocalist Preparing Fall Tour With Michael W. Smith
Click Here To View The Video: http://www.usatoday.com/story/life/music/2013/09/30/jason-crabb-video-premiere/2893715/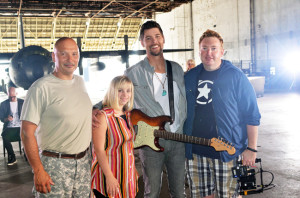 (NASHVILLE, TN) – USA TODAY is hosting an exclusive video premiere of the emotional video to Jason Crabb's 'Love Is Stronger,' the title track from his latest release. The video highlights special needs and military families in a storyline starring Ashley DeRamus, a young woman living with Down syndrome and Jack Morgan, a military veteran. The video can be found by clicking here: www.USATODAY.com
Filmed in Birmingham, AL at five different locations, the video has struck a poignant chord with viewers across the country. "When Roman White brought the story line to me, I knew this video was going to be an emotional one," said Jason Crabb. "We partnered with the Ashley DeRamus Foundation to depict individuals living with Down Syndrome as normal, everyday people who go through things, such as their Dad going to war. I am so thankful that Ashley and Jack agreed to do this video. I know it will bless many people with the message that yes, life is tough, but LOVE is always stronger!"
Ashley DeRamus and Jason Crabb met over ten years ago at a concert and developed a strong friendship. When the idea came for this music video, Jason knew he wanted to partner with Ashley and her foundation to bring awareness to Down Syndrome.
Ashley comments: "I've always said: Don't let anyone tell you what you can't do, show them what you can do. That is why I am so happy to have this opportunity to partner with Jason and Roman and include my down syndrome and special needs friends. It has been a dream of mine to act, and now I can cross that off my bucket list thanks to Jason!"
Ashley's latest accomplishment as an actress comes on the heels of a very busy calendar. She was recently asked to speak at the United Nations and was just named as one of the "Top 6 Entrepreneurs with Down Syndrome Changing The World" by Disney's Babble.com. Clearly, Ashley is a very determined and ambitious young woman.
When the script called for the part of a wounded military member, Jason asked his Facebook friends to find someone for him. Jack Morgan, a military veteran, was submitted by a friend and the rest, as they say, is history.
To learn more about Ashley DeRamus and her foundation for Down Syndrome awareness, visit www.AshleyDeRamusFoundation.org
Jason is preparing to join legendary CCM artist Michael W. Smith for a select number of appearances during the final leg of Smith's 'All Around The World' tour in October.
To keep up with Jason and all that is going on, stay tuned online to www.JasonCrabb.com, Facebook.com/JasonCrabbMusic, and Twitter.com/JasonCrabbMusic.
ABOUT JASON CRABB
Jason Crabb is one of the most highly respected, versatile and talented artists to ever grace a stage. His soulful, heartfelt vocals have made him a critics' pick and a fan favorite on stages ranging from "The Grand Ole Opry" and the Brooklyn Tabernacle to arena platforms. Crabb is the reigning GMA Dove Awards' Artist of the Year and Male Vocalist of the Year and currently holds seventeen Dove Awards. With a string of number one hits and chart-topping singles, a tour schedule of over 150 dates annually, and ongoing high-profile TV appearances, this vocal powerhouse's talent is topped only by his genuine personality and concern for others. Love Is Stronger, his latest release, arrived onto the musical landscape with critical acclaim. Produced by musical heavyweights – Ed Cash (Chris Tomlin,) Jay DeMarcus (Rascal Flatts) and Wayne Haun (Celine Dion) – the 11-track project features Jason at his very best and garnered attention from Entertainment Tonight, The Associated Press, FOX News, AOL Music, The Boot, CCM Magazine, New Release Tuesday and more. Jason lives with his wife Shellye, and daughters Emma and Ashleigh just outside of Nashville, TN.
Tags:
Ashley Deramus
,
Ashley DeRamus Foundation
,
Down-Syndrome
,
Jack Morgan
,
Jason Crabb
,
Jay DeMarcus
,
Love Is Stronger
,
Michael W. Wmith
,
Music Videos
,
Roman White
,
Southern Gospel News
,
Special Needs
,
USATODAY
Posted in
announcements
|
Comments Off

on USATODAY.COM HOSTS ONLINE PREMIERE FOR JASON CRABB'S 'LOVE IS STRONGER' VIDEO TODAY