Written by Staff on May 12, 2017 – 11:46 am -
Stephanie Kelley is part of the creative and design team of SGNScoops Magazine. She is responsible for our lovely covers and is also the cousin of publisher Rob Patz. She gives this tribute about her mom:
My mom has always been my very best friend and a whole lot more.  She has been my confidant; I have told her everything that has ever happened to me and she always rejoices in the victories and comforts me in the defeats. She supports me in every possible way. She is the benchmark that I try to aspire to now that I have my own children. She is smart, compassionate, patient and is such a talented poet. But what I admire most about her, is her love for the Lord. She has taught me to trust the Lord in all things, big and small and demonstrates this faith in her daily life. I love you, more, Mama.
Stephanie Kelley is a public speaker and owner of QueenO-Q, a blog featuring coupon match-ups, freebies, samples and information on frugal living. She is married, has three children and lives in Washington State. Queenoq.blogspot.com.
Thanks to Steph Kelley for her eloquent tribute to her mom today. Would you like to tell us about your mother? Email me today at lorraine@sgnscoops.com
For the latest SGNScoops Magazine,  click here.
For Gospel music news, click here.
Tags:
Mothers Day
,
rob patz
,
SGNScoops Magazine
,
Stephanie Kelley
Posted in
announcements
|
Comments Off

on Mother's Day greeting from Stephanie Kelley
Written by SGN Scoops Staff on January 10, 2013 – 5:59 pm -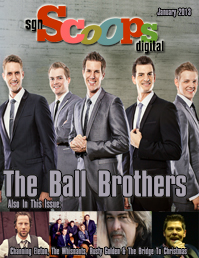 We're kicking off 2013 with a jammed packed exciting issue of SGNScoops Magazine! Get to know the Ball Brothers this month as our cover story. Other ministries highlighted this month are The Whisnants, Rusty Golden,Woody Wright, Richard Kiser, The Brady's and Sylvia Green. In this edition, SGNScoops shares details regarding the Sandi Patty, Jason Crabb Christmas Tour, the Brooklyn Tabernacle Christmas and The Bridge Ministry's "The Bridge To Christmas." Rhonda shares behind the scenes to Channing Eleton's new music video and Stephanie Kelley shares her Disney On Ice/Wigs for Children With Cancer experience. Sandi Duncan Clark reviews new music and Angela tells how the Williamsons are involved with spreading the Word of God in Kazakhstan. Other articles of interest include a devotion from John Mathis Jr, memories from Lou Hildreth, a challenge to develop professionally with special guest writer, Sheri Thrower. Rhonda begins a new series called, "Whatever It Takes" focusing on the importance of effective faith sharing. Get fit with Laurette Willis, catch up with Jeff Hawes on the road with Karen Peck and New River and read about plans for the 2013 Creekside Gospel Music Convention! Thank you for making 2012 a great year, and help us make 2013 even better. Please share SGNScoops Magazine with your friends, fans and family. Always Digital, Always Free, Always Good!
Download SGNScoops Magazine Here
Tags:
Ball Brothers
,
Brooklyn Tabernacle Christmas
,
Channing Eleton
,
Creekside Gospel Music Convention
,
Disney On Ice
,
he Whisnants
,
Jason Crabb
,
jeff hawes
,
john mathis jr
,
karen peck and new river
,
Kazakhstan
,
Lorraine Walker
,
Lou Hildreth
,
Rhonda Frye
,
Richard Kiser
,
rob patz
,
Rusty Golden
,
Sandi Duncan
,
Sandi Duncan Clark
,
sandi patty
,
Sheri Thrower
,
Southern Gospel News
,
Stephanie Kelley
,
The Brady's
,
The Bridge Ministry
,
The Bridge To Christmas
,
The Williamsons
,
Woody Wright
Posted in
announcements
,
scoops
,
sgn scoops magazine
|
Comments Off

on January 2013 Edition Of SGNScoops Magazine
Written by SGN Scoops Staff on October 24, 2011 – 7:18 pm -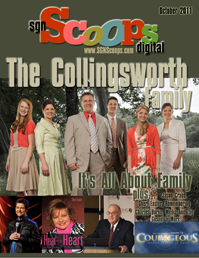 We are proud of this month's issue of SGNScoops Magazine. In the October edition, read the inside Scoop on the Collingsworth Family, Jason Crabb, Sheri LaFontaine and Adam Brown. This month's album reviews feature new music from Russ Taff, Selah, Four Fold and Crawford Crossing.  Be sure to read a review on Sheri Easter's new book, "Hear My Heart."  Staff writer, Lorraine Walker has written part one of a three part series concerning the media and the gospel. This month, the focus is on the Christian Film Industry and  the new movie "Courageous" is highlighted. Publisher, Rob Patz shares his thoughts about NQC  and the late Charles Burke is remembered by many friends in this issue. As always, this edition offers plenty of inspiration and encouragement to lift spirits. We are proud of our experienced staff of writers for bringing the latest developments in the Southern Gospel Industry with integrity. This month's contributors include Sandi Duncan Clark, Lorraine Walker, Stephanie Kelley, Rob Estep, Jeff Hawes, Lou Wills Hildreth, Jennifer Campbell, Victoria Shirey, Laurette Willis, Rhonda Frye, Rob Patz and our newest addition- John Mathis Jr.  We also welcome our new layout/ graphic designer, Pete Schwager to the staff. Thank you for reading SGNScoops magazine and please remember to share it with your friends! Click Here
Tags:
Charles Burke
,
collingsworth family
,
Courageous The Movie
,
Four Fold
,
Jason Crabb
,
jeff hawes
,
Jennifer Campbell
,
Laurette Willis
,
Lorraine Walker
,
Lou Wills Hildreth
,
Rhonda Frye
,
Rob Estep
,
rob patz
,
russ taff
,
Sandi Duncan Clark
,
Selah
,
Sheri LaFontaine
,
southern gospel
,
Southern Gospel News
,
Stephanie Kelley
,
Victoria Shirey
Posted in
sgn scoops magazine
|
Comments Off

on October Issue of SGNScoops Magazine