Written by SGN Scoops Staff on June 12, 2012 – 2:12 pm -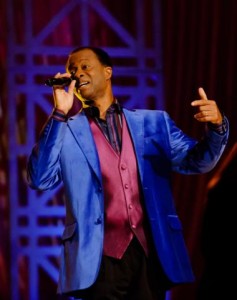 Nashville, TN -The new documentary and live concert television special featuring Hall of Fame vocalist Larnelle Harris is premiering this week at various times on TBN, the largest religious television network in the world. The 90-minute special features a short documentary on Harris as well as a live concert filmed earlier this year in Nashville, Tennessee. The concert features Harris along with guests Sandi Patty, Steve Green and Steve Amerson. Harris and Patty are debuting their new duet entitled "Then Came the Morning" on the show. The duo's previous two duets, "More than Wonderful" and "I've Just Seen Jesus," both won Grammy Awards. Harris is also joined by Green and Amerson in a special "Three Tenors" performance segment.
The television show will also be available as a dvd and cd entitled "Larnelle Live," with pre-orders being offered to consumers on the website www.LarnelleLive.com. Plans are also in the works to distribute the dvd and cd via retail stores, the details of which will be announced at a later date. The dvd and cd feature some of Harris' biggest radio hits as well as several new songs.
Harris is the only person in history to be a member of three distinct hall of fame organizations: the Gospel Music Hall of Fame, the Kentucky Music Hall of Fame and the Amateur Radio Hall of Fame. In addition to his five Grammy and eleven Dove Awards, including being named Male Vocalist of the Year three times by the gospel music industry, Harris has garnered nineteen #1 national radio singles and countless top 10 hits. Songs such as "How Excellent Is Thy Name,""I Miss My Time With You," "I've Just Seen Jesus," plus many others, including his signature song, "Amen," are now considered modern gospel classics. From the White House to the 38th Parallel, Harris has impacted audiences across the globe with his music. He was the first gospel artist to perform inside the Kremlin after the fall of the Soviet Union. He is one of a handful of celebrities to receive the Ad Council's Silver Bell Award for Distinguished Public Service in recognition of his song "Mighty Spirit" as the theme song for the longest-running Public Service Announcement in television history.
Harris continues to tour worldwide, recently singing for a gathering of the United Nations Ambassadors. In addition to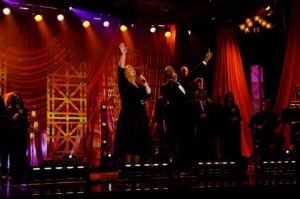 his numerous solo dates, Harris also travels with various tours including the Gaither Homecoming tour and the Sandi Patty & Friends tour, the latter of which CCM Magazine recently reviewed and described Harris as having a "larger-than-life stage presence with impeccable vocal prowess."   Additionally, Harris and Steve Green often tour together and Harris, Green and Amerson recently performed a "Three Tenors" concert at Carnegie Hall.  Harris and Patty will join pianist Dino and the 200-voice CMI Choir for two special engagements, July 1 and 2, in St.Louis and Branson, Missouri, respectively.
For more information on Harris, visit www.Larnelle.com.  For pre-order information of the new cd and dvd, visit www.LarnelleLive.com.
Tags:
Gaither Homecoming Tour
,
Gospel Music Hall of Fame
,
larnelle harris
,
sandi patty
,
Sandi Patty & Friends tour
,
Southern Gospel Music
,
Southern Gospel News
,
Steve Amerson
,
Steve Green
,
tbn
,
Then Came the Morning
Posted in
announcements
,
christian entertainment
|
Comments Off

on Hall of Fame Vocalist Larnelle Harris to Release New DVD and CD
Written by SGN Scoops on September 8, 2011 – 6:06 pm -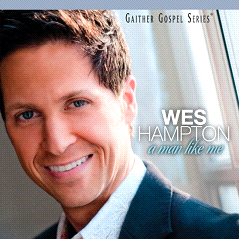 NASHVILLE, Tenn.—September 8th, 2011—Gaither Music Group is scheduled to release an all-new solo recording by Wes Hampton, member of the award-winning and legendary Gaither Vocal Band, on September 13th.  A Man Like Me, produced by Hampton along with producer/vocalist Michael English and producer/musician/vocalist Gordon Mote, showcases the depth of Hampton, who has been traveling with The Gaither Vocal Band for six years now.
A resident of Birmingham, Hampton came to Music City to create the new recording which he describes stylistically as "songs that he enjoys listening to."
"Bill and the GVB [Gaither Vocal Band] have always been great at mixing sounds," Hampton describes.  "And I feel like this release is somewhat along those lines–reflective of a variety of styles and of the influence the group has had on me when it comes to combining a variety of sounds."
Those sounds include background vocals from soloist and former Gaither Vocal Band teammate Marshall Hall as well as a duet with lauded Christian contemporary music pioneer Steve Green.  When Green toured through Birmingham, he invited Hampton to sing "It Is Well" on stage with him that evening, and the duet is now re-captured on this new release.
A Man Like Me features songs from heralded writers such as Travis Cottrell, Cindy Morgan, Becky Isaacs Bowman, Sonya Isaacs Yeary and Sam Mizell, among others.  Hampton covered the Cottrell hit "Jesus Saves"; and the title cut, penned by Jeff Pardo and Stephen Gause, is a special tune for him.  
"I loved this song immediately," Hampton recalls.  "It kind of encapsulated what I wanted to say as a whole, which is why I made it the title of the project.  It says, 'I believe there's hope for everyone, and Your arms still reach even for a man like me.'
"I relate to this," Hampton continues.  "I am a fallen man trying to make the best decisions I can every day, and sometimes I don't succeed, but I get a fresh start every day.  You can't outstretch the love of God.  I think it's important for people to hear that as much as possible as we tend to forget it.
"I hope this release encourages listeners.  We're not in this alone, so let's stop trying to pretend we can do it on our own.  We need each other, and we need God through the journey.  There are times when I try to do things by my own strength, forgetting that God has promised to walk alongside me and get me through whatever I'm facing.  The songs on this release point to the fact that we're all in this together."
In addition to a heavy touring schedule alongside The Gaither Vocal Band and the HOMECOMING tours, Hampton performs solo dates when time allows.  He and his wife, Andrea, have four children. 
A Man Like Me will be distributed in stores and digitally exclusively through EMI CMG Distribution.  It will be available on iTunes as well as at www.gaither.com .  For further information, visit www.weshampton.com .  To schedule interviews, receive music or make further inquiries, please contact:
Celeste Winstead,  CWinstead@springhillmusic.com, 615-383-5535, ext. 138.
Tags:
Becky Isaacs Bowman
,
Cindy Morgan
,
Gaither Music Group
,
Gaither Vocal Band
,
gordon mote
,
marshall hall
,
Michael English
,
Sam Mizell
,
Sonya Isaacs Yeary
,
Southern Gospel Music
,
Southern Gospel News
,
Steve Green
,
Travis Cottrell
,
Wes Hampton
Posted in
new music
|
Comments Off

on New Release from "A Man Like Wes Hampton"
Written by SGN Scoops on September 1, 2011 – 9:58 am -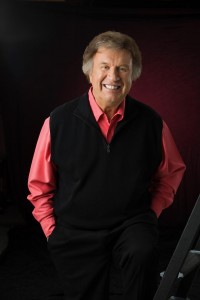 Louisville, KY – Gaither Vocal Band members past and present will come together for a Reunion concert during this year's National Quartet Convention. This special Reunion event will take place on Thursday afternoon, September 15, beginning at 1:15pm in Freedom Hall on the grounds of the Kentucky Fair & Expo Center. The event will pair current and former members of the prestigious Gaither Vocal Band, led by multi- Grammy Award winning Bill Gaither (pictured in attached jpg).
Little could anyone have known the impact this multi-talented group would have upon the contemporary and Southern Gospel Music world when the group was originally organized back in the early 1980s, on the spur of the moment backstage at a Bill Gaither Trio concert. Since that impromptu performance, the popular group has enjoyed numerous hit songs, several Grammy Awards and more than a dozen Dove Awards from the Gospel Music Association.
In addition to the much loved current Vocal Band members, who include Mark Lowry, Michael English, David Phelps and Wes Hampton, former Vocal Band members joining Gaither for this special musical event at this year's Convention in Louisville will include Marshall Hall, Larnelle Harris, Jon Mohr, Buddy Mullins, Jim Murray, Russ Taff and original members, Steve Green, Gary McSpadden and Lee Young.
The Thursday afternoon Gaither Vocal Band Reunion Showcase Spectacular is sure to be one of the highlights of NQC Week. The Gaither Vocal Band Reunion Volume 1 & 2 CDs, recorded in the summer of 2008 and released in 2009, debuted in the top two positions on Billboard Magazine's Contemporary Christian album chart. The DVDs of the same title debuted in the Number 1 and Number 2 positions on the Music Video charts, as well. Gaither will bring those recordings to life duriing the Reunion Showcase in Louisville.
In addition, to Thursday afternoon's Vocal Band Reunion event, Gaither will also host the popular Homecoming Sing-Along concert on Friday, September 16th beginning at 12:00 noon. The Gaither Vocal Band will also be featured on Friday evening's concert line-up.
A complete schedule of events set to take place during the 2011 National Quartet Convention may be obtained online at www.nqconline.com.
n q c
About the 2011 National Quartet Convention: This year marks the 54th Annual National Quartet Convention. The Convention has made its home in the city of Louisville since 1994. Approximately 40,000 people will attend the 2011 event, which takes place September 11-17, with at least 40 states and a half dozen foreign countries represented. The Convention is Christian music's largest marketplace and largest annual event with more than 500 exhibitors and nearly 300 Southern Gospel recording artists in attendance. Tickets for daily and evening performances may be purchased at the NQC office, online at www.nqconline.com or on site during the week of the Convention in the North Wing lobby at the Kentucky Fair & Expo Center.
Tags:
bill gaither
,
Buddy Mullins
,
david phelps
,
Gaither Vocal Band
,
Gary McSpadden
,
Jim Murray
,
Jon Mohr
,
Kentucky Fair & Expo Center
,
Larnell Harris
,
Lee Young
,
Mark Lowry
,
marshall hall
,
Michael English
,
national Quartet Convention
,
russ taff
,
Southern Gospel Music
,
Southern Gospel News
,
Steve Green
,
Wes Hampton
Posted in
gospel events
|
Comments Off

on GAITHER VOCAL BAND REUNION HIGHLIGHTS
Written by SGN Scoops Staff on April 18, 2011 – 4:39 pm -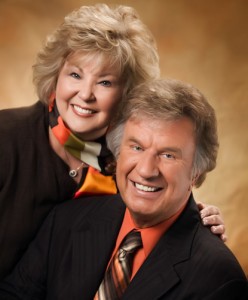 (Nashville, TN)  – The Nashville Choir Presents "A Tribute to the Songs of Bill & Gloria Gaither" at the Schermerhorn Symphony Center on May 1, 2011 at 7:30PM.
This once-in-a-lifetime tribute to the Grammy and Dove Award Winning songs of Bill & Gloria Gaither will fill the hall of Nashville's magnificent Schermerhorn Symphony Center with the sounds of The Nashville Choir and Orchestra, along with performing artists, Amy Grant, Vince Gill, Michael W. Smith, Sandi Patty, Larnelle Harris, The Isaacs, Buddy Greene, Russ Taff, Gordon Mote, Gary McSpadden, Sheila Walsh, Steve Green and the Gaither Vocal Band.
"I was raised on the music of Bill & Gloria Gaither and over the years have been blessed to work with them. All of us at The Nashville Choir are honored to be able to present such a tribute to true Legends of Gospel Music," says John E. Coates, Founder and Director of The Nashville Choir. Dan Posthuma, who along with longtime Gaither associate Ronn Huff is producing the concert, adds: "The impact that Bill & Gloria's music has had on the church in our generation is astounding. We all look forward to an inspiring and emotional evening that pays tribute to these powerful songs!"
At the Gaither's request, the proceeds from the evening will benefit The Gospel Music Trust Fund and The Nashville Choir's work with the homeless, Hope For Nashville.
Tickets are on sale now through the Schermerhorn Symphony Center Box Office, 615-687-6400 or online at  http://www.NashvilleSymphony.org.
ABOUT BILL & GLORIA GAITHER
"The Gaithers are to Christian music what The Beatles are to pop music," said Donna Hilley, when the American Society of Composers, Artists and Publishers (ASCAP) named them "Gospel Songwriters of the Century."
The Gaither's real-life lyrics were born out of their everyday lives as full-time schoolteachers. Bill and Gloria have partnered to write more than 700 songs, including "Because He Lives," "He Touched Me," "Let's Just Praise the Lord," "Something Beautiful" and "The King is Coming," to name just a few of the favorites. Bill and Gloria have performed in concert and shot videos around the world. Sharing their stage with countless up-and-coming artists, Bill and Gloria mentored performers such as Amy Grant, Michael W. Smith, Sandi Patty, and Stephen Curtis Chapman, influencing entire generations of artists.
ABOUT THE NASHVILLE CHOIR
The Nashville Choir was formed in 2005 out of a desire to bring Nashville's Christian community together through music. Under the direction of John E. Coates, The Nashville Choir is an organization of professional-level Christian singers united to show God's glory in the marketplace bringing all denominations and all peoples together to worship with one voice.
In its short history, The Nashville Choir has appeared at prestigious events in the city including: 3 Community Hymn Sings with the Nashville Symphony, the annual Tennessee Prayer Breakfast since 2007, and at the Inauguration of Governor Bill Haslam. The Nashville Choir recorded "Just As I Am" for the Billy Graham Library in Charlotte, NC, and most recently recorded the choral parts for Walt Disney's "World Of Color" in California. The Nashville Choir's heart is firmly planted in Nashville with benefits performed for the Salvation Army, the Rescue Mission, and Room In The Inn. For more information on The Nashville Choir, please visit www.thenashvillechoir.org
Tags:
amy grant
,
bill gaither
,
Buddy Greene
,
Dove Award
,
Gaither Vocal Band
,
Gary McSpadden
,
gordon mote
,
larnelle harris
,
Michael W. Smith
,
russ taff
,
sandi patty
,
Sheila Walsh
,
Steve Green
,
the isaacs
,
Vince Gill
Posted in
announcements
,
christian entertainment
,
gospel events
|
Comments Off

on THE NASHVILLE CHOIR PRESENTS, "A TRIBUTE TO THE SONGS OF BILL & GLORIA GAITHER," MAY 1 AT THE SCHERMERHORN SYMPHONY CENTER IN NASHVILLE, TN