Written by Staff on August 5, 2020 – 12:35 pm -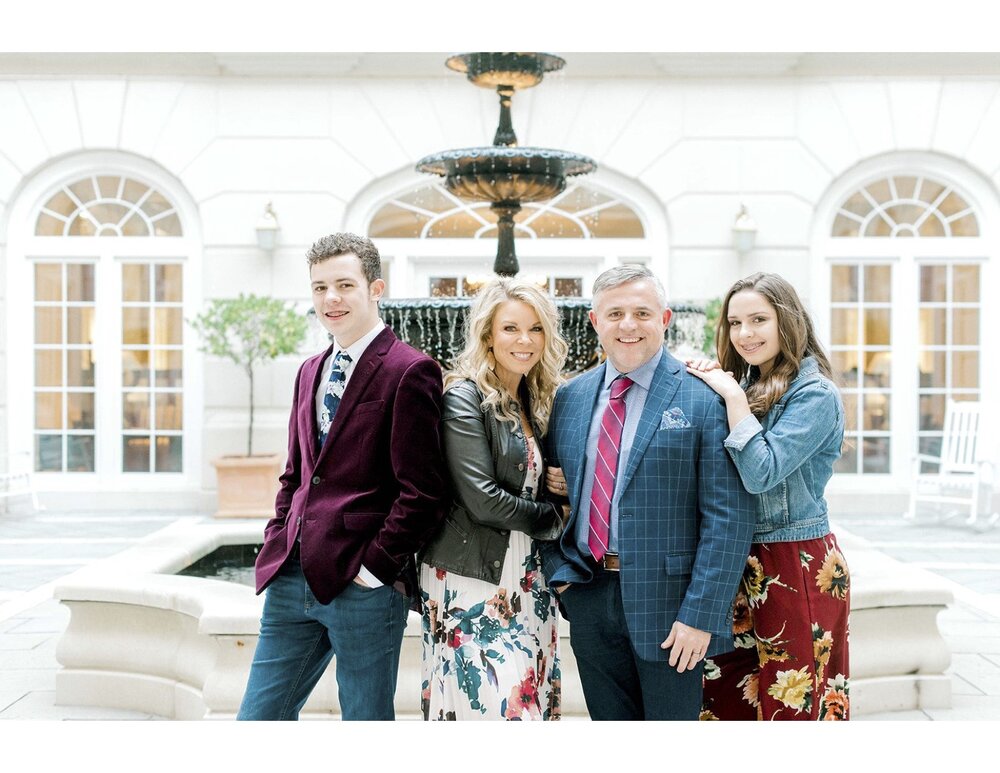 Nashville, Tenn. (August 4th, 2020) –In a live event held on Facebook, Pursuit announced the winner of this year's talent search.  After multiple rounds of submissions and voting, The Siler Family brought home the top prize in the competition.
Based out of Virginia, Toby and Christi enjoyed long history within Gospel Music before adding their gifted twins, Jewel and Jarrod to form a family group. The family won over fans with their performances of 'I Choose To Be A Christian' (made popular by The Erwins), as well as an original entitled 'The Comeback,' penned by Joseph Habedank, Jason Cox & Kenna Turner West.
As the winner of the competition, The Siler Family will receive a 6 song EP, courtesy of Main Street Music & Entertainment, as well as a marketing and radio package to promote its release. Singing News has also provided the group with a performance on their Harvest Festival stage at Dollywood, in addition to social media interviews and a performance at the Singing News Café.
Rounding out the top 5 finalists for this year's talent search were The Crutchfield Family, Shannon Tantlinger, Elizabeth Clary and Miriam Schell.
"We were impressed by the vast amount of talent we saw with the video submissions, and any one of the finalists could have won the entire competition," shares Q Phillips of Main Street Music & Entertainment. "Each group was very unique and brought something different to the table. I believe we will be hearing more from each of these groups, and they have very bright futures ahead!"
With the current restrictions due to COVID-19, the originally planned week-long intensive and talent competition was forced to improvise and change to an online format.  Participants submitted music videos for consideration, upon which fans were encouraged to cast their vote. After advancing to the Top 5, the finalists benefited from critiques and advice from the guest panel of artist and industry judges to further advance their music.
To find out more about The Siler Family, visit thesilerfamiy.com.
Did you know that you can receive the printed, full-color version of SGNScoops Magazine by subscription? Find out more 
HERE
.
Find SGNScoops Magazine On Facebook 
HERE.
You can download the latest edition of SGNScoops Magazine 
HERE.
Read the latest edition of SGNScoops Magazine online
HERE
.
Listen To Today's Gospel Music
HERE
Tags:
gospel music
,
Pursuit 2020
,
Siler Family
,
Southern Gospel Music
,
talent search
Posted in
announcements
|
Comments Off

on The Siler Family Wins Pursuit 2020
Written by scoopsnews on June 30, 2016 – 12:23 pm -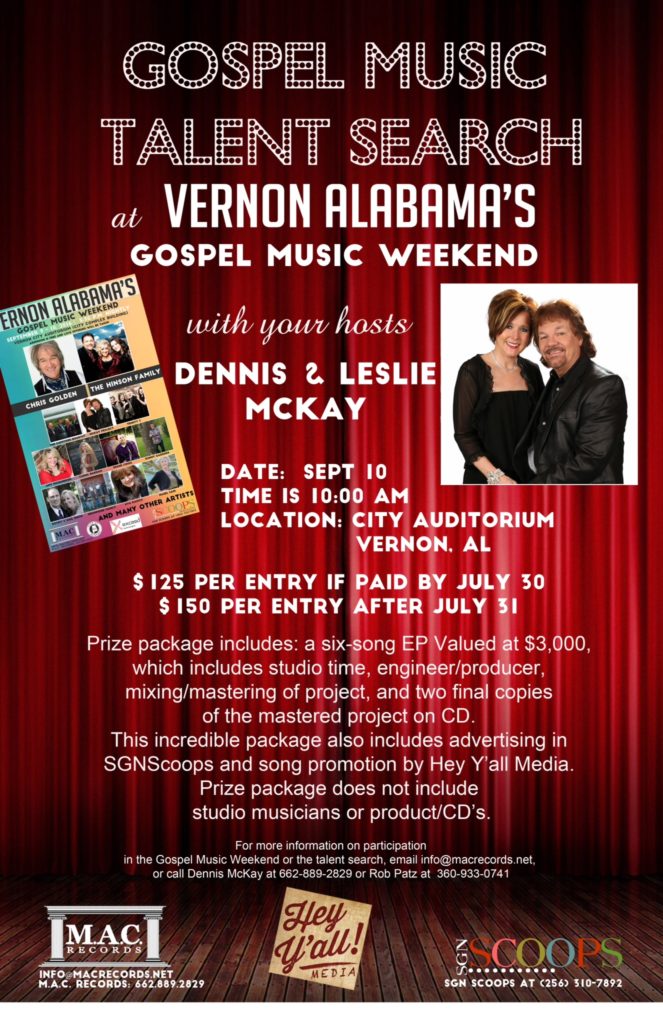 Columbus, MS (6/30/16): "We are pleased to announce that in addition to the gospel concerts that will be held during Vernon Alabama's Gospel Music Weekend on September 9th and 10th, we are also having a Gospel Music Talent Search that will be open to groups and soloists alike," commented Dennis McKay of M.A.C. Records.
The Gospel Music Talent Search will be held on Saturday, September 10th at 10:00 a.m. at the City Auditorium in Vernon, Alabama. The talent search is open to groups and soloists alike. The only qualification is that you perform Christian music. The fee is $125 per entry if paid by July 30th. After July 30th, the fee is $150 per entry. The prize package this year includes a 6-song EP valued at $3,000, which includes studio time, engineer/producer, mixing/mastering of the project, and two final copies of the mastered project on CD. The prize package does not include studio musicians or product/CDs. This incredible package also includes advertising in SGN Scoops Magazine and song promotion by Hey Y'all Media. Plus, the winner of the Gospel Music Talent Search will participate in the Saturday night concert at Vernon Alabama's Gospel Music Weekend.
For more information or to request your entry form for the Gospel Music Talent Search, please email info@macrecords.net or call Dennis McKay at 662.889.2829 or Rob Patz at 360-933-0741.
Tags:
talent search
Posted in
announcements
|
Comments Off

on Talent Search…. Calling All Artists!
Written by Scoops Staff on May 2, 2011 – 8:38 am -
BRANSON, Mo. – (April 27, 2011) – The Branson Gospel Music Revival (formerly Convention) is proud to announce details regarding the 2011 Talent Search. This year's event is sponsored by Pathway Records, a Division of Mansion Entertainment.
Entries for the talent search can be made online at www.bransongmr.com. First place winners will be signed to Pathway Records, and receive a full track project with up to two days of vocals and one day of mix. CD soundtracks of all songs and 100 CDs are also included. There are also 2nd and 3rd place prizes as well. Go to www.bransongmr.com for all the details!
"We are excited to have Pathway Records working with us this year on the talent search," said Rod Burton of the Branson GMR. "Pathway and Mansion are great supporters of our event and produce some fantastic artists".
Bill Dykes, Executive Director of Manor House Music, also a division of Mansion Entertainment, adds, "We have enjoyed our time at Branson GMR for the past two years and look forward to having an active role in this year's event while creating opportunities for newer artists."
Entrants are encouraged to register quickly while space is still available. The talent search will take place during the 3rd Annual Branson Gospel Music Revival, held at the Tri Lakes Center in Branson, Missouri, June 28 through July 1, 2011. For more information, go to www.bransongmr.com or call (615) 530-3726.
Over a hundred gospel artists from across the country will be there to perform, including returning favorites Dino, HisSong, Beyond the Ashes, Freedom, Kenny Bishop, Voices of Glory, The Williamsons, Praise Incorporated, 2nd Generation, Jay Stone Singers, McMillan and Life, Rod Burton, Lynda Lynn, Sunday Edition, Mystery Men, The Greesons, Shannon Bunch, Johnathan Bond, and Homecoming favorites Mike Allen and Ann Downing and more.
Tickets have gone on sale and can be purchased from the Tri-Lakes Center box office by calling (417) 336-0219.
More information about Branson Gospel Music Revival can be found at www.BransonGMR.com or by calling (708) 362-8172.
Tags:
Branson Gospel Music Revival
,
Mansion Entertainment
,
Pathway Records
,
talent search
Posted in
announcements
|
Comments Off

on Branson Gospel Music Revival Announces Details for 2011 Talent Search