Written by SGN Scoops Staff on April 2, 2013 – 1:50 pm -
Nashville, TN (April 2, 2013) – StowTown Records' artist, Beyond The Ashes, is pleased to announce that they have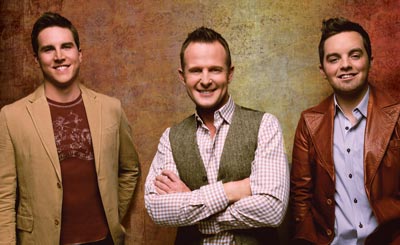 entered into an exclusive booking agreement with the Tana Lonon Agency. This GREAT news comes on the heels of the release of the group's debut StowTown recording, LIVING IN THE MOMENT, and, is accompanied by tremendous radio success and other accomplishements occurring for the dynamic trio.
Group owner and tenor singer, Anthony Facello, expresses, "Over the the last seven years, I cannot explain what it has been like to see and experience the HAND of GOD moving in a ministry like He has moved in ours. We look back and KNOW that ONLY God could have made these plans and allowed what HE has allowed so that we can more effectively share the Gospel. Now, He's opened the door for us to have even more opportunity and a GREAT team to help us to do that. Truly, that is all we want. Our desire is to be BUSY doing what GOD has called us to do. We are humbled and grateful, beyond words, to team with the Tana Lonon Agency to reach more precious people with the HOPE of Jesus. We thank Tana for her belief in us and we absolutely believe in her."
"I have known Anthony for many years," shares Tana Lonon (owner of the Tana Lonon Agency)," and I have watched him exemplify great Christian character and a true heart for ministry throughout those years. I knew he would do well when he formed his own group. I have 'watched' Beyond The Ashes 'from afar' for some time now, and to finally get to partner with them is a thrill! I am proud of this group and I believe their best days are ahead. I'm honored and excited to get to share in it all with them."
To learn more about the Beyond The Ashes, visit beyondtheashesonline.com. You can like them on Facebook at facebook.com/beyondtheashes, and follow them on Twitter at @beyondtheashes1.
To schedule Beyond The Ashes and to learn more about all of the artists who call the Tana Lonon Agency home, visit tanalononagency.com. You can also call the agency at 865-360-3664 or email tanatla@aol.com.
Tags:
Anthony Facello
,
Beyond the Ashes
,
LIVING IN THE MOMENT
,
Southern Gospel Music
,
Southern Gospel News
,
tana lonon
Posted in
announcements
|
Comments Off

on The Tana Lonon Agency Welcomes Beyond The Ashes To Their Growing Roster Of Powerful Artists
Written by Scoops Staff on May 22, 2010 – 8:09 am -
Nashville, TN – The Tana Lonon Agency is pleased to announce their relocation to Nashville, TN. The company is relocating from Florida.
Owner and president, Tana Lonon, is originally from Nashville and she expressed that she is thrilled to be home. "After being away for 16 years, it's great to come home to Nashville and all my friends," shared Lonon. "I'm thankful to have the opportunity to represent such talented artists and to be able to relocate my business to such a perfect place as Music City U.S.A."
To learn more about The Tana Lonon Agency and their wonderful roster of artists including Crabb Revival, Marshall Hall, No Other Name, and others, visit tanalononagency.com.  You may also email tanatla@aol.com or call 615.866.9741.  Additional contact information is as follows: 5754 Amalie Drive, Nashville, TN  37211, ph. 615.866-9741 fax: 615.301.8193.
Tags:
industry news
,
tana lonon
Posted in
industry news
|
Comments Off

on Tana Lonon Agency Relocates To Nashville, TN