Written by Staff on July 26, 2018 – 3:49 pm -
TUNE IN ALERT: Chris Golden, Christian Country artist, will be the musical guest on the the Huckabee Show this weekend on TBN.
Tune in on Saturday at 5pm and 8pm (4pm and 7pm CST), and Sunday at 5pm and 8pm (4 and 7pm CST)
More about Chris: "It's his recent solo work that best showcases Golden's gifts. He has released five critically acclaimed solo projects including CenterStage, which garnered rave reviews from Billboard magazine, and his gospel offering Sunday Shoes which was named Power Source Magazine's 'Album of the Month.' In 2011, Chris stepped back in the spotlight as a television host, filming 13 episodes before a live audience for a web based series called Late Night Nashville with Chris Golden, and continues to host his annual Family and Friends concerts.  His latest album entitled Shoebox was released in the Fall of 2013 with the first video Shoebox now in rotation on ZUUS Country Network and featured as 'Breakout Artist of the Week" and appearing in the TOP 10 Countdown.  Most recently, Chris garnered his first number one song in Cashbox Magazine with 'A Different Light' and was named Christian Voice Magazine's 2016 'Crossover Artist of the Year".
    "Music is my life, my gift, my love… and I feel like I would be turning my back on my calling if I didn't keep doing this," he says. "I love and live to entertain." For more on Chris see his website
here
.
Chris Golden is featured in the latest edition of SGNSCOOPS.
Read the full SGNScoops Magazine July 2018 HERE
Download the PDF of SGNScoops Magazine 
HERE
Find SGNScoops On Facebook 
HERE
Listen To Today's Gospel Music Online 
HERE
Tags:
Chris Golden
,
christian country
,
tbn
Posted in
announcements
,
artists
|
Comments Off

on Chris Golden to appear on the Huckabee Show
Written by SGN Scoops Staff on January 10, 2017 – 1:16 pm -
(Pigeon Forge, TN) – TBN (Trinity Broadcasting Network) has announced a programming change for the highly-popular music program, NQC Main Stage. Beginning on Saturday, January 7, 2017, the show – hosted by Gerald Wolfe and Jason Crabb – will air in it's new time slot of 6:30 PM ET.
Produced by NQC and broadcast by a special partnership on TBN, the show has become one of the networks' most popular programs. This move signals a positive change of time for the program and is a direct result of viewership and attention.
Featuring musical performances recorded live during the 2016 NQC in Pigeon Forge, TN, and hosted by the energetic team of Gerald Wolfe and Jason Crabb, the program is must-see for any fan of gospel music.
NQC's Executive Vice President, Clarke Beasley, is impressed by the move, stating: "TBN has shown a high level of commitment to our music over the years and we are delighted in this change of schedule."
For more information on TBN and to find your local channel, visit
www.TBN.org
.
The 60th Anniversary of NQC will commence this year in Pigeon Forge, TN the week of
September 24-30, 2017
at the LeConte Center. For more information and tickets for gospel music's largest annual event, visit
www.NQConline.com
.
Tags:
tbn
Posted in
announcements
|
Comments Off

on TBN ANNOUNCES NEW DAY, NEW TIME FOR POPULAR PROGRAM, NQC MAIN STAGE
Written by SGN Scoops Staff on September 16, 2015 – 8:02 am -
Hendersonville, TN  – DMG Concerts invites you to celebrate Christmas in September with the live TV taping of "We Call It Christmas!"
"We Call It Christmas" is a brand-new Christmas program featuring Karen Peck & New River, The Browders, and The Bowling Family.  These beloved family groups will deliver their renditions of timeless classics, as well as new original Christmas tunes and share their favorite memories of Christmas with their families.  Along with special guests Tribute Quartet and Gordon Mote, the evening promises to be one to remember.
The debut of "We Call It Christmas" will take place at Trinity Music City, 1 Music Village Blvd, in Hendersonville TN on September 22nd, 2015 at 7pm.  The event is free and open to the public, with doors opening at 6pm.  The "We Call It Christmas" tour also plans to make a stop in Branson later this year, as part of Lifeway's Christmas In Branson event in November. More information on that event to follow.
DMG Concerts is a division of Daywind Music Group that promotes Southern Gospel music through elite concert events. For more information on upcoming events, visit dmgconcerts.com or contact Dani Phillips at publicity@daywind.com.
Tags:
Southern Gospel News
,
tbn
,
We Call It Christmas
Posted in
announcements
|
Comments Off

on DMG Concerts Announces We Call It Christmas TV Taping
Written by Staff on August 28, 2015 – 8:56 am -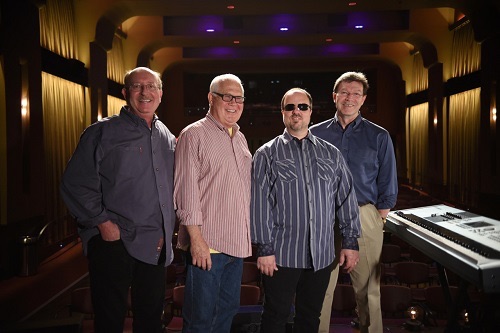 As Three New Videos from Celebrated CD Hit "YouTube"
Franklin, TN (August 26, 2015) The impact of Gordon Mote's most recent New Haven Records CD, All Things New, recently increased as a hit single from the album received a Dove Award nomination for "Country Song of the Year" and as three more videos from the project were released to YouTube.
On Wednesday, August 12, 2015, the Gospel Music Association included Mote's song, "Ain't It Just Like the Lord," among the finalists for the 46th Annual Dove Awards. The industry's flagship award show will take place at Allen Arena in Nashville on October 13 and will be broadcast nationally via the Trinity Broadcasting Network (TBN) on Sunday, October 18.
New Haven Records also announced the release of three new video clips from the multiple Academy of Country Music award-winner: "Meanwhile Back at the Cross," "The Sound A Dream Makes," and "Down By the River," Mote's current radio single. These clips join more than 200 other performances that have been viewed more than 3.3 million times on YouTube, the world's largest music and video platform with over one billion registered users.
Ken Harding, president of New Haven Records comments, "There are probably no more loyal music fans in the world than those in Southern Gospel and Country—and probably no more loyal Southern and Country fans than those who love Gordon Mote. We are honored to give them some new videos from this great project while Gordon is finishing up his next one."
Co-produced by Mote, legendary Country producer Frank Rogers and 8-time Dove-Award winner Wayne Haun, All Things New features a Who's Who of Gospel and mainstream artists (Trace Adkins, Sheryl Crow, The Gaither Vocal Band, Scotty McCreery, Darius Rucker, Josh Turner, and Matthew West). The CD garnered a Dove Ward nomination for Best Country Gospel Album and produced the popular singles, "Faith Like That," "Meanwhile Back at the Cross," "Ain't It Just Like the Lord," and "The Other Side."
GORDON MOTE SHOOTS NEW VIDEOS AT HISTORIC FRANKLIN THEATRE
Pictured L to R: Ken Harding, president, New Haven Records; Bob Rodgers, president RSI/Mote management; Gordon Mote; Dan Hayes, executive director, Franklin Theatre.
Mote is currently putting the finishing touches on a new studio project entitled, Hymns and Songs of Inspiration, scheduled for release later in 2015.
Tags:
Dove Award
,
gordon mote
,
gospel music association
,
tbn
Posted in
announcements
,
artists
|
Comments Off

on Gordon Mote Nominated for 2015 GMA Dove Award
Written by Staff on July 3, 2015 – 6:05 pm -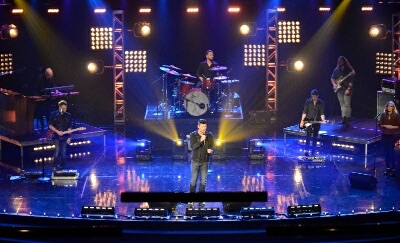 On Wednesday, June 1, 2015, artist Jason Crabb recorded an album live at Trinity Broadcast Network on Hendersonville, Tennessee. SGN Scoops' roving reporter and photographer Craig Harris was present and captured several images for those of us who were unable to attend. Read more »
Tags:
Christian artist
,
Craig Harris
,
Jason Crabb
,
sgn scoops
,
tbn
Posted in
exclusive report
,
gospel events
,
sgn scoops magazine
|
Comments Off

on SGN Scoops at Jason Crabb live recording
Written by SGN Scoops Staff on April 18, 2015 – 9:31 am -
KENZIE WALKER is an amazing 11-year-old vocalist with an even more amazing story! The pint-sized prodigy recently made her international television debut on TBN, the Trinity Broadcasting Network. Grammy award winner Jason Crabb welcomed the young singer to the set of the Praise the Lord television show taped before a live audience at Trinity Music City in Nashville, TN.
Walker shared her incredibly gripping story with the audience and performed a few selections from her upcoming EP,
Smallest Gifts,
set for release on
May 19, 2015
.
Born in the Hunan Province of China, Kenzie was abandoned in a paper box at a train station clothed in nothing more than a light blue jacket. In the early morning hours, this innocent baby girl was found by a kind stranger and taken to an orphanage in China where she lived the first year of her life. This little girl was adopted by a couple from Texas approximately at one year old and raised in the United States.
From that moment, Kenzie began to grow up and live as any normal American child, with one extraordinary exception.
Early on her parents noticed Kenzie had a special fondness for anything musical. She would sing along with clock chimes, memorize lyrics to songs she heard and sing complete songs when she was barely able to talk.
Fast forward through the last 11 years on Kenzie's unusual life journey and not only has she performed the National Anthem for the Major League Baseball team the Houston Astros but has landed a record deal after being discovered by veteran producer and 2015 GRAMMY Nominee, Mark Carman.
At such a young age, Kenzie is already set to share her musical talent with the world. 
Smallest Gifts,
Kenzie's debut EP will be released by
Mansion Entertainment
and distributed by
Sony/RED
on
May 19, 2015
and a tour targeting Southeast Asia in late 2015 is in the planning stages.
"Heaven Come Down," Kenzie's first single, is already making an impact with radio programmers warmly embracing the music.
Kenzie is exclusively represented by MCM World Media.
Tags:
Jason Crabb
,
KENZIE WALKER
,
Southern Gospel News
,
tbn
Posted in
announcements
|
Comments Off

on INTERNATIONAL TV DEBUT FOR 11 YEAR OLD KENZIE WALKER
Written by Staff on November 7, 2014 – 9:53 am -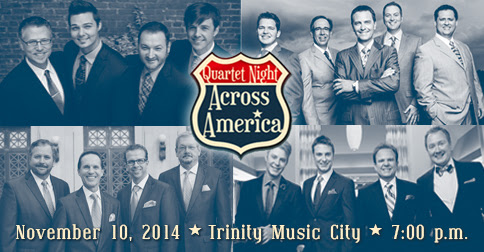 (Hendersonville, TN – Nov. 4, 2014) Four award-winning artists will join together this Monday evening, Nov. 10, at Trinity Music City USA for the taping of Quartet Night Across America – Through The Decades.
The classic cadence of the legendary Blackwood Brothers, the dynamic vocal stylings of Brian Free and Assurance, the smooth sounds of Legacy Five and the infectious energy of Tribute Quartet will be on display as the audience is taken on a musical journey from 1910 through the present day, enjoying a unique brand of four-part harmony that was birthed through the church.
All four of the quartets are Daywind recording artists and will perform their hits. There will also be new configurations of quartets formed to perform songs that have become standards in Gospel Music through the decades.
The free event is open to the public, which is invited to be a part of the live studio audience. The doors open at 6 p.m., and the concert starts at 7 p.m.
For more information on the event, call 615-822-8333.
Information on each of the quartets involved can be obtained by visiting www.daywindrecords.com.
Daywind Records represents great artists like Brian Free and Assurance, Legacy Five, Greater Vision, the Hoskins Family, the Blackwood Brothers, Wilburn and Wilburn, the Browders, Adam Crabb, the Bowling Family, Karen Peck and New River, Amber Thompson, Joseph Habedank, the Nelons, Tribute Quartet, and Watts, Rowsey, & Bean. Daywind recordings are distributed to Christian retail by New Day Christian Distributors (newdaychristian.com) and to the general market by Select O Hits.
For more information on Daywind Records, visit daywindrecords.com or contact Amanda Martin at 1-800-635-9581.
Daywind Records represents great artists like Brian Free and Assurance, Legacy Five, Greater Vision, the Hoskins Family, the Blackwood Brothers, Wilburn and Wilburn, the Browders, Adam Crabb, the Bowling Family, Karen Peck and New River, Amber Thompson, Joseph Habedank, the Nelons, Tribute Quartet, and Watts, Rowsey, & Bean.  Daywind recordings are distributed to Christian retail by New Day Christian Distributors (newdaychristian.com) and to the general market by Select O Hits.
For more information on Daywind Records, visit daywindrecords.com or contact Amanda Martin at 1-800-635-9581.
Tags:
Blackwood Brothers
,
brian free and assurance
,
gospel music
,
legacy five
,
Quartet Night
,
southern gospel
,
tbn
,
Tribute
Posted in
announcements
,
artists
|
Comments Off

on TBN's Trinity Music City USA to host Quartet Night Across America taping
Written by Staff on October 9, 2014 – 10:48 am -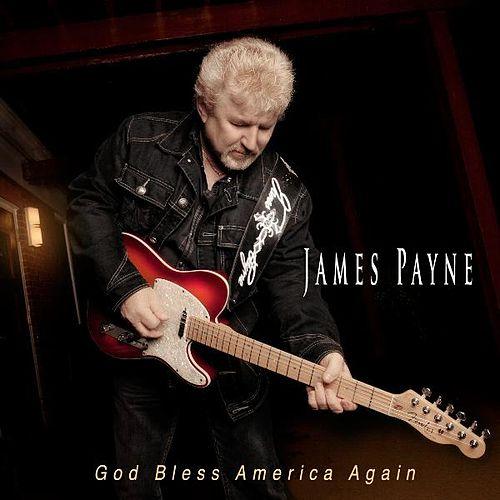 By Dan Duncan
I met James Payne the week I moved to Nashville, Tennessee from Boise, Idaho. Driving into the community, I passed by a church, which caught my attention. I said to nobody in particular: "That's where my family and I will be attending church." Two days later we slipped through the doors of that church just as James Payne stepped behind the pulpit. What I heard in the next few minutes impacted my life to this day. At age 27, James Payne preached with a power, a passion and an anointing rarely heard. The man could preach!   After church, we had lunch together. That was the beginning of a lifetime friendship.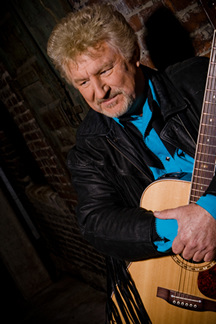 Through the years James and I have shared good times and bad times. I stood alone beside his hospital bed when he was given no chance of recovery and I saw God raise him up. I sat beside him in the listening room of a major Christian recording company in Nashville when he was told: "You have two choices; you can sign a contract now, or go home and pray about it, and come back and sign the contract tomorrow." We've sat for hours in solitude with pens in hand, laboring over songs we were writing together. We've shared the stage in Gospel concerts. And we've been together on worldwide television broadcasts, as his message was beamed into 170 countries of the world.
That being said, I'd like to assure you of two things:
James Payne is the Real Deal!
He is a man driven by the pursuit of excellence.
It is a privilege to share with you today the life and ministry of James Payne as I know him.
James Payne is one of the finest Christian Country artists of our day. His voice moves the heart. His writing is powerful. His album production is incredible. He is a mighty force whose influence has helped shaped Country Gospel music today.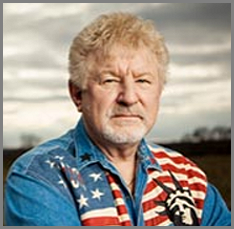 James was not raised in a Christian home. His family never attended church. He had no religious background whatsoever. James was a drug addict and an alcoholic when Jesus found him. He was lying in a hospital bed from an overdose of drugs, given up by his doctors, and pronounced dead. But Jesus appeared to him in that hospital room. James relates the story as follows: "I had an out-of-body experience. I was suspended in the room looking down at myself lying in the bed. I was physically dead at that point. All the monitors on my body flat-lined. I did not see the face of Jesus, but I did see His robe, His sandals and the nail prints in His hands. He touched me on my right foot and told me He was going to raise me up, and that I would preach the Gospel around the world. No one in my family had ever been a Christian before that time. As I look back, it's hard to believe that Jesus loved me enough that He would come to my room and change my life by saving me and delivering me from alcohol and drug addiction."
James grew up in pool halls and honky-tonks, not in church. The music he listened to was on the jukebox. It included George Jones, Merle Haggard, Conway Twitty, Hank Williams, Johnny Cash, Elvis Presley, and Waylon Jennings. Those were his honky-tonk heroes.
James was saved in a hospital room. Shortly after his release from the hospital, he began attending church. He felt the desire to do just what Jesus told him he would do: carry the Gospel around the world. He borrowed a Bible from his pastor and began reading it. He read the New Testament through 25 times the first year he was saved. The church needed a guitar player in their band, so James saved up $39.00 and bought his first guitar. He learned the chords and began playing in the band.
God rewards faithfulness. A few years after James was saved, he moved to Nashville, Tennessee to pursue his desire to preach and sing the Gospel of Jesus Christ.   He began pastoring a church there. God sent many musicians and singers from the country and gospel music industry into his church. They became great friends and mentors in the area of songwriting. Among those were Gospel artists like Kenny Hinson, Ronny Hinson and Rusty Goodman.
The first song James wrote was a song called "The Cloud He's Coming Back On." That song was recorded by the Happy Goodman Family and reached number two in the gospel charts. The song was recorded by a number of artists, and was later printed in the Church Of God hymnal. James comments: "That made me feel I had reached immortality. I was in the hymnbooks."
Throughout his 31 years of ministry, James has experienced some great successes and some devastating failures. He has written over 2200 songs, and has had over 700 different artists, choirs, and singers record the songs he has written. They include; Lee Greenwood, Terri Gibb, Tanya Goodman, White River, Ricky Van Shelton, Jimmy Swaggart, Del Way, the Florida Boys, Dixie Echoes, Betty Jean Robinson, Vern Jackson, Mike Purkey and hundreds of others.
When James began recording Christian Country music, very few others were doing it. It was all Southern Gospel. Very few Gospel soloists were heard on the radio. Quartets and trios were the order of the day. Southern Gospel artists have recorded many of the songs written by James, but when James sang them, they came out Country Gospel. He was country before country was cool.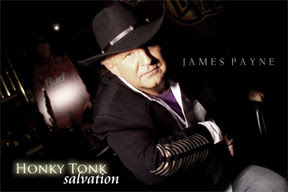 James has won numerous awards. Songs that he recorded have reached number one in the music charts. His awards include: Male Vocalist of The Year; Songwriter of The Year; Song of the Year; Album of The Year; Living Legend Award, and Evangelist of The Year. He was inducted into the International Country Gospel Music Association's Hall Of Fame and was recently was honored by the I.C.G.M.A. for achieving 50 number-one songs which he has written or recorded.
James was on a flight to Florida when he wrote what would become his signature song, "The Night Jack Daniels Met John 3:16". He recalls: "I was reading my Bible. The man in the next seat ordered two small bottles of Jack Daniels whiskey. I looked down at my Bible. It was opened to John 3:16. It took only about ten minutes to complete the song. It almost wrote itself."
At first, Christian radio refused to play the song. It was unheard of for the word "whiskey" to be written into a gospel song. Had it not been for Jan Crouch and TBN, the song would have died in obscurity. But they produced a television video of the song and began playing it on TBN. Nearly every time it played, people would call in and get saved. Whatever the song has accomplished, it is because Paul and Jan Crouch believed in it and played it almost every day for nearly a year. Because of its popularity, Christian radio decided to play it. This was a song God wanted the world to hear. He made a way and the song went to number one.
Looking back over the years of his music ministry, James feels the one thing that kept him going was his songwriting. There is a sticker on the back of his truck, which says: "It all begins with a song." A great song can make an average singer successful. An average song can make a great singer average. James believes every song should speak to the listener and it should be so graphic that it will move the heart of the singer.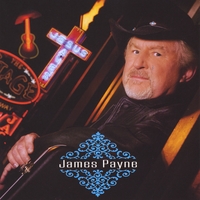 James is quick to credit those good people who have helped him along the way.   Ronny Hinson took time to help with his writing. His brother Kenny helped James with his singing and recording arrangements, as well as overall performing. Jimmy Gateley taught him to deal with criticism, and be true to himself.
James concludes with these comments: "I know that soon I will be too old to have my picture on the cover of my CD's," he laughs. "At that time I would like to see some young gun writing and recording music that has my fingerprints on it. I know there is a generation in the wings that can take this music to a larger market. With that in mind, I can sleep well at night."
By Dan Duncan
First published by SGN Scoops July 2014
For current issues of SGN Scoops visit https://www.sgnscoops.com/
Tags:
christian country
,
Dan Duncan
,
James Gateley
,
James Payne
,
ronny hinson
,
tbn
Posted in
announcements
,
artists
|
Comments Off

on James Payne: The Life of A Honky-Tonk Evangelist
Written by SGN Scoops on April 7, 2014 – 10:30 am -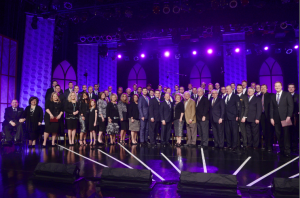 NASHVILLE (April 7, 2014) — Southern Gospel Music will be front and center on TBN as Grammy Award winning Christian music artist Jason Crabb hosts the Southern Gospel Music Guild's 2014 Harmony Honors broadcast on TBN tonight Monday, April 7, 2014 at 10 PM EST / 9 PM EST.
The annual Harmony Honors recognize the best and brightest singers, songwriters, quartets, groups, and innovators in this unique American musical genre that has comforted, inspired, and entertained generations of fans.
This year the Harmony Honors will recognize two of Southern Gospel Music's most storied publishing resources: Pathway Press and Stamps-Baxter Music. Southern Gospel aficionados will recognize Pathway Press as publisher of the classic "Red Back"Church Hymnal, used by thousands of churches across the South for over sixty years. Generations of gospel groups have dipped into the depths of the old "Red Back" hymnal for classic quartet and convention songs by such legendary songwriters as Albert Brumley, Vep Ellis, Luther Presley, Lee Roy Abernathy, and many others.
As for Stamps-Baxter Music, its classic "shaped-note" song books — with titles like Super Specials, Crystal Rays, Silver Tones, and Pearls of Paradise — have been used and cherished by Southern Gospel artists for over 75 years.
"I'm excited to be a part of this evening honoring the musical heritage that is so closely tied to gospel music," said Harmony Honors host Jason Crabb. "The songs in the 'Red Back' hymnal and the Stamps-Baxter songbooks are the foundation for this music that is so loved. This is a well-deserved honor for both publishers and it's going to be a great night!"
Among the musical guests for this year's Harmony Honors will be some of the most beloved and popular names in Southern Gospel Music, including the LeFevre Quartet, the Perrys, the Tribute Quartet, Legacy Five, Three Bridges, the Nelons, Gerald Wolfe from Greater Vision, Karen Peck and New River, Jeff & Sheri Easter, the Bowling Family, Gold City, the Mark Trammell Quartet, the Whisnants, Stan Whitmire and the Mylon Hayes Family.
Also scheduled for a special guest appearance is former U.S. Attorney General John Ashcroft, himself an accomplished musician and long-time fan of Southern Gospel Music.
TBN Vice President Matthew Crouch noted that Southern Gospel Music has been a regular part of TBN's history over the past 40-plus years. "We've welcomed many Southern Gospel greats over the years," he said. "The rich harmonies and inspirational message of this sacred music have been a blessing to generations of TBN viewers. We're privileged once again to host the Harmony Honors."
For more information on where to view TBN in your area, visit 
www.TBN.org
About the Trinity Broadcasting Family of Networks
With 26 networks and growing worldwide, the Trinity Broadcasting Family of Networks is the world's largest faith-and-family television group, airing a broad range of church and ministry programming, Christian music, family friendly movies, children's programming, and shows for teens and young adults 24 hours a day to every inhabited continent via 87 satellites and 20,000 television and cable affiliates. In addition, TBN's most popular global networks are available on computers, smart phones, and other mobile devices, and over 22,000 hours of entertaining and inspiring On-Demand programming is accessible via TBN's innovative online network, 
iTBN.org
. To find out more about the Trinity Broadcasting Family of Networks, log on to 
www.tbn.org
.
About the Southern Gospel Music Guild
The Southern Gospel Music Guild is a fraternity of industry professionals who combine their resources and work together for the expansion of the Southern Gospel Music industry. The overall mission of the organization is to create a cooperative environment that will encourage excellence, education, awareness, and growth, while preserving the essence of Southern Gospel Music.
Tags:
gold city
,
Greater Vision
,
Jeff & Sheri Easter
,
Karen Peck & New River
,
Legacy 5
,
Pathway Press
,
Southern Gospel Music
,
Southern Gospel News
,
Stamps Baxter Music
,
Stan Whitmire
,
tbn
,
The Bowling Family
,
the nelons
,
Whisnants
Posted in
announcements
|
Comments Off

on 2014 SGMG HARMONY HONORS TO BE BROADCAST ON TBN MONDAY, APRIL 7, 2014
Written by SGN Scoops Staff on February 13, 2014 – 3:24 pm -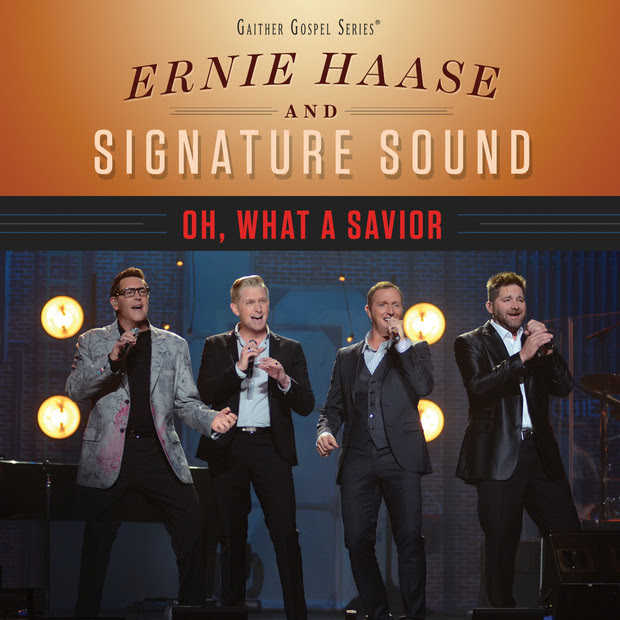 NASHVILLE, Tenn—

February 13, 2014

—
The all-new release, Oh What a Savior, from award-winning and GRAMMY®–nominated quartet E
rnie Haase & Signature Sound hit the street last Tuesday, debuting this week at #1 on the Southern Gospel Album chart, #15 on the CCM chart and #181 on the Billboard Top 200 chart.  The companion DVD landed at #1 on the Christian Music Video chart and at #3 on the Billboard Music Video chart, according to Nielsen SoundScan.
"These numbers tell us as a group to keep on doing what we are doing!" said Haase. "The emails, Facebook posts and Twitter feed surrounding this release have been an encouragement; and we appreciate the support of this release from our fans and loved ones."
The LIVE CD and DVD, recorded at the Carson Center in Paducah, Ky., has been airing on national tv networks including RFD, DISH TV, DIRECTV, TBN, Family Net, FFE, RURAL TV, TNN, Airtime, CTN, The Walk TV (formerly Legacy), TCT and TLN and also in Canada on Vision TV, CTS, Grace TV and the Miracle Channel. The DVD is also featured on Gaither TV (available on Roku, Google TV and the Internet). The group has discussed the new release in-depth on "Daniel Britt & Friends," (SIRIUS XM Satellite Radio), on the Solid Gospel Radio Network, in HOMECOMING Magazine and in The Singing News Magazine.   They recently participated in a Google chat with Family Christian Stores and performed for The Munce Group at their bi-annual buyers convention.
Group members Ernie Haase, Doug Anderson, Devin McGlamery and Paul Harkey gave their "signature" renditions of Gospel standards such as "Swing Low, Sweet Chariot," "Heavenly Parade," "Up Above My Head (I Hear Music in the Air)," "Noah Found Grace in the Eyes of the Lord" and "Scars in the Hands of Jesus" as well as a new, crowd-stirring arrangement of "When the Saints Go Marching In."
In addition to popular favorites, the group recorded several brand new songs on the release and were joined throughout the evening by special guests including the trio Beyond the Ashes, Gaither HOMECOMING favorite Wesley Pritchard and Broadway sensation J.Mark McVey (Les Miserables) who joined the quartet for a chilling rendition of The Sound of Music standard "Climb Every Mountain."
The new CD, produced by GMA DOVE Award-winning producer and songwriter Wayne Haun, and the new DVD are exclusively distributed by Capitol Christian Distribution and are available throughout general market stores and the Christian marketplace in addition to online retailers including iTunes, Amazon and www.gaither.com.
Tags:
Airtime
,
CTN
,
DISH TV
,
Family Net
,
ffe
,
Oh What a Savior
,
RFD
,
RURAL TV
,
Southern Gospel Music
,
Southern Gospel News
,
tbn
,
The Walk TV
,
TNN
Posted in
announcements
|
Comments Off

on ERNIE HAASE & SIGNATURE SOUND Top Sales Chart with All-New Releases