Written by SGN Scoops Staff on June 7, 2014 – 11:04 am -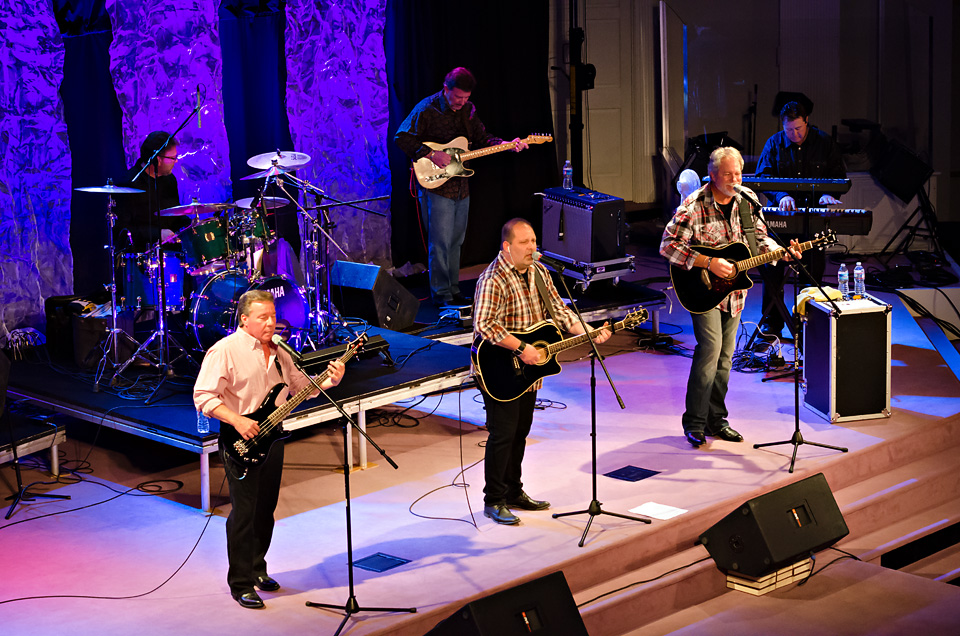 Nashville, TN – It's been nearly 30 years in the making, and now music from The DMB Band is returning to radio this month, with the release of Tell Me The Story. The brand new single from the talented musical group will be available to radio this month via the latest compilation from Rhonda Thompson Promotions.
In the mid 1980s, The DMB Band was on the cutting edge of Christian County music. One might say the group was "country before country was cool." "We were certainly pioneering the ground," laughs DMB Band member Kent Humphrey. "It is kinda neat to see how the music we were doing back 25 years ago that was so progressive at the time, is now acceptable and embraced so well."
The DMB Band was birth by long-time Gospel Music veteran Ed O'Neal, who took his Dixie Melody Boys Quartet into a genre that really didn't exist at the time. "We were simply ahead of our time," states O'Neal's son, Allen, who was a member of the group during the 1970s and 80s and has been instrumental in the revival of The DMB Band.
The rebirth of The DMB Band is the result of a reunion that took place in honor of  The Dixie Melody Boys' 50th Anniversary. "Many of the former members of the Quartet got together for a Reunion concert, and it allowed us to renew some great friendships," O'Neal conveys. "We had lost contact with each other and when we got back together, the friendships just picked right back up where we had left off 25 years ago," Humphrey shares. "It was very special. We had so much fun being together again that we decided to get together again the next year."
O'Neal and Humphrey teamed together with former DMB Band members Frank Sutton, Craig Ham, Jerry Kelso, Olan Witt and Ron Wells to revive a sound that is classic DMB Band. The Band hit the studio and recorded The DMB Band Reunion Greatest Hits. The recording features songs like You're The Light, Reflection, Run Little Brother, Love Them Home and He's Gonna Make A Comeback. "It includes some of our favorites that were on the Good Ole Boys and the Too Much Thunder albums from the mid 80s. We had a lot of fun back in the studio so we decided to do a few concerts, and things just clicked," O'Neal explains.
Things "clicked" so well in fact that in 2014, the Band reunited again for several concert dates and to record and release the Still Believing CD. Still Believing contains songs the Band recorded 30 years ago, as well as five new songs, several of which were written by Humphrey, including the radio release Tell Me The Story. "This song shares the straight-forward message of the Gospel. It's a lot of fun to sing. Kent is a great songwriter and he did a very good job on this song. We hope listeners will enjoy it and we hope it will be embraced by radio," O'Neal says.
"At this stage in our lives, we are just having fun," Humphrey relates. "We are very blessed to walk into this 25 years later and pick up where we left off. We're having a blast, singing, playing, just hanging out and telling people about Jesus. We've all grown individually so much. We really don't have a desire to be on the road 200 days a year, but we are open to whatever God has in store."
Radio stations interested in obtaining the Band's latest single may contact Rhonda Thompson Promotions at www.rhondathompsonpromotions.com. DMB Band fans interested in order the new CD or promoters interested in scheduling the Band may visit www.thedmbband.com.
Tags:
Ed O'Neal
,
new music
,
Southern Gospel News
,
The Dixie Melody Boys
,
THE DMB BAND
Posted in
announcements
|
Comments Off

on THE DMB BAND RETURNS TO RADIO WITH NEW SINGLE RELEASE