Written by SGN Scoops Staff on January 30, 2019 – 11:13 am -
From James Easter
Please pray for the family of my brother, Ed, who just went home to be with Jesus this morning. Our hearts are broken but we are rejoicing that he is with his Savior never to hurt again. Please pray for Ann & family during this difficult time. We all loved him so much & await the day when will be together forever.
Tags:
Southern Gospel News
,
The Easters
Posted in
announcements
|
Comments Off

on Pray For The Easter Family
Written by Staff on June 19, 2015 – 7:50 am -
This week, SGN Scoops presents This Week In Gospel Music with Mickey Bell is another two hours of non-stop frivolity and Southern Gospel! Don't miss this syndicated show on a station/internet site near you!
Mickey's guests include: Philip Hughes of the Anchormen who will talk about becoming the new leader singer for the Anchormen. Another terrific guest is Morgan Easter of The Easters!
Also we will have Mickey's Top Seven List.  This week's list will be Mickey's Top Seven Ways to make the National Quartet Convention more appealing to younger people. Listeners will be on the edge of their seats to hear these creative ideas from the brain of Mickey Bell!
This Week in Gospel Music airs on WVSG, Virginia on Mondays,
Wednesdays and Fridays at 4:00 pm (EST), KNMG in Savannah, MO;  WWIC Radio AM-1050 in Scottsboro, Alabama; WTGF 90.5 Truth Radio in Pensacola, Fl; Radio CIA Benbrook Texas;  WPIL in Heflin, AL, and many more. Online, you can also hear Mickey on Rapture Radio in the UK at https://www.facebook.com/raptureradiochristianmusic
Tags:
anchormen
,
gospel music
,
mickey bell
,
Morgan Easter
,
Phillip Hughes
,
sgn scoops
,
Southern Gospel Radio
,
The Easters
,
This Week In Gospel Music
Posted in
announcements
,
artists
|
Comments Off

on This Week in Gospel Music With Mickey Bell for June 19-25
Written by SGN Scoops on January 25, 2014 – 6:13 am -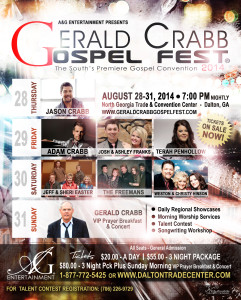 Ripley, Mississippi (Jan 20, 2014)  Gerald Crabb and Alisa Asbury of A&G Entertainment are pleased to announce plans are underway for Southern Gospel's newest Gospel Music event, Gerald Crabb's Gospel Fest. Gospel Music artists and fans will gather on Labor Day weekend 2014, August 28, 29, 30 and 31st, at the Dalton Trade and Convention Center in Dalton, Georgia to experience the best in Southern Gospel Music, Crabb-style! Gerald Crabb commented, "I am so excited about our first Gerald Crabb's Gospel Fest. It will feature morning worship services that will include special guests, artist seminars, a talent search, and lots of great Gospel music. It will be very similar to the Crabb Fest that was held in years past in Owensboro, Kentucky. You will not want to miss this event."
In the mid 90's, Crabb Fest was launched in a church parking and grew into a four-day major event with the Saturday night attendances reaching 5,000 or more. Several artists such as Joseph Habedank and Josh Franks were discovered at Crabb Fest talent contests and many memories were made as the best artists in all of Gospel Music performed.  "Everyone looked forward to Crabb Fest each year," Crabb stated. "It was a great time to fellowship with one another, and to be spiritually uplifted as well as a time to enjoy great music. I believe Southern Gospel music fans are going to love that we are bringing back the spirit of Crabb Fest to our new event."
During Gerald Crabb's Gospel Fest there will also be afternoon showcases featuring regional artists. "We were thrilled with the response from artists from many states wanting to participate in this year's event," Alisa Asbury remarked. "These groups are greatly talented and have thriving music ministries. It is a pleasure to help them expand their fan-base and give them opportunities to take their ministries to a new level. We're also excited to host a talent contest that will allow rising new artists a chance to expose their talents to industry professionals."
The evening performance line-up is stellar.  Thursday night's concert will feature the Grammy award winning artist, Jason Crabb. On Friday evening, the Gaither Vocal Band's new lead singer, Adam Crabb will perform along with Crabb Family vocalist, Terah Crabb Penhollow and the popular duo, Josh and Ashley Franks.  Saturday's schedule includes multi award winning Jeff and Sheri Easter, The Freemans and Weston and Christy Hinson. On Sunday morning, legendary Gerald Crabb will wrap up the weekend with a prayer breakfast and concert.
Ticket prices are $20 per day, $55 for a 3 day package, $80 for all 3 days plus Sunday morning's prayer breakfast and concert with Gerald Crabb. To purchase tickets, visit http://www.daltontradecenter.com/ or call 1-877-772-5425. For more information about Gerald Crabb's Gospel Fest, visit www.geraldcrabbgospelfest.com.
Tags:
A&G Entertainment
,
Adam Crabb
,
Alisa Asbury
,
Dalton Trade and Convention Center
,
Gaither Vocal Band
,
gerald crabb
,
Terah Crabb Penhollow
,
The Easters
,
the freemans
,
Weston & Christy Hinson
Posted in
announcements
|
Comments Off

on A&G Entertainment Announces Gerald Crabb's Gospel Fest
Written by SGN Scoops Staff on December 4, 2012 – 5:52 pm -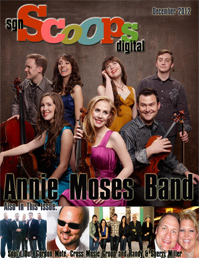 From the staff of SGNScoops Magazine, Merry Christmas! We pray the December edition warms your heart this holiday season. On the cover this month is the sensational Annie Moses Band. Also we highlight the latest happenings in the ministries of Gordon Mote, Cross Music Group, Soul'd Out Quartet, Randy and Sherri Miller, Kevin Mills, C S & K, and Micah Watkins. Rhonda Frye share the highlights of the recent Write About Jesus songwriter's conference, Jennifer Campbell shares a recent Women of Faith experience and Rob Patz shares a media minute with Patricia Mathis. We urge you to give the gift of Gospel Music! Sandi Duncan Clark reviews the latest albums from the Littles, the Hoppers, The Easters, the Blackwood Brothers, and the Hinshaw Trio. Also included in this edition, Laurrette Willis encourages Christian Fitness during the holidays, John Mathis gives a word of encouragement and Lou Hildreth shares wonderful memories. For this special holiday issue, we've gathered many tasty recipes from our staff, readers and many artists. We urge you to put these recipes to the test! We've had a great 2012 at SGNScoops and are looking forward to great things in 2013. Remember, SGNScoops All Digital Magazine is absolutely free, so please share with your family, fans and friends! Merry Christmas!!
Download This Months Magazine Here
Tags:
Annie Moses Band
,
C S & K
,
christian entertainment
,
church
,
Creekside Gospel Music Convention
,
Cross Music Group
,
Faith
,
gaither
,
gordon mote
,
John Mathis
,
Kevin Mills
,
Laurrette Willis
,
Littles
,
Lou Hildreth
,
Micah Watkins
,
New Southern Gospel
,
Patricia Mathis
,
Randy and Sherri Miller
,
Rhonda Frye
,
rob patz
,
Sandi Duncan Clark
,
SGNScoops Magazine
,
soul'd out quartet
,
southern gospel concerts
,
Southern Gospel News
,
Southern Gospel Top 20
,
The Blackwood Brothers
,
The Easters
,
The Hoppers
,
Top 20
,
women of faith
,
Write About Jesus
Posted in
announcements
,
sgn scoops magazine
|
Comments Off

on December 2012 Edition Of SGNScoops Magazine
Written by SGN Scoops on September 21, 2012 – 1:54 pm -
Gospel Music Mainstays Hit the Airwaves to Support New Recording, Celebrate Award and Announce Upcoming
2nd Annual Paint Your Town Pink Campaign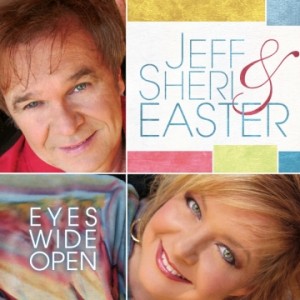 NASHVILLE, Tenn.–September 21, 2012—Multiple award-winning and GRAMMY®-nominated
Jeff & Sheri Easter
, of Lincolnton, GA, have just released an all-new studio recording. 
Eyes Wide Open
(Spring Hill Music Group) was produced by Jeff and Sheri Easter, veteran producer Greg Cole and Jeff & Sheri's son, Madison Easter, who made his debut as a co-producer with the new release.
Eyes Wide Open incorporates the country-styled Gospel harmonies and hints of bluegrass for which the group has been known since its inception and celebrates their family heritage, both past and present.  Sheri re-recorded a classic Mahalia Jackson ballad "Standing Here Wondering" that her mother, Polly Lewis Copsey, a member of the legendary Lewis Family, recorded during her lauded career.  In turn, Sheri's daughter Morgan paid homage to Sheri on the new, down-home recording with a re-make of Sheri's noted ballad "I Wonder If He Ever Cries."
Keeping things "all in the family," Jeff performed the tune "I Won't Have to Worry Anymore," which is the first radio single from the new release, with a guest vocal from his father, James Easter, a member of the classic Gospel bluegrass group The Easter Brothers.  James, who is now 80 years old, also joined the group for a special performance of the song on the main stage at the 2012 National Quartet Convention (NQC).
"Daddy played 'I Won't Have to Worry Anymore' to Mama shortly before she left her tired, broken body here to live in her new one in heaven," explained Jeff.  "I wanted him to join me in recording this song for the release.  It has always meant a great deal, but now this song has even a greater meaning to both of us."
Other song titles on Eyes Wide Open include "Love Is," "Anything But Happy," "It Must Have Been You," "Sitting on Top of the World," "I'll Take It," "A Little Bit of Sunshine," "A Good Old Gospel Song" and "There Is a Purpose."
The family ties continue on the new recording as Sheri and Madison Easter co-wrote their first song together–"I Know How It Feels to Survive," which commemorates Sheri's victory over breast cancer, a topic about which Sheri remains passionate and active.
"There is nothing like living with eyes wide open," described Sheri, who is now a four-year cancer survivor.  "There is nothing like living with perspective and being able to always see the good in every moment of life.  I am thankful that I had a wonderful support system of my family and all our wonderful friends throughout the country and the world.  I know all our fans can help make a difference in the lives of others who are facing breast cancer."
Those fans will have a chance to do just that with Jeff & Sheri's upcoming 2nd Annual Paint Your Town Pink Campaign.  For all of their concerts during the month of October, in honor of National Breast Cancer Awareness Month, they are asking everyone to wear pink to create awareness for breast cancer.  The group will also be wearing pink nightly, and a portion of their concerts will honor cancer survivors and recognize local cancer care clubs in efforts to raise funds for these organizations.
Eyes Wide Open, distributed exclusively by EMI CMG Distribution, is available now at retail stores and online stores everywhere.  The release comes on the heels of Sheri being honored by fans as the 2012 Alto Singer of the Year at last week's NQC Awards in Louisville, Ky.
The group premiered songs from the new recording recently on "The Grand Ole Opry," at the National Quartet Convention, during a LIVE listening party on air at WGUS in Augusta, Ga. and also through an in-depth interview on the Solid Gospel Radio Network.
ABOUT JEFF & SHERI EASTER:
Two-time GRAMMY®-nominated Jeff & Sheri Easter are Gospel music treasures, featured regularly on the Gaither HOMECOMING videos and international HOMECOMING tours in addition to their own heavy schedule of appearances.  Jeff & Sheri are the recipients of six GMA DOVE Awards, 15 Singing News Fan Awards, three Society for the Preservation of Bluegrass Music Association Awards, two International Country Gospel Music Association honors, seven AGM Ovation Awards, 16 Voice Awards, four Southern Gospel Music Fan Fair Awards, five SGN Scoops Diamond Awards, four Hearts Aflame Awards and three Cash Box Awards.
Formed in 1988 following childhoods as part of their respective, nationally-known family groups The Lewis Family and The Easter Brothers, the married couple is joined today on stage by their children, Madison and Morgan Easter, who round out the group. The group is known for such hits as "Roses Will Bloom Again," "Praise His Name," "Thread of Hope," "Speak to the Mountain" and many others including "Born to Climb," which garnered a 2010 DOVE Award. They were nominated for a 2011 GRAMMY® Award for their Expecting Good Things (Spring Hill Music) recording, which was recorded while Sheri endured a journey through and victory over breast cancer.
Tags:
Bluegrass Gospel
,
Breast Cancer Awarenes
,
christian country
,
Greg cole
,
Jeff & Sheri Easter
,
madison easter
,
national Quartet Convention
,
nqc awards
,
Southern Gospel News
,
Spring Hill Music Group
,
The Easters
Posted in
announcements
,
causes
|
Comments Off

on GRAMMY®-Nominated Family Group Jeff & Sheri Easter Release New Music with Eyes Wide Open
Written by SGN Scoops on August 4, 2012 – 3:56 am -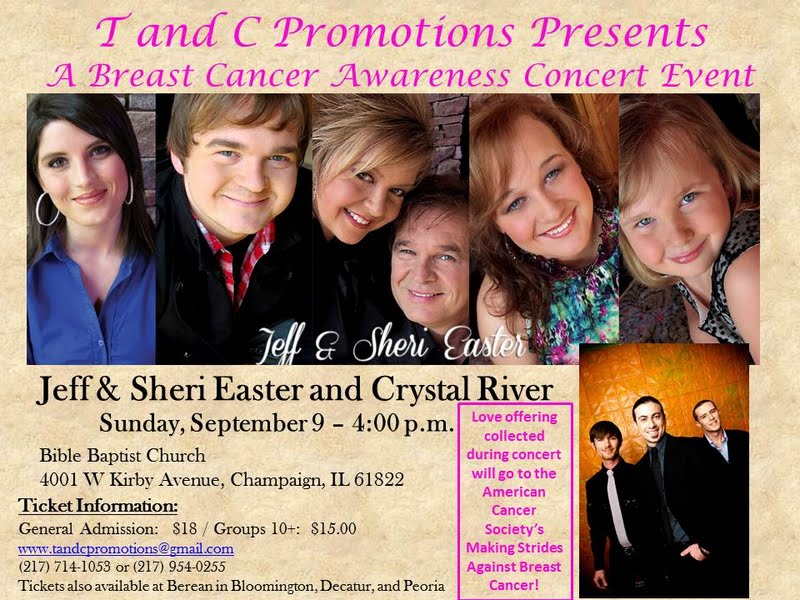 The American Cancer Society's Making Strides Against Breast Cancer in Champaign, Illinois is teaming up with T and C Promotions from Central Illinois for a special concert on Sunday, September 9 with Jeff & Sheri Easter and Crystal River.  This special Breast Cancer Awareness Concert Event will be taking place at 4:00 p.m. at Bible Baptist Church.  General Admission tickets are available for $18.00 through www.attendstar.com or www.tandcpromotions.com.  Special pricing available for groups of 10+ tickets for $15.00 each.
Doors open at 3:00 p.m. – No reserved seating.
A love offering will be collected to be donated to the Making Strides Against Breast Cancer.
T and C Promotions will be at the Annual Kick-off Breakfast selling tickets on August 30.  Call 217-356-9076 or visit www.makingstrideschampaign.com to save your seat at this breakfast.
The reason for this event:  Sheri Easter is a breast cancer survivor and supports others going through breast cancer – not just the patient; the family – all is important to her.
Thank you,
Tammy Warf
T and C Promotions
Email:  tandcpromotions@gmail.com
Phone:  217-714-1053
Website:  www.tandcpromotions.com
Tags:
Bible Baptist Church
,
breast cancer
,
Breast Cancer Awareness
,
Crystal River
,
Jeff & Sheri Easter
,
Southern Gospel News
,
The Easters
Posted in
announcements
,
causes
|
Comments Off

on Breast Cancer Awareness Concert