Written by scoopsnews on December 24, 2018 – 5:06 am -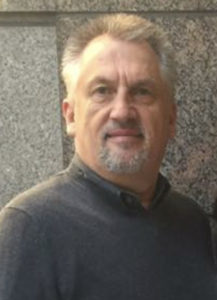 December is a time for sharing. At Christmas, we (Christians) celebrate The Greatest Gift of All, Jesus . We have been talking with many industry leaders, artists, pastors, promoters, etc. and asking them questions.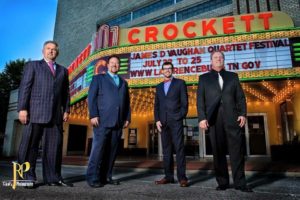 Question #24 goes to Jon Kelly of The Kelly's.
Jon, The Kelly's are From Lawrenceburg, Tennessee. Lawrenceburg is known as "The Birthplace of Southern Gospel Music.
Can you tell us about The James D. Vaughan Quartet Festival and how to get tickets?
Tags:
James D Vaughn Quartet Festival
,
JON Kelly
,
the Kellys
Posted in
announcements
|
Comments Off

on "25 Days of Sharing"- Jon Kelly
Written by scoopsnews on April 2, 2016 – 5:34 pm -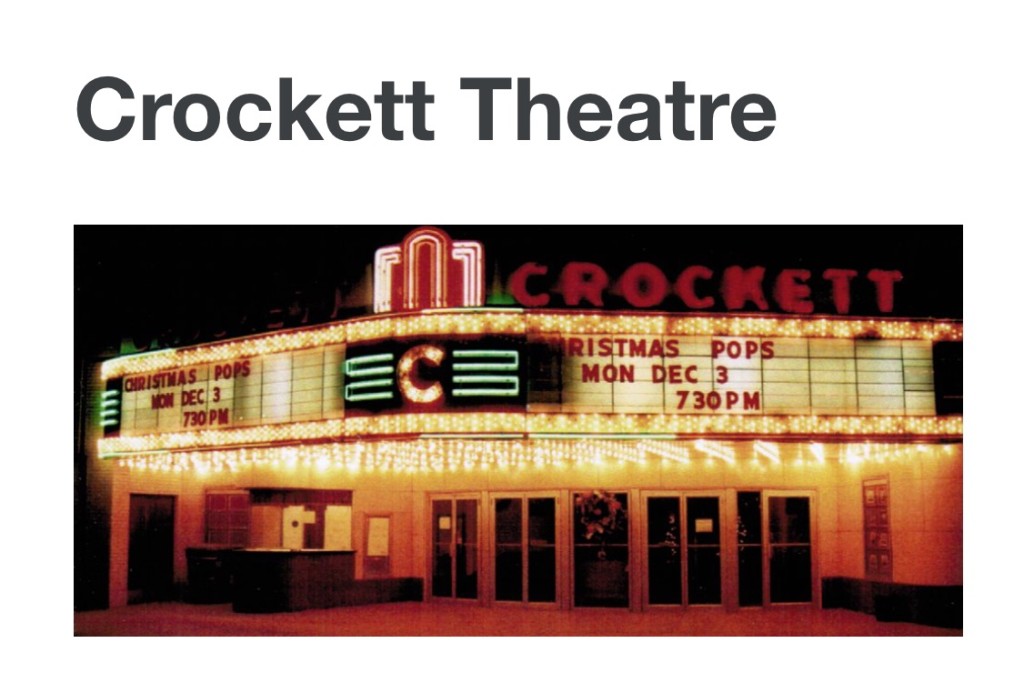 Lawrenceburg's art deco Crockett Theatre was built in 1950, complete with a custom-laid terrazzo lobby floor, and is one of the few theatres from this era still operating in the United States. It is listed on the National Historic Registry and has been lovingly refurbished by the Crockett Theatre Board.
Groups such as The Singing Carter Family with Mother MaybeIle and the Carter girls have graced its stage.
Visit www.mainstreetlawrenceburgtn.com for more info on the theatre.
Tonight taking the stage are The Kelly's and Josh and Ashley Franks. The Kelly's are celebrating over 57 years in Gospel Music.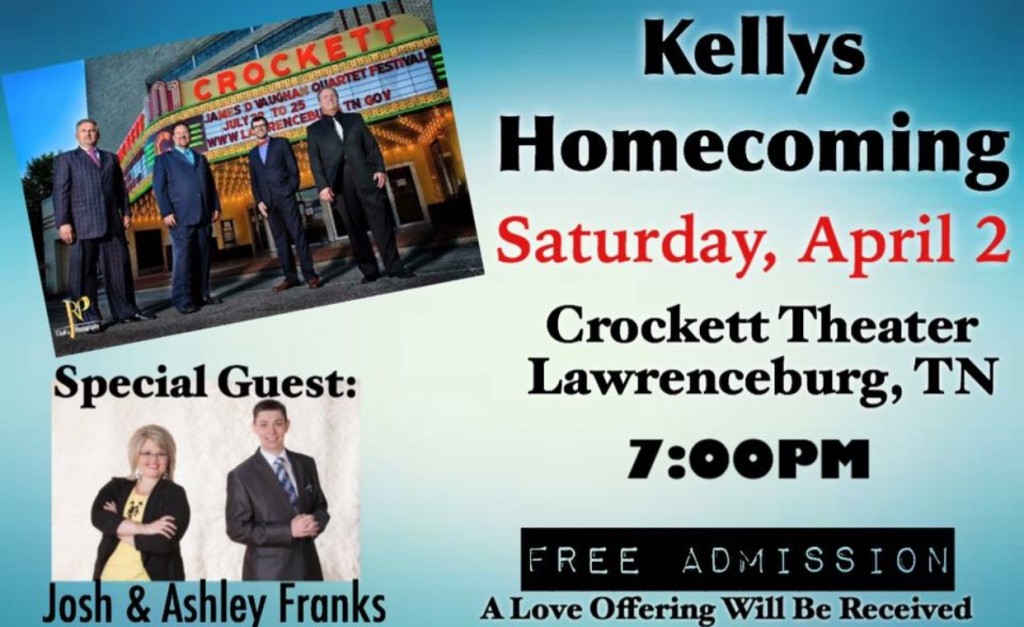 Watch a clip of the opening song by The Kelly's below:
Tags:
the Kellys
Posted in
announcements
|
Comments Off

on The Kelly's Homecoming- Lawrenceburg, TN
Written by SGN Scoops Staff on March 5, 2014 – 9:39 am -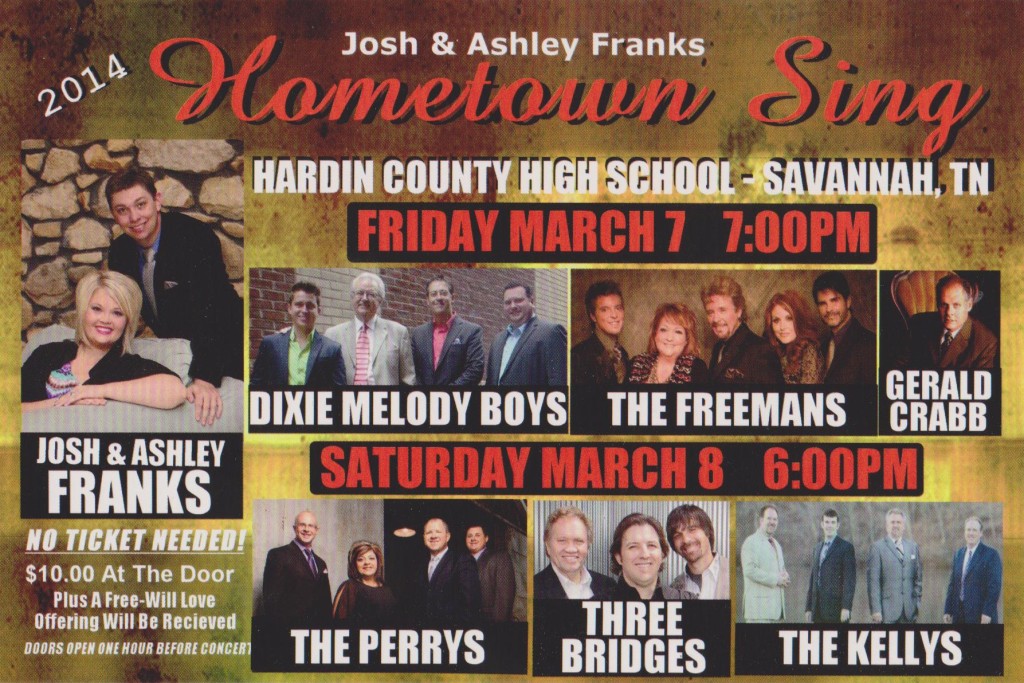 The Josh & Ashley Franks "HOMETOWN SING" will be held this Friday and Saturday Night, March 7th and 8th, at the Hardin County High School in Savannah, Tennessee.
The gospel music 7:00p.m. Friday night event line-up features Southern Gospel Music Hall of Fame member, legendary, Ed O'Neal and his "Dixie Melody Boys", one of gospel music's favorite family groups, "The Freemans", and award winning songwriter,"Gerald Crabb".
The 6:00p.m. Saturday night event showcases America's favorite mixed quartet, "The Perrys", exciting trio "Three Bridges", and from Lawrenceburg, TN, "The Kellys".
Host artist, Josh & Ashley Franks will be performing both nights. For more information visit joshandashleyfranks.com
Tags:
Dixie Melody Boys
,
gerald crabb
,
Josh & Ashley Franks
,
the freemans
,
the Kellys
,
the perrys
,
three bridges
Posted in
christian entertainment
|
Comments Off

on "HOMETOWN SING" Friday and Saturday Night, March 7th and 8th