Written by Staff on June 17, 2019 – 6:08 pm -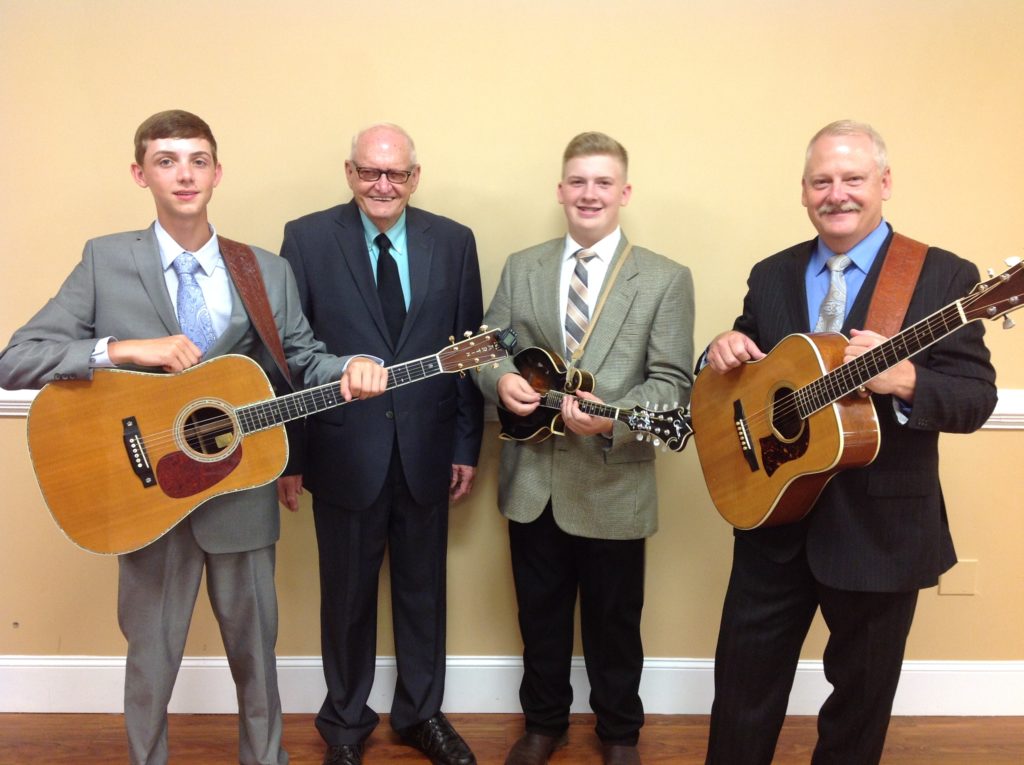 I've known Earl Wheeler, and his son Mark, for nearly 40 years. Earl has stood the test of time. Through decades of changing musical styles, he has planted a flag in the ground that says, "I ain't changing!"
Earl still sings and teaches shaped notes, and has attended the same church for nearly 80 years. The Marksmen Quartet sounds like a Southern gospel quartet with bluegrass instrumentation. When you hear Earl and the Marksmen today, it's like taking a time machine back 50, 60 or even 70 years. I'm proud to introduce you to my friend, Earl Wheeler.
Les Butler: What is your earliest musical memory?
Earl Wheeler:  In 1946, Wahoo Baptist church ran a bus to Lyman Hall School where they held the Stamps Baxter singing school. I went for two weeks. Wahoo Baptist also had singing schools from 1946 into the 60's. They taught voice, theory, piano, etc.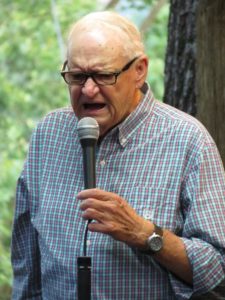 Butler: Did you grow up in a musical family?
Wheeler: Yes, everybody in the family could sing and my granddaddy was Georgia's champion banjo player two years in a row. My mom played guitar and sang alto, and my dad played guitar and French harp, and he pastored until he was 82. My other grandpa played a harmonica and all of my cousins sang and played.
Butler: How long have you been singing, and do you recall the first time your ever sang in public?
Wheeler: It would have been 1944 or 1945. Granddaddy sat me on a piano stool and said, "Sang, boy!" And I remember thinking I'm a singer now. I believe that's what I was born to do…sing. The first group I ever sang with was in our church. We had a quartet and had a radio show in Gainesville, Georgia. I did some recording and traveling with a group called the Gospel Hearts Trio in the early 60's. We were Southern gospel; three singers and a piano player.
Butler: Early on, were you more of a Southern gospel fan or a Bluegrass gospel fan?
Wheeler: Both, because I listened to the Blue Ridge Quartet on a radio station in Spartanburg, S.C. and Carl Story and the Ramblin' Mountaineers on a Knoxville, Tenn. station. We didn't have a TV when I was growing up, so I would go to my bedroom and listen to the radio and read. I ended up being friends with Carl. When the Marksmen recorded for K-Tel records, we recorded a Carl Story song. We sold tons of those albums and he liked getting those checks!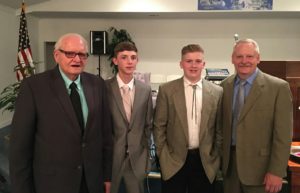 Butler: When did you start the Marksmen quartet, and were they originally a Southern gospel quartet or a Bluegrass quartet? If it started as a Southern gospel quartet, what happened to change your musical style?
Wheeler: I started the Marksmen in the fall of 1967. We were a Southern gospel quartet; four guys and a piano. Around 1977, our son Mark played guitar, and we had a piano player quit one weekend and we sang with just the guitar and bass. Our tenor singer said he used to play mandolin in a Bluegrass band, so we never went back to a piano
Butler: Your son Mark is a master musician. Do you play any instruments?  
Wheeler: I play a little guitar and bass.
Butler: Give me your all-star quartet, filled with your favorite singers on each vocal part.
Wheeler: My all-star quartet would be James Sego on lead, Steve Gulley on tenor, Jack Laws on baritone and Ray Dean Reese on bass. James Sego could really get to singing and it looked like he was riding a horse. We used to sing a lot with the Kingsmen.
Butler: What is your favorite song and why?
Wheeler: "Oh, Happy Day" (the page 86 in the red book version) because it says it was a happy day when Jesus washed my sins away…and it was.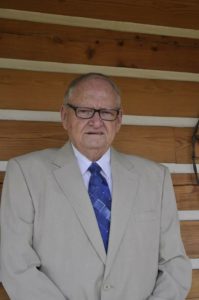 Butler: You teach shape note singing. When and where did you learn and how is it going today?
Wheeler: (I learned at) Stamps Baxter singing schools. It does well when you can get people to listen long enough to learn it. We are teaching it at our Marksmen Mountain Music camps and a lot of young people are catching on.
Butler: When you're not singing, what are you doing?
Wheeler: (I'm working) with my cows and my VW beetles, and eating my wife Shirley's cooking. She cooks the best biscuits I know of.
Butler: How much longer do you see yourself traveling?
Wheeler: (Until) I can't do it any longer.
Butler: Give us a brief testimony…
Wheeler: I had struggled with my salvation for about eight years (until) finally on August 10th, 1956 the Lord saved me in the morning service of a revival meeting, in the choir at Wahoo Baptist Church.
By Les Butler
First published by SGNScoops Magazine April 2019.
Read the May SGNScoops Magazine Online HERE
Download SGNScoops Magazine On PDF
HERE
Find SGNScoops Magazine On Facebook
HERE
Listen To Todays Gospel Music
HERE
Tags:
Bluegrass Gospel
,
Earl Wheeler
,
Earle Wheeler
,
Les Butler
,
Les Butler and Friends
,
The Marksmen Quartet
Posted in
artists
,
sgn scoops magazine
|
Comments Off

on Les Butler and Friends: Earl Wheeler of the Marksmen Quartet
Written by Staff on April 19, 2019 – 12:58 pm -
We are happy to present the SGNScoops Magazine for April 2019. This is the month of Easter, Resurrection Sunday, Good Friday, and the celebration that comes with knowing Jesus Christ, our Lord, is alive!
We are thrilled to feature the Tribute Quartet on our cover. Justin Gilmore has written the feature which shares all of the news you want to know about one of Southern gospel music's favorite quartets. Find out what Gary Casto is looking forward to this year.
April is also Autism Awareness Month, and we are honored to share the story of Nolan Urbates, as told by Angela Parker. Dr. Greg Grillo helps us understand the special attention needed when giving dental care to children with special needs.
Robert York brings us up to date on the King's Heralds, Cheryl Smith talks to the mom of Karen Peck and New River, and Les Butler introduces us to his friend, Earle Wheeler of the Marksmen Quartet.
Special thanks to Dr. Bill Dykes who talks to a pastor who has experienced some deep valleys, Dr. Rudy Holland. Suzanne Mason reviews a new movie, The Pilgrims Progress, in time for Easter viewing. All of this, plus radio charts, the DJ Spotlight, new release reviews, the Publisher's Point and the Editor's Last Word.
Thank you all so much for your continued support and feedback about the SGNScoops Magazine. We appreciate your emails and we are thankful for all of our readers, as well as our faithful writers. I hope this month brings you all a renewed enthusiasm for everything you do for Jesus. He is Almighty God and He wants to be your friend today. If you want to meet Him, please contact any of our staff or email me at 
lorraine@sgnscoops.com
. Have a wonderful month!
Read the latest edition of SGNScoops Magazine HERE
Download the latest edition of SGNScoops Magazine
HERE
Tags:
April 2018 SGNScoops Magazine
,
Autism Awareness
,
Earle Wheeler
,
gospel music
,
SGNScoops Magazine
,
The King's Heralds
,
The Marksmen Quartet
,
Tribute Quartet
Posted in
announcements
,
artists
|
Comments Off

on April 2019 SGNScoops Magazine
Written by SGN Scoops Staff on November 30, 2011 – 1:58 pm -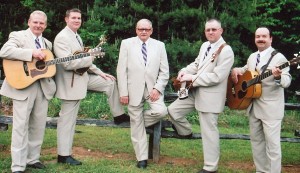 The Marksmen Quartet of Murrayville, Ga. were stranded when their white Ford travel van, white enclosed Country Boy trailer and all their instruments, costumes and equipment were stolen, according to Earle Wheeler, group leader.
The multi award-winning group were traveling Thanksgiving weekend to perform at the annual Myrtle Beach Bluegrass Festival in South Carolina when they stopped about 12:30 for an overnight stay Nov. 25 at the Quality Inn on Dunbarton Drive in Florence, he said.
When the group came out at 7:30 a.m. the next morning they found their vehicle gone and the five men left standing there figuring out how to reach their performance and how they would perform it without their instruments.
"Needless to say we were surprised by the predicament," Wheeler said. "But there is a reason for everything under heaven."
He said that the outpouring of support for the group when they reached their destination was such a blessing.
"The bluegrass folks have been so good to us," he said. "Other performers loaned us their instruments to do the shows. Many supporters have reached out to help us financially because the future is still uncertain as to how we will replace everything that was taken. Like any music ministry we rely on those that support our efforts."
One of the regular means of support is by consumers purchasing product from their concert table or website but the theft took away hundreds of CDs, DVDs as well as specialized display racks and materials, he said.
Wheeler formed the group in 1967 and after 44 years on the road, the quartet which currently records for Rural Rhythm is one of the most awarded country and bluegrass gospel groups performing today (www.marksmenquartet.com).
After the group arranged transportation to reach their performances, the police located their vehicle in Berkeley County, SC left in a disabled condition, Wheeler said.
"There was no trailer, instruments, sound equipment, or stage costumes, boots or other items to be found," he said. "I have yet to see the van but they tell me they have done damage that makes it undrivable."
Inside the van, the police did recover Wheeler's Bible.
"That's the one thing they probably really needed to keep," Wheeler said. "We were driving the van and trailer while we looked for a 25,500 gross vehicle weight bus to travel in. Costs of operating a larger bus have made it difficult to keep one on the road."
Lead singer and songwriter Mark Wheeler said losing one's instrument is like losing an extension of you.
"Many of these were specially made for us, in fact two cannot even be replaced because they were the first or a one-of-a-kind," he said. "We hope that the authorities will locate the instruments but even if they don't, we will do our best with whatever the Lord provides."
Among the stolen instruments with cases are: 2008 Mossman Texas Plains guitar with mahogany sides and back and a big sound hole serial number 08078; a 1991 Mossman Texas Plains guitar with rosewood sides and back and a serial number beginning with 91; a 1999 Mossman Wheeler Gospel all mahogany guitar with serial number 990506; a one-of-a-kind late 1990s Mossman resonator guitar all mahogany with F holes with no serial number; a 1973 Gibson Mastertone banjo, and a blonde Engelhardt upright bass model number em1b with serial number  91443.
If anyone has information on whereabouts of the trailer or the band's equipment they should contact, the Florence Police Department 843-676-8800 or the South Carolina Crime Stoppers hotline at 888-CRIME SC (274-6372). Callers need not reveal their identities.
If anyone wishes to assist the Marksmen Quartet, their mailing address is 1312 Post White Hill Road, Murrayville, Ga. 30564 or their office number is (706) 864-2951.
Tags:
bluegrass
,
Mark Wheeler
,
Myrtle Beach Bluegrass Festival
,
Rural Rhythm
,
South Carolina Crime Stoppers
,
Southern Gospel News
,
The Marksmen Quartet
Posted in
announcements
|
Comments Off

on Two-Time Dove Award nominees fall victim to Thanksgiving theft