Written by SGN Scoops Staff on September 19, 2012 – 1:42 pm -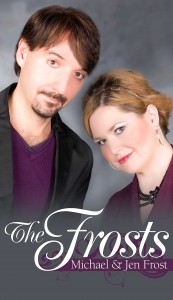 PIGEON FORGE, TN — Singer / songwriter Michael Jason Frost, along with his wife Jen, will soon be joining a new Christian-based musical production in Pigeon Forge, TN. Additional details about the show, the location, and more will be announced very soon.
In addition to performing in the new production, The Frosts will also serve as writers. Michael has written several songs for the show and Jen has written much of the script.
Michael and Jen Frost first met while working in Christian theater a few years ago. Both were performers in The Miracle, a large-scale musical production about the life of Christ that ran for six seasons. There, Michael played various roles from John the Baptist and Judas, to the leading role of Jesus. Jen also filled various roles, from Mother Mary to Martha.
"Jen and I are overjoyed to have the opportunity to work together once again in Christian-based theater," Michael said.
Following the closing of The Miracle, Michael toured and recorded with Dove-Award nominated trio, HisSong. He will exit the group to accept the new theater position this fall.
Michael is best known in the southern gospel world for his songwriting credits, including "That's God" and "Three Words, Three Nails, Three Days." Currently, Michael's songs can be found on the latest projects by The McKameys, Ivan Parker, HisSong, and more.
Michael and Jen are also known as vocalists in "The Michael Frost Trio." The trio, including singer Adam Elrod, recently made an impact at the National Quartet Convention (NQC) this year after being invited to perform an upcoming radio release, "Author and Finisher," on the main stage.
In addition to performing in the theater, Michael and Jen will continue their music ministry in churches and concert settings, presenting their blend of original songs and personal testimonies. The Frosts are represented by The Adoration Agency (www.adorationagency.com) and record for Chapel Valley Studios.
The Frosts have a daughter, Jael Esther, age 2. More information about The Frosts is online at www.michaeljasonfrost.com
Tags:
Adam Elrod
,
hissong
,
ivan parker
,
Michael Jason Frost
,
national Quartet Convention
,
southern gospel
,
Southern Gospel News
,
The Mckameys
,
The Michael Frost Trio
,
The Miracle
Posted in
announcements
|
Comments Off

on Frosts to write and perform for new Christian theater production
Written by SGN Scoops Staff on November 3, 2011 – 11:09 am -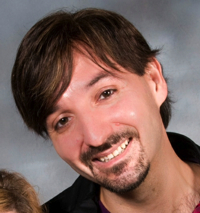 Dove Award nominated HisSong is proud to announce as their new Baritone singer/songwriter Michael Frost. Michael has a long history in southern gospel music.
HisSong owner/manager Dennis Humphries states, "We are very excited to have Michael a part of this ministry and team. I have known Michael for several years and have always loved his singing, songwriting and his spirit. I'm excited to see what God has in store for this ministry."
Michael Jason Frost grew up singing gospel music with his family in upper East Tennessee. By the time he was a teenager, he was harmonizing with his cousins and traveling on weekends across the southeast with a family band, The Frost Family. That band evolved into a vocal trio, The Frosts, that did well in the southern gospel music industry with widespread radio airplay and charting singles. The trio enjoyed success from 2002 – 2005 and earned a Singing News Fan Award nomination in 2005.
As a songwriter, Michael has had cuts by several of gospel music's most popular artists, including a new release on Ivan Parker's latest project HisSong, The Wilburns, Heirline and more. Many of his songs have climbed The Singing News Top 40 chart. Michael was named "Songwriter of the Year" in 2007 by the Eddie Crook Company.
In 2006, Michael was cast in an original musical production about the life of Christ called "The Miracle" at The Miracle Theater in Pigeon Forge, TN. Michael signed on for every season of The Miracle, where he played various roles from John the Baptist to Judas, and as an understudy to the role of Jesus. He also served as host and pre-show soloist. Michael appeared in more than 2,000 performances of The Miracle until the show ended its run in October 2011. Michael also appeared in the theater's production of "Joseph and the Amazing Technicolor Dreamcoat," starring alongside American Idol's Melinda Doolittle.
After The Miracle ended it's run, Michael officially joined popular southern gospel trio, HisSong in October 2011 as their full-time baritone singer.
"I'm amazed by God's timing. Just when The Miracle closed after six years, God opened the door for me to sing with HisSong. I've known these guys for years, and I've always loved their sound and their songs. It's an honor to join their ministry and I'm excited to see where God will take us from here," Michael said.
Michael and his wife Jen have one daughter, Jael Esther Frost. They reside in Sevierville, TN.
HisSong is currently working on a brand new project with multi Dove Award winning producer Wayne Haun on the Vine/Crossroads label. This will be the 4th project with Wayne. This is HisSong's 10 year anniversary and the new record will be called "Decade."
Tags:
Dove Award
,
heirline
,
hissong
,
Joseph and the Amazing Technicolor Dreamcoat
,
Michael Frost
,
Southern Gospel News
,
The Miracle
,
The Miracle Theater
,
The Wilburns
Posted in
announcements
,
christian entertainment
|
Comments Off

on HisSong Announces Michael Frost As New Baritone Vocalist