Written by SGN Scoops on December 14, 2011 – 4:29 am -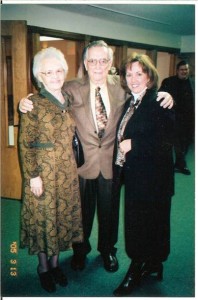 Charles Carter, father of long-time Pfeifers' member, Mary Jane Carter, passed away on Sunday, December 11. Mr Charlie, as he was affectionately known, had suffered a stroke in November, and passed away, peacefully at home, surrounded by family and friends.
Charlie and wife, Ethel, enjoyed 70 years of marriage, and even those who never had the privilege of meeting Charlie personally, felt as if they knew him. Almost nightly, during Pfeifer concerts, his daughter, Mary Jane often shared funny stories about Charlie and Ethel's antics.
Charlie was a great lover of Gospel music, as Mary Jane so often has testified. He sang with numerous groups over the years and was a great supporter of The Pfeifers' musical ministry.
Charlie is survived by his wife, Ethel (Lewis) Carter; two sons, Phillip and wife, Dawn Carter of Colorado Springs, CO; Charles Jr and wife, Vicki Carter, of Chillicothe, OH; one daughter, Mary Jane Carter of Washington Court House, OH; five grandchildren, 11 great grandchidren, including Zach Lloyd, audio engineer for The Pfeifers; four great, great grandchildren, two step grandsons, four step great grandchildren, four brothers, one sister and numerous nieces and nephews.
The family will receive friends from 4:00pm to 8:00pm on  Wednesday evening, December 14, at Grace Community Church in Washington Court House. Funeral service will be held 1:00pm on  Thursday, December 15 at Grace Community Church in Washington Court House, OH, with John Pfeifer and Todd Kritzwiser officiating.  Burial will follow in Highlawn Cemetery, with military rites to be performed by the Fayette County Honor Guard.
Cards and notes of encouragement may be sent to Mary Jane Carter and the Carter family in care of The Pfeifers, PO Box 93, Washington Court House, OH 43160.
Tags:
Charles Carter
,
Mary Jane Carter
,
Southern Gospel Music
,
Southern Gospel News
,
the pfiefers
Posted in
announcements
|
Comments Off

on Charles Carter Passes Away
Written by Scoops Staff on June 23, 2010 – 1:26 pm -
Southern Gospel's Biggest Names like Gold City, The Bowling Family, Aaron Wilburn, The Freemans, The Pfeifers, The LeFevre Quartet and more to Appear!
MURFREESBORO, Tenn. – (June 23, 2010) – Deon and Susan Unthank, administrators of AbsolutelyGospel.com (formerly SoGospelNews.com), are proud to announce the talent line-up for the 11th Annual AbsolutelyGospel.com Music Fest.
"We are always so excited about our annual Music Fest," mentioned Deon Unthank of AbsolutelyGospel.com. "This year is no different. We're bringing in some of our most requested acts again, as well as a lot of new faces that the crowd will love! We hope everyone can make it out this year!"
This year's Music Fest is set to run from Monday, July 26, 2010 through Friday, July 30, 2010. The event will again be held at the River of Life Church in Smyrna, Tennessee and is absolutely free to the public.
Performers scheduled to appear at this year's Music Fest include Gold City, The Freemans, The Bowling Family, Aaron Wilburn, Naomi & the Segos, HisSong, LeFevre Quartet, Palmetto State Quartet, The Pfeifers, Driven Quartet, Three Bridges, Freedom, Rejoice!, Sharron Kay King, Crystal River, Southern Sound, Ann Downing, Brothers Forever, The Quicks, 2nd Generation, McMillan & Life, Rod Burton, Mercy Road Quartet, and Sunday Edition.
Additional artists are still being confirmed for this year's Music Fest. The artist listing is subject to change without notice.
As in years past, this year's convention will remain free to the public. A love offering will be taken each night.
For more information, feel free to email the site at 2010@sogospelnewsfanfestival.com . More details can be found at http://www.absolutelygospel.com .
About AbsolutelyGospel.com
AbsolutelyGospel.com (formerly SoGospelNews.com) has grown from relative obscurity to the industry's leading internet publication for Southern Gospel news and information in only a few short years. The site includes a wide variety of features, consisting of artist interviews, a weekly chart, late-breaking news, and much more.
Tags:
aaron wilburn
,
absolutelygospel.com
,
absolutelygospel.com music fest
,
bowling family
,
gold city
,
lefevre quartet
,
the freemans
,
the pfiefers
Posted in
announcements
,
gospel events
|
Comments Off

on Featured Performers Announced For 11th Annual AbsolutelyGospel.com Music Fest