Written by Staff on March 7, 2018 – 6:45 am -
DAHLONEGA, Ga.  – Multiple Grammy Award nominated and six-time Dove Award winning Gospel group Karen Peck and New River is excited to announce their 2018 Homecoming in partnership with Abraham Productions. On Father's Day weekend the group will continue its annual tradition of hosting the very best in Christian Music. This year it will fall on Friday, June 15, 2018 and Saturday, June 16, 2018 and it will take place at New River Park in Dahlonega, Georgia.
On Friday night at 7:00 PM KPNR will host the Gospel Through Girls and Guitars Tour which features Karen Peck and New River, the Talleys,  HIGHROAD, and the first runner-up on The Voice, Emily Ann Roberts. Ray Flynn, President of Abraham Productions, will also be the guest speaker.
Saturday night at 6:00 PM KPNR will be hosting Tribute Quartet, The Whisnants, and the Wilmington Celebration Choir.
Karen Peck Gooch said, "We are very excited about partnering with Abraham Productions this year. Every year we have such a wonderful Homecoming but I believe this year will be the best one we've ever had. We want everyone to join us for a fantastic weekend!"
To purchase Hope For All Nations click any of these icons or go here.
To connect with Karen Peck & New River follow them on social media and their Website.
If you would like to interview Karen Peck and New River contact AG Publicity at
To book Karen Peck and New River contact The Harper Agency.
About Karen Peck and New River
Five-time Grammy-nominated and six-time Dove Award-winning family group Karen Peck and New River are no doubt the most popular mixed group in Gospel Music. They are a music powerhouse in the industry. With hit after hit and multiple number one songs, they are one of the most sought after groups today. Karen is known for her country flair and for having possibly the finest soprano voice in any genre of music. Karen was also recipient of the Susan Unthank Memorial Award, an award given by Absolutely Gospel Music only to women who have excelled in the Southern Gospel Music industry. Karen had a feature role in the hit movie "Joyful Noise", starring Dolly Parton and Queen Latifah. New River's hit song "Four Days Late" has become a classic in Gospel music. The group members include Karen Peck Gooch, Susan Peck Jackson, Ricky Braddy, Kari Gooch, and Matthew Gooch.
You Can Download SGNScoops Magazine 
HERE
Find SGNScoops Magazine On Facebook 
HERE
Listen To The Best In Todays Gospel Music 
HERE
Tags:
Christian Music
,
Emily Ann Roberts
,
gospel music
,
High Road
,
karen peck and new river
,
KPNR
,
The Talley's
,
The Voice
,
Tribute
,
Whisnants
Posted in
announcements
,
artists
|
Comments Off

on Karen Peck and New River/Abraham Productions Announce Homecoming
Written by scoopsnews on May 15, 2017 – 9:00 pm -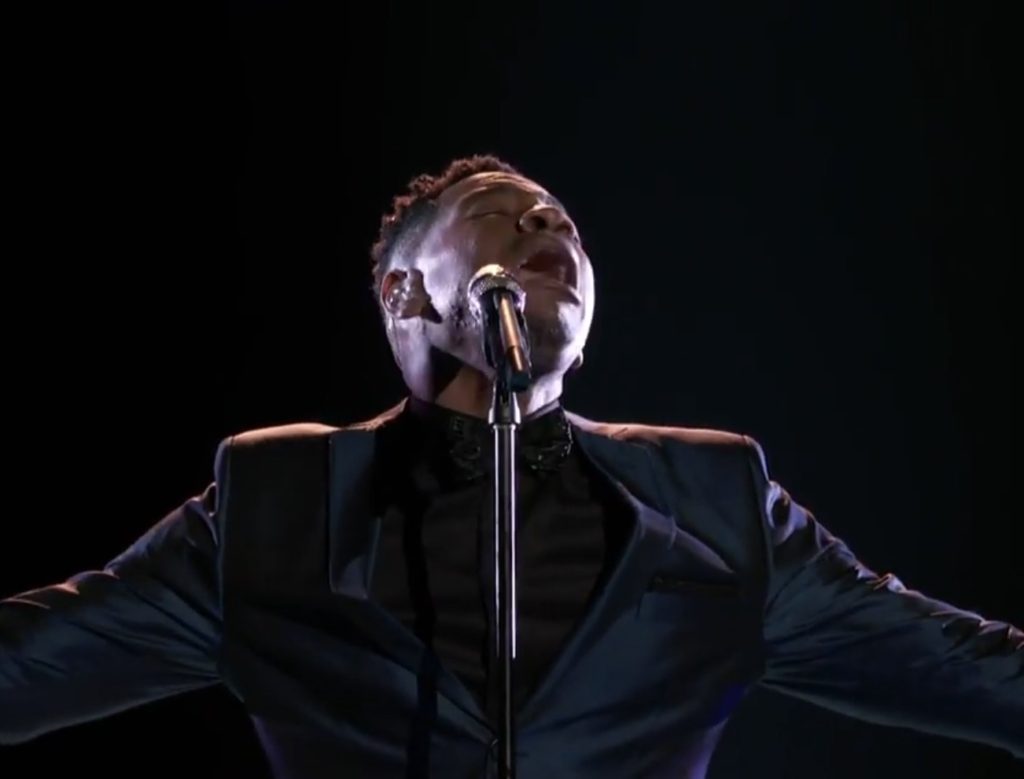 Did you watch this? Everyone wondered what Chris Blue would sing.
Shari Weiss, NBC , said "Interestingly, though, for tonight's semifinals, he went in a very different direction from last week. With mentoring from his coach Alicia Keys, Blue opted to perform "Take Me To The King," a Grammy-nominated contemporary gospel song from Tamela Mann."
Way to go Chris Blue!
To God be the Glory!
Watch HERE
Tags:
The Voice
Posted in
announcements
|
Comments Off

on Did You See This Performance?
Written by Staff on February 7, 2016 – 3:52 pm -
"The Voice" winner Jordan Smith sang "His Eye Is On The Sparrow" at the Super Bowl of Gospel 2016.
The beloved hymn was taken to new heights through the velvety tones of Smith who rose to the top of the charts during the 2015 season of The Voice.
Watch the video below.
For more news click here.
Tags:
His Eye Is On The Sparrow
,
Jordan Smith
,
The Voice
Posted in
announcements
,
artists
|
Comments Off

on Jordan Smith soars with His Eye Is On The Sparrow
Written by scoopsnews on January 3, 2016 – 2:26 pm -
She said yes to Jordan  Smith!
Congratulations to Jordan and his future wife, Ms. Kristen Denny.  Jordan, a student at Lee University was the recent winner of  The Voice.
We at SGN SCOOPS say Best Wishes and Prayers for a wonderful life together.
For more gospel news:  SGN SCOOPS
Tags:
Jordan Smith
,
The Voice
Posted in
announcements
|
Comments Off

on Congratulations to Jordan Smith and fiancé!
Written by SGN Scoops Staff on December 16, 2015 – 2:24 pm -
In three months' time, Jordan Smith has evolved from an unknown collegian singing at a small liberal arts school to a nationally known pop artist expected to be crowned winner of "The Voice" tonight.
"It's an amazing thing to watch when you think about it," says Ron Brendel, associate professor of music at Lee University. "Here's a 21-year-old kid from Harlan, Ky., that nobody knew who he was and now he's bumped Adele out of No. 1 on the iTunes chart. The producers at 'The Voice' have really created a phenomenon.
"But the bottom line is: He's just gifted. You can't teach all that stuff that is just stylistically in him."
Brendel should know. He has been Smith's voice teacher at Lee University for 2 1/2 years, helping Smith harness the power of the high notes that have made him famous.
"If he wins, I'm going to move to Los Angeles," Brendel jokes.
On a serious note, though, he calls Smith "the most innately gifted student I've ever dealt with, and I've been in higher education for 25 years."
Smith's high register, which in his younger years made him the brunt of jokes and teasing, is now his claim to fame. That near-three-octave range is what has separated him from this season's contestants as much as his backstory of the self-esteem issues it caused.
Lee junior Courtney Blackwell, who is in the Lee Singers with Smith, isn't surprised at his success on NBC's talent show.
"Ever since I heard him sing, I wondered why he had not been on TV; more people should hear his voice. He never messes up," she says.
"Jordan has one of those voices that, even if you haven't heard him sing, you hear other people talking about his singing," says Alex Ubieran, a senior at Lee. "He got in Lee Singers before I did, so I was constantly hearing about him. That was one of the draws of joining Singers to me, because they had people like Jordan."
As a studio instructor at Lee, Brendel says he taught Smith vocal technique through classical music literature. He trained the singer in breathing technique, tone production, intonation — basic fundamentals that enable a singer to cross over into any genre. Just watch Smith's video of last Monday's iTunes chart-topping performance of Queen's "Somebody to Love" to see proof it works.
Tags:
Jordan Smith
,
Lee University
,
The Voice
Posted in
announcements
|
Comments Off

on Jordan Smith Winner Of The Voice
Written by SGN Scoops Staff on December 14, 2015 – 11:06 pm -
Nashville, Tenn.  – Country and bluegrass legend Ricky Skaggs will be featured on NBC's The Voice vocal competition, singing with one of the show's finalists, Emily Ann Roberts. Skaggs' duet with Roberts will air on Tuesday night, December 15 at 8 pm ET / 7 pm CT.
Roberts, hailing from Knoxville, Tenn., is one of Blake Shelton's two remaining team members and will be breaking out some country hits. She will be joined by Skaggs to sing his #1 country song, "Country Boy."
The Voice features the strongest vocalists from across the country who are invited to compete in this blockbuster vocal competition show's ninth season. Internationally acclaimed artist Gwen Stefani returns to join megastars Pharrell Williams, Adam Levine and Blake Shelton as celebrity musician coaches, while Carson Daly continues to serve as host. After many rounds of singing and voting, in the end, one contestant is named The Voice and receives the grand prize of a recording contract.
For more information, check out the story on E! News, HERE.
Tags:
Country
,
Ricky Skaggs
,
The Voice
Posted in
announcements
|
Comments Off

on RICKY SKAGGS SINGING DUET WITH NBC'S THE VOICE CONTESTANT, EMILY ANN ROBERTS ON TUES., DEC. 15