Written by scoopsnews on December 25, 2019 – 6:25 am -
One of my favorite Christmas memories is from 2015. All of our kids and our parents were able to gather at our house for Christmas. After having been restored from a broken life and having lost so many loved ones to death this was a heartwarming feeling. I had been through many Christmas's with the feeling of emptiness and loneliness and sadness, missing loved ones who had gone on. There was such a happiness in my heart as I spent time making new happy memories!! My heart was full!! Spending time together celebrating the birth of Jesus together and feeling such joy and love in our home made me feel so blessed! I am thankful that God can take a broken and empty life and mend it and replace losses with blessings. He is so good to me!!
Tracy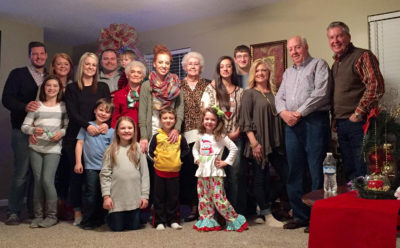 Tags:
Favorite Christmas Memory
,
Tracy Kelley Byrd
Posted in
announcements
|
Comments Off

on Favorite Christmas Memory- Tracy Kelley Byrd
Written by scoopsnews on June 18, 2017 – 1:15 pm -
My Daddy…… When he became Daddy to me he was singing a local gospel quartet. I remember hearing the story many times of how he had a booking the day I was to come home from the hospital. He chose to fulfill his obligation while my grandparents brought us home from the hospital and tended to us and my big brother. He always had a heart and love for the gospel music ministry and instilled that in me. He taught me to sing and to do it from my heart. He taught me to love without conditions and to never think of myself higher than anyone else and to just always be myself. He believed in me more than anyone in my life. He thought I was the most beautiful girl and was proud of my singing and thought there was nothing I could not do. He was a giver and had a huge heart. He would give anyone the shirt off his back literally and all the money he had and would even sale his things to help others. He also was a preacher, a missionary in Cherokee NC to the Indians on the reservation and a Vietnam Vet. When he died he had nothing and his name was never in bright lights for the world to see. However, in my eyes he was the best piano player, guitar player, singer, minister, veteran, and Daddy there ever was! All of my life he made me feel loved!! He was my hero!! I will forever be a Daddy's Girl! I miss you Daddy! Happy Father's Day in heaven!!
Tags:
Tracy Kelley Byrd
Posted in
announcements
|
Comments Off

on Tracy Kelley Byrd Shares Sweet Memories of Her Dad….