Written by SGN Scoops Staff on August 8, 2012 – 9:10 pm -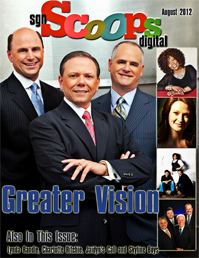 We're serving up another sizzling hot summer issue! This packed August edition unveils the list of the 2012 Diamond Awards Nominees! Also this month, Lorraine Walker, Sandi Duncan Clark, Jennifer Campbell, Charlie Sexton and Laura Kennedy presents the latest happenings in the ministries of Greater Vision, Charlotte Ritchie, Lynda Randle, The Skyline Boys, Jeff Steele and Jaidyn's Call. Look behind the music with Rob Estep as he talks with Ben Storie, and focus on the young with Victoria Shirey as she shines the spotlight on Rebecca Reynolds. Don't miss Rob Patz' Publisher's Point and enjoy a Media Minute with him along with Sylvia Green. Charlie Sexton covers the Lari Goss Celebration and Rhonda Frye catches up with Union Street, Roy Webb and Bruce Taliaferro on the road. Lou Wills Hildreth shares legendary memories, John Mathis Jr. offers a word of encouragement and Laurrette Willis' reminds us to eat healthy! Jeff Hawes shares memories from his home town, and special guest writer, AJ RINALDI offers post-trauma faith sharing tips. We also share our excitement regarding 2 major upcoming events: The National Quartet Convention and Creekside Gospel Music Convention! See what songs are topping the charts and who is releasing new music in this all-digital, all free August Edition! And… Share with your friends!
Download The Magazine Here
Tags:
AJ RINALDI
,
Ben Storie
,
Bruce Taliaferro
,
Charlie Sexton
,
Charlotte Ritchie
,
Greater Vision
,
Jaidyns Call
,
jeff hawes
,
Jeff Steele
,
Jennifer Campbell
,
Lari Goss
,
Lorraine Walker
,
Lou Wills Hildreth
,
LYNDA RANDLE
,
national Quartet Convention
,
Rebecca Reynolds
,
Rob Estep
,
rob patz
,
roy webb
,
Sandi Duncan Clark
,
Sylvia Green
,
The Skyline Boys
,
Union Street
,
Victoria Shirey
Posted in
announcements
,
sgn scoops magazine
|
Comments Off

on August 2012 SGNScoops Magazine
Written by SGN Scoops Staff on May 10, 2012 – 9:48 am -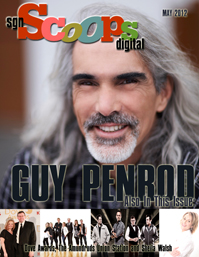 We are excited about the May issue of Scoops Magazine! We are featuring Guy Penrod as our cover story. Also in this issues we are highlighting Union Street, The Amundruds, Paul Harkey, Ken & Jean Grady and more. We have several special interest stories this month! Sheri Easter shares thoughts on Motherhood, Sheila Walsh talks about Women of Faith, Rhonda Frye shares SGNScoop's Experience at the 43 Annual Dove Awards and Sandi tells of an Easter Weekend filled with Gospel Music! As always, this issue includes Sandi Duncan Clark's New Music Reviews and this month Rhonda reviews Gaither Vocal Band's I AM A PROMISE Children's album complete with a video of kids in action. Tucked between the covers, there are articles of inspiration as well as what songs are topping the charts… Plus a whole lot more! We're proud of our staff for another issue well done! Please share with your family, fans and friends!
Find This Months Magazine Here
Tags:
43 Annual Dove Awards
,
Angela Griffin
,
Easter Weekend
,
Faith
,
family
,
Gaither Vocal Band
,
I AM A PROMISE
,
Jason Crabb
,
Jennifer Campbell
,
john mathis jr
,
Karen Peck & New River
,
Ken and Jean Grady
,
Lorraine Walker
,
Paul Harkey
,
Rhonda Frye
,
rob patz
,
Sandi Duncan Clark
,
Sheila Walsh
,
sheri easter
,
southern gospel concerts
,
Southern Gospel Music
,
Southern Gospel News
,
The Amundruds
,
The Anchormen
,
The Martins
,
Union Street
,
women of faith
Posted in
sgn scoops magazine
|
Comments Off

on May 2012 SGNScoops Magazine