Written by SGN Scoops Staff on May 6, 2015 – 2:33 pm -
Nashville, Tenn  Gospel trio HIGHROADIII has released a new concept video featuring their hit song "Don't Weep For Me" which was produced by award-winning producer Ben Isaacs. The song, penned by group members Anna Grace Shideler, Kiley Phillips, Sarah Davison, and Bass player Stephen Wilder is already creating quite a stir on YouTube.
The video was shot by Israel Anthem and Jared Rauso with all of the concept material envisioned by HIGHROADIII group members. The idea of fans sharing photos of  loved ones who have passed on caught on quickly and an avalanche of pictures came in for the group to choose from. The photos are placed in albums as the video progresses.
Singer and keyboard player, Sarah Davison commented, "We have been so blessed by the hand of the Lord lately. As long as God is opening doors for us to minster, we will gladly step through them to do what he has for us to do."
The group was also recently asked to perform before a packed house of 4,000 people at the Singing In the Sun concert in Myrtle Beach, SC where they were warmly received.
You can learn more about HIGHROADIII by going to http://www.highroadmusic.com or https://www.facebook.com/HIGHROAD3 . You can reach them by Twitter at https://twitter.com/highroadmusic .
For booking contact highroadmusic@gmail.com .
Tags:
Ben Isaacs
,
HighroadIII
,
Southern Gospel News
,
video
Posted in
video
|
Comments Off

on HIGHROADIII Releases New Concept Video
Written by SGN Scoops on January 13, 2014 – 8:00 pm -
Sharps Chapel, TN- Chapel Valley is excited to release The Hyssongs first music video. The song "Thinking About Going Home", written by Albert Watts, is a beautiful song that speaks about longing to see our loved ones that have gone on before us!
There are two interesting notes concerning this song. First, all of the footage was taken in The Hyssongs hometown. The other is that Dell Richard Hyssong Sr, Jr, III, and IV are all featured in this video.
For more information about Chapel Valley go to www.chapelvalleystudio.com. You can find out more about The Hyssongs by going to www.thehyssongs.com
Tags:
chapel valley
,
hyssongs
,
southern gospel
,
Southern Gospel News
,
video
Posted in
announcements
|
Comments Off

on Chapel Valley Releases The Hyssongs First Music Video
Written by Kelly on September 23, 2010 – 2:10 pm -
Every once in awhile, we just need to laugh. If you have 5 minutes, enjoy this video that's had me cackling this afternoon. When you're done, be sure to visit one of my favorite Gospel families, The Isaacs!
Tags:
fun
,
the isaacs
,
video
Posted in
artists
|
Comments Off

on Tips from Sonya Isaacs
Written by Scoops Staff on May 19, 2010 – 1:06 pm -
From the Social Media Files:
If you have heard The Quicks in concert, you know they're not doing, as Sally Quick says, "Grandma's traditional kind of song." Proof positive is in this recent video, shared by Sally, of the family trio singing what many consider their signature song, "It's a Sure Thing."
Read more about how The Quicks use this song to minister interactively here.
For more on The Quicks: http://www.thequicksonline.com/
Thanks for sharing, Sally!
Tags:
social media
,
songs
,
the quicks
,
video
Posted in
artists
|
Comments Off

on The Quicks Get Deacons to Dance
Written by Scoops Staff on August 26, 2009 – 8:59 pm -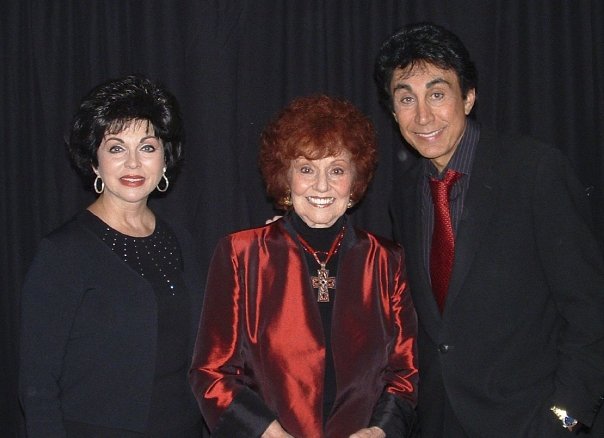 It's okay – well sort of – if you didn't make it to Branson this past July for the SGN Scoops Diamond Awards at the Branson Gospel Music Convention. We have the award show available for your viewing pleasure, including lots of fun from host Johnathan Bond of Young Harmony and performances by Blackwood Quartet, Kirk Talley, Florida Boys, and more.
Catch all the fun right here, and stay tuned for information about nominating YOUR favorite gospel artists for the 2010 Diamond Award. Join our mailing list & get notified when voting begins.
Photo: Cheryl Kartsonakis, Lou Wills Hildreth, & Dino Kartsonakis, backstage at the Diamond Awards.

Tags:
events
,
video
Posted in
gospel events
,
video
|
Comments Off

on Watch the 2009 Diamond Awards online!