Written by SGN Scoops Staff on November 14, 2014 – 3:56 pm -
Lauded Family Ensemble Plans Christmas Tour

Tour Stops Include Callaway Gardens, Thomas Road Baptist Church, Billy Graham Headquarters, and Concludes with The Glory & Majesty of Christmas Extravaganza At Blue Gate Theater
The Rick Webb Family is kicking off the Christmas holidays just a bit early this year with the release of their new holiday recording, Joy to the World. The 10-track project – produced by Jacob Danieley, Dean Hopper and Rick Webb – is filled with exquisitely orchestrated Christmas songs sure to be a welcome addition to holiday playlists. The voices of The Rick Webb Family – Rick, Phyllis, Hannah and Parker – perfectly complement the music with their excellent vocal abilities.
As always, the goal of the talented family is to point others to Christ. "Celebrating Christmas is a personal time of worship for your family," Rick Webb shares. "We trust this timeless collection of Christmas favorites will once again draw the listener closer to the Savior and warm your heart with the celebration of the season!"
Tracks include seasonal favorites "It's The Most Wonderful Time of the Year," "White Christmas," "Joy To The World," "Away In A Manger," "Sweet Little Jesus Boy," among others.
Keeping with tradition, the family will embark on their annual Christmas tour performing 13 appearances throughout the month of December. The tour concludes as the family presents the holiday extravaganza, The Glory & Majesty of Christmas, during a five show run at the Blue Gate Theater in Shipshewanna, IN. The show, now an annual tradition, features The Rick Webb Family along with over 28 cast members retelling the Greatest Story ever told!
The project and tour are "must-add" items to your Christmas bucket list.
Joy To The World,
released by
Song Garden Music Group
, is available now at
www.RickWebbFamilyMusic.com
.
The Rick Webb Family Christmas Tour
12/01/14
– First Baptist Church – Greensboro, NC –
11 AM EST
12/03/14
– Hopkins Chapel Church – Zebulon, NC –
6 PM EST
12/05/14
– First United Methodist Church – Cherryville, NC –
7 PM EST
12/07/14
– White Oak Worship Center – Blairs, VA –
11 AM EST
12/08/14
– Calloway Resort and Conv. Center – Pine Mountain, GA
12/09/14
– Calloway Resort and Conv. Center – Pine Mountain, GA
12/10/14
– Calloway Resort and Conv. Center – Pine Mountain, GA
12/10/14
– Billy Graham Headquarters – PRIVATE EVENT – Charlotte, NC –
6:30 PM EST
12/11/14
– Thomas Road Baptist Church – Lynchburg, VA –
10 AM EST
The Rick Webb Family present The Glory & Majesty of Christmas at the Blue Gate Theater
12/17/14
– Blue Gate Theater – Shipshewanna, IN –
7 PM EST
12/18/14
– Blue Gate Theater – Shipshewanna, IN –
7 PM EST
12/19/14
– Blue Gate Theater – Shipshewanna, IN –
7 PM EST
12/20/14
– Blue Gate Theater – Shipshewanna, IN –
1 PM EST
12/20/14
– Blue Gate Theater – Shipshewanna, IN –
7 PM EST
Tags:
christmas
,
Rick Webb Family
,
Southern Gospel Music
,
Southern Gospel News
,
White Christmas
Posted in
announcements
|
Comments Off

on The Rick Webb Family Brings Christmas Joy To The World
Written by SGN Scoops Staff on December 9, 2013 – 3:27 pm -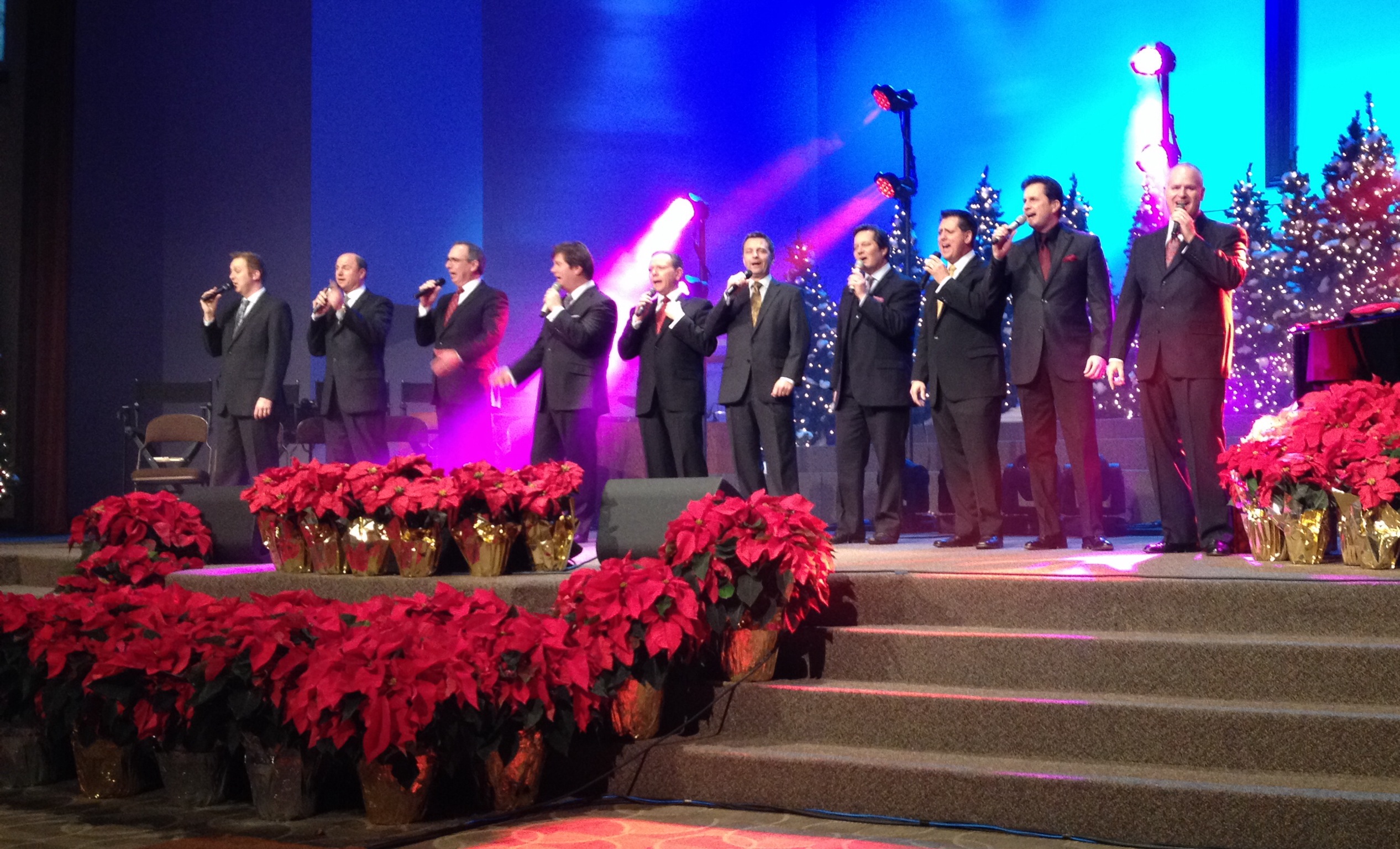 I haven't yet seen a review on a Christmas Jubilee, and so I thought I'd give one so anyone who may be
on the fence to spend the money for tickets to this event can have some more information.
I got to catch the 10th promoted by IMC Concerts in Sacramento, which is about 100 miles from my home. But hey, with these three high-powered groups, I convinced myself that it had to be a good concert.
First, let me preface everything I'm about to say with this statement: I've never been a "Jubilee" fan.
Really!!! Don't get me wrong. I was one of the two original Greater Vision fans out here in CA that
helped convince them and a promoter get GV to come out to the west coast. Legacy Five has been my
wife's favorite group since they began, and I love their music in addition to being good friends with the
band. And I've been a huge fan of the Booth Brothers ever since I heard them sing "This Love is Mine",
and that love for their music hasn't ever diminished. That said, the Jubilee CDs have never been my cup
of tea. The CDs I have and the concerts I saw were good, but for me were just not up to the level of each
group's individual efforts in the studio or on stage. Yes, I'm a pretty critical guy when it comes to music, but that's who I am and always will be.
I say all this above to point out that I went into the concert very skeptical of what I would get. I was
literally thinking as I found my seat before the concert, "Ok, Gerald, let's see what you've got."
And Gerald and the gang "knocked it out of the park"! The Christmas "Magic" really made this concert a
special event – one that's now probably in my Top 10, maybe Top 5 concerts of all time. And I've been to
A LOT of concerts.
They started out singing altogether with a Carol Medley, and it was followed by some new Christmas
music. Hearing this introduction of music really got me in the mood for the rest of the concert, a
concert of classic Christmas songs as well as new Christmas songs. Here are some of the highlights of the
concert:
Our Twelve Day of Christmas: Gerald introduced this song right by saying that most people can't stand
the song because it's so long and monotonous. So they re-wrote it! And believe me, this song was the
most fun of the night. They really sold the new lyrics, and the accompanying screen graphics made the
song really go over (hat tip to Ben Wolfe).
Carol of the Bells: This was performed acappella and was THE highlight of the night. If all you do is pay for your ticket, sit down for this song, and then walk out, you got your money's worth. The arrangement was just amazing, and by the time they hit the end, it was a feeling of euphoria all over the building. Just amazing. It was that moment you go to a concert to see/hear, and I'll never forget it.
Christmas Jubilee, as they said from stage, on Sunday December 8th
Oh Holy Night: Here's where I expected Gerald to take it. Instead, they went with the Legacy 5
arrangement of this song (my personal favorite arrangement). It started with Trey Ivey playing on the
piano, then Legacy 5 singing the 2nd right before intermission. Another "moment". It's rare to get two of these in a concert, much less the first half.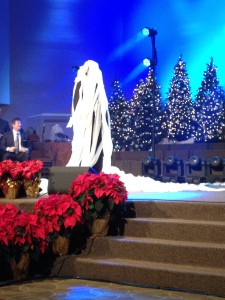 White Christmas: This is usually a great song on its own. But it's also a time when Scott Howard
introduces the audience to his Redneck Snowblower. All I can say is that I've never laughed that hard in
the middle of any Christmas song. And my 6 year old son will probably never stop talking about it. Some
people say they're "gonna make it rain". Well, Howie can now say he's "gonna make it snow."
Celebrating Christmas: Ronnie Booth did his Elvis thing to this old Carmen song, and he did it perfectly.
But what really made it great was the "Sweet Inspirations" backing him up. Michael, Rodney, and Howie – nuff said.
Finale: This wasn't one of those bring the house down finales. They took the last cut from the Cathedrals
A'Capella Christmas album in the 1980s and sang that as a benediction, if you will. It was beautiful and
completely preserved the "Magic" and overall precious feeling of the Christmas concert.
There were other highlights, such as Rodney's "special instrument", Michael Booth's crazy antics as well
as his down-to-earth message to the audience, and Gus Gaches and Chris Allman doing incredible on
their solo songs. I really liked when Trey did his "Classical Christmas" song, where he takes a Christmas
carol and mixes it with a "Sonata" (you may have seen something similar in a Legacy5 concert). I really
enjoyed how the Jubilee gang responded in very comical manner. Gerald and Howie's back-and-forth
was hilarious during and after Trey's song. I can't describe it – you just have to see it to appreciate it.After three hours of incredible music, I could say that my cup was overflowing. The guys didn't need to come off the stage and spend an hour meeting with the folks after the last song – the folks already loved them by the time we said Amen. But they stuck around anyway talking to countless people, and that's
one of the reasons I love this music so much. You won't see Demi Lavato or Tim McGraw doing anything
like that. I love the "family" feeling of Southern Gospel Music.
Like I said above, this is one of my all-time favorite concerts. If you're on the fence about checking this event out, stop wrestling with the decision. GO! And if you're not interested at all and just happen to read this, GO! If you're fan of Southern Gospel music, Christmas music, or music, GO! Don't make a
mistake of missing this event. Here's hoping they do it again next year!
Tags:
booth brothers
,
Chris Henry
,
Christmas Jubilee 2013
,
Greater Vision
,
imc concerts
,
Legacy 5
,
southern gospel
,
Southern Gospel Concert
,
White Christmas
Posted in
exclusive report
|
Comments Off

on Christmas Jubilee 2013 Review By Chris Henry
Written by SGN Scoops Staff on November 8, 2012 – 8:06 pm -
(Nashville, Tenn.) November 8nd, 2012 — Proud to present its first-ever Christmas project for The Hagees and Difference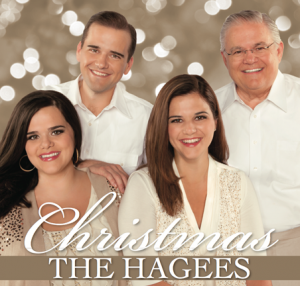 Media,The Hagees Christmas is a project that has something for everyone this holiday season. Produced by Michael Sykes, with additional production by Aaron Crabb, the project includes 13 tracks made up of traditional Christmas hymns like "Silent Night," and "O Holy Night," while also featuring classic treasures such as "The Christmas Song," "Silver Bells," and "White Christmas," among others. Matthew Hagee and Aaron Wilburn collaborated to write an original tune on the project, "Glory To God," while a beautiful rendition of "A Baby Changes Everything" is sure to be a standout and will be at radio during the Christmas season.
The Hagees have filmed a Christmas special, which will air at the end of November, and are currently in preparation for their 2013 release.
TRACK LISTING:
Let It Snow
O Holy Night
O Little Town of Bethlehem
Blue Christmas
Glory To God
Have Yourself A Merry Little Christmas
Winter Wonderland
Silver Bells
Silent Night
White Christmas
I'll Be Home For Christmas
The Christmas Song
A Baby Changes Everything
For more information on Difference Media, visit these sites: www.DifferenceMedia.org, www.FB.com/DifferenceMediaGroup, and Twitter @DifferenceMedia.
Stay up to date with The Hagees and all of Difference Media by signing up for the e-mail newsletter at www.DifferenceMedia.org
Christmas is available online at www.jhm.org, iTunes, Amazon, everywhere music is sold or via phone at 1-800-854-9899.
Tags:
Aaron Crabb
,
christmas music
,
DIFFERENCE MEDIA
,
JOHN HAGEE
,
Matthew Hagee
,
Michael Sykes
,
Southern Gospel News
,
White Christmas
Posted in
announcements
,
christian entertainment
|
Comments Off

on THE HAGEES CHRISTMAS AVAILABLE NOW! Difference Media Presents First Christmas Album From The Hagees
Written by SGN Scoops Staff on December 7, 2011 – 5:58 pm -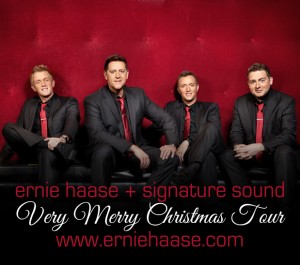 NASHVILLE, Tenn.—November, 30, 2011– Grammy® nominated and award-winning gospel group Ernie Haase & Signature Sound announce are proud to announce their "Very Merry Christmas" Tour beginning on December 1st in Belleville, IL and canvassing the eastern half of the country before concluding on December 31st in Duluth, GA with the Gaither Jubilate New Years Eve event at Gwinnett Center. The special tour will feature old and new Christmas classics and special moments with the members of Ernie Haase & Signature Sound.
In support of the tour the group is releasing a special seven-song EP, A White Christmas, including studio recordings of traditional Christmas classics and 3 live recordings from California that capture the Christmas spirit and enthusiasm that audiences love.
Ernie Haase says, "Christmas has always been my favorite time of year, and I'm excited to bring these new songs to you. They are easy listening, classic tracks that everyone will love. The songs range from a really fun version of "Blue Christmas" right through to a stunning version of "Tennessee Christmas." I believe this Christmas music release will be one to listen to for years to come."
Founded in 2002, Ernie Haase & Signature Sound has captured audiences around the globe with their soaring harmonies, exciting showmanship, and passion for the message that they bring to the stage have made them a favorite of both industry insiders and fans across the country.
A White Christmas is available exclusively via www.ErnieHaase.com and at concerts.
Connect with Ernie Haase & Signature Sound via Facebook.com/ErnieHaaseAndSignatureSound and on Twitter – @ErnieHaase.
Tags:
Ernie Haase & Signature Sound
,
gaither
,
Gaither Jubilate New Years Eve
,
Southern Gospel Music
,
Southern Gospel News
,
Very Merry Christmas
,
White Christmas
Posted in
announcements
|
Comments Off

on Ernie Haase & Signature Sound present "Very Merry Christmas" Tour, Release A White Christmas EP