Written by SGN Scoops Staff on July 9, 2014 – 9:01 pm -
In this month of family vacations, celebrating freedom and enjoying summer, we hope you take a moment to see what we've done on SGN Scoops! We present to you a magazine filled with freedom, hope and all that is good in today's Southern Gospel and Christian Country music!
July brings a whole host of features, including our cover story on America's Favorite Gospel Music Family, The Hoppers. Craig Harris takes an in-depth look at the past, present and future of The Hoppers through the eyes of each of the family. Learn why Claude is smiling more these days and Karlye is studying hard. Read about Dean's and Michael's role in the group business and why Kim is humbled by her career. Take a close look at the 'Mother's Heart' of Connie Hopper and why she smiles even more widely at the thought of what may be in store for Lexus. A terrific summer read!!
Dixie Phillips fills us in on another of Southern Gospel's families, the Wilbanks; Marcie Gray tells us all about the Southern Gospel Music Associations' Hall Of Fame and new contributor Dan Duncan interviews Christian Country artist James Payne. Speaking of Christian Country, don't miss Natalie Taylor's first-hand account of Red Roots' appearance at Creation Festival NE 2014.
Jennifer Campbell shares her experience as part of a short-term missions trip to New York City. Lorraine Walker highlights Triumphant, who have just released a new praise CD, and Cross Pointe, whose new video can be seen on the right of the SGN Scoops website.
Don't miss the activities of Lou Wills Hildreth as she shares her Love, Life and Legends column; David Staton's 'Can You Handle The Truth;" life moment devotions by Dr. Jeff Steele, Kelly Nelon Clark and Sherry Anne; and the must-read Younger Perspective by Erin Stevens who interviews Riley Harrison Clarke. Lorraine also brings us closer look at D.A. Callaway, the man behind Silver Dollar City's Southern Gospel Picnic!
Other highlights include 'Event Planner', a concert review of the Karen Peck and New River Homecoming by Lynn Mills; super New Music reviews by our own Sandi Duncan Clark; and the new DJ Spotlight by everyone's favorite southern DJ, Vonda Easley. And don't miss Sandi's "Letter From…" in the first part of the magazine.
Our publisher, Rob Patz, gets to the heart of things with a few thoughts on 'Freedom' in his Publisher's Point. He also gets to interview his good friend, Pauline Patterson, in his column, 'What America Wants To Know About…".
Laurette Willis brings our thoughts back from summer sloth to healthy activities with her column, 'Present Your Bodies.'
All this plus a Creekside Update, SGN Scoops Top 100 and much, much more! Read what is encouraging, uplifting, creative and gifted about our Christian artists and their ministries.
We hope you have time this month to put your feet up on your lounger, grab your iced tea (or coffee!) and open up SGN Scoops July magazine. You won't be sorry!
Tags:
christian country
,
Creation Festival NE 2014
,
Dan Duncan
,
hoppers
,
James Payne
,
karen peck and new river
,
Lorriane Walker
,
Lou Wills Hildreth
,
Pauline Patterson
,
Red Roots
,
Sandi Duncan Clark
,
SGNScoops Magazine
,
Southern Gospel Music Associations
,
Southern Gospel News
,
Vonda Easley
,
Wilbanks
Posted in
sgn scoops magazine
|
Comments Off

on July 2014 SGNScoops Magazine
Written by SGN Scoops on July 22, 2013 – 9:20 pm -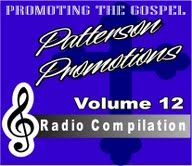 Patterson Promotions Vol.12 has shipped this week to radio nationwide and is available for download on their website for DJs Only. This compilation features The Wilbanks with their new release "Teach Me To Wait" that has potential to be another charting single for this family group.
It also features Peach State Qt. with a patriotic song produced by Phil Cross entitled "We Will Stand" with great response nationwide in live concert settings this song proves to be one of their best. Darrell Luster's "A Mighty Big God"  radio all across this nation and their listeners have welcomed Darrell back to SG radio with open arms! Brenda Whitlock with a toe tapping "Double Dose" (of the Holy Ghost) you will surely like this one.
Tim Livingston's "He Gave All He Had" a heart touching song! Tim's video same title can been seen on You Tube, we welcome Sharron Kay King with "A Little Hope" with smooth vocals and a message you won't soon forget, Cross Pointe with their follow up single "Time After Time" this one should get you to moving.
Other artists include the Tony Dean Family "Going Up To The High Places' Tim & Kristy Peace with "Victory In The Making" great folks with a great song, then we have Mr. David East with an old song but done very well "I Need To Feel Your Spirit Once Again" Jr Deason's second solo release "I Reach Out" and Denise Beaty with her freshman release "Its All About The Heart" and finally we have Pauline Patterson with "I Know The Man" which is her follow up single to her previous single "Her Roots Run Deep"
Please call your local station and request these artists , for more info contact:
Pattersonmusic@att.net or call 606 528-0033.
www.pattersonpromotions.com
Tags:
Cross Pointe
,
Patterson promotions
,
Peach State
,
phil cross
,
Southern Gospel News
,
tim livingston
,
Tony Dean Family
,
Wilbanks
Posted in
announcements
|
Comments Off

on Patterson Promotions Vol.12 Ships To Radio
Written by SGN Scoops on February 21, 2013 – 2:38 pm -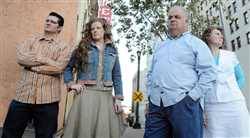 {EHA-Nashville, TN} The Wilbanks have yet another successful start with "Still Plannin' On Goin' which they released to national radio through Pauline Patterson of Patterson Promotions/Patterson Music Group. The talented family group has been traveling nationally for many years and has been a part of the National Quartet Convention where they have continued to gain a devoted fan-following. In 2012, they were favorites in showcases with their refreshing original material and outstanding performances to radio and promotional representatives. Pauline Patterson notes, "I am so happy that the Wilbanks have gone out on the new P.P. Vol. 10." We are receiving positive response and Ken and I are not surprised! This group is a terrific blessing to people everywhere. I am so honored and blessed to be a small part of their music ministry. I am expecting more and more good news from this wonderful family who is so gifted!" For a free press kit of the Wilbanks: Office@EHA-Nashville.com
Tags:
eha-nashville
,
Patterson promotions
,
Pauline Patterson
,
Southern Gospel News
,
Wilbanks
Posted in
announcements
|
Comments Off

on Wilbanks Experience Success with Still Plannin' On Goin'