Written by SGN Scoops Staff on November 17, 2014 – 12:49 pm -
Grammy Winner's Inspiring Anthem "Love Is Stronger" Featured on Two-Disc Set
NASHVILLE, TN – Grammy winner Jason Crabb's powerful song, "Love Is Stronger," is featured as one of the top twenty-five most inspiring songs of faith on the new collection from Maranatha! Music's Top 25 series, Top 25 Country Songs of Faith. The brand has sold nearly 1.8 million copies since inception with 'Songs of Faith' the first country set in the series.
The twenty-one time GMA Dove Award winner joins a stellar line-up of artists featuring Rascal Flatts, Tim McGraw, Carrie Underwood, Lady Antebellum, Amy Grant, Dolly Parton, Wynonna Judd, Kenny Chesney, Chris Young, Johnny Cash and more.
From the moment Crabb heard "Love Is Stronger," he knew the song would
touch hearts. "Jay DeMarcus, my producer, brought this song to me," Crabb shares. "I immediately knew I had to record it this song – I knew it would touch people because it touched me. My wife Shellye was going through some very hard times when this song came into our lives – it helped me and I knew it would help others.
The song later came to life through a video directed by award-winner Roman White. Debuting nationally on USAToday.com, the video stars Ashley DeRamus, a young lady living with Downs Syndrome, bringing awareness to those living with the disease.
"This song shares a universal message of hope and encouragement," comments Crabb. "We're all going through something and this song reminds us that love – of Jesus, of our families – it's stronger than anything and will pull us through. I am honored that I was chosen to sing this song."
The album, available in stores and online, boasts all original artist recordings from some of the brightest, biggest, and best artists who are performing songs of faith notable for their uplifting lyrics.
Top 25 Country Songs of Faith is a double-disc collection including Grammy-winning artists from contemporary chart-topping acts to legendary hit-makers. Fans will recognize favorite No. 1 tracks, heartfelt duets, and a mixture of ballads and up-tempo songs.
There's no slowing down for this talented communicator. Jason Crabb is currently on the road with the "Music & Madness" tour with Mark Lowry & The Martins and also the "Learning To Laugh Again" tour with Chonda Pierce. He is featured on the soundtrack CD to Kirk Cameron's feature film Saving Christmas and is writing for a brand new project – his debut release on Provident Label Group's Reunion Records.
Top 25 Country Songs of Faith – Disc 1
1.     Bless The Broken Road – Rascal Flatts
2.     Touchdown Jesus – Tim McGraw
3.     Jesus, Take The Wheel – Carrie Underwood
4.     Long Black Train – Josh Turner
5.     What The World Needs – Wynonna Judd
6.     Hello World – Lady Antebellum
7.     I Need Thee Every Hour –  Amy Grant duet w/Vince GIll
8.     Baptism – Kenny Chesney duet w/Randy Travis
9.     That Old King James – Scotty McCreery
10.  Heaven Sent Me You – John Michael Montgomery
11.  Three Wooden Crosses – Randy Travis
12.  When I Get Where I'm Going – Brad Paisley feat. Dolly Parton
Top 25 Country Songs of Faith – Disc 2
1.     That's Why I Pray – Big & Rich
2.     The Man I Want To Be – Chris Young
3.     Love Is Stronger – Jason Crabb
4.     Holes in the Floor Of Heaven – Steve Wariner
5.     Ten Thousand Angels Cried – LeAnn Rimes
6.     This is God – Phil Vassar
7.     That's What I Love About
Sunday
– Craig Morgan
8.     When It's My Time – Rodney Atkins
9.     What Would Jesus Undo – Michael Boggs
10.  Angel Band – Vestal Goodman & George Jones
11.   Daddy Sang Bass – Johnny Cash
12.  I'll Fly Away – The Charlie Daniels Bad
13.  The Duck Dynasty Song – Amanda Ryan
Connect with Jason Crabb:
JasonCrabb.com
Facebook.com/JasonCrabbMusic
Twitter @JasonCrabbMusic
Tags:
amy grant
,
Carrie Underwood
,
Chris Young
,
Christian Country News
,
dolly parton
,
Johnny Cash
,
Kenny Chesney
,
Lady Antebellum
,
Rascal Flatts
,
TIM McGRAW
,
Wynonna Judd
Posted in
announcements
|
Comments Off

on Jason Crabb Joins Rascal Flatts, Tim McGraw, Carrie Underwood, Lady Antebellum, Amy Grant, Dolly Parton and More on New Collection: Top 25 Country Songs of Faith
Written by SGN Scoops on January 31, 2013 – 11:29 am -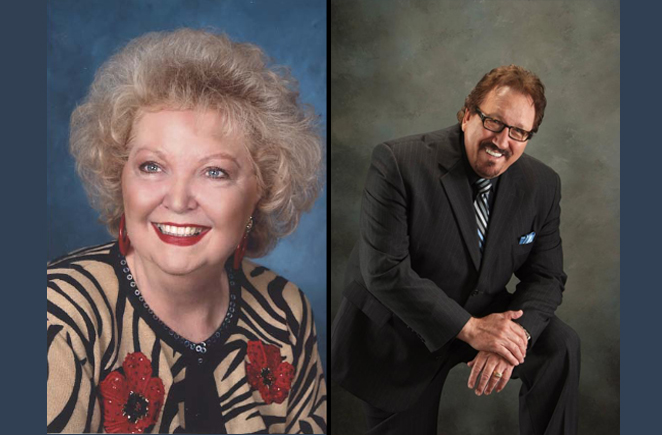 Hendersonville, TN (January 31, 2013) — The Southern Gospel Music Guild held its annual Harmony Honors program, hosted by Jason Crabb, on Tuesday evening, January 29th, 2013, at Trinity Music City in Hendersonville, TN.  Daywind songwriters Ronny Hinson and Dianne Wilkinson were both honored with lifetime achievement awards for their contribution to gospel music.Along with Dianne Wilkinson and Ronny Hinson, Daywind recording artist, Rodney Griffin (Greater Vision), songwriters Mosie Lister, Squire Parsons, and Phil Cross received acclamations for their success in songwriting.  Each of these songwriters have penned several hits that are classics in Southern Gospel music.

The songwriters told stories about their career, influences, and inspirations.  Ronny Hinson told a story about penning his hit song "The Lighthouse" saying, "I scribbled it in a bathroom, during rehearsal, on a piece of toilet paper, in 7 minutes." To honor each songwriter, a few of their popular songs were performed by well-known artists to the capacity crowd. Featured artists included Daywind's Greater Vision, the Nelons and Scott Fowler (Legacy Five).  Also taking the stage were g Jeff & Sheri Easter, Kingdom Heirs, Tribute Quartet, Palmetto State Quartet, LeFevre Quartet, the Bowling Family, Booth Brothers, Gold City, Three Bridges, and country music great, Wynonna Judd.

Selected performances from the evening will air as part of TBN's "Praise the Lord" programming. Visit www.tbn.org for more information on dates and airtimes.

Daywind Music Group is based in Hendersonville, TN and is distributed worldwide through New Day Christian Distribution.  In addition to those mentioned above, Daywind is also home to writers such as Kyla Rowland, Sue Smith and Kenna West, as well as artists such as The Perrys and Karen Peck & New River.  For more information on Daywind, visit daywindrecords.com.  For more information about Daywind Publishing, contact Rick Shelton at rshelton@daywind.com.
For more information regarding this press release, please contact:
publicity@daywind.com.
Tags:
daywind
,
Greater Vision
,
Jason Crabb
,
Mosie Lister
,
nelons
,
palmetto state
,
phil cross
,
Southern Gospel Music
,
Squire Parsons
,
tbn
,
Wynonna Judd
Posted in
announcements
|
Comments Off

on Legendary Daywind Songwriters Dianne Wilkinson And Ronny Hinson Honored At 2013 Harmony Honors Ceremony