Written by Staff on March 9, 2018 – 8:57 am -
Artists Featured include U2, Alan  Jackson, Casting Crowns, Jason Crabb, Don Moen, Elvis Presley, Aretha Franklin, Bart Millard, For King & Country, Johnny Cash and many more
Spotify, a leading digital music service provider, is paying tribute to Rev. Billy Graham upon his passing with a special playlist, Rev. Billy Graham – In Memorium.
With over 60 songs, the playlist features a stellar lineup of artists whose songs reflect the teachings and honor the life of Billy Graham. Graham passed away February 21, 2018, in Montreat, NC.
Among the artists featured on the playlist are: Alan Jackson, Amy Grant, Andrae Crouch, Bart Millard, Casting Crowns, DC Talk, Don Moen, Cliff Barrows, Elvis Presley, For King & Country, George Beverly Shea, Jason Crabb, Jim Reeves, Joey & Rory, Johnny Cash, Mahalia Jackson, Michael W. Smith, the Oak Ridge Boys, Reba McEntire, Selah, TobyMac, U2, and many more.
Music was an integral part of every single Billy Graham crusade, drawing listeners in and preparing their hearts for the gospel message. This playlist is an uplifting and stirring collection of music that will bless those who listen.
Tags:
Alan Jackson
,
Aretha Franklin
,
Bart Millard
,
Billy Graham.
,
Casting Crowns
,
Don Moen
,
Elvis Presley
,
For King & Country
,
Jason Crabb
,
Johnny Cash
,
Spotify
,
U2
Posted in
announcements
,
artists
|
Comments Off

on SPOTIFY PAYS TRIBUTE TO BILLY GRAHAM WITH PLAYLIST,REV. BILLY GRAHAM – IN MEMORIUM
Written by scoopsnews on January 7, 2017 – 6:08 pm -

From Alan's Facebook Page:
January 7, 2017 – Mrs. Ruth Jackson – known to her family, friends and country music fans the world over simply as "Mama Ruth" – died Saturday morning, January 7, peacefully at her home in Newnan, Georgia. Mrs. Jackson became a celebrated part of son Alan Jackson's career and life story as the inspiration behind some of his fans' favorite music. Mama Ruth was 86. For More Information please visit: http://bit.ly/2joUKIv
Tags:
Alan Jackson
Posted in
announcements
|
Comments Off

on Prayers for Alan Jackson and Family
Written by SGN Scoops on November 13, 2013 – 12:19 pm -
Jason Crabb appears on the red carpet at the 47th Annual CMA Awards in Nashville, TN on Wednesday, November 6, 2013 at Bridgestone Arena. The awards were broadcast on ABC Television Network.
Jason Crabb, Grammy® and multiple Dove award winner, walked the red carpet prior to the 47th CMA Awards held at Bridgestone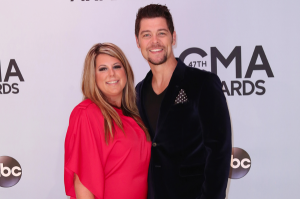 Arena on November 6, 2013. Accompanied by his wife, Shellye, Jason spent time chatting with reporters and media outlets sharing about his involvement in the new book, Country Faith, that was just released. The noted vocalist is featured alongside country greats Carrie Underwood, Brad Paisley, Wynonna, Alan Jackson, Barbara Mandrell, and more. The book was written and compiled by noted journalist Deborah Evans Price, who was honored with the CMA Media Achievement Award during the evening.
Jason Crabb and wife Shellye appear on the red carpet at the 47th Annual CMA Awards in Nashville, TN on Wednesday, November 6, 2013 at Bridgestone Arena. The awards were broadcast on ABC Television Network. Photo by Curtis Hilbun
Jason also spoke about his brand new single to country radio, "Love Is Stronger." The video and song have resonated with audiences around the country. After a successful USAtoday.com debut, the video is now available worldwide on TV stations and online. Sharing the message of hope and love, the single is quickly becoming one of the most-added songs at radio today.
During the night, Jason talked with FOX News, USAtoday, the Tennessean, Seventeen Magazine, People, Billboard, Inside Edition and met up with Willie Robertson from Duck Dynasty and rising country star Payton Rae.
The popular vocalist was recently featured as a special guest on the "Worship Around The World" tour with Michael W. Smith and is set to announce his Christmas tour dates soon. He recently released the third book in his JASE® CRABB ten-book children's series. The books, music and more are available at www.JasonCrabb.com
Connect with Jason Crabb online at www.JasonCrabb.com, www.FB.com/JasonCrabbMusic and Twitter @JasonCrabbMusic.
Tags:
Alan Jackson
,
barbara mandrell
,
Brad Paisley
,
cma
,
Country Music News
,
Jason Crabb
,
Seventeen
,
Shellye Crabb
,
Southern Gospel News
,
Wynonna
Posted in
announcements
|
Comments Off

on JASON CRABB TALKS COUNTRY FAITH AND NEW SINGLE "LOVE IS STRONGER" ON CMA AWARDS RED CARPET
Written by SGN Scoops on November 4, 2011 – 3:41 am -
Nashville, Tenn. – Music City, Inc. today announced the newest inductees into the Music City Walk of Fame, presented by founding sponsor Gibson Guitar: Kix Brooks, Alan Jackson, Manuel, Dr. Bobby Jones, Dottie Rambo, Les Paul and Dan Miller. The honorees will be recognized officially with the unveiling of commemorative sidewalk markers on Sunday, November 6, beginning at 12:00 p.m. in Walk of Fame Park in downtown Nashville. The induction ceremony, which is sponsored by Great American Country (GAC), is free and open to the public.
 
The induction of this class will bring the total number of stars along the Walk of Fame to 58. The Music City Walk of Fame, located on Nashville's Music Mile, is a landmark tribute to those from all genres of music who have made significant contributions to preserving the musical heritage of Nashville and have contributed to the world through song or other industry collaboration.
 
Permanent sidewalk medallions with each honoree's name displayed in a star-and-guitar design will be installed in the sidewalk along the Music Mile. The plaques for this class of inductees will be inlaid in Walk of Fame Park on Demonbreun, between 4th and 5th Avenues South.
 
"Each of these inductees into the Walk of Fame has definitely left their creative mark on Music City in their own unique way," said Butch Spyridon, president and CEO of the Nashville Convention & Visitors Bureau. "It is the creative collaboration shown by these talented individuals that make Nashville, Music City."
 
Dottie Rambo, known throughout the industry as the Queen of Gospel Music, is a world renowned singer, songwriter and musician.  Throughout her 60+ year career, Rambo wrote over 2,500 songs, both for herself and for some of the music industry's most notable stars.  Her legendary songs have been recorded by music icons such as Elvis Presley, Barbara Mandrell, Carol Channing, Whitney Houston and Dolly Parton.
 
Her own musical career included being a songwriter, soloist and leader of her family trio 'The Singing Rambos,' later known as simply 'The Rambos,', which brought her opportunities to work with Barbara Mandrell and Porter Wagoner among others.  Some of her more noted works include "I Go To the Rock," "He Looked Beyond My Fault" and "I Will Glory In The Cross."  
 
Her accolades include Grammy and Dove awards, the ASCAP Lifetime Achievement Award, being inducted into the Nashville Songwriters Hall of Fame, and she and 'The Rambos' are also members of the Gospel Music Hall of Fame.
 
Rambo died in a tragic bus wreck in 2008 as she traveled between tour stops. 
 
The legendary songwriter's daughter, Reba Rambo-McGuire, will accept the special honor on her mother's behalf this Sunday at the induction ceremony.
 
McGuire expressed, "Our family is overwhelmed with gratitude for the prestigious honor and recognition of mom's creative artistry. This permanent landmark represents the legacy of a pioneering spirit who blazed a trail for songwriters, singers, musicians and poets."
Tags:
Alan Jackson
,
Dan Miller
,
Dottie Rambo
,
Gospel Music Hall of Fame
,
Great American Country
,
Les Paul
,
Music City Walk of Fame
,
Reba Rambo- McGuire
,
Southern Gospel Music
,
Southern Gospel News
Posted in
awards
|
Comments Off

on Dottie Rambo's Talent And Memory To Be Honored With A Star On Music City's Walk Of Fame
Written by SGN Scoops Staff on October 19, 2011 – 1:09 pm -
(Nashville, Tennessee) – The musical genius of Gordon Mote was honored with the 2011 Academy of Country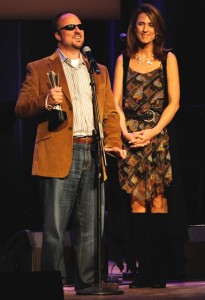 Music's Piano/Keyboard Player of the Year Award at the recent annual ACM Honors ceremony held at Nashville's historic Ryman Auditorium. Gordon, a seven-time nominee, was also honored with the coveted award in 2009.
Long recognized by the industry as one of Nashville's most talented studio musicians who seemingly knows no limits in effortlessly crossing musical styles and genres, Mote's talents can be heard on the recordings of some of the nation's premier performers, including Bill & Gloria Gaither and the Homecoming Friends, Billy Ray Cyrus, Blake Shelton, Scotty McCreery, Elvis Presley, The Hoppers, Brad Paisley, Ernie Haase & Signature Sound, George Jones, The Isaacs, Josh Turner, Alan Jackson, Keith Urban, Luke Bryan, Jason Crabb, Martina McBride, Reba McEntire, Rascal Flatts and Alison Krauss, just to name a few.
Since releasing his debut Southern Gospel recording in 2004, the talented singer and musician has enjoyed much success, including numerous Top 40 hits in multiple music genres and numerous Fan Award nominations. Mote's video release, "The Best of Gordon Mote," made its debut at Number 7 on the Billboard Music Video Chart in 2008. Mote's travels on tour are global – include stops in the US, Canada and Europe. He is a featured artist on the stage sharing his vocal and keyboard performances with music legend Bill Gaither and his Grammy Award winning Gaither Vocal Band and the Homecoming Friends.
The 5th Annual ACM HONORS represents an evening of musical tribute performances and special presentations celebrating the special honorees and non-televised category winners from the 46th Annual Academy of Country Music Awards, held earlier this year.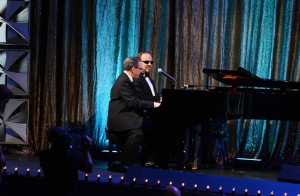 Fresh from his success at the ACM's presentation, Gordon had just enough time to place his latest trophy on the mantle before being called to more awards duties – this time to emceeing the Singing News Fan Awards / SGMA Hall of Fame Induction at Dollywood with Co-Host Gerald Wolfe of Greater Vision. Gordon delighted the Pigeon Forge crowd with his quick wit and humor-providing a show stopping moment when he settled down behind the keyboard for an impromptu piano duet with Gerald Wolfe.
Tags:
Alan Jackson
,
Bill & Gloria Gaither
,
Billboard Music Video Chart
,
Billy Ray Cyrus
,
Blake Shelton
,
Brad Paisley
,
Elvis Presley
,
Ernie Haase & Signature Sound
,
George Jones
,
Gerald Wolfe
,
gordon mote
,
Jason Crabb
,
Josh Turner
,
Keith Urban
,
Luke Bryan
,
Martina McBride
,
Rascal Flatts
,
Reba McEntire
,
Scotty McCreery
,
The Hoppers
,
the isaacs
Posted in
announcements
,
awards
|
Comments Off

on ACADEMY OF COUNTRY MUSIC AWARDS HONOR GORDON MOTE WITH 2011 ACM AWARD