Written by SGN Scoops Staff on November 25, 2014 – 8:53 am -
Three-time Dove nominees the Marksmen Quartet of Murrayville, Ga. cross the "Generations" with their latest CD.
From the first song – Albert E. Brumley's classic "I Firmly Promise You," the smooth harmonies, which have made the group a Southern gospel and bluegrass mainstay for the last 47 years, blend the talents of three generations from the act's most enduring families.
The quartet founded by Earle Wheeler in 1967 currently features Earle and his son Mark Wheeler along with 29-year Marksmen member Darrin Chambers and the latest addition Aaron Johnson. Darrin is the son of former long-time tenor singer and mandolinist Keith Chambers and Aaron is his grandson. The recording also features guest appearances by Mark's children – Will and Sarah Grace singing and playing mandolin and fiddle, respectively.
"With the addition of Aaron to the group, it hit me that we reached our third generation of performers and audience," Earle said. "So the theme of the latest project came to us easily."
There are singers whose voices make them immediately identifiable; Earle's unique Southern gospel vocal stylings have made the Marksmen sound recognizable in three music genres – Southern gospel, bluegrass and country. His leadership has garnered them countless awards in each genre including Dove nominations for their latest three CDs.
Earle is featured on "Why Can't You Believe?" and "Will You Meet Me Over Yonder."
This CD features songs that highlight each member; it is Mark's traditional country lead that through the years has become a pivotal part of the sound beside his father's unique voice.
Mark adds three more new songs to his songwriting catalog. He delivers a haunting performance — "The Spirit Moved," his song penned with Jim Green. He also features
"No More Sin," composed with Lance Carpenter.
Mark's original song written with former Marksmen David Waller – "The Folly of a Fool" is sang by Darrin Chambers and is a commentary on believing in evolution.
A classic hymn written to feature a bass vocal "He Understands and Cares for Me" also highlights Darrin's talents.
"Darrin continues to be a vital part of what we do musically and vocally," Earle said.
Reaching back into some of the songs the group popularized early in their career with tenor Keith Chambers "I Have a New Life" and "Payday," the group passes the torch now with his grandson carrying the prominent part in these audience favorites.
"Aaron's approach is different vocally, but folks who follow us have shared how much they are enjoying his smooth sound," Mark said.
The third generation of the Wheeler family adds their contribution as young Will Wheeler singing with his father and sister on "I'm Not Going to Hell."
Sarah Grace joins her father and grandfather on "Time Has Made a Change."
Mark features his banjo stylings on "the Old Cross Road" continuing a family tradition passed through the generations in his family.
Solid Gospel radio host Les Butler makes a guest appearance singing baritone and playing mandolin on the bluegrass standard "The Old Cross Road." Fiddler Lynn Shook adds his talents to "Payday."
"We hope that our friends will enjoy our latest CD," Earle said. "This is my 44th album and each time we create a new one, its is just as exciting as the first time, the creativity, the love that is shared through the music, and the hope that God uses it to reach those who need to hear his message."
The CD is available at for download on ITunes, Amazon.com and CDBaby. For more information, visit www.marksmenquartet.com, Fans may like Marksmen Mountain Music Camp on Facebook.
Tags:
Albert E. Brumley
,
marksmen quartet
,
Southern Gospel Music
,
Southern Gospel News
,
Why Can't You Believe?
Posted in
announcements
|
Comments Off

on The Marksmen Quartet reach across the generations with their latest release
Written by SGN Scoops on February 20, 2012 – 7:10 am -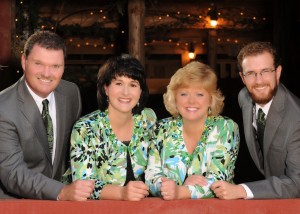 The I'll Fly Away Foundation is delighted to celebrate the 80th birthday of the song I'll Fly Away, written by Albert E. Brumley, with a concert at the Neosho Civic Center, 109 W. Main St, Neosho, MO  64850. The evening's performers include The Chuck Wagon Gang and The Missourians. The concert will begin at 7:30 on March 24, 2012 with the doors opening at 7:00.   General admission seating is limited. Advance tickets may be purchased for $15.00 by calling the I'll Fly Away foundation's office at 1-888-462-6718 or go the website www.illflyawayfoundation.org. There is special pricing for groups of 20 or more, please call in advance. Tickets at the door are $20.00.
The I'll Fly Away Foundation is a non-for-profit organization dedicated to raise funds to preserve our American musical heritage in all styles and forms by providing scholarships and educating the next generation about the musical roots and traditions of American music.
Tags:
Albert E. Brumley
,
Chuck Wagon Gang
,
eha-nashville
,
I'll fly away foundation
Posted in
announcements
|
Comments Off

on The Chuck Wagon Gang in Concert March 24, 2012 Celebrating the 80th Birthday of "I'll Fly Away"
Written by SGN Scoops on January 10, 2012 – 3:52 am -
Nashville, TN  (Jan. 5, 2012 ) As Albert E. Brumley's I'll Fly Away celebrates its 80th anniversary, the beloved songwriter's mission lives on through the non-profit I'll Fly Away Foundation. Third generation, Chairman and Founder, Betsy Brumley, daughter of Southern Gospel Music Hall of Famer, Bob Brumley, carrries the torch that will pass the family tradition on to future generations. The foundation educates aspiring artists with scholarships and mentoring opportunities and cultivates the musicial abilities of participants that strives to preserve the Albert E. Brumley mission.
 I'll Fly Away crosses cultural, age, and genre boundaries and continues to warm hearts and uplift spirits across the globe. The most recorded song in history deserves birthday recognition, and two concerts in 2012 will draw fans and friends together for powerful performances by some of  the most beloved Gospel and Country recording artists. The concerts will benefit the foundation and will allow continuation and preservation of this unique and inspiring art form. Donations will fund demonstration tours in schools and facilitate the education of youngsters through foundation music scholarships, encouragement and support. With patron support, this powerful American heritage will continue to grow and Albert E. Brumley's dream will be realized.
 Two concert fundraisers are on the horizon during 2012.  The March 24, concert in Neosho, Missouri will feature the famous Chuck Wagon Gang. The second concert will feature Country Music's sensational Oak Ridge Boys; Bluegrass powerhouse, Dailey & Vincent; and Southern Gospel's famous, Blackwood Brothers Quartet.
 For those who wish to contribute to the 80-year old Brumley traditon and be a part of Southern Gospel music history in the making by becoming a patron of the I'll Fly Away Foundation, contact: Board Chairman, Betsy Brumley, PO Box 3304, Bella Vista, AR 72715, info@illflyawayfoundation.org. 479-696-9876
Tags:
Albert E. Brumley
,
Betsy Brumley
,
Bob Brumley
,
brumley
,
I'll fly away foundation
,
Southern Gospel Music
,
Southern Gospel News
Posted in
announcements
|
Comments Off

on Albert E. Brumley's "I'll Fly Away" Celebrates 80th Anniversary with the "I'll Fly Away Foundation"
Written by SGN Scoops Staff on November 2, 2011 – 10:37 am -
In 1997, The Bilderbacks won first place at the Albert E. Brumley Gospel Sing talent contest. This opened the doors for The
Bilderbacks to record in Nashville with some of gospel music's finest talent. They  have enjoyed top 40 charting success in The Singing News Magazine, The U.S. Gospel News Magazine, & The Printed Voice of Gospel Music. The top charting songs were "When We're Caught Up", "I'm a Winner Either Way", "I Cry Holy To Thee", which were written by Euel Bilderback. The Bilderbacks have been singing across America in many churches, county fairs, TV programs, and other community events. We here at Activate Records are looking forward to working with The Bilderback's and what God has in store with this new venture.
Tags:
Activate Records
,
Albert E. Brumley
,
Albert E. Brumley Gospel Sing
,
I'm a Winner Either Way
,
southern gospel
,
Southern Gospel News
,
The Bilderbacks
Posted in
announcements
,
christian entertainment
|
Comments Off

on The Bilderbacks sign with Activate Records
Written by SGN Scoops Staff on October 29, 2011 – 3:48 pm -
Nashville, TN –   The Chuck Wagon Gang will celebrate 75 years of recording and performing on November 25, 2011.   A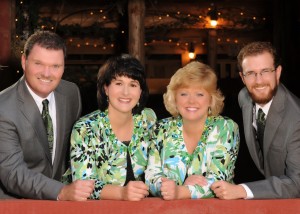 special 75 Year Celebration Concert will take place on Saturday, November 26, from 3:00-4:30 PM at the historic Ernest Tubb Record Shop, 417 Broadway, Nashville, TN.  Several presentations are expected and the Celebration will be broadcast live over WSM, 650 on the AM Dial.  Later that night, the Gang will perform on the Midnight Jamboree at the Texas Troubadour Theater in Nashville.  On Monday night, November 28m The Chuck Wagon Gang will be special guests on the Eddie Stubbs Show to be held at the Ford Theater at the Country Music Hall Of Fame from 7:00-9:00 PM.  Both the Midnite Jamboree and Eddie Stubbs Show will be broadcast on WSM, and the Midnight Jamboree will be webcast.
On November 25 and 26, 1936, The Chuck Wagon Gang recorded their first recordings in a small studio set up in a hotel room at the Gunter Hotel in San Antonio, Texas.  This was the beginning of a 39-year association with Columbia Records (now Sony Music) where 39 Million records were sold.  Their 1948 recording of the Albert E. Brumley classic, "I'll Fly Away," is believed to be the first million seller by a Southern Gospel group.  Today, the Chuck Wagon Gang is the oldest mixed recording gospel group, still recording and performing, with ties to the original founding.
Congratulatory cards and letters may be emailed to chuckwagongang@comcast.net or mailed to The Chuck Wagon Gang, PO Box 140416, Nashville, TN  37214-0416.
Tags:
Albert E. Brumley
,
Country music Hall of Fame
,
Ernest Tubb
,
Southern Gospel Music
,
Southern Gospel News
,
texas troubadour theater
,
The Chuck Wagon Gang
Posted in
announcements
,
Christian interest
|
Comments Off

on Chuck Wagon Gang to Celebrate 75 Years!