Written by SGN Scoops on November 12, 2012 – 8:00 am -
BRISTOL, TN  — Doyle Lawson has been voted the President of Bluegrass Music this week in a poll sponsored by Bluegrass Today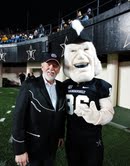 Magazine.  The poll numbers stayed neck-and-neck between Doyle and Del McCoury, with no one else in close contention for the top spot in the first-ever race for President of Bluegrass. The final numbers reflected 37% of votes for Doyle Lawson and 30% for McCoury. 

Lawson's website praised McCoury for running a strong race and Bluegrass Today for sponsoring the good-spirited election whose other nominees included such artists as the Grammy-winning Allison Krauss and Rhonda Vincent.

Of the honor, Lawson wrote:
"Well folks, I am just about speechless (and that's not good for a President) but I want to thank everyone for this extinguished – I mean distinguished honor. And now I must be about my duties as your President, for there is much to be done, and I have quite a mess on my hands.  My intentions are to make all roads lead to Bluegrass music venues, all hit recordings be by a Bluegrass artist, all awards be won by Bluegrass artists, and mainstream Airplay across the board to be BLUEGRASS! That should keep me busy for the first term, and by the end of it I should have a new platform to stump with, should I decide to run for re-election.  And finally, look on the bright side, I am taking no salary for any of this!  Thank you again, my fellow bluegrass music lovers, and Long Live this Music from the Heart!"
 
Doyle Lawson
President of Bluegrass Music
Lawson's acceptance speech was tongue-in-cheek for a fun victory in an election-week themed poll, but his influential reach in helping to build Bluegrass music is very real. Testaments of his devotion and success in Bluegrass range from being a founding member of the IBMA (International Bluegrass Music Association) to helping build the genre with a style embraced for nearly 50 years and almost 40 albums.  The trailblazing Lawson was recently inducted into the International Bluegrass Music Hall of Fame at the Ryman Auditorium in Nashville in September, and Doyle Lawson & Quicksilver were crowned the Inspirational Country Music Association (ICM) Vocal Group of the Year in October at Nashville's Schermerhorn Symphony Center.
For daily photos and updates on Doyle Lawson & Quicksilver, please visit their new official Facebook page at:  https://www.facebook.com/doylelawsonofficial?ref=hl
Photo by Sherri George:  President-elect Doyle Lawson with Mr. Commodore at Vanderbilt Stadium, following Doyle Lawson & Quicksilver's recent National Anthem performance at the Vanderbilt Football Homecoming Game with Massachusetts in Nashville. (Children's Hospital & Arena Tour performance)

Tags:
Allison Krauss
,
Bluegrass Music
,
Doyle Lawson
,
Doyle Lawson & Quicksilver
,
Inspirational Bluegrass
,
Rhonda Vincent
,
vanderbilt
Posted in
announcements
|
Comments Off

on Doyle Lawson Elected President of Bluegrass
Written by SGN Scoops on September 27, 2012 – 8:09 am -
NASHVILLE, Tenn.— Hymns for the Christian Life, the highly-anticipated fourth U.S. release from preeminent Irish modern hymn writers and recording artists Keith & Kristyn Getty, will bow October 9. Produced by Charlie Peacock (The Civil Wars, Switchfoot) and Ed Cash (Chris Tomlin, Kari Jobe), the 12-song project explores such themes as work, family, money, community and social action, showcasing Irish melodies as well as American bluegrass and country music influences.
This original collection is highlighted by a special 10th anniversary recording of "In Christ Alone," featuring 27-time GRAMMY® Award-winner Alison Krauss. Penned by Keith Getty and Stuart Townend, the world-renowned modern hymn has been recorded by numerous artists over the past decade—including Owl City, Natalie Grant and Newsboys—and is a classic sung in churches around the globe.
In addition, bluegrass icon Ricky Skaggs joins the couple on "Simple Living (A Rich Young Man)." Written by Keith & Kristyn Getty and Stuart Townend, the song is based on the Bible story of the rich young ruler. Clannad's Moya Brennan, one of Ireland's most beloved recording artists, also contributes to Hymns for the Christian Life, singing a traditional Gaelic lullaby as part of "A Mother's Prayer." Keith & Kristyn Getty, along with Fionan de Barra (Broadway's Riverdance), penned the piece for their young daughter, Eliza Joy.
"The concept for these songs began two years ago when we took a break from touring and settled in Nashville," says Keith Getty. "Amid conversations with friends and coworkers around our dinner table and on our porch, we found ourselves discussing the challenges of the Christian life. We pondered ideas such as, 'What does it mean to succeed in your job but not make it your god? How do I handle doubt? In what way should I pray for my children? What is our responsibility for the care of others inside and outside our community?' We believe the Gospel story touches every part of life, so these new songs are a reflection of those conversations and us turning to the Gospel for guidance."
"We hope Hymns for the Christian Life also reflects our continuing goal to write modern hymns for the Church," adds Kristyn Getty. "What excites us most about the work we do is seeing a song used by a congregation and hoping it becomes part of the soundtrack that follows a believer through life."
Keith & Kristyn Getty are among the preeminent modern hymn composers of this generation. Writers of an acclaimed repertoire of 21st century hymns revered both for their theologically astute lyrics and universally beloved melodies, the couple's popular U.S. recordings include In Christ Alone, Awaken The Dawn and Joy – An Irish Christmas. They have shared their music at Franklin Graham crusades, the GMA Dove Awards, The Third Lausanne Conference on World Evangelization, as well as feature performances at London's Royal Albert Hall and the legendary Grand Ole Opry, among many other noted platforms. Keith & Kristyn Getty, along with their band—an ensemble of some of the top names in Irish and American folk music—are in the midst of their Hymns for the Christian Life Tour, which is hitting multiple U.S. cities this fall.
Hymns for the Christian Life, a Getty Music release, will be distributed by EMI CMG Distribution. EMI CMG Distribution is the exclusive North American distributor of Getty Music products to all Christian and general market channels as well as the exclusive worldwide distributor to all digital channels.
For further information, visit www.gettymusic.com or www.turningpointpr.com.
Tags:
Allison Krauss
,
Charlie Peacock
,
Chris Tomlin
,
emi cmg distribution
,
Getty Music
,
GMA Dove Awards
,
Hymns
,
kari jobe
,
Keith & kristyn Getty
,
Ricky Skaggs
Posted in
announcements
,
new music
|
Comments Off

on KEITH & KRISTYN GETTY JOINED BY ALISON KRAUSS AND RICKY SKAGGS ON HIGHLY-ANTICIPATED HYMNS FOR THE CHRISTIAN LIFE