Written by Staff on January 13, 2016 – 3:07 pm -
Today I heard that Cam Shillington of Kingston, Ontario, had passed away last evening, after an illness that lasted several months.. Cam was only a few months short of 70 years but he had made those years count.
Cam Shillington was one of those greatly responsible for bringing Gospel music into Ontario. He sponsored many concerts and always had a group to sing with, The Master's. And the apostrophe was correct because you knew they belonged to the Master.
I came across this tribute by Torrey Antone of the Antone Indian Family on Facebook. We heard them with Cam's group on the Six Nations Reserve a few times, and it was always a treat. This is what Torrey said:
"Our family were saddened to hear last night of the passing of a dear friend for many years, Cam Shillington from Kingston, Ontario.
Cam was well-known in Canada and the U.S. and to Gospel Music groups and fans across North America. He was a singer, musician, radio and TV producer, and a great friend!
We first met Cam back around 1970 when we (the Antone Indian Family) were performing in Ontario. He invited us to be guest on his TV show he produced called "Gospel Singing Time", which was a national Canadian syndicated television program. It was just beginning to have a huge success in Canada with its wide distribution and growing audience. Cam would not only feature great Canadian gospel singers and talent such as his group, The Master's, but also brought in some of the best in U.S. gospel performers like the Cathedral Qt, the Goffs,
The Oak Ridge Boys and many others. This program introduced Gospel Music to tens of thousands who may have never been exposed to the Good News of Gospel Music before! Groups from the U.S. and Canada, were honored to be asked to perform on this show. I remember well our many times we sang on this show and the fun we always had doing it! There was always a "live" studio audience, which made it all the more fun to sing on this program! We also had "The Master's" a couple of times at an event our family use to promote on our Six Nations Reserve near Brantford, ON each year. They were always great to be with and were wonderfully blessed singers!
Early in 1975, Cam called us and asked if we would be available in July of the following year (1976) to perform at the Montreal World Summer Olympics.
Well believe me….we made ourselves available! LOL Together with other great artists, we were honored to perform at this great event…all because of Cam Shillington!
We will miss Cam, but look forward to the day when we shall see him again!
Our prayers for Cam's wife Gail, children and grandchildren. We know this loss is difficult, but we are also assured as Believer's in Christ in 2 Cor. 5:8 '…to be absent from the body, and to be present with the Lord.'"
I couldn't say it any better.  Our prayers and sympathy are extended to Cam's wife Gail and all of his family. Funeral service and visitation times are posted on Cam's Facebook page or here.
Tags:
Antone Indian Family
,
Cam Shillington
Posted in
announcements
,
artists
|
Comments Off

on Cam Shillington passes away
Written by Staff on October 9, 2015 – 2:19 pm -
In 1969, The Williamsons Gospel music group had its beginning when Woody Williamson, a Baptist pastor, brought his wife Eula Mae – nicknamed Pinky because her hair was red, his son Donnie and his daughter, Tennie to the platform to sing. They sang for their church and began singing at other churches in the area and this was the root that helped to grow into the current group.
The Williamsons continued with the occasional singing dates until about 1979 at which time Donnie joined the Antone Indian Family, a Native American group from Canada singing Southern Gospel music. He traveled with them for a couple of years and came back home to go to college. After returning to college however, he was always singing or playing with various groups. Donnie states, "You kinda get the Gospel music bug and you can't get rid of it."
In 1998, Donnie organized The Homesteaders Quartet, not intending to do much traveling; but Donnie was surprised at how popular they became and before long they were doing over 100 dates a year.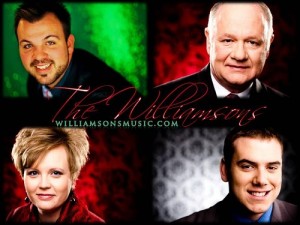 In late 1999, Donnie's sister felt she needed to stay home because her husband had recently been saved and she was also having some health issues. Although Lisa was singing with another group, Donnie asked her to fill in for his sister and she accepted the position. On New Year's Eve 1999 Donnie asked Lisa to join the group permanently. Lisa says, "We decided we liked each other so much we would stay together forever," and they were married in 2003. They traveled as The Homesteaders Quartet until 2010 at which time Donnie returned to his roots by renaming the group The Williamsons. Now the music of The Williamsons continues.
Tags:
Antone Indian Family
,
Creekside Gospel Music Convention
,
Donnie Williamson
,
Shout
,
southern gospel
,
The Homesteaders Quartet
,
Williamsons
Posted in
artists
,
sgn scoops magazine
,
special feature
|
Comments Off

on The Williamsons: The Music Continues