Written by Staff on September 3, 2016 – 2:39 am -
54TH ANNUAL GALA TO BE HELD MONDAY, OCTOBER 31ST AT THE
HISTORIC RYMAN AUDITORIUM
Nashville, Tenn. (September 1, 2016) — ASCAP, the American Society of Composers, Authors and Publishers, will present acclaimed bluegrass and country music songwriter-artist and Grand Ole Opry member Ricky Skaggs with its prestigious Founders Award at the 54th annual ASCAP Country Music Awards. The exclusive, invitation-only gala, which celebrates the songwriters and publishers of ASCAP's most performed country songs of 2015, will take place at the historic Ryman Auditorium in downtown Nashville, Tennessee on October 31st.
ASCAP President Paul Williams says, "For more than four decades Ricky Skaggs has been a musical force in bluegrass and country music. His incredible gifts as a musician combined with his boundless creativity and energy continue to fuel a passion for American roots music around the world. A national treasure, he has influenced generations of fellow music creators and we are honored to present him with the ASCAP Founders Award."
The Founders Award is one of ASCAP's highest honors and is presented to songwriters and composers who have made pioneering contributions to music by inspiring and influencing their fellow music creators. Each recipient is a musical innovator who possesses a unique style of creative genius, which will enrich generations to come. Previous recipients include George Strait, Alan Jackson, Jackson Browne, Emmylou Harris, Garth Brooks, Bob Dylan, Tom Petty, Melissa Etheridge and Neil Young.
Ricky Skaggs is a renowned pioneer of bluegrass and country music, having earned 12 #1 singles, 14 Grammy Awards, 11 IBMA Awards, nine ACM Awards, eight CMA Awards (including Entertainer of the Year), two Dove Awards, three honorary Doctorate degrees, a GMA Gospel Music Hall of Fame induction, the Country Music Hall of Fame and Museum's 2013 Artist-In-Residence, and an Americana Music Association Lifetime Achievement Award, along with numerous other accolades. Since he began playing music more than 50 years ago, Skaggs has released more than 30 albums and has performed thousands of live shows. He started his own record label, Skaggs Family Records, in 1997 and has since released 12 consecutive Grammy-nominated albums. His newest release, Hearts Like Ours, with his wife, celebrated artist Sharon White of The Whites, features the couple performing duets of handpicked country love songs. The Grand Ole Opry member has also released his first-ever autobiography, "Kentucky Traveler," which details the life and times of Skaggs and provides a descriptive history of country and bluegrass music. In addition to his regular touring schedule with his band, Kentucky Thunder, he has recently performed a string of dates with Sharon White and guitar legend Ry Cooder, and continues to tour with versatile singer-songwriter and pianist Bruce Hornsby.
The 54th annual ASCAP Country Music Awards will include the announcements of the ASCAP Country Music Songwriter of the Year, Song of the Year and Publisher of the Year. The evening is expected to feature live performances of the top five most performed songs by the award-winning songwriters and/or the artists who recorded them. Members of the press can request event credentials by contacting Ronna Rubin at ronna@rubinmedia.biz.
About ASCAP
The American Society of Composers, Authors and Publishers (ASCAP) is a professional membership organization of songwriters, composers and music publishers of every kind of music. ASCAP's mission is to license and promote the music of its members and foreign affiliates, obtain fair compensation for the public performance of their works and to distribute the royalties that it collects based upon those performances. ASCAP members write the world's best-loved music and ASCAP has pioneered the efficient licensing of that music to hundreds of thousands of enterprises who use it to add value to their business – from bars, restaurants and retail, to radio, TV and cable, to Internet, mobile services and more. The ASCAP license offers an efficient solution for businesses to legally perform ASCAP music while respecting the right of songwriters and composers to be paid fairly. With over 585,000 members representing more than 10 million copyrighted works, ASCAP is the worldwide leader in performance royalties, service and advocacy for songwriters and composers, and the only American performing rights organization (PRO) owned and governed by its writer and publisher members. Learn more and stay in touch at www.ascap.com, on Twitter and Instagram @ASCAP and on Facebook.
For more Gospel music news click here.
Tags:
ascap
,
gospel music
,
Ricky Skaggs
Posted in
announcements
,
artists
|
Comments Off

on RICKY SKAGGS TO BE HONORED WITH PRESTIGIOUS ASCAP FOUNDERS AWARD AT ASCAP COUNTRY MUSIC AWARDS
Written by SGN Scoops on July 18, 2013 – 7:41 am -
A national study states there are 67,495 homeless Veterans in the U.S. and that means 1 in 4 homeless people are Veterans.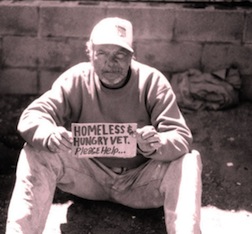 Sunday Drive, recording artist for Lyric House Records and Crossroads Entertainment is teaming up with Radio Stations, Lost Sheep Ministries, and other national organizations to help bring an end to this travesty.
You may ask . . . Why this song? Co-writer Todd Martin is a Homeless Veteran. Todd is a very talented individual who has had trouble finding a long term job and has spent many nights sleeping under bridges, in cars, and anywhere he can find. Hopefully this song will showcase his talent as a writer and open doors for him.
How can you help? Every time you spin "A Reason To Believe". . . BMI, ASCAP and Sound Exchange pay royalties. Sunday Drive will be donating royalties to Lost Sheep Ministries and other national veteran organizations, and Todd will make enough money on royalties to rent a place he can call home. We are excited to give back to the people who gave so much to insure that we will remain free!
There are 4 ways for you to get "A Reason To Believe."
1. Click this link to listen to the song and download radio edit: www.sundaydriveband.com/AReasonToBelieve
2. Download the song at http://crossroadsmusic.com/radio/803/
3. Go to http://sundaydriveband.com/dl and use Download Code example-code

4. Contact us at office@sundaydriveband.com for a CD copy.
Thank You So Much for your HELP!
Sunday Drive
Tags:
ascap
,
bmi
,
Homeless Veterans
,
Lost Sheep ministries.
,
Sound Exchange
,
Southern Gospel News
,
Sunday Drive
Posted in
announcements
|
Comments Off

on Spins Help Homeless Veterans in the U.S.
Written by Scoops Staff on October 22, 2010 – 12:09 pm -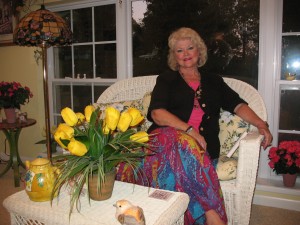 Branson, MO – For the fourteenth consecutive year the American Society of Composers, Authors and Publishers (ASCAP) has recognized local songwriter Lynda Lynn for her works.  A letter addressed to Lynda from New York stated, "We are pleased to announce that Lynda Lynn is the honorable recipient of an ASCAPlus Award for 2010-2011."
Lynda received the award honoring her for more than 500 presentations of her songs which were performed this year on stage, in churches and for television and radio programs.  Ken Cicerale, Coordinator of ASCAP Awards stated, "This is an award presented to writer members who have a substantial amount of performances of their songs by them and other artists.  The award has unique and prestigious value honoring the songwriter for outstanding writing and performances."
ASCAPlus Awards are based on panel review of recent activity of writer applicants.  Each writer is considered on merit and in the context of all others applying.  The primary basis for panel determinations is the activity generated by each member's catalog.  ASCAPlus Awards are determined annually by a panel of distinguished music experts who are neither members, nor employees of ASCAP, and are completely independent in their Award adjudication.
ASCAP President & Chairman Paul Williams stated, "This program, established back in 1960, has consistently provided deserving music creators with something meaningful and tangible in the form of recognition and money.  We are greatly indebted to each of our hard-working panelists for giving their time and effort to this important endeavor."
The members of the ASCAPlus Awards Panel include:  Judith Clurman, noted choral conductor and arranger; Peter Filichia, drama critic for the (Newark) Star-Ledger; Brian Mansfield, country music authority and Nashville correspondent for USA Today; Melinda Newman, well-known music journalist; Pat Prescott, veteran radio personality who currently co-hosts the morning show on KTWV ("The Wave") in Los Angeles; H. Robert Reynolds, Professor Emeritus at the University of Michigan; and Steve Smith, Classical Music Editor for Time Out New York.
This is the fourteenth consecutive year that Lynda has received an ASCAP award.  "This award is significant because ASCAP is the most credible society in the music industry, it really doesn't get any better than this," Lynda said, "The award gives me credibility as a songwriter, but most importantly I know that our Lord is showing me that I am working for Him, that I am doing this for His glory."
Established in 1914, ASCAP is the first and leading U.S. Performing Rights Organization (PRO) representing the world's largest repertory totaling over 8.5 million copyrighted musical works of every style and genre from nearly 350,000 songwriter, composer and music publisher members.  ASCAP reported that in 2009 collections rose to $995 million, a $48 million increase from the $947 million collected in 2008.
A recent news statement from ASCAP stated, "Music is performed more often, in more places, in more ways by more businesses than ever before.  That expanded music use, combined with dramatic ASCAP membership growth, market share increases and effective strategic management have led to the stunning revenue and distribution growth."
Lynda is an award winning songwriter and poet that began writing music in 1992.  She wrote a
song, Ozark Mountain Christmas, on a napkin at Opryland in Nashville.  That song ignited the fire in
her songwriting spirit to write numerous songs sung by artists throughout the United States.  Many
artists perform Lynda's songs on stage and in concerts all over the world.  Many have recorded
Lynda's songs and have released them on their own CD's.
Lynda has produced five CD's Ozark Mountain Christmas, The Touch of the Master's Hand, Seeking Jesus, Lynda Sings Her Songs and Reach Out For Him.  Many well known Branson artists have recorded Lynda's songs and are featured on these CD's.  They include nationally known Country and Gospel recording star Barbara Fairchild, one of the most respected names in gospel music The Blackwood Singers, Glory-Anne Prophet who travels in concert throughout America with her husband Ronnie, Larry Moore who is Branson Gospel Music Association's Male Vocalist of the Year, Randy Brooks who performs Gospel music concerts with his brother Bill ("The Brooks Brothers") worldwide, Gregg Busch who was Master of Ceremonies for Branson's Showboat Branson Belle is now a music instructor at the College of the Ozarks and others.  Many of these recordings have been hits on national charts such as the Powersource Magazine chart out of Nashville and The Music Review out of New York.
Lynda's songs have also been featured on worldwide Sky Angel Network programs including God Answers Prayer, Texas Country Gospel, How To Beat The Odds, Unfolding Majesty, Babbie's House and Faces Of Abortion. These programs also feature Lynda as an author as she has co-authored a book with her son, Rory, titled The Turning Point, A Teenager's Rebellion. The book focuses on trusting God to bring families with troubled teens through rebellious times allowing family restoration.  Lynda and her husband Bud have been recognized as Country Gospel Music Association's International Media Personalities of the Year.  Lynda also co-hosts Quest For Character with Mike Dunn on KJSL Christian radio, St. Louis.  Many of her songs are featured on that program.
Lynda stated, "My heart's desire is to touch hearts and reach the multitudes through my music. From God's heart to my heart to your heart I want to raise a praise for Jesus. Music is the universal language and so it is a wonderful opportunity to reach out and give hope to everyone all over the world about the good news of Jesus Christ."
Through her publishing company, On Angel's Wings Publishing, Lynda pledges twenty-five per cent of proceeds to Christian Associates of Table Rock Lake.  Christian Associates of Table Rock Lake was founded in 1974 as a private, nonsectarian 501(c)(3) non-profit organization.  Its mission is to provide immediate, responsive assistance in needful and crisis situations throughout Branson's Table Rock Lake area.
Dr. Lynda Lynn and On Angel's Wings Publishing can be reached by phone at 417-338-2586 or e-mail her at angelswings@centurytel.net.
Tags:
ascap
,
branson
,
lynda lynn
,
Sky Angel
,
songwriting
Posted in
artists
,
awards
|
Comments Off

on Local Songwriter Lynda Lynn Receives 14th ASCAP Award News Story