Written by Staff on July 9, 2015 – 12:56 pm -
Weleetka, OK (July 6, 2015) The award-nominated Williamsons travel around the world sharing the Gospel message through music, but this doesn't keep them from forgetting their home town of Wetumka, Oklahoma.
Summer is always filled with sounds of laughter and children playing in the beautiful sunshine. It's also the time you will experience the sights and sounds of baseball. This summer The Williamsons sponsored a Kiwanis Little League team called The Williamsons Warriors.
Their coaches, Melissa and Jonathan Sorrell had this to say about the team, "Our 2015, age nine and ten baseball season was fun but came with challenges too; it's called rain and rain outs! We feel our team did very well and made the most of every opportunity to practice, even during rain out weeks. As a team they learned to trust each other more and help in their weaknesses and share strengths. We learned more fundamentals about pitching, catching and stealing bases that will help them in their years to come. As coaches, we had a great time teaching them, building relationships with them, and supporting them. It was a lot of fun. We started with 11 boys and ended the season with 9, so most games we had just enough to play. The sponsorship of the Williamson's was a blessing to us and our team. We are the Wetumka Williamsons Warriors!"
Donnie Williamson, baritone and manager of The Williamsons said, "We are proud of The Warriors and appreciate the hard work and dedication shown by them and their coaches. I'm so glad we could be a part of their 2015 season."
The Williamsons believe that part of being a Christian witness is to reach beyond the concert halls and give back to their home community and this is just one way that they are able to give back and let their hearts show that they love people beyond just their singing ministry.
In other news for The Williamsons their current radio release has stayed in the Top Ten at number 4 on the Absolutely Gospel Music Weekly Chart. This is the second straight release for them to break into the top ten.
You can learn more about the Williamsons by going to http://www.williamsonsmusic.com
Follow the group on FaceBook at https://www.facebook.com/pages/The-Williamsons and Twitter at https://twitter.com/WilliamsonsSG 
To book the Williamsons contact scheduling@thedominionagency.com .
About The Williamsons
The Williamsons began sharing the Gospel through music in 1998 as The Homesteaders Quartet. The dream of Donnie Williamson was to form a group to sing classic Gospel music on a limited basis. What he wanted to do never occurred. From the group's onset their demand was overwhelming. Soon they were performing more than 100 dates a year. For the past several years The Williamsons have been in full time Christian ministry and entertainment and have traveled across the United States, Canada, and Mexico. Their music has been in national charts and were they honored to be nominated  for Breakthrough Artist and Favorite Group awards at the Absolutely Gospel Fan Awards. Absolutely Gospel also named them as one of the Top Ten Groups to Watch, as well as  in the Top Ten for Best New Mixed Group in the Singing News Fan Awards.
Their high energy musical style appeals to people of all ages. The versatility of The Williamsons is evident through the wide variety of musical styles they perform. There is always something for everyone. The marketing of their performances targets families and not just fans of any particular type of music. Spending an evening with The Williamsons is sure to be one that will lift you up, bless you, and entertain you all at the same time. Their primary desire is to share the Gospel in such a way that those in attendance who do not know Jesus Christ will come to know him before the program is over.
Tags:
baseball
,
gospel music
,
little league baseball
,
Southern Gospe
,
The Williamsons
,
Wetuma OK
Posted in
announcements
,
artists
|
Comments Off

on The Williamsons Take On New Role As Warriors
Written by Staff on April 2, 2015 – 12:29 pm -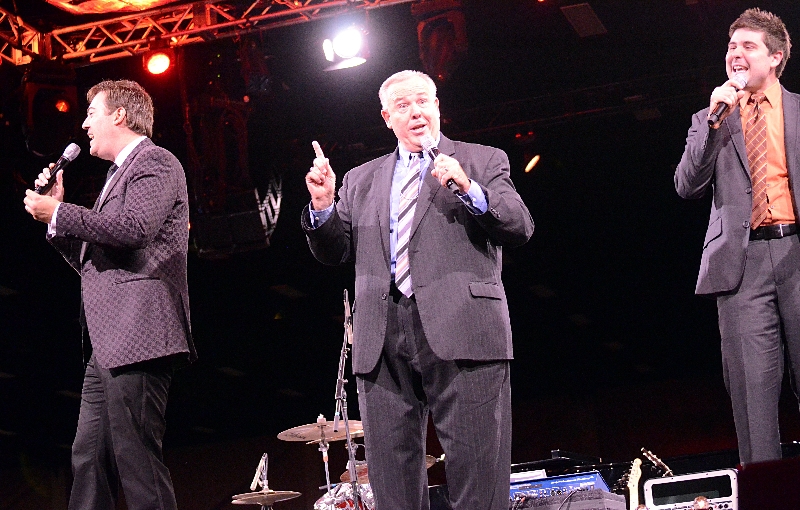 By Craig Harris
Veteran tenor singer Matt Felts joins his hometown brethren
When the Lesters were in search of a tenor singer last fall, the long-time family group couldn't have envisioned all of the pieces to the puzzle fitting together as seamlessly as they did. Into the picture stepped Matt Felts.
"It truly is like coming home," Felts says. "I joke because we're all from St. Louis. We all get each other's humor. We all get each other's food connections. We are watching Cardinals (baseball) games non-stop on the bus.
"You can watch people how they treat people on and off the bus. The way they treated me and my family coming in has been unbelievable. The ministry is why they do it … period. I've traveled with lots of great guys, lots of great singers. These are without a doubt the best. Every week feels like a family vacation. I've never had more fun."
Felts spent the previous five years with the Dixie Melody Boys. "When they were looking for a tenor (when the Lesters became a male trio), I heard they were looking, and I instantly called my wife (Jennifer)," Felts remembers. "I said, 'The Lesters are looking, and I want to take this job.' It wasn't the right season (at that time), so I said, 'We'll just wait.'
"Justin (Wells, the group's previous tenor singer) actually texted me and said he was resigning. We were in the car, and I looked at my wife and said, 'That's it.' I felt the season (with the Dixie Melody Boys) was coming to an end. I texted Brian (Lester) right then and said, 'I'm interested in the job.' He asked me to come up the next week."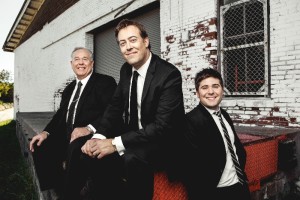 Felts – a St. Louis native – was born less than a mile from the Lesters' residence. "We were amazed to watch God's plan unfold as we began to search for a new tenor," group manager and lead singer Brian Lester – who stands alongside his son Jonathan as the other vocalists in the trio – shares. "Matt and our former tenor, Justin Wells, have been close friends for years, so they already had a connection, which is how Matt first learned we were looking. Matt is not only from St. Louis but lived just a couple miles away from our home. It was truly a perfect fit. He has fit in so well very quickly."
Felts adds, "The Lesters were in our house. We knew who they were. They were a household name for us. The earliest group I knew was the Lesters."
Felts' first experience in Southern Gospel Music came as a member of the Ohio-based GloryWay Quartet. That was followed by one year with the Skyline Boys, three years with the Monument Quartet and a six-month stint as part of Perfect Heart. Then, he joined the Dixie Melody Boys. Felts admits that those past experiences have helped shape him as an artist.
"I've tried to glean vocally – but not just vocally, also life – I've tried to look at how they did it in this industry for a lifetime," Felts shares. "It's been positive for the most part. Ernie Haase has been a like a brother, and there's Allison Speer and Mike Allen.
"Ed O'Neal gave me free reign. He said, 'You have ideas … go.' Not everything works, but you learn." That creative freedom was essential for Felts, who has a background in marketing. "They (the Lesters) knew my background," Felts says. "I had a great support staff around me, and what we were able to accomplish with Ed was great.
"They (the Lesters) basically said, 'What are your ideas? What can we do?' That's something (positive) for a guy who is in marketing. We'll just be talking and new ideas will come. There is a momentum swing right now for new opportunities and new growth."
One of those new opportunities involved the Lesters filming a live CD and DVD in Boston, a project that is now available. "It's exciting to bring Southern Gospel to Boston," Felts points out. "They eat it up every time."
Felts' marketing foundation was molded while he was a student at the University of Missouri. Felts also played baseball for the Tigers, graduating in 2001. Felts – a first baseman and relief pitcher – had the opportunity to play professional baseball, spending time in the minor leagues as part of the Kane County (Ill.) Cougars, Springfield/Ozark (Mo.) Mountain Ducks and Canton (Ohio) Coyotes. Felts is related to former New York Yankee great Don Mattingly – who is now the manager of the Los Angeles Dodgers – and his wife's family is related to Major League Baseball Hall of Fame member Honus Wagner. "We are a baseball family," Felts says.
However, that coveted opportunity on the diamond proved to be a trying period of time for Felts. "I grew up a pastor's son," Felts explains. "That lifestyle in baseball is very different. I felt that was what I wanted to do, but I knew that wasn't for me. Music was always at the front. I always wanted to be in music. The Lord was in music."
Included among Felts' favorite Lesters songs are "He Is," "It's Gonna Be Wonderful," "My Savior First of All" and "He Didn't Throw the Clay Away."
"Clay was my testimony," Felts points out. "Coming out of baseball, I felt like I had thrown my life away. I felt like I had made too many mistakes. That song just ministered to me."
While Felts changed careers at that time, he most recently transitioned from a career with male quartets to becoming a third of a male trio now. "It's stretching your wings artistically," Felts says. "I love quartets. It's nothing against that, but that's all I've ever done. In some ways, you become stagnant. The arrangements they (the Lesters) do, it awakens something in you. It's exciting."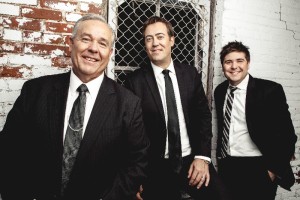 The 37-year-old Felts admits that the support he has received has been overwhelming. "We are thrilled to have Matt and his family join the Lester family," Brian Lester shares. "He has already been such as great addition, and our fans have embraced him."
Felts adds, "It breathes new life into your career. The entire industry, the day I announced I was going over to the Lesters, I had people all over the industry congratulating me. A lot of quartet fans couldn't understand how excited I was, but I knew there would be a lot of variety to the program. That's exciting."
Be sure to see The Lesters when they are in your area. For more information visit the Lesters website. 
Written by Craig Harris.
First published by SGN Scoops magazine in February 2015. For the current issue of SGN Scoops go to the homepage. 
Tags:
baseball
,
Brian Lester
,
Christian Music
,
Craig Harris
,
Dixie Melody Boys
,
Jonathan Lester
,
Justin Wells
,
Matt Felts
,
sgn scoops
,
southern gospel
,
St. Louis
,
THE LESTERS
Posted in
artists
,
christian entertainment
,
Christian interest
,
sgn scoops magazine
|
Comments Off

on Lesters Hit A HOME RUN!