Written by Staff on January 27, 2016 – 2:06 pm -
We are announcing a last minute concert with the Isaacs at Grace Church Bessemer (Alabama).  This concert will be on Saturday, February 6th and will just be an evening with The Isaacs.
"We are so excited to be able to help this award winning family out due to schedule cancellation.  This is going to be a great night" – Pastor Mickey Bell
$10 donation at the door but you can reserve your seat by going ahead and getting your ticket online: http://bit.ly/isaacsconcert
Grace Church Bessemer
4500 Katies Way – Bessemer, AL 35022
(205) 565-7978
About The Isaacs (from the website http://www.theisaacs.com/p/blog-page.html )
The Isaacs, a multi-award winning family group who began singing 35 years ago are based out of Hendersonville, TN. The vocalists are mother Lily Isaacs, and siblings Ben Isaacs, Sonya Isaacs Yeary and Rebecca Isaacs Bowman. Playing their own acoustic instruments and joined by other band members, The Isaacs have a unique style that blends tight, family harmony with contemporary acoustic instrumentation that appeals to a variety of audiences.  Their musical style has been influenced by many  genres of music including bluegrass, rhythm and blues, folk, and country, contemporary, acoustic and southern gospel.
They perform frequently at the Grand Ole Opry,  are active members on the Gaither Homecoming Videos and Concert Series, and travel internationally throughout the year to perform to welcoming fans in countries such as South Africa, Norway, Holland, Scotland, Ireland ,Israel, Canada and many more. Concert venues include civic centers, auditoriums, arenas, fair grounds, parks, churches and other locations. They have been nominated at and performed on the Dove Awards, IBMA (International Bluegrass Music Association) and  NQC (National Quartet Convention) Awards, the ICMA Awards (Inspirational Christian Country).  Other notable performances include CMA Fan Fest (Country Music Fan Fest), Carnegie Hall, and many professional sporting events, including a Cincinnati Bengal's football game, Nashville Predators Hockey games, and an Astros/ Braves baseball game.  The Isaacs have won over 7 Doves in various categories and have had several Grammy nominations in their career.  They feel blessed to be able to travel and spread the message of hope and grace through song and story.
To find out more about the Isaacs, click here
For more news click here
Tags:
Bessemer AL
,
bluegrass
,
Gospel
,
Isaacs
Posted in
announcements
,
artists
|
Comments Off

on Isaacs to appear at Bessemer AL on February 6, 2016
Written by Staff on June 4, 2015 – 9:49 am -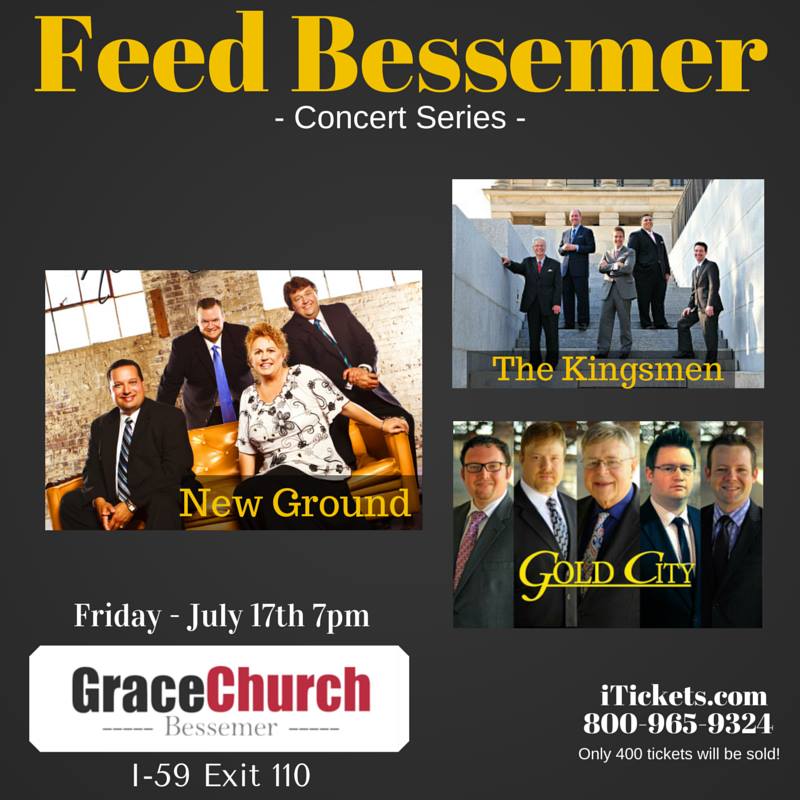 Bessemer, Alabama is not a great place to raise a child. Not only has Bessemer been named in the Top 10 of the most dangerous places to live, but this past year, the local school system was deemed to be in the 80% poverty level.
Grace Church Bessemer
is just 19-months-old but is already making a huge impact in their city. Last year on the
Sunday
before Thanksgiving, food boxes containing the traditional Thanksgiving meal were given to more than 600 families.  Pastor Mickey saw the great importance of this distribution, so he is doing it again with the hopes of reaching even more who are in need.
In addition to the holiday food boxes, Grace Church Bessemer gives out hundreds of food boxes every month and partners with the Bessemer City School system to feed their students during the summer months.
To cover the cost of the food boxes, Mickey has called on his friends to come in and help. Gold City, The Kingsmen and New Ground will be doing a concert on Friday, July 17th with 100% of the ticket prices going to provide for the families of Bessemer.
If you would like to purchase your tickets you can do so by going to the events page of www.GraceChurchBessemer.com or by calling 800-965-9324. If you are unable to attend but would love to be a part of this vision, please make a donation on the church website and that money will be used to help Feed Bessemer.
Tags:
Bessemer AL
,
Feed Bessemer
,
Feed the poor
,
gold city
,
gospel music
,
Grace Church Bessemer
,
Kingsmen
,
mickey bell
,
New Ground
Posted in
announcements
,
artists
|
Comments Off

on Kingsmen, Gold City, New Ground help to Feed Bessemer