Written by SGN Scoops on April 30, 2014 – 11:56 am -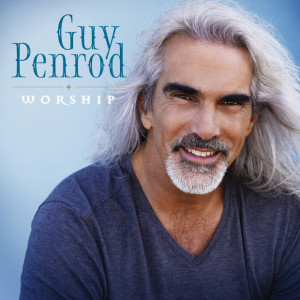 Gaither Music Group, NASHVILLE, Tenn.–
April 30th, 2014
—GRAMMY® and GMA DOVE Award-winning recording artist 
Guy Penrod
 has just recorded an all-new collection of some of today's most popular songs of worship.  
Worship
 (Gaither Music Group/Servant Records), which will be available on 
May 27th
, was produced by Lindell Cooley and features Guy's unmistakable, rasp-tinged vocals as he brings to life new renditions of both classic and contemporary songs like 
"Shout to the Lord," "Revelation Song," "Victory in Jesus," "You Never Let Go," "10,000 Reasons" 
and more.
"I wanted to record an album that, like my previous Hymns recording, contains familiar songs," describes Penrod.  "I put the songs in keys that most everyone can sing along with, especially the men, and arranged them with a simplicity that allows everybody to easily join in.  I have a real heart to see men enter into worship because I believe as they worship their families will worship also.  I am excited to travel across the country (and internationally) and perform these songs as audiences sing along."
One of the most popular artists featured on the Gaither Homecoming Video Series, Penrod spent 14 years as the lead singer of the Gaither Vocal Band before launching a successful solo ministry with combined career sales now in excess of four million units.  His most recently acclaimed sophomore release, Hymns (Gaither Music Group/ Servant Records), debuted at #1 on the Nielsen SoundScan Southern Gospel retail chart, became the top-selling southern gospel album of 2012 and was also one of the year's top-selling gospel recordings in Cracker Barrel Old Country Store® nationwide.One of the most in-demand touring artists in Christian music and a vocal powerhouse, Penrod travels throughout the US and abroad.  He has made multiple media appearances including radio's "The Mike Huckabee Show," RFD TV's top-rated "Larry's Country Diner" and one of North America's most popular Christian television programs "100 Huntley Street." Additionally, Penrod hosts DayStar Television's Emmy Award-winning "Gospel Music Showcase" program.
Known for his country styling, Penrod's music has been applauded in the gospel as well as country formats.  He has appeared on "The Grand Ole Opry" and on numerous country recordings. In 2011, he became a Texas Gospel Music Hall of Fame inductee; and he is being inducted this week alongside the Gaither Vocal Band into the Gospel Music Hall of Fame.
Worship will receive prime placement in retail outlets and will air as part of a special TV offer on Dish TV, DirecTV, AT&T Uverse, GaitherTV, TBN, RFD, FamilyNet, CTN, GMC, GMTN, Guardian, Liberty, TCT and TLN.  It will also air in Canada on Vision TV, CTS, The Miracle Channel and Hope TV.
Worship
 is distributed by 
Capitol Christian Distribution
 and will available at retail and digital outlets worldwide including iTunes, Amazon, 
www.gaither.com
 and
www.guypenrod.com
.
Song Listing:
You Never Let Go
Trading My Sorrows
Shout to the Lord
Revelation Song
I Need You More
Take My Life
When Love Was Slain
You Reign
10,000 Reasons
Through It All
Amazing Love/Word of God Speak
Victory in Jesus
I Will Be with You
Tags:
Bill Gaither Homecoming video series
,
Gaither Music Group
,
guy penrod
,
Lindell Cooley
,
Southern Gospel News
Posted in
announcements
|
Comments Off

on GRAMMY®-winning Artist Guy Penrod to Release All-New Recording
Written by SGN Scoops on July 18, 2012 – 4:29 am -
Award-Winning Artist Unveils Musical Diary of Landmark Songs That Shaped His Music and Ministry
NASHVILLE, Tenn. (July 17, 2012) – New Haven Records, in association with RSI Music Group, has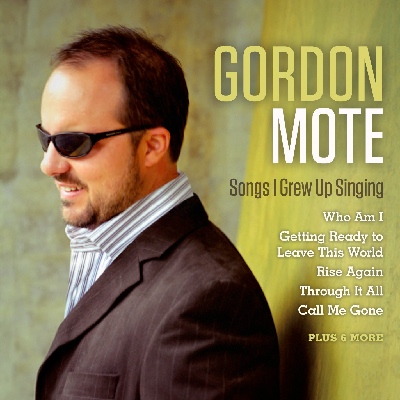 today released Songs I Grew Up Singing, Gordon Mote's inspiring musical diary of landmark songs that not only shaped his music and ministry, but also impacted a generation of Gospel music lovers. The CD includes the Gaither classic "This is the Time I Must Sing," Dallas Holm's "Rise Again," Andrae Crouch's "Through It All," and the first single, The Hinson's "Call Me Gone," which is already receiving strong airplay at Gospel radio.
The songs on the recording are especially close to Mote's heart. "When I was a little boy, my parents would travel with my brother and me to sing in churches across the South," he says. "I remember the first time I heard these songs on Sunday mornings on WGAD in Gadsden, Alabama. They quickly became part of our repertoire. Since then, I have had the pleasure of meeting so many of the writers and performers of the songs that have meant so much to me throughout my life. That makes this project even more special."
For the past six years, Mote has lent his considerable vocal and keyboard skills to the Gaither Homecoming concert stage, winning the admiration of hundreds of thousands of loyal Gospel music fans. Blind since birth, his words and music reach beyond the ears to the heart. But more than his undeniable talent, Mote's fans appreciate his ability to communicate the love of Christ to a world in need of hope.
Mote can also be heard on recordings from some of music's biggest names, including Brad Paisley, Alan Jackson, Rascal Flatts, Lionel Richie and Alison Krauss. An outstanding instrumentalist, Mote recently was voted "Top Piano/Keyboard Player of the Year" at the 44th Annual Academy of Country Music Awards, as well as tying for Music Row Magazine's Top Album Keyboardist of 2012.
New Haven Records' President Ken Harding concludes, "If you aren't yet acquainted with Gordon Mote, Songs I Grew Up Singing is the perfect introduction. If you've already experienced the depth of his talent and ministry, these songs will deepen your appreciation for one of the brightest emerging artists in Gospel music today."
Tracks on Songs I Grew Up Singing include:
1. "This Is the Time I Must Sing"
2. "Give Them All to Jesus"
3. "Who Am I"
4. "Shut De Door"
5. "God's Gonna Do the Same For You and Me"
6. "Rise Again"
7. "Oh Buddha"
8. "Through It All"
9. "Getting Ready to Leave This World"
10. "Call Me Gone"
11. "Everything Is Beautiful"
For more information on Gordon Mote or Songs I Grew Up Singing, visit www.newhavenrecords.com.
About New Haven Records:
New Haven Records is a Nashville-based music corporation that includes label, publishing, and film companies. For more than two decades, they have focused on the uniquely American genres of Black Gospel, Southern Gospel, and Country & Bluegrass Gospel. New Haven's product is distributed to the mainstream through Sony and to the Christian marketplace through Provident Music Distribution. For additional information, go to www.newhavenrecords.com.
For more information or to schedule an interview, contact:
Julia Daily, Media Relations
New Haven Records
741 Cool Springs Blvd.
Franklin, TN 37067
Phone: 615-327-3300
jdaily@newhavenrecords.com
Tags:
Bill Gaither Homecoming video series
,
gordon mote
,
New Haven Records
,
RSI Music Group
,
Southern Gospel News
Posted in
announcements
,
new music
|
Comments Off

on Academy of Country Music Award Winner Gordon Mote Releases New CD
Written by SGN Scoops on July 12, 2011 – 10:01 am -
The Stephens are a dynamic southern gospel trio from Alabama and are very excited about releasing a brand new, long awaited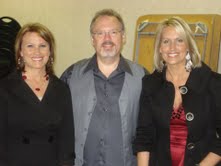 recording. The new cd entitled "Greater Is The Grace" was arranged and produced by Jason Clark of The Nelons. Jason wrote the title cut for the project as well. Most of the songs are hymns that everyone will recognize and can sing along with. There is also a bluegrass gospel song in the mix as well.
Many will remember Melody Stephens as a former soprano with the Nelons and from the ever popular Bill Gaither Homecoming video series. Melody is also a two time Dove Award nominee. Melody has always wanted to share the gospel through song since she was a young girl. Melody states, "I remember swinging on our porch swing as a child with earphones in and singing to the top of my lungs. It's all I've ever wanted to do. Now the Lord has blessed me to be able to sing with my husband, Thom, and my sister Bethany Brewer." Melody's sister sings the alto while her husband sings the male part of the trio. The Stephens are assisted on stage during live performances by Larry Johnson on keyboard.
The cd can be ordered by visiting The Stephens' website at www.thestephensmusic.com.
All will enjoy the tight, family harmony along with quality production and arranging on this new project from The Stephens. There is something on this project for everyone to enjoy.
Tags:
Bethany Brewer
,
Bill Gaither Homecoming video series
,
Dove Awards
,
jason clark
,
Larry Johnson
,
Melody Stephens
,
the nelons
,
The Stephens
Posted in
announcements
|
Comments Off

on The Stephens Release New CD