Written by Staff on November 3, 2018 – 8:23 am -
The release of the 'Sherry Anne LIVE!' DVD last week saw its debut at Number 5 on the Billboard Music Video Chart for sales during the week of November 3rd. The project enlisted the talents of producers Dr. Steve Allen and Brian Ledford and project coordinator John Mathis Jr. and was released in partnership with Mansion Entertainment. The live concert includes Michael Booth (Booth Brothers) as the guest soloist along with a cast of the industry's best musicians and vocalists: Toni Jolene Clay, Landy Ewing, Andrew Ishee, Scott Neubert and Michael Booth.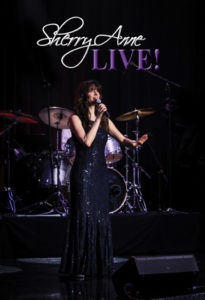 Sherry Anne, who has had to overcome hearing-impairment to achieve success as an artist, adds another accolade to her growing list of accomplishments which include numerous award nominations and national charting radio singles. She is an avid lip reader due to her hearing impairment and knows firsthand the importance of being able to see faces and emotions while listening to music. This became an influential part of the decision to undertake a live concert recording. Sherry Anne commented on that decision-making process: "Audiences have told me for years that they love to listen to me sing but even more so, they love to WATCH me sing. And so the DVD idea was born!"
The DVD includes the songs that have become audiences' favorites from Sherry Anne's concert performances. It also contains two new songs, plus some of her most requested Christmas songs. Sherry Anne LIVE! is also available as an audio product on CD and includes the full concert performance and testimony, along with "He Heals" performed by Michael Booth. Sherry Anne accompanies Michael in the video performance with sign language interpretation of the song.
Additionally, the DVD is closed caption for the hearing-impaired and includes many bonus footage features. For more information about Sherry Anne Ministries, the DVD or CD visit, SherryAnne.com
Read the latest online edition of SGNScoops Magazine HERE
Download The PDF Version Of SGNScoops Magazine HERE
Find SGNScoops Magazine On Facebook HERE
Tags:
Andrew Ishee
,
Billboard Magazine
,
Christian Music
,
gospel music
,
hearing impaired
,
Landy Ewing
,
Mansion Entertainment
,
Michael booth
,
Scott Newburg
,
Sherry Anne
,
Toni Jolene Clay
Posted in
announcements
,
artists
|
Comments Off

on 'Sherry Anne LIVE!' Debuts at Number 5 on the Billboard Music Video Chart
Written by SGN Scoops Staff on June 22, 2011 – 12:26 pm -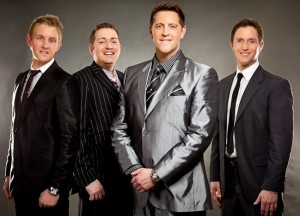 Combining 21st century ideas with the timeless quality of great quartets from the 1950s, Grammy-nominated Ernie Haase & Signature Sound has broken the traditional mold of gospel quartets.  Their unconventional approach to communicating the Good News with groundbreaking originality has blazed a trail that will go down in gospel music history.
The group's founder and leader, Ernie Haase, was a long-time member of the famous Cathedral Quartet, headed by the late George Younce.  Ernie's roots are deeply planted in the rich legacy of music that is both meaningful and thoroughly entertaining.  After the Cathedrals bid farewell to their five-decade run in the music industry, Ernie's passion for gospel music led him to a new beginning.
In 2003, he gathered a group of like-minded men who share his love for God, great harmonies, time-honored songs and energetic performances…and together, they have become one of the most influential forces in southern gospel music.  Inspired by their heroes, loved by their audiences and blessed by the Lord beyond their dreams.  Ernie (tenor), Devin McGlamery (lead), Doug Anderson (baritone), and Ian Owens (bass) perform more than 100 solo shows yearly in North America and abroad.
The groups first DVD release soared to the top of Billboard Magazine's Music Video Chart and simultaneously topped the Contemporary Christian Music Video Chart.  That same DVD achieved Gold sales status, and the project's accompanying audio release topped both the CCM and Southern Gospel Audio Charts simultaneously at No. 1.
In 2008, Ernie Haase & Signature Sound won Gospel Music Association Dove Awards for Southern Gospel Recording Song of the Year and Southern Gospel Album of the Year for "Get Away Jordan."  The "Jordan" album has also been certified Gold.  In 2009, they won another Southern Gospel Recorded Song of the Year Dove Award for "Reason Enough" from their "Dream On" album.
Released in the fall of 2008, the "Dream On" DVD debuted at No. 1 on the Contemporary Christian Music Video Chart and at No. 3 on the Billboard Music Video Chart.  The "Dream On" CD launched at No. 1 on the Southern Gospel Music Chart. "Dream On" was nominated for a 2010 Grammy in the category of "Best Southern, Country or Bluegrass Gospel Album."
Ernie Haase & Signature Sound' success continues with each new release, but perhaps their most rewarding achievement is the new generation of gospel music lovers emerging across the globe.  The group's contagious energy spreads through entertaining performances packed with truth and overflowing with a joyful spirit of gratitude…bringing listeners around the world their refreshing approach to gospel classics and new material that is uniquely Signature Sound.
They travel with a pianist, drummer and two guitar players.  Don't miss this exciting group of guys coming to Meramec Music Theatre, Thursday evening, June 23 at 7:00 P.M.  Call 573-775-5999 for tickets in advance.   They will be performing a Cathedrals Influenced concert.
Tags:
Billboard Magazine
,
cathedral quartet
,
Ernie Haase & Signature Sound
,
George Younce
Posted in
announcements
,
gospel events
|
Comments Off

on ERNIE HAASE & SIGNATURE SOUND QUARTET COMING TO MERAMEC MUSIC THEATRE THURSDAY NIGHT, JUNE 23