Written by Staff on May 1, 2019 – 12:29 pm -
The year was 1957. The Soviet Union launched the first satellite into space called Sputnik 1. Gas was only .24 cents per gallon and the average monthly rent cost was $90. Americans crammed movie theaters to watch "The Bridge Over the River Kwai," while "Perry Mason" and "Maverick" graced the small screen for the first time.
American children were gaga over Slinkys and Hula Hoops, while teens and young adults continued to Rock and Roll with an artist named "Little Richard." And four-year-old Sam Butler, Junior, was traveling the country with his father, a minister, and guitarist for The Blind Boys of Mississippi.
"I remember sitting in the car and listening to the Boys rehearse," says Butler. "At four years of age, I knew all the songs and would often sing along with them as they rehearsed for the next show."
Archie Brownlee, lead singer of the Mississippi based group heard young Butler sing and suggested that he take the stage at their next event. The crowd loved the addition of the young man to the show and he became a regular fixture during their concert events.
Butler continued to sing with the group, who often traveled with The Blind Boys of Alabama. Butler's family also had a traveling gospel group. Later, he would join the Blind Boys of Alabama as a full-time member.
When he turned nineteen, he had the opportunity to sing with Dorothy Norwood and The Norwood Singers. It was 1972 and Dorothy Norwood, a former member of the Caravans was the opening act for the Rolling Stones and Stevie Wonder tour. "This is where I was introduced to 'real sin,'" Butler said.
Thankfully, God spared Sam Butler from becoming involved with the sinful lifestyle he was witnessing. However, Butler experienced a daily battle, both when traveling with secular groups and Christian artists. He became disillusioned with the lifestyle choices of performers who sang praises to the Lord from the stage, but then lived an entirely different lifestyle in their private times. This dichotomy was a constant battle in his heart, as Sam tried to live a Christ-centered life which was taught to him by his father, while he witnessed the contradictory life of those around him.
In the year of 1983, Sam Butler found himself on a very different stage. He was a part of the critically-acclaimed Broadway play, "The Gospel at Colonus."
In 1989, Butler reconnected with his old pal, Steve Jordan of the Rolling Stones. Jordan had seen Butler in "The Gospel at Colonus" and decided to make contact. Jordan made his way to the backstage of the theater where he waited for Butler to get off of the stage.
"He wanted me to perform on Keith Richards' new album," Butler remembers.
In fact, Butler has been featured on many albums, both Christian and secular. In addition to performing on Keith Richards' 1989 solo album "Talk Is Cheap," Butler has performed with and contributed to projects with Steely Dan's Donald Fagan and gospel legend Clarence Fountain.
Though Sam had been singing about the Lord and living relatively close to Him his whole life, he felt as if he had never really made a deep commitment.
"God was drawing me and I couldn't sleep at night," said Butler. "I slowly moved toward God."
Twelve years ago, Butler truly turned his heart and life over to the God he had been singing about his whole life. He started attending church in his hometown of St. Paul, Minn. The pastor of the church and Butler had gone to school together in Vero Beach, Florida, as children.
In fact, as a child, Butler's pastor had attended the church where Sam Butler's father was a pastor. Now forty years later, rolls somewhat reversed, Butler attended his church and these two men grew closer to God.
Butler's faith grew, along with a tugging on his heart to take a new step in his walk with Christ. About a year ago, Butler took the leap of faith and became a pastor. He now pastors his own church in Minneapolis, Minn. The congregation is small, but they are pro-active in helping their community by feeding the homeless and other service projects.
Another project that is near and dear to Pastor Sam's heart is his documentary, "The Book of Clarence."
This film reveals the hard-core, honest truth behind the life of the legendary Clarence Fountain. The purpose of the film is to tell this truth.
"People who sing gospel are simply people who need the Lord," said Butler. "We (as gospel singers) need to start living what we are singing. You can only fool people for a while."
Bulter hopes that "The Book of Clarence" will help others who preach and sing the gospel, to really live it.
Butler continues to devote much of his time in music ministry. His new release, "Down To The River," can be found on Revival Music Company.
"Down to the River," is a beautiful southern gospel song written by James Tullio, and performed by Sam Butler and Clarence Fountain. Sam's first single of this project is a song that he wrote titled, "Do What The Lord Says Do." Jimmy Swaggart loved the song so much, that he's included it a song in his congregational lineup.
Though Butler is busy juggling his duties as pastor of a church, his music career and promoting his film, he still has time for family. Butler has been married to Dr. Valerie Butler, a Doctor of Education, for thirty-two years. Together they have six children.
Butler continues to travel and sing. He'd love to share the good news of Jesus with your church congregation. Interested in having Pastor Sam Butler minister at your event or to your congregation? Contact Jesse Wood, 757-239-9061, connect@revivalmusiccompany.com. For bookings, contact Terry Scott, 757-613-0597, drummertwin2@gmail.com. Find out more at www.revivalmusiccompany.com/sambutler.
By Stephanie Kelley, writer, and creative designer for SGNScoops Magazine.
Download the latest edition of SGNScoops Magazine
HERE
Tags:
Black Gospel
,
Blind Boys of Alabama
,
Blind Boys of Mississippi
,
Clarence Fountain
,
Dorothy Norwood and The Norwood Singers
,
Down to the River
,
gospel music
,
Keith Richards
,
Sam Butler
,
Southern Gospel Music
,
Steve Jordan of the Rolling Stones
,
The Book of Clarence
Posted in
artists
,
exclusive report
,
sgn scoops magazine
|
Comments Off

on Sam Butler comes full circle
Written by Staff on July 30, 2018 – 6:52 am -
Arden, NC. (July 27, 2018) – Three Bridges is proclaiming that God's word is for all generations and all people with their upcoming album, Our Story. With energetic vocals and poignant reminders of what God can do, Three Bridges brings the power of faith, mercy and grace to the forefront of their music. Check out their website here.
The first single, "Good News Never Gets Old," available August 3, reminds that no matter how long ago Christ lived, the power of His message is carried on by the Bible and the generations who continue to preach it. It's an open invitation for anyone to discover God's goodness.
"My Story," which inspired the album title, describes how our story and Christ's story are intertwined. Ours cannot exist without His. This song was first made popular by Contemporary Christian Music artists Big Daddy Weave and Three Bridges have added their touch to it.
With soulful harmonies and just a touch of country to their sound, Three Bridges continues the theme set in the lyrics by creating music that will appeal to several generations, further proving we can all be part of Christ's story.
"Something MUCH greater, than our talent, expectations and excitement has been birthed into this project. As soon as all the recordings were completed, we instantly became aware that God had answered our sincere prayers for Him to anoint this project for His glory. His answer to our prayers replaced our excitement with humility," says Elliott McCoy, baritone singer. "The feedback we've received from the 'sneak-peek' listening party was greater than we'd anticipated. People were telling us that the music 'fed their hungry souls with encouragement and hope' and that they had 'never felt God's presence so intensely when they listened to the music alone in a quiet room'. Only God can touch His people like that, we can not. That realization has been staggering and extremely humbling."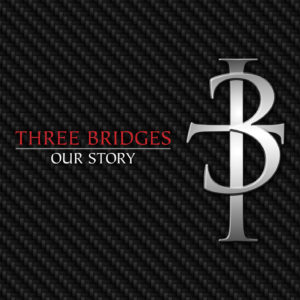 Our Story will be available from Sonlite Records on September 28 and is available for pre-order now, HERE.
About Three Bridges
Three Bridges' music is rooted in traditional "Southern gospel" and "black gospel" music. This blended style has made Three Bridges an internationally-acclaimed Gospel group — one that is known for tight harmonies, a unique vocal style, an exciting and energy packed stage presence and, most importantly, for spreading the joy of the Good News of Christ. They have entertained and ministered to millions through their recordings, TV appearances and live shows — which is why Three Bridges has quickly become one of the most prominent Gospel groups in Christian music today. Three Bridges has enjoyed great radio success on the Southern Gospel Music Charts, including seven top 10′s and three #1′s. The trio consists of Elliott McCoy (founder and baritone), Shannon Smith (lead) and Jeremie Hudson (tenor). Although from varied backgrounds and hailing from different parts of the country, God brought these three men together for His purpose and glory. They minister wherever God calls them to spread His Word through music.
About Crossroads:
Crossroads is a market leader in the Southern Gospel, Bluegrass, and Americana fields. Established in 1993, following the combination of Horizon Music Group and Sonlite Records, Crossroads now operates several divisions including Crossroads Label Group (Horizon Records, Sonlite Records, Mountain Home Music, Skyland Records, Pisgah Ridge Records, Crossroads Records, and Organic Records), Crossroads Distribution, Crossroads Radio Promotions, Crossroads Publishing Group and Crossroads Recording Studios. Led by a strong executive team of Christian music and Bluegrass music veterans, Crossroads combines cutting-edge technology with creative innovation to connect fans with our artists' life-changing music.
Read the full SGNScoops Magazine July 2018 HERE
Download the PDF of SGNScoops Magazine 
HERE
Find SGNScoops On Facebook 
HERE
Listen To Today's Gospel Music Online 
HERE
Tags:
Black Gospel
,
crossroads
,
gospel music
,
Our Story
,
southern gospel
,
three bridges
Posted in
announcements
,
artists
|
Comments Off

on Three Bridges tells "Our Story"
Written by SGN Scoops on August 25, 2011 – 9:51 am -
{EHA-Nashville, TN} Kent Smith, Director of the USAGEM Area Fellowship Group that covers North Alabama and parts of South Tennessee, announced today the area introductory concert series for the non-profit 501c3 organization. The fellowship group aims to increase awareness of Gospel Music and especially introduce the music of affiliate quartets, groups, and other USAGEM artists. A goal of the fellowship and association as a whole is to increase concerts for the artists while serving the needs of the ministries who may be looking for exceptional talent and ministry-minded artists to fill a concert, singing, or event date. The local fellowship is based out of Huntsville, AL and Kent Smith runs the group under the direction of the main headquarters in Nashville, TN. Potential members can go to the main website, www.usagem.org to apply for membership. The organization covers 5 genres; Southern Gospel, Bluegrass Gospel, Christian Country, Contemporary Christian, and Black Gospel. The local chapter meets for fellowship and support among its members and is simply an arm of the larger body and operates by all the guidelines set forth by the Board of Directors.
The USAGEM Area Fellowship Group's introductory concert series schedule is as follows: (All concerts start at 7 pm. There is no admission charge, but a love-offering will be taken.)
 
Sat. Oct. 1 Mable Hill Baptist Church, Ardmore, AL
Featuring: Alliance Quartet, HeavenSong, Compassion
 
Sat. Oct. 8 Cornerstone Baptist Church, Ryland, AL
Featuring: AlversonBoyd and the Kent Smith Family
 
Sat. Oct. 15 Huntland United Pentecostal Church, Huntland, TN
Featuring: Image Trio and the Gardners
 
Sat. Oct 22, Hazel Green Church of God of Prophecy, Hazel Green, AL
Featuring: Servants Quartet and the Spiritual Motivators
 
More info: Kent Smith, 256-828-4760 email: kentsmith@usagem.org
www.usagem.org
Tags:
Black Gospel
,
Bluegrass Gospel
,
christian country
,
Contemporary Christian
,
Kent Smith
,
Southern Gospel Music
,
Southern Gospel News
,
USAGEM
Posted in
gospel events
|
Comments Off

on USAGEM Area Fellowship Group Announces Introductory Concert Series