Written by SGN Scoops Staff on April 26, 2016 – 9:13 am -
Nashville, Tennessee – Three time Grammy nominated Southern Gospel artist, The Bowling Family, announce their First Annual Music Fest and Talent Search hosted by the City of London and the London Tourist Commission in conjunction with Global Promotions. This exciting two day event will take place on Friday, May 13th, 2016 and Saturday, May 14th, 2016 at the First Baptist Church of London, 804 West 6th Street, London, Kentucky.
The talent search will offer a huge opportunity for up and coming artists. In addition it will open the door to having their music recorded in a professional studio and giving them the occasion to work with some of the top professionals and artists in the industry.
Mike Bowling had this comment about the Talent Search "Do you have talent? Well come be a part of our Talent Search on May 13th in London, Kentucky. The winner will receive a Daywind Record package, perform the winning song at the Friday night concert, and open for us at the 2017 Bowling family Music Fest Matinee. Enter today by calling 864-655-3565 and talking to Teresa or going to www.globalpromo.org and selecting the Events tab and the Bowling Family Music Fest – then scroll to the bottom where you will find all the rules and application. Fill out the application and email it to email@globalpromo.org. See you in London."
The Bowling Family is thrilled to have Adam Crabb, Triumphant Quartet, Karen Peck & New River, Gold City Quartet, Jeff & Sheri Easter, The McKameys, Primitive Quartet and comedian Aaron Wilburn performing.
The Bowling Family has appeared on the Gaither Homecoming series concerts and videos, TBN, during Gospel Music Week's Dove Awards, at GMA's Seminar in the Rockies and numerous other major events. Their debut release, Faith To Believe, has garnered a record four number one songs including "We Have A Savior," "Your Cries Have Awoken The Master," "A Miracle Today" and "Notified", as well as the 2008 Song of the Year ("Your Cries Have Awoken The Master).
Mike Bowling notes, "This has been a lifelong dream to have an annual event in my hometown. This gives us an opportunity to bring the best talent in the industry to London, KY and to also show off this great community to gospel music lovers nationwide."
The first annual Music Fest will feature a Talent Search in conjunction with Daywind Records to be held Friday morning at the London Community Center at 9:00 AM.
Friday, May 13th's concert includes Triumphant Quartet, Karen Peck & New River, Aaron Wilburn and The Bowlings. Concert to begin at 7:00 PM.
Saturday, May 14th's concert includes Adam Crabb, Gold City, Jeff & Sheri Easter, Aaron Wilburn, and The Bowlings. Concert to begin at 6:00 PM.
A Saturday Matinee is scheduled for 1:00 PM and will feature The McKameys and The Primitive Quartet.
This is a ticketed event. General Admission $20 Artist Circle $30 Group Sales of 10 or more Tickets $18
For tickets visit www.globalpromo.org or call 855-399-1899.
You can learn more about The Bowling Family by visiting their website at www.bowlingsonline.com.
Tags:
Bowlings
,
Southern Gospel News
Posted in
artists
|
Comments Off

on Bowlings Gearing Up For Successful Talent Search
Written by SGN Scoops Staff on July 30, 2014 – 10:34 am -
(Hendersonville, TN – July 30, 2014) Daywind Records is pleased to announce the addition of the Bowling Family to its award-winning roster of artists.
The Bowling Family is a mixed group that consists of Mike and Kelly Bowling, their 14-year-old daughter Hope, vocalist Troy Peach and pianist John Jeffrey.
"Kelly and I are really thrilled to be a part of the Daywind family once again," says group manager and lead singer Mike Bowling. "I don't believe any record company has ever had more of an impact on Southern Gospel Music. We are truly excited to be part of this team, and we have such love and respect for all of Daywind's artists. We can't wait to see what the future holds."
Mike Bowling previously sang with the Lefevres, Hinsons and Perrys before embarking on an award-winning solo career, while Kelly Bowling helped her ever-popular family, the Crabb Family, win three GRAMMY Awards and 11 Dove Awards during its period of existence. Peach has been a part of various ministries – including the Wilburns, the Steeles and the Perrys – while Jeffrey was previously with the Greenes.
Mike Bowling left his successful solo career to form what was then called the Mike Bowling Group in 2005, and Kelly Bowling joined the group in 2006. Since that time, the group has produced four No. 1 songs – "We Have a Savior," "Your Cries Have Awoken the Master," "A Miracle Today" and "Notified."
"The Bowling Family is no stranger to the fans of Southern Gospel Music, and we are thrilled to have them as part of our family here at Daywind," explains Daywind president Ed Leonard. "For a number of years, fans have shown their love for Mike's distinctive voice, and Kelly was part of a family that helped broaden horizons in this genre. The group has burst on to the scene, and we are looking forward to seeing all of the doors that will undoubtedly open as the excitement continues to grow."
Daywind Records is home to an award-winning roster of artists, including Brian Free and Assurance, Greater Vision, Karen Peck and New River, Legacy Five and the Nelons. Daywind is distributed to retail through New Day Christian Distributors, Select-O-Hits, and all major digital outlets, including iTunes. For more information, visit www.daywindrecords.com or contact Amanda Martin at publicity@daywind.com.
For more information on the Bowling Family, visit www.bowlingsonline.com.
Tags:
Bowlings
,
daywind
,
Southern Gospel Music
,
Southern Gospel News
Posted in
announcements
|
Comments Off

on The Bowling Family signs with Daywind Records
Written by SGN Scoops on January 25, 2014 – 6:02 am -
Nashville, TN (January 24, 2014) Southern Gospel Music's Bowling Family is making a comeback after recovering from a devastating bus accident more than three years ago. Now they've recorded a new CD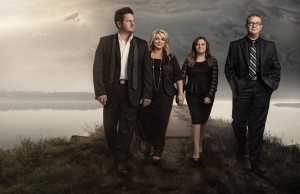 appropriately titled "Safe After The Storm."
The Bowlings will be Paul Heil's Featured Artists on this weekend's edition of The Gospel Greats. You'll find out why so many of their songs are relevant considering what they've gone through.
This will also be Paul's official Singing News Top 20 Countdown for February. It's all happening on The Gospel Greats program, this weekend, January 25/26.
You can learn more about the Bowling Family at http://www.bowlingsonline.com or https://www.facebook.com/pages/The-Bowling-Family .
You can reach the Bowling Family by E-mail at contact@bowlingfamilyonline.com .
The Bowling Family is booked by the Beckie Simmons Agency – http://bsaworld.com – 615-595-7500.
Information about Paul Heil's Gospel Greats Radio Program is at http://www.thegospelgreats.com .
Tags:
Bowlings
,
Gospel Greats Radio Program
,
Paul Heil
,
Southern Gospel News
Posted in
announcements
|
Comments Off

on Tune-in Alert – Bowling Family On Paul Heil's Gospel Greats Program