Written by SGN Scoops on November 13, 2013 – 12:19 pm -
Jason Crabb appears on the red carpet at the 47th Annual CMA Awards in Nashville, TN on Wednesday, November 6, 2013 at Bridgestone Arena. The awards were broadcast on ABC Television Network.
Jason Crabb, Grammy® and multiple Dove award winner, walked the red carpet prior to the 47th CMA Awards held at Bridgestone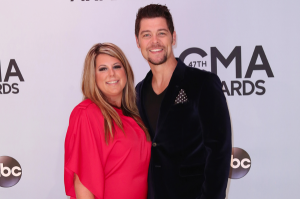 Arena on November 6, 2013. Accompanied by his wife, Shellye, Jason spent time chatting with reporters and media outlets sharing about his involvement in the new book, Country Faith, that was just released. The noted vocalist is featured alongside country greats Carrie Underwood, Brad Paisley, Wynonna, Alan Jackson, Barbara Mandrell, and more. The book was written and compiled by noted journalist Deborah Evans Price, who was honored with the CMA Media Achievement Award during the evening.
Jason Crabb and wife Shellye appear on the red carpet at the 47th Annual CMA Awards in Nashville, TN on Wednesday, November 6, 2013 at Bridgestone Arena. The awards were broadcast on ABC Television Network. Photo by Curtis Hilbun
Jason also spoke about his brand new single to country radio, "Love Is Stronger." The video and song have resonated with audiences around the country. After a successful USAtoday.com debut, the video is now available worldwide on TV stations and online. Sharing the message of hope and love, the single is quickly becoming one of the most-added songs at radio today.
During the night, Jason talked with FOX News, USAtoday, the Tennessean, Seventeen Magazine, People, Billboard, Inside Edition and met up with Willie Robertson from Duck Dynasty and rising country star Payton Rae.
The popular vocalist was recently featured as a special guest on the "Worship Around The World" tour with Michael W. Smith and is set to announce his Christmas tour dates soon. He recently released the third book in his JASE® CRABB ten-book children's series. The books, music and more are available at www.JasonCrabb.com
Connect with Jason Crabb online at www.JasonCrabb.com, www.FB.com/JasonCrabbMusic and Twitter @JasonCrabbMusic.
Tags:
Alan Jackson
,
barbara mandrell
,
Brad Paisley
,
cma
,
Country Music News
,
Jason Crabb
,
Seventeen
,
Shellye Crabb
,
Southern Gospel News
,
Wynonna
Posted in
announcements
|
Comments Off

on JASON CRABB TALKS COUNTRY FAITH AND NEW SINGLE "LOVE IS STRONGER" ON CMA AWARDS RED CARPET
Written by SGN Scoops Staff on September 19, 2013 – 2:40 pm -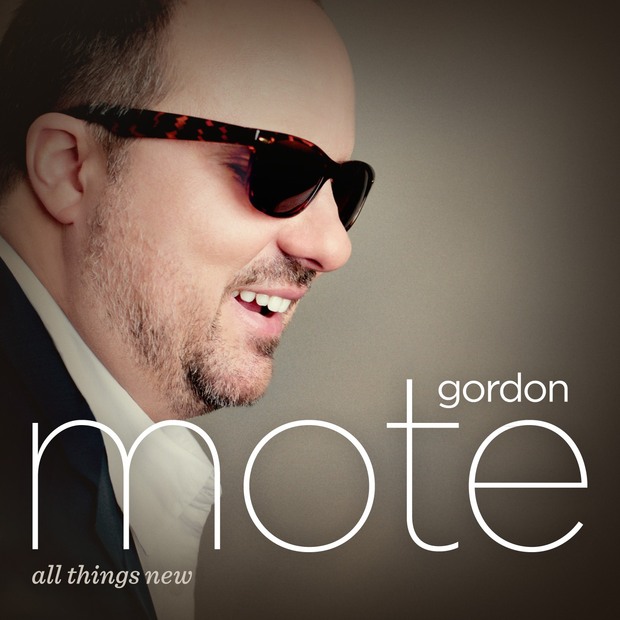 Nashville, TN (

September 19, 2013

) —- One of the most beloved and respected musicians/singers in the music industry, Gordon Mote, has released his latest project

All Things New

. The album was co-produced by Frank Rogers (Brad Paisley, Darius Rucker), and Dove-Award winning producers, Wayne Haun and Russell Mauldin. The project features vocal collaborations with such major artists as the Gaither Vocal Band, Trace Adkins, Darius Rucker, Josh Turner, Matthew West, and Scotty McCreery. This is the second album by Mote for his new label, New Haven Records, and the project will be distributed to the faith-based market through Provident-Integrity Distribution.
 "I wanted this project to encourage others to let the Lord use the rough parts of their lives for His glory just like He has in mine," says Mote. "Being born blind, God has given me so many blessings in spite of the setbacks I have had in my life. If we'll give God the chance to make all things new, He will."
The powerful ballad, "Faith Like That," is the first single being serviced to Christian radio, and the heartfelt lyrics were co-written by award-winning songwriters Don Sampson ("Waitin' On A Woman") and Jim Brown ("

Five O'Clock

Somewhere").  A noted songwriter himself, Mote co-wrote four songs on the new album including, "All Things New," "Sound A Dream Makes," "For You," and the autobiographical "Broken Open." The latter song describes Mote's personal journey of clinging to his faith to overcome a broken heart and how God can lift us up even during our darkest hours.
"I had a wonderful childhood, but grew somewhat lonely as a teenager as my friends were getting driver's licenses and leaving me behind," explains Mote. "Whether you're blind or not, all of us experience insecurities. I learned that my brokenness made me more open to God's love as well as more sensitive to the brokenness in other's lives."
In spite of what society calls a handicap, Mote has miraculously overcome multiple obstacles with his blindness that include; playing piano at 3-years-old without any professional training, being the first blind student in the country to be accepted into the public school system, graduating high school with honors, receiving a full scholarship to Jacksonville State University in Jacksonville, AL, and graduating from Belmont University in Nashville, TN with Cum Laude honors and a music degree.
Two days after graduation, Mote began touring with Country artist Lee Greenwood's band, which led to the talented musician touring and recording with such major superstars as Trisha Yearwood, Brad Paisley, Bob Seger, Alan Jackson, Rascal Flatts, Carrie Underwood, Gaither Vocal Band, and Lionel Richie. 
Mote's keyboard skills led him to being honored twice by the Academy of Country Music for Piano/Keyboard Player of the Year Awards, as well as two Music Row Magazine Instrumentalist of the Year Awards for playing on the most Top Ten albums. Mote has released nine albums as an independent artist, with If You Could Hear What I See earning Mote his first Dove nomination in 2004. Mote remains an active touring act by performing over 150 dates a year. 
For more information on Mote please visit his website, www.gordonmote.com and on twitter at @GordonMote.
About New Haven Records
New Haven Records is a Nashville-based music corporation that includes label, publishing, and film companies. For more than two decades, they have focused on the uniquely American genres of Black Gospel, Southern Gospel, and Country & Bluegrass Gospel.New Haven's product is distributed to the mainstream through SONY Distribution and to the Christian marketplace through Provident Music Distribution. For additional information, go to www.newhavenrecords.com
Tags:
Brad Paisley
,
Darius Rucker
,
Faith Like That
,
Gaither Vocal Band
,
Josh Turner
,
Matthew West
,
New Haven Records
,
Scotty McCreery
,
southern gospel
,
Trace Adkins
,
Wayne Haun
Posted in
announcements
|
Comments Off

on Award-Winning Musician and Singer Gordon Mote Releases Album All Things New on New Haven Records
Written by SGN Scoops Staff on December 14, 2011 – 7:04 pm -

Dec. 14, 2011 – Nashville, TN – Christian music favorite Jason Crabb has added his name to the list of artists and celebrities speaking out in support of the 220th Anniversary of the Bill of Rights. Jason joins lauded musicians Wynonna, Blake Shelton, Brad Paisley, Frankie Ballard, Darius Rucker, The Civil Wars, Heart, John Oates, Joe Nichols and more. A full list of supporters can be found here: http://1forall.us/freetotweet
Jason joins the 1 For All campaign by participating in "Free To Tweet," a daylong online celebration of First Amendment rights on Dec. 15, Bill of Rights Day. During the tweetathon, all Americans are encouraged to tweet their support of the First Amendment and how they enjoy those freedoms – using the hashtag #FreeToTweet.
High School and college students nationwide are eligible to win one of 22 $5,000 scholarships by tweeting creatively about the First Amendment. More information can be found at FreeToTweet.org.
"I thank God and our forefathers for the ability and freedom to sing and tell others about Jesus Christ every single weekend all across this country," says Crabb. "I am honored to join the 1 For All campaign in support of the 220th Anniversary of Bill Of Rights."
The 1 for All campaign is the largest of its kind in scope and reach and uses a fresh approach by featuring public figures celebrating their freedoms to tweet, rock, write, read, sing, worship, assemble, petition and much more. For more information on the campaign, visit www.FreeToTweet.org
About "1 for All"
"1 for All" is a non-partisan, educational campaign that was launched in 2010 to address a general lack of awareness by the American public about the five freedoms afforded by the First Amendment. Initial support for campaign was provided by the John S. and James L. Knight Foundation, Newseum, McCormick Foundation, American Society of News Editors, First Amendment Center and Gannett Foundation. In addition, more than 1,000 news organizations, religious groups and educational institutions have devoted their time and resources in support of the "1 for All" campaign.
About Jason Crabb
Jason Crabb is known as one of the most respected and diverse vocalists in Christian music.  His soulful, heartfelt vocals have made him a critics' pick and a fan favorite on stages ranging from "The Grand Ole Opry" and the Brooklyn Tabernacle to the Gaither Homecoming arena platforms.  With a string of number one hits and chart-topping singles, a tour schedule of over 200 dates annually, ongoing tv appearances, a book on the shelves and a new recording, this vocal powerhouse's talent is topped only by his genuine personality and concern for others.
Tags:
220th Anniversary of the Bill of Rights
,
Blake Shelton
,
Brad Paisley
,
Darius Rucker
,
Frankie Ballard
,
Heart
,
Jason Crabb
,
Joe Nichols
,
John Oates
,
The Civil Wars
,
Wynonna
Posted in
announcements
,
christian entertainment
|
Comments Off

on Grammy® Award Winner Jason Crabb Joins 1 For All Campaign To Support Bill Of Rights Day
Written by SGN Scoops Staff on October 19, 2011 – 1:09 pm -
(Nashville, Tennessee) – The musical genius of Gordon Mote was honored with the 2011 Academy of Country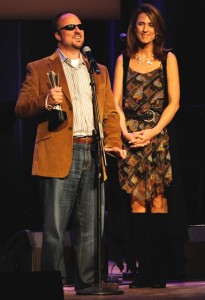 Music's Piano/Keyboard Player of the Year Award at the recent annual ACM Honors ceremony held at Nashville's historic Ryman Auditorium. Gordon, a seven-time nominee, was also honored with the coveted award in 2009.
Long recognized by the industry as one of Nashville's most talented studio musicians who seemingly knows no limits in effortlessly crossing musical styles and genres, Mote's talents can be heard on the recordings of some of the nation's premier performers, including Bill & Gloria Gaither and the Homecoming Friends, Billy Ray Cyrus, Blake Shelton, Scotty McCreery, Elvis Presley, The Hoppers, Brad Paisley, Ernie Haase & Signature Sound, George Jones, The Isaacs, Josh Turner, Alan Jackson, Keith Urban, Luke Bryan, Jason Crabb, Martina McBride, Reba McEntire, Rascal Flatts and Alison Krauss, just to name a few.
Since releasing his debut Southern Gospel recording in 2004, the talented singer and musician has enjoyed much success, including numerous Top 40 hits in multiple music genres and numerous Fan Award nominations. Mote's video release, "The Best of Gordon Mote," made its debut at Number 7 on the Billboard Music Video Chart in 2008. Mote's travels on tour are global – include stops in the US, Canada and Europe. He is a featured artist on the stage sharing his vocal and keyboard performances with music legend Bill Gaither and his Grammy Award winning Gaither Vocal Band and the Homecoming Friends.
The 5th Annual ACM HONORS represents an evening of musical tribute performances and special presentations celebrating the special honorees and non-televised category winners from the 46th Annual Academy of Country Music Awards, held earlier this year.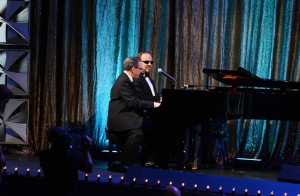 Fresh from his success at the ACM's presentation, Gordon had just enough time to place his latest trophy on the mantle before being called to more awards duties – this time to emceeing the Singing News Fan Awards / SGMA Hall of Fame Induction at Dollywood with Co-Host Gerald Wolfe of Greater Vision. Gordon delighted the Pigeon Forge crowd with his quick wit and humor-providing a show stopping moment when he settled down behind the keyboard for an impromptu piano duet with Gerald Wolfe.
Tags:
Alan Jackson
,
Bill & Gloria Gaither
,
Billboard Music Video Chart
,
Billy Ray Cyrus
,
Blake Shelton
,
Brad Paisley
,
Elvis Presley
,
Ernie Haase & Signature Sound
,
George Jones
,
Gerald Wolfe
,
gordon mote
,
Jason Crabb
,
Josh Turner
,
Keith Urban
,
Luke Bryan
,
Martina McBride
,
Rascal Flatts
,
Reba McEntire
,
Scotty McCreery
,
The Hoppers
,
the isaacs
Posted in
announcements
,
awards
|
Comments Off

on ACADEMY OF COUNTRY MUSIC AWARDS HONOR GORDON MOTE WITH 2011 ACM AWARD
Written by SGN Scoops Staff on June 8, 2011 – 9:15 am -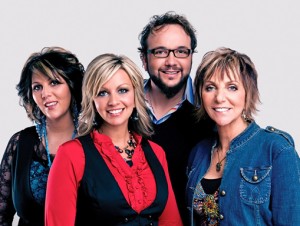 NASHVILLE, TENN.  – The Isaacs are tuning up for their debut appearance on the nightly concert stage at the CMA Music Festival. The Isaacs will perform the National Anthem as part of the opening festivities for the Nightly Concerts at LP Field on Thursday, June 9, as part of 2011 CMA Music Festival. The evening concert also includes Jason Aldean, Easton Corbin, Sara Evans, Brad Paisley, Ricky Skaggs, Zac Brown Band and more!
Lily Isaacs, vocalist and matriarch of the group, says: "My mother and father were survivors of the Holocaust and I still remember with pride becoming an American citizen on Ellis Island in New York when I was a child. It is an honor to sing the National Anthem with my children – Ben, Sonya and Beckie – at the CMA Music Festival."
ABOUT THE ISAACS
The Isaacs are a multi-award-winning family group that blends tight, family harmony with contemporary acoustic instrumentation, winning the appraise of critics and the loyalty of audiences all over the world. The Isaacs have been making jaw-dropping music for more the 30 years and perform frequently at the Grand Ole Opry, are favorites on the Gaither Homecoming video and concert series, perform frequently with legendary performers such as: Dolly Parton, Trace Adkins, Brad Paisley, Paul Simon, Vince Gill, Randy Owen, Trisha Yearwood, Ralph Stanley, Mark Lowry, and many more.
Tags:
Brad Paisley
,
dolly parton
,
Easton Corbin
,
Gaither Homecoming
,
Jason Aldean
,
Mark Lowry
,
Paul Simon
,
Ralph Stanley
,
Randy Owen
,
Ricky Skaggs
,
Sara Evans
,
the isaacs
,
Trace Adkins
,
Trisha Yearwood
,
Vince Gill
,
Zac Brown Band
Posted in
announcements
,
christian entertainment
,
Christian interest
|
Comments Off

on THE ISAACS TO PERFORM NATIONAL ANTHEM AT CMA MUSIC FESTIVAL OPENING NIGHT CONCERT
Written by SGN Scoops Staff on February 3, 2011 – 12:17 pm -
Poca, WV (Feb 4, 2011) Singer / Songwriter, Tommy Griffith of Peterstown, WV, has recently signed an exclusive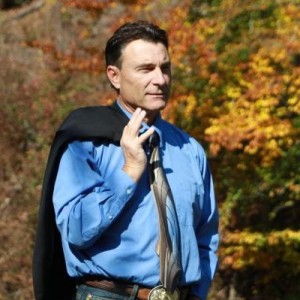 contract with Pathlight Promotions & Media Group for future compilation releases & radio promotions. His first single is a song written by Tommy himself, titled "They Call Him Jesus". It will be released on the upcoming Pathlight Promotions Compilation CD for Radio Vol 2011-02 sometime in mid February. "I have been familiar with the talents of Tommy Griffith for many years. He has an unmistakable sound & his smooth, country flavored vocals are sure to become a favorite for many radio listeners across the country." says Martha Drake, owner of Pathlight Promotions & Media Group.
Tommy has performed at many of the most prestigious venues in West Virginia, Ohio, Virginia, Kentucky, Florida, and Texas – opening for well known Country Music performers like Trace Adkins, Brad Paisley, Emerson Drive, John Conley, Doug Stone, Josh Turner, Jo Dee Messina, Tracy Lawrence, Daryl Worley, Exile, & Little Big Town, just to mention a few.Tommy's love for God and the call to do His work lead Tommy back to his roots in Gospel Music.  Through God's mercy and grace he has been given the opportunity to do God's work full time with the talent in which he excels.
For more information about Tommy Griffith Ministries, visit his web site at www.tommygriffith.org .
Tags:
Brad Paisley
,
Emerson Drive
,
Tommy Griffith
Posted in
announcements
,
christian entertainment
,
Christian interest
|
Comments Off

on Tommy Griffith Signs With Pathlight Promotions & Media Group
Written by Rhonda on September 22, 2010 – 7:26 pm -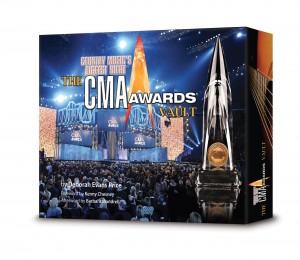 Historic Photographs, Replica Memorabilia, and Narrative Provide a Time Capsule of the Annual CMA Awards
NASHVILLE – The glamour, history, backstage stories, and memorable moments from more than 40 years of the annual CMA Awards, "Country Music's Biggest Night,(tm)" are collected in a new, unique book, The CMA Awards Vault, now available nationwide. 
Author Deborah Evans Price traces the show's 43-year run from a one-hour, radio-only broadcast in 1967 to the glittery three-hour, network television spectacle of today. Evans Price interviewed dozens of Country Music's biggest stars, from Sonny James, the host of the first "CMA Awards Banquet and Show," to Brad Paisley and Carrie Underwood, who will host "The 44th Annual CMA Awards" for the third time in November. In the process, the author takes the reader behind the scenes and recalls the greatest performances, the famous – and sometimes infamous – fashion trends, and the art of putting together a top-rated network gala.
"As someone who grew up watching the CMA Awards, and was then privileged to go to the Awards for the past 25 years, I couldn't think of anything that would excite me more than doing a book on the institution," said Evans Price.
 
What really sets this book apart from other Country Music histories, however, is the unique "scrapbook" approach. The CMA Awards Vault contains never-before-published photographs, artwork, and memorabilia. Tucked into dozens of pockets throughout the book are replicas of such items as a program from that first CMA Awards in 1967; a note to the CMA from the Charlie Daniels Band in 1980; a ticket to "The 40th CMA Anniversary" show; and the set-design blueprint from the 2009 CMA Awards.
 
"I'm thankful for the wonderful journey this book provides through the history of the CMA Awards," writes Barbara Mandrell in the book's afterword. "Reading it makes one feel so 'behind the scenes,' 'inside,' and as though they're having conversations with many of the great artists in Country Music."
 
No Country Music fan should be without this "home archive" of the history of "Country Music's Biggest Night." Graced by a foreword by four-time CMA Entertainer of the Year Kenny Chesney, The CMA Awards Vault is published by Whitman Publishing, LLC, of Atlanta. The 144-page hardcover 12-inch by 10-inch book with slipcase is available for $49.95 in bookstores and online retailers. The book can also be ordered at www.CMAawards.com and www.WhitmanVaultBooks.com. CMA members can purchase the book for $35 at www.CMAawards.com or at the CMA office.
 
"The 44th Annual CMA Awards" will be broadcast live from the Bridgestone Arena in Nashville on Wednesday, Nov. 10 (8:00-11:00 PM ET) on the ABC Television Network.
 
Tickets for the 2010 CMA Awards are on sale now and can be purchased by logging on to www.ticketmaster.com; calling (800) 745-3000; or in person at the Bridgestone Arena box office, 501 Broadway (corner of Fifth Avenue and Broadway), Nashville. Ticket prices begin at $110 for Upper Level. All ticket prices include sales tax, but exclude applicable service/handling fees. Purchase tickets early for best available seats. In 2009, the CMA Awards sold out in advance.
 
Visit CMAawards.com for information on Awards nominees, past winners, highlights, games, merchandise, and more. Join the CMA Mob, sign up for CMA Exclusives, and visit CMA's Facebook, Myspace, Twitter, YouTube, and other social network sites.
 
The CMA Awards nominees and winners are determined by the 6,000 industry professional members of CMA, which was the first trade organization formed to promote an individual genre of music in 1958. The first "CMA Awards Banquet and Show" was held in 1967. The following year, the CMA Awards were broadcast on NBC television for the first time – making it the longest running, annual music awards program on network television. The show aired on NBC through 1971 and on the CBS Television Network from 1972 through 2005 before moving to ABC in 2006. 
 
"The 44th Annual CMA Awards" is a production of the Country Music Association. Robert Deaton is the Executive Producer, Paul Miller is the Director, and David Wild is the writer. The special will be shot in high definition and broadcast in 720 Progressive (720P), ABC's selected HDTV format, with 5.1 channel surround sound.
Tags:
Brad Paisley
,
Carrie Underwood
,
CMA Awards
,
CMA Awards Vault
,
Deborah Evans Price
,
Whitman Publishing
Posted in
awards
|
Comments Off

on "THE CMA AWARDS VAULT:" COUNTRY MUSIC'S BIGGEST NIGHT!