Written by SGN Scoops on January 10, 2012 – 3:52 am -
Nashville, TN  (Jan. 5, 2012 ) As Albert E. Brumley's I'll Fly Away celebrates its 80th anniversary, the beloved songwriter's mission lives on through the non-profit I'll Fly Away Foundation. Third generation, Chairman and Founder, Betsy Brumley, daughter of Southern Gospel Music Hall of Famer, Bob Brumley, carrries the torch that will pass the family tradition on to future generations. The foundation educates aspiring artists with scholarships and mentoring opportunities and cultivates the musicial abilities of participants that strives to preserve the Albert E. Brumley mission.
 I'll Fly Away crosses cultural, age, and genre boundaries and continues to warm hearts and uplift spirits across the globe. The most recorded song in history deserves birthday recognition, and two concerts in 2012 will draw fans and friends together for powerful performances by some of  the most beloved Gospel and Country recording artists. The concerts will benefit the foundation and will allow continuation and preservation of this unique and inspiring art form. Donations will fund demonstration tours in schools and facilitate the education of youngsters through foundation music scholarships, encouragement and support. With patron support, this powerful American heritage will continue to grow and Albert E. Brumley's dream will be realized.
 Two concert fundraisers are on the horizon during 2012.  The March 24, concert in Neosho, Missouri will feature the famous Chuck Wagon Gang. The second concert will feature Country Music's sensational Oak Ridge Boys; Bluegrass powerhouse, Dailey & Vincent; and Southern Gospel's famous, Blackwood Brothers Quartet.
 For those who wish to contribute to the 80-year old Brumley traditon and be a part of Southern Gospel music history in the making by becoming a patron of the I'll Fly Away Foundation, contact: Board Chairman, Betsy Brumley, PO Box 3304, Bella Vista, AR 72715, info@illflyawayfoundation.org. 479-696-9876
Tags:
Albert E. Brumley
,
Betsy Brumley
,
Bob Brumley
,
brumley
,
I'll fly away foundation
,
Southern Gospel Music
,
Southern Gospel News
Posted in
announcements
|
Comments Off

on Albert E. Brumley's "I'll Fly Away" Celebrates 80th Anniversary with the "I'll Fly Away Foundation"
Written by Scoops Staff on September 13, 2010 – 12:26 am -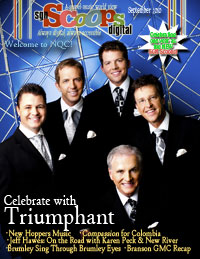 The September 2010 issue of SGN Scoops is now available for download. Click on the cover to read your issue in user-friendly .PDF format.
In our "Celebration Edition," we speak to Triumphant Quartet, Betsy Brumley-Banier, & David Hill. We welcome 2 new columnists, including Jeff Hawes of Karen Peck & New River – did you know he is an English teacher? – and Christian comedian Ryan Bomgardner. Kelly takes us to Colombia with Compassion International, and a guest writer reviews Branson Gospel Music Convention Revival.
OH – we also have a review on new music from the Hoppers & a free download for you when you subscribe!
Click here or on the cover preview to download.
Click here to subscribe – be notified when a new issue is published or news is announced.
Tags:
brumley
,
karen peck and new river
,
magazine
,
september 2010
,
sgn scoops
,
triumphant quartet
Posted in
sgn scoops magazine
|
Comments Off

on September 2010 – The Celebration Issue – is now available!
Written by Scoops Staff on April 12, 2010 – 12:28 pm -
Bentonville, AR- Roger Goad of  Lafayette, TN is the winner of a ticket prize package  for the inaugural Brumley MusicFest, taking place May 14-15, 2010 at Bentonville High School in Bentonville, Arkansas.
The contest, sponsored by SGN Scoops and Clarion Hotels, required entrants to share a favorite memory of an Albert E. Brumley song. Mr. Goad's entry said:
I grew up in a very small country church singing Albert E. Brumley songs and became a fan of his work. I was saved at age 14 and still belong to a small Missionary Baptist church. Two years ago today, March 17th, I collapsed in my bathroom floor and died. I had stopped breathing and already turned blue, according to my wife, who is a registered nurse. I was taken by helicopter to Vanderbilt Hospital in Nashville. I came to before I was taken on the helicopter. They all thought I was having a silent heart attack. The nurse on the helicopter stayed right over me during the flight trying to reassure me. I was under oxygen and had two IV's going. He kept patting my hand and arm and reassuring me. I thought he was sure I was going to die, but my thoughts were that if I died on the flight I just had a head start. I sang low the song 'I'll Fly Away.' He thought I was trying to say something to him, but I said that I was singing. I felt so calm, so assured, so knowing because I remembered that as a 14 year old boy that He Set Me Free.
Mr. Goad will receive two tickets, dinner for two, and hotel accommodations.
Brumley MusicFest will feature Chuck Wagon gang, Mark Bishop, Karen Peck and New River, The Diplomats, Christy Sutherland, Brian Free and Assurance, The Grascals, and more. Information and tickets are available at www.brumleymusicfest.com or by calling 888-462-6718.
Read more about Brumley MusicFest in the May edition of SGN Scoops – coming May 3.
Download the current issue of SGN Scoops here.
Tags:
brumley
,
brumley musicfest
,
contest
,
gospel events
Posted in
gospel events
|
Comments Off

on Brumley MusicFest Announces 'I'll Fly Away' Contest Winner
Written by Scoops Staff on February 5, 2010 – 10:39 pm -
The Brumley MusicFest team — along with our friends at SGM Radio and SGN Scoops and the Clarion Hotel are giving away two 2-night general admission tickets and 2-night hotel accommodations to the winner of the "What I'll Fly Away Means to Me "essay contest.
All you have to do is tell us a favorite memory related to the song I'll Fly Away (or any of the 800+ Albert E. Brumley songs), and provide us with a way to contact you — and you will automatically be entered into the contest.  We will read all of the stories that are submitted, and select the one that moves our family the most!  Very cool, right?  Click here for all of the official rules and details.
Tags:
brumley
,
giveaways
,
scoops preview
Posted in
announcements
|
Comments Off

on 2010 Brumley MusicFest™ Ticket Giveaway Contest
Written by Scoops Staff on October 9, 2009 – 6:39 pm -
Charity Event Coming to Bentonville High School With Star-Studded List of Southern Gospel and Bluegrass Acts
(Bentonville,AR) The Brumley's are returning to N.W. Arkansas and all area music fans on May 14 and 15, 2010. The 1st Annual Brumley Musicfest concert will be held at Bentonville, AR High School and will include many of the top southern gospel and bluegrass music acts from around the country. Acts currently scheduled to appear are The Grascals, Brian Free & Assurance, Karen Peck & New River, The Chuckwagon Gang, The Dove Brothers Quartet, The Diplomats, and Little Roy & Lizzie. Mark Bishop and Aaron Wilburn will emcee and perform both nights.
Doug and Shelley McMillon have been named honorary chairpersons for the May inaugural event. They are excited to be a part of this event and help support their neighbors and businesses in the community that they have been a part of for 18 years. The McMillon's are looking forward to working with the third-generation of Brumley's, who are continuing the 67 year-old family music business started by the late Albert E. Brumley. Brumley authored over 800 songs, including "I'll Fly Away" (his most popular song, recorded in every country and every language on the planet, and by every genre of music), "Turn Your Radio On", and "Jesus Hold My hand".
All profits from ticket sales will be given to local charities including Decision Point, a drug and alcohol treatment center in N.W. Arkansas. Sold out audiences are expected for both nights with already brisk ticket sales. Area hotels and motels are offering discounted rates for out-of-town fans. Tickets are on sale now: $60 reserved floor seating for both nights, $35 general admission bleacher seating for both nights, and $20 for single-night general admission bleacher seating. Showtime will be 7:00 p.m. both evening's performances. All major credit cards are accepted and ticket purchases and hotel reservations can be made at brumleymusicfest.com. Tickets can also be ordered over the phone toll-free 888-462-6718.
Sponsorship opportunities are also available. A sponsorship information packet is available for download from the web site or an inquiry can be sent via email to sponsorships@brumleymusicfest.com.
Fans can keep up-to-date by following Brumleymusicfst on Twitter or becoming a fan on Facebook.
Tags:
brumley
,
events
Posted in
gospel events
|
Comments Off

on 1st Annual Brumley Musicfest Dates Set