Written by SGN Scoops on January 31, 2013 – 3:43 pm -
NEW YORK, Jan. 31, 2013 /Christian Newswire/ — Well-respected, award-winning Christian recording artists are honoring Israel this spring in a gala benefit concert being hosted at Carnegie Hall by pianist Dino Kartsonakis and his wife Cheryl.
The special "Honoring Israel at Carnegie Hall" concert will take place at 8 p.m. on Thursday, April 11, 2013, at the world famous venue. The event will feature performances, from the Philadelphia Boys Choir, Denver and the Mile High Orchestra, and The Christian Cultural Center Chorale as well as the musical talents of Robert Stearns, operatic tenor Daniel Rodriguez, and Grammy and Dove Award-winning singers Sandi Patty and Larnelle Harris.
"Anti-semitism is on the rise, and Israel is now surrounded by nations committed to her destruction," world-famous piano artist Dino said. "Cheryl and I have always prioritized praying and working for the peace of Jerusalem. My friends, it is vital that we stand together."
Robert Stearns, founder of Eagles' Wings, and a global leader in Jewish-Christian relations, said, "The evening of music will celebrate our nation's longstanding and unbreakable bond with Israel at one of Manhattan's most prestigious venues."
"There has never been a time in our nation's history that our public and private bond with Israel has been more critical," Stearns said. "With this historic concert, we hope to make it clear that New York stands with Israel."
Proceeds from the event will go to feed hungry Jews, Arabs and Druze in Israel through humanitarian non-profit, "Hope for Zion" as well as to help build a prayer and study center in Migdal Arbel, Israel, whose mission is to cultivate a love and understanding for the people and nation of Israel.
For more information and to purchase tickets visit www.carnegiehall.org or call 212-247-7800.
Tags:
Carnegie Hall
,
Dino
,
Dino Kartsonakis
,
Gospel Music News
,
larnelle harris
,
Robert Stearns
,
sandi patty
,
The Christian Cultural Center Chorale
Posted in
announcements
|
Comments Off

on Dino, Larnelle Harris, Sandi Patty, and Robert Stearns to Honor Israel at Carnegie Hall
Written by SGN Scoops on July 15, 2011 – 2:33 pm -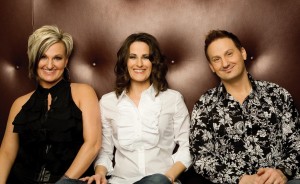 Washington, DC – Multi-talented recording artist, The Martins will be featured during the weeks of July 18 and July 25 on the popular Daniel Britt & Friends radio program. The one-hour Gospel music radio show is available each week to nearly 30 million satellite subscribers throughout the US and Canada on SIRIUS XM  and it's partnership with DISH Network. Daniel Britt & Friends can be heard on enLighten Radio (Sirius XM Channel 18) Mondays at 7PM (ET), Thursdays at 10PM (ET), and Saturdays at 12 Noon (ET). The program is also available online at www.xmradio.com, www.sirius.com or via Dish Network Channel 6018.
It's a New Day for legendary vocal group, The Martins. Their three-year labor of love is complete, and the end result is a brand new recording, appropriately titled New Day. Filled with all new songs, featuring the trio's unmistakable harmonies, the recording was produced by multi-platinum selling Rascal Flatts member Jay DeMarcus. Released earlier this summer (June 21), the recording marks the first for siblings Judy, Jonathan and Joyce (pictured l-r in attached jpg) in a decade.
During the 1990s, The Martins rose to national and international success, showcasing their stunning and distinctive harmonies before a vast array of audiences, from Bill Gaither's multi-award winning Homecoming Video and Concert Series to the White House to Carnegie Hall. Over the years, the trio garnered six Dove Awards from the Gospel Music Association, a Grammy nomination and multiple hit songs.
After a 10-year hiatus from touring together, the siblings return this year with renewed family bonds, as they take a fresh step forward both musically and spiritually. Energized and excited about the future, the three are thrilled to be back on stage together and are delighted by the early success of New Day, as well as the new Gaither Music Group DVD, entitled The Best Of The Martins. The DVD captures some of the trio's most unforgettable highlights from the multi-platinum selling Gaither Homecoming Video Series. The television special with highlights from the DVD will air throughout the summer and into the fall on popular networks including GAC, RFD, CTN, GMC, INSP, FamilyNet, CTS and TBN.
"The Martins have a history of hits and a highly anticipated album that is now available," Britt states.  "During these episodes, listeners can hear about The Martins' humble beginnings and their chart-topping success. We'll follow the journey of these three singing siblings from restroom acoustics to Carnegie Hall! These are very special broadcasts."
For those who happen to miss the original broadcasts, the interviews may be downloaded after the air date via www.danielbritt.com.
In promotion of the release of The Martins' New Day recording,, the trio is presently in the midst of their summer tour. To obtain a complete schedule or to order your copy of New Day, visit www.martinsonline.com.
Tags:
bill gaither
,
Carnegie Hall
,
Daniel Britt & Friends radio program
,
sirius xm
,
Southern Gospel News
,
The Martins
Posted in
announcements
,
christian entertainment
,
Christian interest
|
Comments Off

on Multi-Dove Award Winning Recording Artist, The Martins To Appear On Daniel Britt & Friends