Written by SGN Scoops Staff on August 14, 2011 – 10:24 pm -
Riversong Recording artists Steve Hess & Southern Salvation are delighted to announce the addition of Chad Riley to the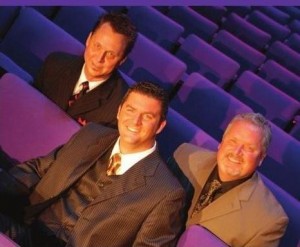 position of tenor vocalist for the trio.
Riley, a resident of Lebanon TN, resides with his wife and 13 year old son and brings not only his outstanding vocal skills to the group, but a God given love for people and is looking forward to meeting all concert attendees in the areas that Southern Salvation travel in. Chad's debut performance with SHSS was Saturday night July 23rd in Independence Mississippi.
Chad, a 2 yr alumni of the Stamps Baxter School of Music, has also spent time as tenor with the Victorious Quartet, the Georgians and the Mystery Men among others as well. Group owner Steve Hess announced; "We believe in Chad's exceptional vocal talent and are thrilled to have Chad and his family as part of the SHSS family".
Steve Hess and Southern Salvation record for Riversong Records ( a division of Homeland Entertainment Group) and their most recent single "God's Grace is Greatest" from the pens of Hess and Michael Puryear has spent the last 6 consecutive months on many national Gospel Music Charts.  The current lineup includes Baritone Steve Hess, Lead Stephen Hoell, and now new tenor Chad Riley.  Their current Riversong Rcording is titled "Straight From The Heart".
You can find more information about this exciting trio at www.southernsalvation.com or www.homelandentertainmentgroup.com
Tags:
chad riley
,
Homeland entertainment Group
,
Riversong Recording
,
Southern Gospel Music
,
Southern Gospel News
,
southern salvation
Posted in
announcements
|
Comments Off

on Steve Hess and Southern Salvation announce New Tenor Vocalist
Written by Scoops Staff on December 4, 2010 – 8:22 pm -
We have received confirmation that nationally known tenor and former member of the Mystery Men Quartet, Chad Riley has accepted the tenor position and will be joining the Redeemed Quartet ministry team for the 2011 Save America Tour.
Rodger Speegle has accepted the lead position. He is best known for the several years he sang with Naomi and the Segos. Rodger said he is ready to get back on the road after several things happened in his life this year. Rodger will head up the newly added live music portion of the program.
Ken Maynor, baritone, said, "Working with these two men that have spent several years in full time ministry will be a pleasure." It seems that these two guys will fit right in! The "humor mill" is still rolling; we laugh almost as much as we sing every time we get together."
Lonnie Walker, bass singer and group manager, said, " By adding these two extremely talented men, Chad's very high tenor voice and Rodger's perfect pitch lead will bring a new sound to Redeemed Quartet and hopefully God will use us to reach even more souls on our 2011 Save America Tour." For booking information contact Lonnie @ 423-645-5592 or our agency at
www.CapArtisit.com
Tags:
chad riley
,
redeemed quartet
,
Rodger Speegle
Posted in
artists
|
Comments Off

on Redeemed Quartet Adds New Members