Written by Staff on September 28, 2017 – 6:46 am -
This morning, Thursday, September 28, Chapel Valley Music Group brought DJs and media together for a celebratory breakfast. This NQC tradition is always highly anticipated  by media and radio personalities.
Shane Roark and Richard Hyssong from Chapel Valley engaged the crowd in food, fun, and fellowship.
Participants enjoyed an extensive buffet breakfast as well as games and prizes.
Coastal Media CEO Rob Patz, owner of SGNScoops and WPIL FM, and DJ of Highway 9, along with Vonda Easley from WPIL FM, were invited to join in the festivities.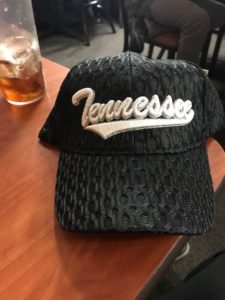 Easley and Patz were presented with special Tennessee ball caps as they were from out-of-state. Patz, from Seattle, is usually noted as the personality who has traveled the farthest to attend NQC and this major annual event.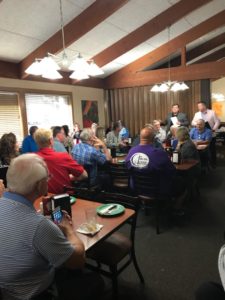 Patz noted, "It is always enjoyable to attend the breakfast put on by Shane and Richard. We really appreciate the Chapel Valley folks. Plus, they always give away cool stuff. Thanks so much guys from SGNScoops and WPIL FM."
For the latest issue of SGNScoops magazine click here
For more gospel music news click here.
For online gospel music click here.
Tags:
Chapel Valley Music Group
,
Coastal Media Group
,
national Quartet Convention
,
nqc
,
Richard Hyssong
,
rob patz
,
Shane Roark
,
Vonda Easley
,
WPIL FM
Posted in
announcements
,
artists
|
Comments Off

on Chapel Valley thanks Media for a great Year
Written by SGN Scoops Staff on August 5, 2014 – 1:30 pm -
Sharps Chapel, TN – The Hyssongs, who are Chapel Valley music artists, have had an exciting few years. In 2013 and 2014 they have been honored by being nominated for Top 5 New Trio  by Singing News fans. This popular family group consists of Dell, Susan, and their son, Richard.
Their last four songs have charted in the Top 40 in the Singing News, including their release entitled  "Thinking About Going Home", which is currently #14 on the Singing News chart and #1 on the SGN Scoops Top 100 chart!
"Radio has really embraced our family and we are thrilled that our music is making a difference in people's lives", states Richard.
Recently, Chapel Valley Music presented The Hyssongs with a special plaque celebrating their first Top 20 song. "Our company is very proud of The Hyssongs success. We believe that the sky is the limit for  this family", quotes Shane Roark, Chapel Valley's Co-Owner and Producer (pictured center left).
The family has just released a new song, written by Rodney Griffin, "I Was Blind, But Now I See". The song came in at #8 on the Singing News Top New Releases for September.
They are looking forward to their first main stage appearance at the National Quartet Convention on Thursday night.
To learn more about this family, go to www.thehyssongs.com or www.chapelvalleymusic.com.
Tags:
chapel valley
,
Chapel Valley Music Group
,
hyssongs
,
SGNScoops Magazine
,
Southern Gospel Music
,
Southern Gospel News
Posted in
announcements
|
Comments Off

on Hyssongs Celebrate First Top 20 Song
Written by SGN Scoops Staff on July 3, 2014 – 9:15 am -
(Sharps Chapel, TN) – In the world of Southern Gospel music it is hard to beat tight familyharmonies. The Coffmans are the newest family to burst onto the scene and are making waves at many gospel events.
The Coffmans, who consist of, Louis, Tamra, and Canaan, are a family who love each and their Lord. It is evident as they sing that they want to tell the world about his love! They call Chapel Valley Music Group home, as they record on the Church House Label. Their second, and highly anticipated new CD, "Unconditional", will be released this summer.
"We are so excited about the songs that have been offered to us by some of the greatest writers in Gospel music: Dianne Wilkinson, Ronnie Hinson, Joel Lindsey, Gerald Crabb and Rodney Griffin. What a blessing and responsibility it is to be able to sing the Good News as written by these folks.", states Louis Coffman.
The family has been invited to be the musical guests on Atlanta Live on Friday, August 8th. The program is the flagship program of WATC 57 and broadcasts to over 2,000,000 homes. Chapel Valley Music, will be releasing their first radio single entitled, "He Just Kept On Loving Me". For more information go to www.chapelvalleymusic.com
The Coffmans can be found by going to www.coffmanmusic.com. They will also be singing at the Creekside Gospel Music Convention in November!
Tags:
Chapel Valley Music Group
,
Southern Gospel Music
,
Southern Gospel News
,
The Coffmans
Posted in
announcements
|
Comments Off

on Exciting Summer For The Coffmans!
Written by SGN Scoops Staff on October 18, 2013 – 12:13 pm -
Sharps Chapel, TN – Chapel Valley Music Group is proud to announce that Driven Quartet has signed a recording contract.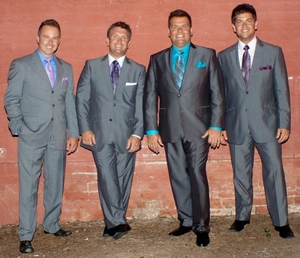 Driven is an outstanding quartet and Chapel Valley is excited to have them as a part of our family of
artists.This incredibly talented group consists of owner, Jason Funderburk; bass, Will Lane; tenor, Wesley Smith, and baritone, Chad Smith.
Chapel Valley will also be releasing Driven's music to radio stations worldwide. A radio single and new project will be released early 2014. For more information concerning Driven go to www.drivenqt.com. You can also go to
Tags:
Chapel Valley Music Group
,
driven
,
driven quartet
,
Jason Funderburk
,
southern gospel
,
Southern Gospel News
Posted in
announcements
|
Comments Off

on Driven Quartet has signed with Chapel Valley Music Group!