Written by SGN Scoops Staff on April 5, 2020 – 12:10 pm -
From Charles Billingsley  Dear friends,
In this crazy world, I am thankful that we have the means to connect in this way. As my online community, I wanted to give you a brief update. In the midst of all the craziness, I have tested positive for Coronavirus. My symptoms are similar to other people, but I am resting and recovering even now. Please continue to pray for the many who have been impacted by this virus in so many ways. I will continue to keep you all posted. Love you guys, and remember – God is good!
Get Updates HERE
Listen To The Best In Gospel Music Online HERE
Tags:
Charles Billingsley
Posted in
announcements
|
Comments Off

on Pray For Charles Billingsley
Written by SGN Scoops Staff on July 25, 2016 – 10:25 am -
(Nashville, TN)…StowTown recording artist and acclaimed vocalist Charles Billingsley spent Independence Day at the Normandy American Cemetery and Memorial in France, where he participated in a special service of remembrance for D-Day heroes.
He performed "The Lord's Prayer" and the national anthem at the historic site of World War II's Allied invasion, where 9,387 American soldiers are now buried. A choir of more than 100 Americans, many who lost relatives and loved ones during the D-Day operation 72 years ago, backed Billingsley for the performance.
"I was humbled and honored to participate in this meaningful memorial service," Billingsley said. "Traveling with my family to such an important place of remembrance further galvanized my pride as an American. I am thankful for the freedom our selfless soldiers upheld for us on those shores; their sacrifices will never be forgotten."
Billingsley's latest critically acclaimed recording, Right Here, released March 4 from StowTown Records (Provident/Sony Distribution). The project was produced by GRAMMY® Award-winners Seth Mosley (TobyMac, Newsboys) and Mike "X" O'Connor (for KING & COUNTRY, Matthew West), and Dove Award-winner Keith Everette Smith (Karyn Williams).
Launching his career more than two decades ago as a lead vocalist for GRAMMY®- nominated genre giants NewSong, Charles Billingsley has since headlined more than 3,000 concerts, released 24 recordings as a solo artist and garnered seven #1 Inspirational radio hits. Also a sought-after worship leader who oversees the music ministry at Lynchburg, Virginia's Thomas Road Baptist Church, he is an artist-in- residence and instructor at Liberty University; hosts a daily syndicated radio broadcast, "Words On Worship"; and regularly appears at such popular events as Women of Joy, Dr. David Jeremiah's "Stand Up Tour," Gridiron Men's Conference and Celebrators Conference, among numerous others.
For further information, visit charlesbillingsley.com, stowtownrecords.com or turningpointpr.com. Follow Billingsley on Twitter @CBillingsley.
Tags:
Charles Billingsley
Posted in
artists
|
Comments Off

on CHARLES BILLINGSLEY HONORS D-DAY HEROES AT NORMANDY'S AMERICAN CEMETERY
Written by SGN Scoops Staff on May 18, 2016 – 10:41 pm -
(Nashville, TN)… One of StowTown Records' newest additions and one of Christian music's premier artists, Charles Billingsley, is leaping up the current song charts.
Right Here, Billingsley's debut album with StowTown, recently moved all the way up to #4 on the Christian SoundScan chart and now sits firmly in the Top Ten.
"With every record, I try to push it just a little further than I did before, stylistically, without compromising the message at all," Billingsley said. "But I also look for songs that people will sing—that they can drive down the road worshiping the Lord with, but also sing congregationally." Billingsley has released 24 recordings as a solo artist and tallied an impressive seven #1 Inspirational radio hits.
Right Here is highlighted by two songs dedicated to The Cross,"Victory (The Blood of Jesus)" and the congregational anthem "Hallelujah for the Savior."
Other hits include the multi-generational "There's Nothing My God Cannot Do" along with "God Is Good", "Majesty", and "See You Again," a duet with multi Dove Award-winning worship leader Meredith Andrews.
Billingsley teamed up with some of the top producers for the project, including GRAMMY® Award-winner Seth Mosley (TobyMac, Newsboys), Mike "X" O'Connor (for KING & COUNTRY, Matthew West) and Dove Award-winner Keith Everette Smith (Karyn Williams). The impressive songwriting team for Right Here features Matt Hammitt, Michael Farren, Mia Fieldes, Travis Ryan, David Leonard and Krissy Nordhoff.
Billingsley, the worship leader who oversees the music ministry at Lynchburg, Virginia's 24,000-member Thomas Road Baptist Church, is also in the midst of his Women of Joy 2016 Tour titled "Restore". One of his final stops for the women's conference series is set for this coming weekend in Louisville, KY.
Tags:
Charles Billingsley
,
Christian News
Posted in
artists
|
Comments Off

on CHARLES BILLINGSLEY'S ALBUM IN THE TOP TEN!
Written by Staff on September 22, 2014 – 2:49 pm -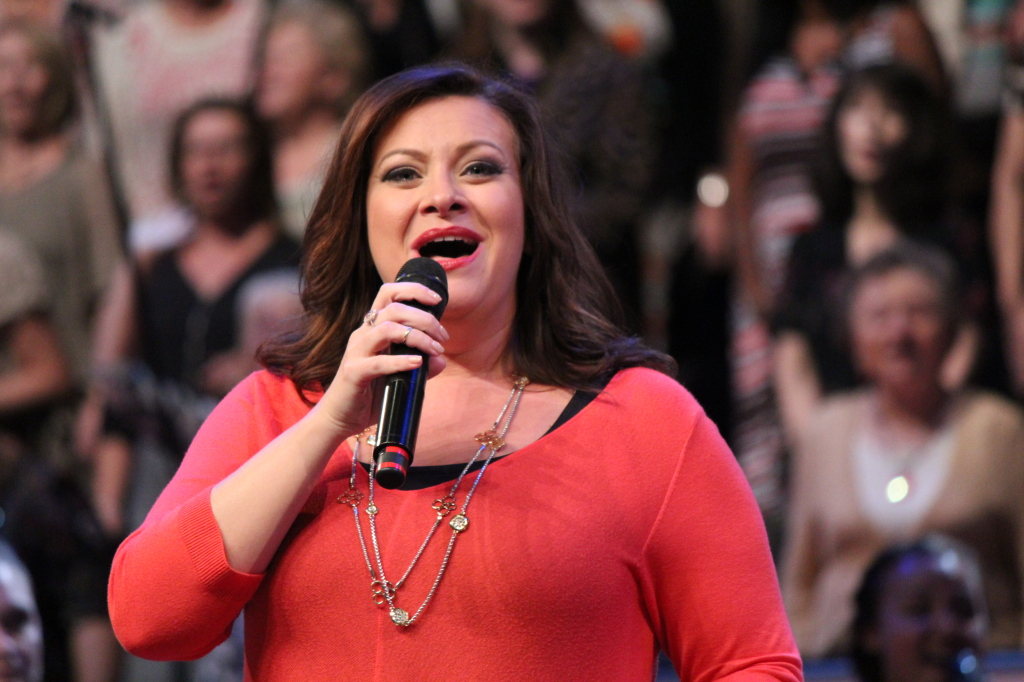 By Candace Combs
Members of Thomas Road Baptist Church in Lynchburg, VA, the home of Liberty University, have been challenged. Pastor Jonathon Falwell, son of the church's founder, Jerry Falwell, has asked to multiple campus congregations to think: 'What If…?'
There was no better choice to kick off the series than TaRanda Greene. TaRanda traveled to Virginia to join worship leader Charles Billingsley along with the TRBC choir and orchestra for a morning full of praise and worship.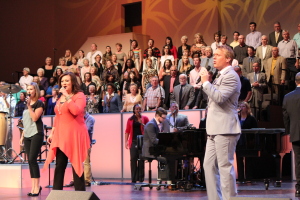 Each music selection revolved around the central theme of declaring God as Holy and culminated with focus on the Cross. TaRanda joined the praise team in leading the congregation with "You are Holy" and "For You are Holy".
Ramping up the music with the stage lighting turning red, TaRanda sang "The Wonderful Cross" with Billingsley and the entire TRBC Worship Team. The biggest treat came when TaRanda began "This Blood".   Her exquisite vocal ranges made every listener feel the power of Jesus blood. At the bridge, the full choir joined while everyone in the room was standing. TaRanda clearly shared her heart in the words, "I've come to tell you He's alive! And, He's coming back again"!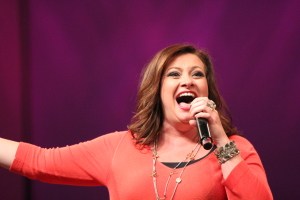 TaRanda Greene, a young girl from Tennessee met and fell in love with a Gospel singer, and together they became The Greenes. Just four years ago this week, Tony Greene was called to glory. What if God took this young woman and brought her to many stages beside her husband, and then left her alone to raise two young daughters? Surrounded by loving family and countless fans, TaRanda has faced every challenge with the strength she gets from the Lord.
Recently, TaRanda made her first pilgrimage to Israel with In Touch Ministries. "I never imagined a piece of land could change my life," stated Greene. "I knew that Jesus changed my life years ago, but the experience of walking in His steps…wow!" Greene is still continuing to process all the feelings from the experience.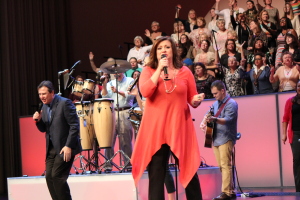 Watch for new music coming from TaRanda Greene and Stow Town Records. This new solo project encompasses several music genres. It is entirely possible that songs will appear on various charts. "I'm very excited to see where God will open new doors", Greene commented. This project is set to release November 10.
Like everyone who was in attendance at Thomas Road Baptist Church, TaRanda Greene left Virginia asking, "What if…."
Stand by; if this lady keeps singing like this, there is no limit! For more on TaRanda visit http://tarandamusic.com/
Tags:
Candi Combs
,
Charles Billingsley
,
sgn scoops
,
Taranda Greene
,
The Greenes
,
Thomas Road Baptist Church
,
Tony Greene
Posted in
artists
,
concert reviews
|
Comments Off

on Candi's Catch-Ups: TaRanda Greene at Thomas Road Baptist Church
Written by Staff on August 29, 2014 – 7:23 am -
By Candace Combs
Christian people everywhere, in every culture, need to worship the Creator. Worship comes in many forms, music perhaps being one of the greatest. Charles Billingsley, Worship leader at Thomas Road Church and Artist-in-residence at Liberty University in Lynchburg, VA, presented to a full house the release of his new project, Only Jesus.
Billingsley, formerly the lead singer with NewSong, has continuously dedicated his ministry and teaching to the art of worship.   This latest edition is completely engrossed in leading listeners to forget about the stage, forget the instruments and completely focus on worship of Jesus. Thus the title: Only Jesus.
The title track is completely titled, "Jesus, Only Jesus" and features the familiar voices of Travis Cottrell, Michael O'Brien, and Southern Gospel favorite, Guy Penrod. This collaboration with these voices features the best of each genre of Christian music today. Hopefully, this won't be the last!
Thomas Road Church dedicated the evening to the ministry of an international humanitarian relief organization named World Help (worldhelp.net). The evening opened with a bouncy children's choir representing every corner of the world. The group performs nationally as Children of the World. They were a special treat with their culturally inspired clothing representing the nations of their origin.
When Billingsley took the stage, he had a full compliment of stage band and the worship choir from Thomas Road Church.   The program opened with traditional worship songs that was joined with the over 5,000 in attendance.   Billingsley communicated that he would be leading us from early traditional songs of the faith, leading from the great sacrifice of the Cross, to the glorious Resurrection.
"Great is Thy Faithfulness" was performed with a contemporary yet traditional arrangement. Billingsley sang the familiar, "It is Well," with a full force of power. While the arrangement is the same sung for years in churches, Billingsley's rendition exudes great power from his smooth voice, into an offering of faith.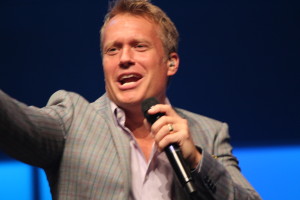 Once the audience was assured that worship was the focus of the event, Billingsley and the worship team broke into "Jesus, Only Jesus." This song was followed by dialogue that "Jesus is the only way, the only hope." Billingsley continued to invite any non-believers to a relationship with Jesus.
A crowd favorite at the Virginia church, "Only Boast" was performed next. Having brought a history of worship, the program moved into a section of songs of the Cross. "Mercy Tree" is a song that portrays the great cost of salvation. The song was accompanied with a video presentation pronouncing the truth that worship is about a relationship. The Christian deserves nothing, yet on that tree God revealed just how holy He is!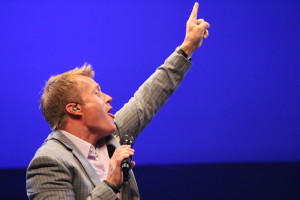 Worship was brought full circle as the entire room was filled with the melody of "Gloria" in a modern arrangement. A sign language interpretation of the lyrics was presented during the performance. Billingsley held nothing back as he brought the evening of worship to a full crescendo.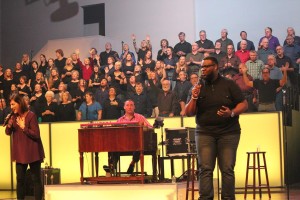 Prayer, in addition to music, is another of the Christian's arsenal of worship. Billingsley next took the opportunity to lead in prayer asking "God to help us worship you, to give you all we have." He further asked God for help in capturing scripture in music. This request was natural segue into "Ten Thousand Reasons."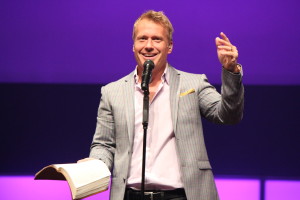 Quietly and joyfully, in closing, the congregation joined in a chorus of "Bless His Holy Name." Concluding in such a simple way was Billingsley's way of keeping the nights focus on Jesus, only Jesus!
For an inside look at the production, go to Charles Billingsley YouTube, Behind the Scenes recording: "Jesus, Only Jesus." The CD is now available. This music should be just what you need to get your worship on! For more information, visit http://charlesbillingsley.com/
For more concert reviews in the latest SGN Scoops visit https://www.sgnscoops.com/
Tags:
Candace Combs
,
Charles Billingsley
,
Christian artist
,
concert review
,
guy penrod
,
sgn scoops
Posted in
artists
,
concert reviews
,
sgn scoops magazine
,
special feature
|
Comments Off

on Concert Review: Charles Billingsley – Only Jesus